Back to selection
"You Cannot be Objective When You're Making a Film about the Peace Process between Israel and Palestine": Mor Loushy and Daniel Sivan on The Oslo Diaries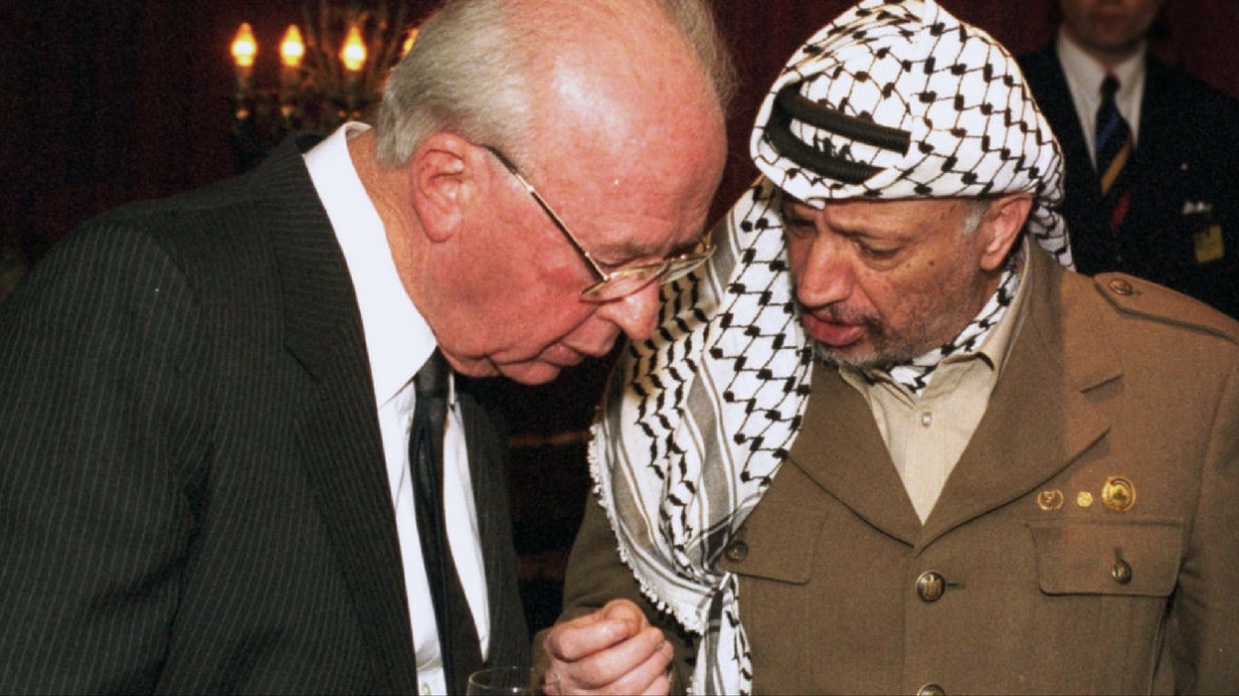 The Oslo Diaries
Receiving its world premiere at Sundance,The Oslo Diaries is the latest from Israeli filmmakers Mor Loushy and Daniel Sivan, who last came to Park City with 2015's Censored Voices, an exploration of Israel's 1967 Six-Day War through long-buried audiotape interviews with its on-the-ground soldiers. A similar reexamination of history, The Oslo Diaries combines unseen-until-now archival footage with the personal diaries of, and present-day interviews with, the handful of participants in the top secret, backchannel — and ultimately doomed — peacemaking process that took place in Norway in the early '90s.
Filmmaker spoke with the two directors prior to Sundance about their intricately woven doc, which refreshingly serves as a much-needed reminder that nuts-and-bolts diplomacy has never been easy or in fashion. And yet is forever essential for a functioning world.
Filmmaker: Your 2015 Sundance premiere Censored Voices was built around never-before-heard audiotapes, and your latest incorporates quite a bit of never-before-seen archival footage alongside narration from personal diaries. How do you go about getting access to these highly secret materials? And what's the editing process like?
Loushy and Sivan: For us, working on The Oslo Diaries was really a journey into the craft of listening. The information was hidden in plain sight in the personal diaries and memoirs of the negotiators, yet no one ever thought of digging into the backstage of the peace talks. The peace talks were mistakenly perceived as a bureaucratic action, a tedious negotiating process. Once we started listening to the people behind the maps and headlines we discovered a true passion that drove us forward to discover more and more texts and never before seen footage. For us, as a generation that was raised on the Oslo hope for peace, it was a true feeling of uncovering our own past, what we never knew existed.
As to the editing process, it was not easy. Oslo is a complex subject matter and every word and sentence has deep political repercussions — you cannot be objective when you're making a film about the peace process between Israel and Palestine. And so we found ourselves arguing vigorously for three years. The only thing harder than two directors being their own editors is raising our kids together, so we just found ourselves talking politics 24/7. It was tough, but we hope our heated debate crossed over to the film, and that the audience will pick up some of the same emotions and conflicts we went through while creating it.
Filmmaker: I'm guessing that you've mostly screened for liberal-leaning audiences (at least on the festival circuit), so I'm wondering whether — and how — you've reached out to "the enemy," as the participants in your doc have acknowledged their partners in the peace-making process. Do you plan on showing the film to the settlers, as well as to militant Palestinian audiences?
Loushy and Sivan: The film will have its world premiere at Sundance, so that will be our first screening. We are going to have a big release in Israel, as the film will be broadcast as a three-part series on Yes Docu, and we know it will raise a powerful debate. We invite all Israelis and Palestinians to revisit our shared past, and to see if we can rethink our reality in light of the years that have been branded on both sides as "disastrous." To be perfectly honest, most Israelis and Palestinians see Oslo as a tragedy. Many Israelis believe we gave too much and were repaid with terror, and many Palestinians view it as a cynical prolongation of the Israeli Occupation. We hope this film can open their eyes to another side of the story, in which sworn enemies lay down their arms and both took a leap of faith towards a different future. It is this courage to take that leap of faith that is so lacking in our leaders today.
Filmmaker: The film also serves as a timely cautionary tale as to what can happen when a xenophobic strongman and his supporters come to power. Netanyahu basically lit the fuse that ended in Rabin's assassination (and thus the peace process), while here in the U.S. Trump also has blood on his hands, in the case of the homegrown terrorist attack at Charlottesville. It's quite chilling to watch. Have you always been aware of Israel's global parallels?
Loushy and Sivan: Strong manipulative politicians do have a lot of power to empower the hatred in people, but we don't believe a leader (charismatic as he may be) can be blamed for the actions of the public — doing so is to remove responsibility from us as citizens, which is a bit too convenient.
Racism is on the rise both in Israel and in the U.S., and hatred and fear are the daily trade. Instead of answers from our leaders we get violent tweets, so we must take action as people. We must go out and protest, shout out our truth, fight for our future, and bring these leaders down in the next elections. We do not have the privilege to say, "Bibi killed Oslo" as the Israeli public voted wholeheartedly against the peace process and keeps doing so for the past 20 years. You as Americans cannot say, "Trump made us racist!" It's America's racism that brought him to power. We must all take full responsibility of our reality and fight to change it.
Filmmaker: So how are your films received differently — and similarly — in Israel, as opposed to here in the U.S. and in Europe?
Loushy and Sivan: It is an interesting question, as times are changing both in Israel and abroad. In the past years we have received a very warm reception both from the international audience and from the Israeli audience — people did not see our films as an external criticism, but as an important debate we must all have within ourselves as Israelis. But that was all two years ago.
In the past two years, Israel has become intoxicated with fear from any work of art or journalism with the slightest sense of criticism. Our own Minister of Culture keeps calling political filmmakers traitors of Israel and defines film that mentions the Palestinian narrative (the Nakba, as they call the 1948 Israeli War of Independence) as illegal. [She] is doing all she can to censor any work of art that isn't aligned with the government line of Zionist propaganda. We truly hope this film will create a deep discussion in Israel, instead of just slapping us with the title "traitors" just because we made a film about the peace process.
Filmmaker: Have any government authorities tried to prevent you from making the film? Have you been under any kind of surveillance?
Loushy and Sivan: No, not at all. The film was supported by Israeli cinema funds, and you can still create political films in Israel without fearing the government. That being said, the climate in Israel these days opposes any criticism. Many choose to follow their leaders almost blindly and believe only the "happy" headlines in the pro-Netanyahu paper — grasping onto the narrative in which Israel is always the victim, always righteous, and there is no such thing as Occupation, as we have a God-given right to this land. Only a small fraction of film made today dares to be politica, and are automatically labeled anti-Israeli by the government and the public alike. People in Israel have stopped asking questions, and many prefer not to know. This is the biggest fear we have as Israelis — not some fascist Big Brother censorship putting artists in jail, but the self-censorship by the public itself. When the people call against the media to be more pro-Bibi and to stop investigating him, when filmmakers are called to stop making critical films, and when people refuse to read the papers and choose to read only the fake news — this is a slippery slope indeed.