Back to selection
Nuri Bilge Ceylan, Once Upon a Time in Anatolia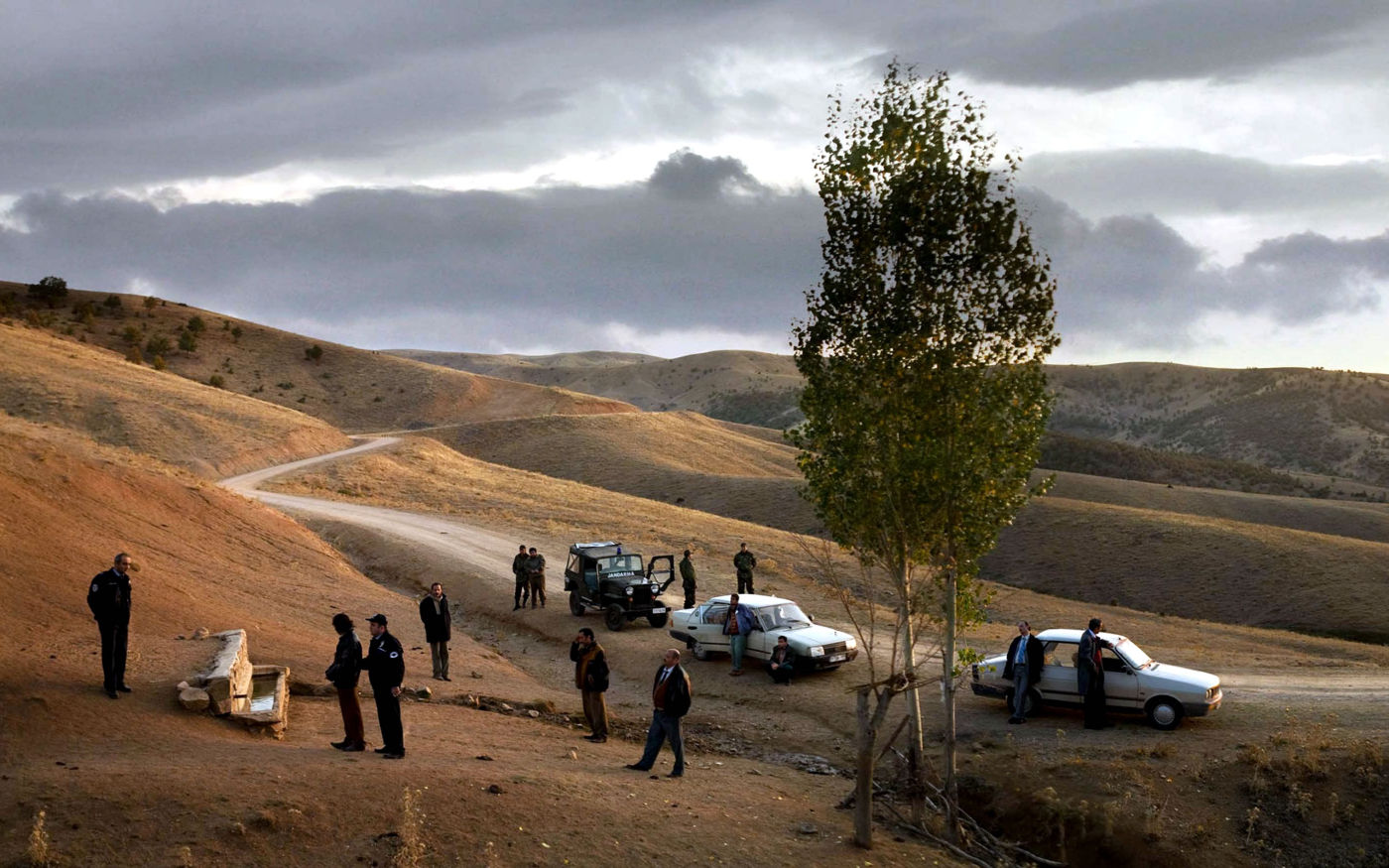 Over the course of one long night, a cadre of lonely men — which includes an overbearing, barely competent police chief, a handsome and thorough doctor, a cautious district attorney, several drivers, civil servants, grave diggers, and two brothers accused of homicide — drive through the hills of rural Anatolia in search of a body buried at a spot the young and frightened siblings can't quite recall. We glimpse their sorrows, their vanities, their brief bouts of interconnectedness, but mostly we watch their boredom. Still the crime gets solved, motivations are revealed, a small but significant cover-up is enacted. Along the way, we get a rare chance to watch life as it's actually lived, rendered with such beauty, clarity and care that one wonders why all movies aren't so attuned to the visceral mysteries of everyday pain.
Although Nuri Bilge Ceylan forged his reputation as one of the most exciting new practitioners of "Slow Cinema" to emerge during the late '90s, the Turkish filmmaker's engrossing films, which have reached their apex with his masterful Once Upon a Time in Anatolia, have increasingly found their basis in the outlines (if not the rhythms) of genre filmmaking. Not that this has earned him any notoriety in our genre-obsessed American movie culture. That this incredibly gifted filmmaker, whose style leans heavily on Antonioni but seems to have a dexterity, an interest in apparitions and a socio-national identity all its own, is not more well known stateside is some sort of misdemeanor offense. Were it another era, the cinema of Ceylan would already have been hailed as essential viewing for those trying to understand the intersection between the West and Islam that is modern Turkey.
The 52-year-old Istanbul native won a trip to the 1995 Cannes Film Festival with his very first short Cocoon, but it wasn't until his third feature, Distant, appeared at the festival in 2002 that he began to acquire an international following. That was followed by a run of films that are as impressive a body of work as anyone assembled in the aughts, including his shattering 2006 relationship drama Climates, where he co-starred with his wife Ebru Ceylan, and a pair of films that have in some ways begun to reinvent the murky, well-trodden waters of crime cinema. 2008's Three Monkeys, a patient and ironic meditation on debt, family and political corruption, won Best Director at Cannes and was shortlisted for an Academy Award, while his latest, the quietly stunning police procedural I recently had the chance to chat with him about, took home the Grand Prix (2nd prize) at last year's event. It opens at Film Forum today.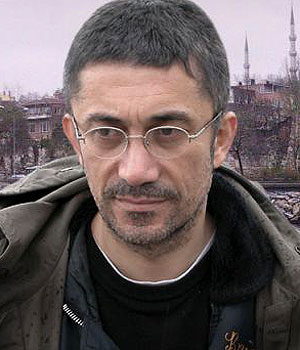 Filmmaker: It seems like this story as opposed to your previous three films centers on certain aspects of rural life. What drew you toward this place and the people within it?
Ceylan: I don't know really. More than the characters, there are so many characters in life. Sometimes you cannot know them in certain situations. You have a girlfriend once. You are with her for three years. One day, you go on a trip with her. In three days, you get more information about her than you did in the previous three years. In my last film and in most of the films, there are situations where through those situations you know the characters better. I think in this film something like that is happening. Searching for the body, you can see many characteristics, many properties, of these people more easily. I am fond of situations like that. In Anatolia, I was so interested by showing the different sides of the human soul through life and death. You see the reflections of the characters on many things throughout the story. So that's what interested me more than the rural element.
Filmmaker: The characters are constantly sharing things about themselves with each other, but also withholding things, including relatively petty things that somewhat consume them.
Ceylan: I remember many events for years in the city life — you go to a cafe with a friend and you drink and talk. For five years, there is no problem. One day, you make something together, maybe a small business. Suddenly, your friendship ends! You need something, a kind of catalyst, to really test the relationship.
Filmmaker: Your films have a formalistic quality to them. It seems you're more interested in mise en scene, in the formality and temporarily within your frames, than in editing and the relationship of shots. Does that have anything to do with your background in photography?
Ceylan: I do not know. I can not be sure. There is a certain kind of education in my background. Beyond photography, I used to like painting a lot. My motivation was more painting than photography. Of course I'm always going for a certain kind of effect, still I don't spend a lot of energy thinking about that in particular. The form comes from trying to create a certain kind of atmosphere. Atmosphere is very important for me. If I don't feel the atmosphere for a certain scene, I really don't shoot that scene. To create that atmosphere, I think you need a certain kind of performer; they are really connected on a certain level. Also, when I read novels, for instance, if there are scenes that I really feel the atmosphere within them, I'm more influenced by those scenes. So form is of course not free of content.
Filmmaker: They are married to each other.
Ceylan: Yes of course, but more than the content, the atmosphere. Form itself creates a kind of content. Form is not something, however, that controls the content. Form is in the center and in some ways, for some artists, content emerges from the form. Its certainly very important for me. Content is not content without the form. There is a certain type of event for instance. Different people tell the same event differently. Yet one person tells the event much more clearly, with much more meaning. It's because of his form. The form is what convinces you. Where he puts the silences, whether he looks at you or doesn't at certain points in the story, this is crucial. Somebody tells you a story in person, even if it is a very unimportant thing, if it is done well, you are very interested. They can make the thing really valuable for you. There is always something like that. The form has the ability to make the content more mysterious, more powerful, more real, more light, to imbue it with more truth. It's everything really.
Filmmaker: You don't shoot a scene unless you've found that atmosphere, but in the context of a film shoot, where there is a schedule and money is being spent to allow you to have the infrastructure to make the film, how do you achieve that sort of freedom? How do you know when the atmosphere isn't there and you have to change directions, perhaps change the nature of the content because of it?
Ceylan: You are never sure, never ready, in filmmaking. You expect to find a method within the shooting. When you don't have all the elements with you, you cannot be sure of anything. So I prefer remembering the atmosphere and try to find a way to express this atmosphere in the shooting. I do my best to do it, and I shoot a lot of things, and I'm always suspicious, I'm never sure. I shoot out of order, of course. In the editing of course, is the only place you can really resolve some of these issues. Something works or it doesn't. You try to find a way. Sometimes, what we expect to work really doesn't work in the editing. In general, if you like something in the shooting very much, you don't like it in the editing. Generally, unexpected things create the miracles in the editing. Knowing this reality, I shoot many different things, so that I can find good surprises in the editing. Sometimes I shoot just the opposite of what I intend to use, only if I feel it, if I feel that I have to shoot that. If there is even very little suspicion in me that something won't work, I shoot something else in the shooting. I'm not the kind of director that only shoots what I wrote. The script is only a guide, only something to make me feel safe in the shooting. I put the script aside at many times in the shooting.
Filmmaker: You wrote this script with a few collaborators, including a doctor who had been on a similar expedition to find a hastily buried body in a rural part of Turkey. Did he originate the notion of making this into a film?
Ceylan: It is a true story. My friend actually acts in the film, as the mayor of the small village. He told me this story at dinner once. We started with this story as the base. We changed everything in the script writing. We need the motivation to start however and they searched for the body until the morning, this part is true. In the shooting, I would check with him at all times, finding out how it was in the real situation, I'd ask him many questions. If it was not a real story, it would have been difficult to shoot this film. It was a hard story to find completely from the imagination. I am not a doctor, I have never lived something like this. I don't think I could have started such a project like this without knowing that it really happened. It makes me feel safer.