Back to selection
Jay Bulger, Beware of Mr. Baker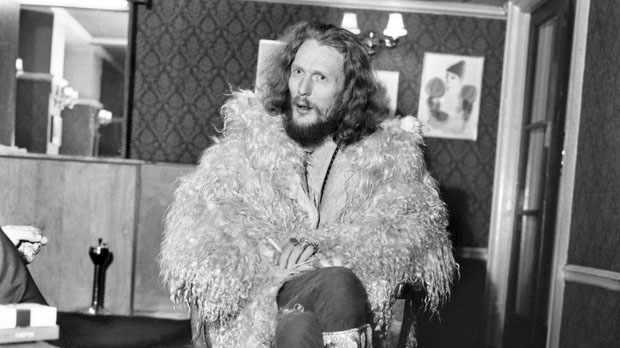 An often shocking documentary on Ginger Baker, the wildest of wild rock & roll drummers of the 60s and 70s, Jay Bulger's profoundly entertaining yarn Beware of Mr. Baker follows the original drummer of the late Sixties supergroup Cream well after he's fallen victim to bouts of psychosis and megalomania. In the mid 1960s, Cream (Baker, bassist Jack Bruce and of course guitarist Eric Clapton) achieved tremendous popularity almost overnight for their blues and psychedelia infused rock, but they burned out quickly, disbanding in 1968, prompting Baker to start a downward spiral of unparalleled substance abuse.
Forty years after Cream's demise, the reclusive Baker was tracked down in an South African gated community by Bulger, an ex-boxer and Brooklyn-based writer who found Baker to be a violent, incoherent old man who nonetheless is an expert polo player (he owns 39 polo ponies) with a morning routine that includes huffing morphine out of an inhaler and actively ignoring his mounting debts and 27-year-old trophy wife he found on the world wide web.
Drawing on interviews with many of Baker's ex-wives, lovers and children, ex-band mate Clapton, members of Rush, Metallica and many other seminal 70's and 80's bands, Bulger draws a stark contrast between this thoroughly grating man whose wits have mostly left him and the startlingly talented drummer he was in his youth. Through Baker, first-time director Bulger — who won the Documentary Grand Jury Prize at this year's SXSW Film Festival for Beware — is able to touch upon the lives of some of rock 'n' roll's key figures, from Jagger to Hendrix, but also sheds light on the ways in which Baker's rhythm section genius added the development of nascent form such as Afrobeat and Punk.
Filmmaker caught up with Bulger to discuss the singularly difficult process of dealing with such a unendingly dangerous subject and how boxing and filmmaking perhaps aren't so different. Beware of Mr. Baker opens at Film Forum in Manhattan today.
Filmmaker: How did Ginger Baker become of interest to you? You wrote about him for Rolling Stone before this film became a reality, and in that piece you suggest he's long been an interest of yours.
Bulger: Not him specifically, but first I grew up listening to Cream in the car with my dad. He would play the drums on the steering wheel.
Filmmaker: How did that interest in Cream develop into an interest in him specifically? Obvious he's a legendary eccentric, but much of what we know about him now is because of your own journalistic pursuits.
Bulger: I wasn't so much interested in Cream as much as I was in this character, this guy who drove across the Sahara desert to pursue his passion and his dreams of rhythmic perfection.
Filmmaker: He was in a somewhat dire place when you first encounter him and eventually lashes out in violence toward you, breaking your nose. What was that dynamic like between you and him when the camera wasn't rolling? Did it ever evolve to the point where he was less threatening? If not, why did you continue?
Bulger: Every moment I was around him I felt threatened. He's a really threatening guy. I've been boxing since I was eight years old. If I had stopped boxing the first time I got my nose broken, I would have stopped boxing when I was 12, you know? I don't take things too seriously, especially physical violence. It doesn't really affect me in the way it does the next person. I'm not bragging, it's just the way I am. You mess with the bull and you get the horns. Wait, is it the tiger? [laughs]
Filmmaker: Was he unreliable and difficult? You spent many months with him, yes?
Bulger: I just created goals… I think he was impressed from the get-go that I had sold my car to pay for my plane ticket. He's a passionate guy, he's a contradictory character and there were definitely aspects of him that I found were admirable, especially his truthfulness and honesty. He never turned his back on me, he was never dishonest, he always followed through with everything he said. Never once did he lie to me. He's a brutally honest guy, from the very beginning, and I don't know how exactly, but we came to an understanding that I was going to write this article and then we would see if we would proceed with the documentary. And then there was a whole other article and it took a while to convince him to do the film, but I had already started shooting. There was definitely a moment where he had these delusions of grandeur and he thought Harvey Weinstein was going to buy his film rights for a million dollars. I don't know. He just kind of followed through with everything he said he was going to do. Part of that was me fulfilling things I said I was going to do as well and he had to go along.
Filmmaker: Was it difficult to get people involved who could shed light on him? I'm thinking of course of the numerous people who he had spurned in his personal life, as well as ex-band mates and others who had felt betrayed by his inability to stay sober and sane. They all speak so candidly about him and themselves.
Bulger: There was some manipulation involved in that. Once people discovered someone else of note was in it, they would be more interested in doing it. I just appealed to everyone's ego. Secondly, most everyone in the film is acutely aware of how important the story we're telling is, mostly because of their own involvement in the story. There are a lot of chapters in the film that haven't really been told before and it would have been as much of a shame for Jack Bruce as much as for us if he hadn't participated, especially because of the competitive nature between them. Jack Bruce knew he was participating in a project that was focused on Ginger and giving Ginger a tremendous amount of credit for this music. He also knew that giving Ginger credit for all of these groups was unfair as well.
Filmmaker: What was the most difficult aspect of his story to make work cinematically? You dart around from place to place in this fascinating, troubling and contradictory life; it must have been hard to keep up with in the editing room.
Bulger: There was always too much stuff! I really feel like it's three or four movies in one. You could just make a movie about Ginger Baker in Africa. That was annoying, to have to cut down stuff. I went to Africa and I interviewed Ginger in a straight shot and I knew exactly what I wanted. With that I left and I had people fill in the gaps and reiterate the story. I had a pretty clear vision of the dramatic and narrative beats that happened in Ginger's life.
The whole thing was fucking crazy. Interviewing him was a nightmare. I read some article the other day that said all I had to do to make this film was point the camera in Ginger's direction and it was magic. If you watch the movie and at the end you see him yelling at me… I boxed since I was eight and my style of boxing is to fight on the outside, always have. I jab to keep people from coming in, establishing and dominating a distance where I can  hit and they can't. This was totally different. This was akin to fighting like Mike Tyson. You have to take 10 punches for every devastating overhand blow you get to land, if that makes any sense. Asking things sometimes from a strategic level, it was almost better to set myself up for being yelled at and so forth. Sometimes I would ask rhetorical questions that I knew would make him angry, but it would also get him excited about proving me wrong. It wasn't a straightforward interview process with him. It was really difficult and at times humiliating and trying. A lot of the interviewing process involved exploring aspects of his life I knew the answers to, but it was going to start off with him calling me names and being less than responsive. There were so many times making this film where I would look at the d.p. before or after and even during a take and I'd be like, "Jesus, I don't know if I can handle this," because it was so humiliating at times.
He's not the nicest person on the planet. He doesn't do it to torture me. He genuinely just didn't want to give it to me readily, he wanted me to work and suffer for it. It turned out to be a really great thing because while working with him I had to be on my toes the whole time. There were no relaxed moments in three months of interviewing him. It was like making a wildlife documentary where you're like surrounded by lions and you get sort of comfortable and then suddenly one's jumping up and trying to kill you. Obviously, it helped that he was 73, but as you see at the end of the movie, he was threatening to do that to me the whole time and eventually he did. When he did, I wasn't exactly surprised. That's the person I was dealing with. At all times. For three months.
Filmmaker: How long were you there when you did the initial article?
Bulger: Another three months. It was three months of that, then I came back and did three months of shooting. I lived with him. I don't know how I didn't lose my hair. It was really trying. It wasn't manipulation. He's written his own autobiography as book. If I just let him tell his own story as he wanted, it would've ended up differently. But I knew there were elements and aspects of his story that I thought were important that I knew weren't important to him or that he wouldn't want to talk about. So I'd start talking about them and then come back to them like a week later when he was more stoned on morphine or in a better mood. Usually they were synonymous with one another. Some times were fun, but really it's interesting: it was cathartic, because I'm young and confident. Here I was in a situation where not once did he ask anything about me. Rightfully so, but it was nice to find an obsession. But at times [it was] trying, just like I suspect it's been trying for his son to deal with him. Obviously I was doing it because I revered him. I knew entering the thing that I was probably going to do something [where I'd] never get that satisfaction of hearing him say, "Good job, I love the movie, blah blah blah. Thank you so much for your efforts." That was never something I was expecting to get. Nor will I ever.
Filmmaker: Has he seen the film?
Bulger: Yeah, he saw the film two weeks ago.
Filmmaker: Did he respond in any way?
Bulger: Funnily enough he liked the first half, where he's doing really well and making a lot of money! [laughs] He didn't like the second half so much. That's exactly what we were going for. [laughs]