Back to selection
The Sopranos' David Chase Makes Film Debut with Not Fade Away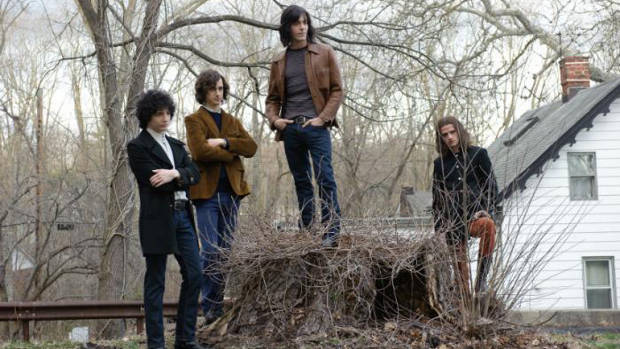 David Chase loves the Stones. Anyone who watched his hit series, The Sopranos, and heard the soundtrack will know. Nor will they be be surprised that his feature film debut, Not Fade Away, is about a bunch of suburban kids from New Jersey who pick up guitars and grow their hair after they see The Rolling Stones on TV in 1964.
"It's not autobiographical," Chase insisted at a recent  preview in Toronto. "The events didn't play out as they happened in this movie."
In fact, both Chase and his protagonist Douglas (John Magaro) came of age in suburban New Jersey during the British Invasion. In 1964, both began university, both played drums in a band, and both struggled under a dominating father (played by James Gandolfini) in an Italian-American household. By 1968, both moved to L.A. and both fell for their high school sweethearts.
"It's probably true to how I felt at that time about the music, my girlfriend and politics," Chase revealed.
That's where the similarities end. In Not Fade Away, Douglas graduates from drummer to lead vocalist, cuts a demo in New York, and loses his band. Chase wanted to film a story about a failed band. "For every Rolling Stones, there's a million or two who aren't like them."
If that's the case, then his film fails to impart the band's dreams and disappointments. The complex characterizations that elevated The Sopranos beyond gangster series to high drama are sadly missing here. The cast is remarkably grey, and only Bella Heathcote shines in her role as Douglas' bohemian girlfriend, riding the rollercoaster of cultural, political and social upheavals in the sixties.
Ironically, Chase always wanted to direct feature films, but became a TV legend. He's a superb TV writer, but he hasn't mastered the structure of a feature screenplay yet. Sequences fail to rise to a explosive turning point and many scenes lack punch. Not Fade Away could have used another draft and story editor to carve a clearer narrative, one that plumbs the exhilarating highs and merciless lows of a young band struggling to make it. Not Fade Away is surprisingly flat and the audience never gets behind its hero.
Chase has discovered that his film is appealing primarily to Boomers. They enjoy it as a nostalgia trip anchored by a rocking soundtrack that features the Stones, Beatles, Bo Diddley, James Brown and Van Morrison (oddly, the only song Chase couldn't secure was The Who's Boris The Spider). Depsite this, Chase hopes it will attract some youngsters. "That music is so good and it's still with us," he said, pointing out that today's kids are the first generation to listen to their parents' music. "When I was growing up I didn't know who Guy Lombardo was or care."
What Stones album does Chase love? 1966's Aftermath.