Back to selection
The Starving Artist Cookbook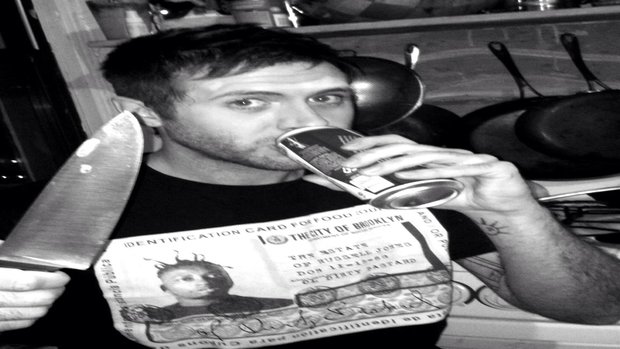 Starving artist with beer and knife.
I always felt that being a starving artist has many overlooked benefits. Think about it. Keeping a nice rail-thin frame like those models in magazines. Cultivating that cool '70s junky look you aspired for when you would watch Joe Dallesandro films as a kid. Saving the change in your pocket for "artistic supplies" instead of junk foods. Seriously, alcohol and drugs are so much funner than slamming down a few Mama Celeste pizzas or handfuls of tater tots. And making a film, painting on a canvas, playing music and writing are all so much rewarding than dollar-meal burger and fries. Healthier too!
Anyways, I know that we aren't living in some form of artistic utopia free of grocery bills, increasing rent and other necessities. Money can be tight, especially for artists. It kills me to see so many people eating McDonalds, but understand that it is certainly the cheapest option. I hate fast food. It makes you feel shitty, both mentally and physically. And the last thing an artist needs is to feel shitty. We already have enough soul-crushing depression, drug habits and anxiety to fight through. Why ad more fuel to the fire? Though, who am I to judge? When I lived in Northern California, I used to dumpster dive for stale bread and old vegetables. One is just easier than the other, I guess. One may give you worms. Though I'm not sure which one at the moment.
Let me say first off that I am certainly no health fanatic. I don't go to a gym. I don't eat power bars or follow any sort of special diet. I drink way to much, barely sleep, eat irregularly, and smoke heavily. I get my exercise by walking everywhere due to my fear of public transportation, and occasionally swimming (even in the winter). Running away from police because I never have the filming permits I need is another great way I get exercise. Yet, as I spend the other half of my underground filmmaking life in a professional kitchen as a cook, I have worked to figure out ways to create recipes and dishes that are cheap, easy, and hopefully pleasing to the tastebuds. Some dishes have been invented in a professional kitchen while many have just been created while living on the road, utilizing what ever was in the pantry at the time. In the art community in which I live, we are happy to just eat some bread and cheese and move on. Yet, I'm beginning to feel that it is time to help replenish and re-nourish the starving artists who both inspire as well as continue to create beautiful art on empty stomachs. These recipes are easy enough for even the worst cook, so fear not! The recipes here also work to utilize most if not ALL of the food in the recipe without wasting most scraps, because somewhere there is always someone willing to swipe in and grab em. up! So with that said, drop that Quarter Pounder and lets eat real food!
(Note: Please keep in mind that many of these recipes were put together when in dire need of sustenance. If you are seeking a hearty Sunday Night feast, may want to pick up a Paula Deen cook book instead. This is basically "get by" food at its best!)
Let's start with the very basic.:
Peanut Butter and Jelly Sandwiches:
I had to start with this one just because it is a stable in the artist diet. At least for me, PB&J's have kept me going through many long, cold, and lonely nights. Not only are they relatively easy to make, depending on how intoxicated you are, but they also pair well with a cold 40 oz. of Malt beer! Win Win!
– White Bread (though feel free to go crazy with bread options)
– Chunky Peanut Butter of your favorite brand (chunky seems to go a lot further than smooth I find)
– Grape Jelly (let's not get too wild on this one folks. Though I guess Nutella works if you can afford it.)

Spread Peanut Butter and Jelly on bread, combine, and eat. Feel free to cut the crusts if you aren't a crust person, though remember, there are "starving artists" all around you who would kill for it!
Josephine Street French Bread Pizza
The name, which derives from my beloved New Orleans-based address, is a simple and enjoyably spicy dish that has supplied many gatherings in the backyard during those beautiful warm spring New Orleans evenings. When I was shooting my documentary In the Golden Blood of the Sunlight, our cast and crew survived solely off of these. (Note: this is not a New Orleans dish whatsoever, though one MUST use Crystal Hot Sauce when cooking. No exceptions!)
– Large French Bread Loaf – Preferably a bit stale. Try searching a dumpster behind your local grocery.
– One Bottle of Tomato Sauce
– One Bottle of Crystal Hot Sauce
– One Package of "Rat Cheese" or simply yellow block American. (I know, gross but tasty!)
– Salt & Pepper
– Toppings of your choice (Chef choice: Peperoncini peppers and black olives)

Preheat over to 350 degrees.
Slice French Bread down middle. Discard end pieces if you wish as they can be a bit tough, but once again keep in mind that there are other dumpster diving starving artists ready to snatch them up at anytime!)
Dowse both halves of the bread with about half the bottle of Tomato Sauce, as well as about a quarter of the bottle of Crystal Hot Sauce.
Grate your cheese and sprinkle it on top as well as your preferred toppings.
Add a few more touches of Crystal, some salt & pepper and place in oven for about seven to ten minutes until cheese is golden brown and crust is crunchy. Mama Mia!
Beet Green Salad
I could write an entire book about my love for the sadly overlooked beet greens, however, due to time restraints, would rather just eat them instead! Many people overlook geet greens figuring that the best part of the beets are the beets. Wrong! The greens are spinachy-goodness without having to eat spinach! Do not discard the greens, stems and obviously not the beets themselves! Beet greens are a great form of nutrition and a wonderful way to utilize your entire produce. Don't be freaked out and jump right in! As an artist it is imperative that you try new things, so do it! You'll be pleasantly surprised!
1 Stock of Beets, Greens attached
1 Cup Red Wine Vinegar
1/2 Cup Extra Virgin Olive Oil
1/2 White Onion
1/2 jalepeno (diced)
1 clove of garlic (diced)
1 Lemon (For juice)
Salt & Pepper

– Snip greens from beets. Place beets in tin foil (Don't bother to peel yet. Once cooked, they peel easier) season with vinegar, olive oil, salt and pepper and place in over at 400 degrees for one hour and thirty minutes.
– Clean greens to remove dirt and grime.
– Finely dice stems.
– In a large saute pan, add diced onions and cook until translucent.
– Add garlic.
– Dice jalepeno (Don't touch your eyes dumb asses!)
– With a bit of olive oil and vinegar, add cleaned and dried greens plus stems and jalepeno and season lightly. Cook until soft.
– Adjust seasoning.
– Serve with a bit of lemon zest.
(Note: The finished beets can then be peeled, seasoned with olive oil, vinegar, salt and pepper and enjoyed alone as a salad. Feel free to add some yogurt too! And don't be a waste. The juices that are left over can be reduced down into a b eautiful sweet glaze reinforced with a bit of red wine, sugar, and a dab of honey. Sounds strange, but once again, very tasty)
Rev's Tofu and Rice
The title comes from the fact that my girlfriend Reverend Jen loves this dish so much that we may very well eat this nearly four to five times a week. If guests come to her world famous "Troll Museum," which is also conveniently our apartment, they will most likely be offered this dish and so far, no complaints! Usually a great way to win over reluctant journalists about to write bad shit about your work! It works best with yellow rice, but understanding the sodium content is stupidly high on those box rices, I prefer now to simply use regular white rice and touch it up with my own seasoning. This also works well with any form of Hot Sauce as a topper. Try Franks, Crystal or Sriacha. A perfect late night dish to feed the homeless crack heads sleeping on your kitchen floor! Just remember to save some for yourself!
Extra Firm Tofu
1 Package of White Rice
1 Onion
1 Tablespoon Honey
2 Tablespoons Cumin
Hot sauce of your choice
Salt and Pepper to taste

– Remove Tofu from package and allow to dry out between paper towels for about 30-45 minutes. This will allow it to become very crisp on the outside when pan frying.
– Boil rice with a healthy dose of salt in the water
– Dice tofu into squares
– Heat up saute pan with vegetable oil on Medium heat and add sliced onion. (Not diced, the smaller the pieces, the easier they will burn in this dish) Cook until translucent
– Add diced tofu, salt, pepper, cumin and a tablespoon of Honey. Mix thoroughly and allow each side of the Tofu squares to become golden brown.
– Add rice in pan with Tofu. Adjust seasoning.
– Now eat up like the grungy hippy you are!
Red Beans & Rice
While we're on the rice kick and the tastes of New Orleans are forever in my blood, I wanted to include this dish as it is a Monday afternoon staple. This will last you a few days and is best cooked while listening to Cookie & The Cupcakes or other swamp pop blaring on the stereo. (Note: this is just my rendition of the recipe and I understand that everybody has their own style. I did not learn to cook this while in New Orleans, just how to enjoy it! Once back in New York, I took a chance and felt excited with the outcome.) This pairs nicely with cold cheap beer or if your feeling a little rich due to selling some art, Abita! Be sure to share with friends!
1 bag white rice
1 can Red Kidney Beans
1 can baked beans (I know, bare with me here though)
1 Onion
1 Green Pepper
1 Clove garlic
1/2 cup white wine
Tablespoon cumin
Teaspoon Red Pepper seasoning
1/2 cup tomato paste
Scallions
Salt & Pepper

– Boil rice in salty water
– Dice onion, pepper and garlic.
– Veg. oil in a pan over medium heat. Add onions until translucent.
– Add Peppers and garlic. Allow to cook until soft keeping an eye not to burn the garlic!
– Add the wine and save a sip for yourself! You deserve it!
– Drain beans from cans (the liquid inside the cans contain an insane amount of sodium, so be sure to rinse off the beans as well! Except the baked beans of course)
– Add beans into the saute pan as well as tomato paste. This will allow it to thicken up. Season with cumin & red pepper.
– In the meantime, dice scallions.
– Check rice and when right, add into the beans.
– Adjust seasoning.
– Top with scallions.
– (Note: You'd be stupid to enjoy this dish without Crystal Hot Sauce!)
Shrimp & Avocado Quesadilla

Granted the price of seafood is generally a bit much. And if you're like me, you'd rather blow that money on some cheap wine and cigarettes. However, if you are able to scrape up a few extra bucks, head down to the Essex Street Market in the Lower East Side (I know this is specific but I feel obligated to promote my neighborhood businesses), you can grab a quarter pound of shrimp for just about three bucks! If you're not a New Yorker, your local fish market should be sufficient. This one takes a small bit of maintenance but in the end, it's worth it! Another one of Rev's favorites and a staple lunch for us at home. (Note: these are extremely filling and surprisingly somewhat healthy!)
4 Flour Tortillas.
1 Avocado
1/4 lb. Shrimp
1 bunch cilantro
1 lime
1 lemon
1 block cheapest cheese (go insane here!)
Salt & Pepper

– Clean and de-vein shrimp. This can be annoying, but do under running cool water and it should make it a bit easier. And with just a 1/4 lb., it shouldn't be too tedious.,
– Heat pan over medium with a little bit of vegetable oil
– Add shrimp and season with black pepper, salt and juice with half of lemon. Save other half.
– Keep a close eye on shrimp to not overcook.
– In the meantime, cut avocado, place in bowl and add salt, pepper, lime juice and other half of lemon juice. Mix thoroughly
– Dice cilantro and add in mix.
– Remove shrimp and begin to assemble tortillas.
– Place a good amount of avocado mixture on one side of tortilla. Add a few shrimp on other side. Cover shrimp with slices of cheese. Fold.
– Place full tortilla back in pan and heat up both sides until golden brown. If cheese still isn't melting, feel free to place in toaster or microwave (sigh). Try not too though!
– And obviously use an excessive amount of Hot Sauce with this one too!
– Beer necessary
I sincerely hope you enjoy these recipes as much as I enjoy eating them! Perhaps there will be more on the horizon but for now, here is just a taste from my personal cookbook. In closing, there is no reason to be a starving artist when all these recipes can be made for basically under $15! Just be sure to save some money for booze and don't waste to much time cooking when you need to be creating art that the world doesn't seem to care about at the moment! If the world doesn't like your art, don't cry! Perhaps you can win them over with your cooking! Oh yeah, and always remember to share!