Back to selection
Hawaii International Film Festival 2013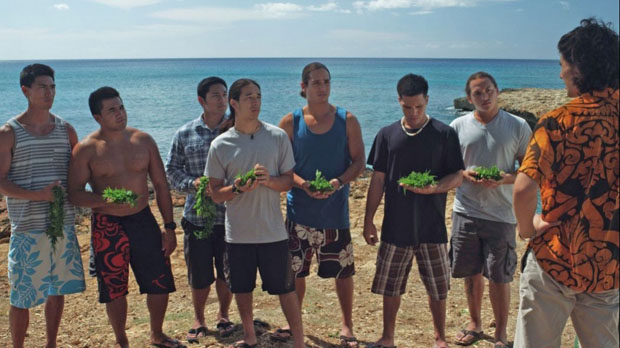 The Haumana
Bryan Cranston as a Polish gangster; Chuuk immigrants in Guam; a Japanese superhero dressed only in women's panties; Honolulu transit controversies; a home run-hitting gorilla; and filmmaking initiatives from the Cook Islands — all these and more were on display during last month's Hawaii International Film Festival. New films by Jia Zhang-ke, Hirokazu Kore-eda, Hayao Miyazaki, Brillante Mendoza and Dante Lam dominated the festival's solid Asian lineup, while emerging talents such as Tze Chun and Steven J. Kung led its selection of American work. Casting its nets far closer to shore, the festival also highlighted local Hawaiian and Pacific Islander filmmakers and communities and continued its recent focus on creating participatory events such as lecture series, live kung fu demonstrations (!) and even a lab for young, Internet-savvy media makers. As the early 2000s emergence of festival culture slowly fades into an uncertain 2013 era of lackadaisical attendances, audience burnout and new-media distractions, festivals in general must find a way to survive; HIFF does it through such "off-the-screen" events and by making sure that local artists (and the community in general) are continually connected.
Over the past few years HIFF has earned the reputation as the go-to American festival for Asian cinema, with a wide-ranging lineup capable of spotlighting not just the most well-known and anticipated films, but also the strangest and most unexpected. On the more recognizable side of the spectrum, Hirokazu Kore-eda's family drama Like Father, Like Son turned its potentially soap-opera narrative — two families who realize their sons have been switched at birth — into a moving, spare document on the bonds between parents and children and on how parental success and failure is defined beyond merely financial means. Hong Kong action director Dante Lam returned with the boxing slugfest Unbeatable, while the festival snared a North American premiere for Jia Zhang-ke's incendiary depiction of corruption in modern China, A Touch of Sin. Meanwhile, a sidebar on Filipino filmmaker Brillante Mendoza showcased his stunning, Nora Aunor-starring new film Thy Womb, a lovingly respectful document on life in the southern islands of the Philippines and brought the director himself out for several discussions.
On the slightly less reputable (yet certainly more eye-opening) side, however, there lurked a far different selection of films, where genres were blown up and recombined into strange new formats, Baudrillardian simulacrums both utterly familiar and totally odd. Titles included Yûichi Fukuda's jaw-dropping Hentai Kamen: Forbidden Superhero (a.k.a. "PantyMan"), arguably the most child-friendly film ever made about a superhero wearing only women's panties (which he stretches from his groin to his head to fight villainy); Sion Sono's Why Don't You Play in Hell, a surprisingly joyful salute to both super-8mm filmmaking and yakuza films involving some amateur filmmakers hired by a mobster; festival regular Iguchi Noboru's Nuiglumar Z, about a "Gothic Lolita" (and her teddy bear) who battles a zombie army; and Kankuro Kudo's impressive Maruyama, The Middle Schooler, one of the festival's major discoveries, a combination coming-of-age/serial killer film about a lonely middle schooler, a possible murderer, Korean soap-opera obsessions and self-fellatio. More wholesome yet still novel in their freewheeling approach to genre bombing, Yuzo Asahara's A Tale of Samurai Cooking: A True Love Story united the historical samurai film and cooking/romance genre with an unblinking calmness as straightforward as its title; Tsukasa Kishimoto reassembled the hip-hop movie and the action film into "breakdance fighting" with his Okinawa-set, brilliantly titled (or English-titled, at least) Dancing Karate Kid; while Yong-Hwa Kim's Mr. Go cheerily gobbled up the circus film, the sports film and the orphan melodrama in its tale of a plucky orphan and her best friend, a baseball-playing gorilla (!) who makes it big in the Korean Major Leagues.  One can argue whether such films are the death of cinema (or the rebirth!), but one can never deny their relentless energy and offbeat charm, or the fact that HIFF remains the place to see them; all were either world or U.S. premieres.
HIFF's secondary strength lies in its selection of American independents, specifically its focus on emerging Asian-American talents. Making its world premiere at HIFF was Steven J. Kung's A Leading Man, a critical look at a Hollywood where "Asian American" and "leading man" are still rarely placed together. Following a tall, charming, handsome and suitably vain actor (Jack Yang) as he finds himself on an offensively racist television show, the film captures the casual bigotry and self-aggrandizing denials ("Hey, I studied Mandarin in college") that linger within the industry; its show-within-the-film may be cringingly, fantastically racist, but recent real-life controversies (hello, Dads) hint that Hollywood still has much to learn. Satirizing and condemning Hollywood attitudes would probably be enough for A Leading Man to succeed, but a surprisingly nuanced script by Kung (a former assistant on Mad Men) gives further depth to this insider's look at an actor's life in Hollywood, capturing all the hallway friendships, constant vanity and unstable relationships.
One actor with little need to worry about roles is Bryan Cranston, who follows up his career-defining success in Breaking Bad with Tze Chun's wintry assassin's tale, Cold Comes the Night. Chun, whose debut film Children of Invention was an indie highlight of 2009, gives Cranston full reign in this look at a lonely motel clerk (Alice Eve) caught between two evils: a crooked cop of a boyfriend (Logan Marshall-Green) and the taciturn Polish gangster (Cranston) who takes her hostage after a crime gone bad. Breaking free from Breaking Bad's Mr. White, Cranston adds a steely, hard-bitten edge to the gangster, partially blind, yet fully committed to the criminal life. A must for any Cranston fans, Cold Comes the Night benefits from Chun's remarkable eye for detail and place, in this case a winter's-bound upstate New York, where even high noon seems perpetually wrapped in twilight's chill.
Seemingly existing on the opposite side of winter lies Henry Chan's sunny romantic comedy 100 Days, filmed in Taiwan's scenic northern islands and also making its world premiere at HIFF. The film's plot — uptight, big-city busy-man returns to his laidback rural home, meets old flame, and, well, you know the rest — borrows from both Cary Grant-style Hollywood screwball comedies and similarly breezy Hong Kong romances, all while being updated slightly for a Taiwan-specific urban/rural commentary. Chan, a Hollywood veteran with shows such as Moesha and Scrubs to his name, knows he's not inventing the wheel here, and makes sure to simply get out of the way and let this oft-told tale be told again, against some breathtaking tropical scenery that serves as a full-featured advertisement for Taiwan's northern islands, and Matsu Island specifically.
Hawaii itself knows a few things about tropical backdrops, and while this year's selection of local works offered plenty of ocean views and breathtaking scenery, it also delved into the problems behind the panorama and the issues that linger when the tourists are long gone. On the sunnier side is Keo Woolford's appealing The Haumana, a made-in-Hawaii work that world-premiered at the festival during a giddy, hug-filled, closing-night affair where half the audience seemed like family: a mean feat, considering the 1000-seat size of the historic Hawaii Theater venue. Tui Asau plays a washed-up former hula artist now consigned to blurrily slurring out lounge hits to an audience of just-as-drunk tourists; when his hula mentor dies, he's forced into becoming a teacher, and even a father figure, once he puts down that rum. Plenty of comic relief and some winning performances by local actors give The Haumana a warmth and true pleasure all too rare in independent film these days, but the true star is Hawaii itself, its culture and its people.
Beyond international hits and even locally made feel-good narratives, however, a festival's true importance lies in how it connects to — and reflects — the culture around it. A powerful crop of documentaries rounded out HIFF, each presenting an intriguing look at local issues and island life. Even a work as seemingly straightforward as Anthony Aalto and Mike Hinchey's Railroading Paradise, a behind-the-scenes documentary on the battle around a Honolulu mass transit rail line, impressed with a craftsmanship and editorial tightness unusual for issue-driven films. Laying out each line of resistance and argument, the film served as a useful critique of not only a regional issue, but more universal ideas of urban development, environmental protection, and population growth and control.
Other works opened up windows to issues barely known beyond Hawaii, yet also universal in theme; Lola Quan Bautista's Breadfruit and Open Spaces, for instance, captured a small community of Yap and Chuuk islanders living in Guam, and their struggle to find a political voice amidst institutional disinterest. A more literal documentation of "finding" and keeping a voice, Anita Chang's insightful Tongues of Heaven addresses the disappearance of language itself, as it follows four young indigenous women from Hawaii and Taiwan attempting to keep their native tongues alive. Heartfelt and immediate, the film expands their individual tales, of language both lost and found, into a universal primer of how culture is kept alive through words and what it means to lose not only a voice, but the language to speak it in.
Giving a more modern, "digital voice" to local culture was one of the festival's more unique programs, a spotlight on the Film Raro project, designed to bring filmmaking initiatives and tools to the people of the Cook Islands. Five shorts, all filmed on Rarotonga, derivated in talent and expression, but each shone with the energy of a community and a culture, finding both its voice and a new way to tell its tales. More than anything, the Film Raro program reflected the true spirit and appeal of the Hawaii International Film Festival, where what matters isn't just bringing in films from around the world, but bringing up the issues and creativity of the communities just around the corner.