Back to selection
Nathan Silver's Undeniable Pressure Cookers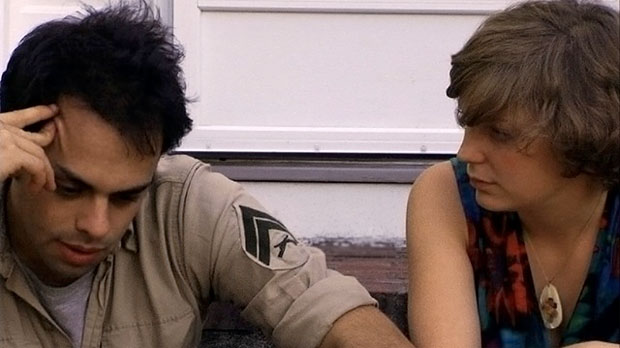 Exit Elena
A producer friend of mine recently opined that if your film does not get into Sundance, it's a financial failure. That's a hard and fast rule that doesn't necessarily hold, beyond the frightening fact that nowadays, only one in five Sundance films receives theatrical distribution. Independent films still ink deals out of SXSW, Tribeca and the margins of Toronto, but what of the films that aren't afforded the spotlight of the festival circuit? More and more it seems that unique perspectives are cast aside for formulaic, middle of the road, audience pleasers at these high profile showcases.
Filmmaker Nathan Silver is both a friend of mine and a perfect example of someone who, in making demanding, uncompromising work, must find support in word of mouth and not the various opportunities that accompany a big festival premiere. His latest, Uncertain Terms, which is set at a group home for pregnant teens, and stars Gina Piersanti, Hannah Gross and Tallie Medel, has yet to see the light of day on the circuit. Of course, Silver is hardly twiddling his thumbs: he is now in pre-production on his fifth feature, Stinking Heaven, which will star Keith Poulson, and reunite Gross with her I Used to Be Darker co-star, Deragh Campbell. Set in 1990, Stinking Heaven unfolds at a commune for recovering addicts, where harmony is tenuous at best — if you're already sensing a trend in Silver's work (a cacophonous confluence of unholy souls), that's because he knows his wheelhouse.
As epitomized in Soft in the Head, which opens this Friday at New York's Cinema Village, Silver thrives on the chaos that arises from his improvised, ensemble pressure cookers. As he says of his process on Stinking Heaven's Kickstarter page, "Filmmaking is the one place where you can capture accidents and unexpected behavior in real time, and yet it has somehow become the most regulated medium out there. I want to exploit what is inherent to filmmaking and take full advantage of chance."
That sense of chance does not always result in abrasive exchanges: his second feature, Exit Elena, which will enjoy a revival run on April 27 and 28 at the Anthology Film Archives, features several endearingly honest exchanges between his then-girlfriend Kia Davis and his mother Cindy Silver. In all of his films, it's readily apparent that Silver knows how to get under the skin of his characters, driving them from the inside out, in a way that few contemporary, low-budget directors can.
For anyone interested in risk-taking filmmaking, I recommend checking out both Soft in the Head and Exit Elena this month, and if New York is out of your reach, then perhaps consider contributing to Silver's Kickstarter. For $250, producer Rachel Wolther will sit your cat. Not to mention, you'll have it in good conscience that you're helping a film that truly deserves to be made.