Back to selection
Five Questions for The Yes Men Are Revolting Director Laura Nix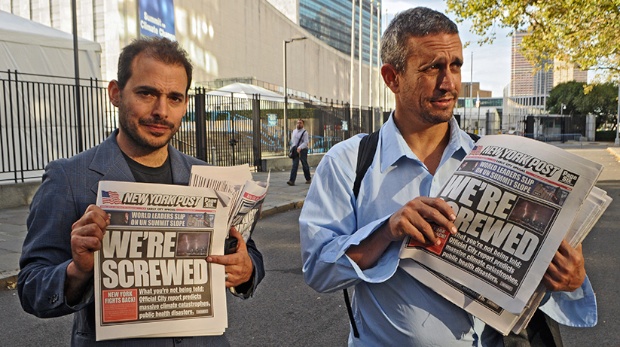 The Yes Men Are Revolting
Five years after political superheroes the Yes Men (Andy Bichlbaum and Mike Bonnano) made everything all right in The Yes Men Fix the World, our planet seems pretty screwed up again. So, once more the two hit the airwaves, corporate board rooms and tabloid front pages in The Yes Men Are Revolting, directing their activist wit towards the issue of climate change. Along the way, they are joined by Laura Nix, who produced the previous film and this time directs alongside them both. Nix's directing credits include The Politics of Fur and The Light in Her Eyes, and below she discusses what she wanted to bring to this latest cinematic rendition of The Yes Men. The Yes Men Are Revolting premieres at the Toronto International Film Festival on Friday, September 5.
Filmmaker: You produced the previous Yes Men film and here are a director. How did your role evolve with the group, and how did you collaborate with them on this film?
Nix: I went to both college and graduate school with one of the Yes Men, Igor. And I remember the time when he and Jacques first started hanging out together when we were still in grad school. They were so excited to be working together, it was really fun to watch. In their first incarnation as RTMark, they asked me to pose as a TV journalist and interview executives at a corporation they were targeting. Years later they asked me to help out on the Survivaball/Halliburton stunt at the Ritz Carlton in Florida, which ended up in the second film. We were all detained by the security team until we handed over our footage (decoy tapes of course), and by then I was hooked.
On this film I wanted to let the audience in on what I know about them, and not just what the public knows about them. This film is different from the first two because they decided to include their personal stories. Eventually it became clear to them that the film needed someone who wasn't already a subject in the film to help shepherd the project. Since the movie is about professional imposters, I also don't think it hurts that I have a background in both fiction and documentary filmmaking. When they asked me to get involved as a director, they had already shot several actions for the film, but we needed to shoot more, and also create the balance between the parallel stories – how will the Yes Men address climate change, and how can they keep going as activists.
One of my roles was to figure out how we could shoot an action so it covered the necessary story beats and made sense to an audience. And also to assess what was feasible to pull off. When the Yes Men organize an action, they brainstorm a huge range of possibilities and then winnow it down to a plan. I did need to talk them out of the some of the crazier ideas. They don't like hearing why it might not be a good idea to pose as oilmen in the Niger river delta, or fly around a hotel conference room in a giant balloon that spews poop on the audience members – but I'll stand by my reasoning on those decisions. Conversely, they also convinced me, many times, to go along with things I thought were insane, and ended up going okay, so we balanced each other out.
Filmmaker: To what extent has the increased visibility of the Yes Men since the last film affected their overall project? Are their stunts — and your filmmaking — more difficult due to their increased notoriety?
Nix: People assume it's become more difficult to pull off the stunts because they're more recognizable, but oddly that was never a big problem. I did have fears of someone jumping up and saying, "Hey, that's the Yes Men" when we were in the midst of an action, but it never happened. I think what has become harder for them is that they have more responsibilities now than when they were younger. They both have full time teaching jobs, one of them has kids, and both are struggling to balance their personal relationships with work and flying around doing stunts. Some of these issues are what we all struggle with as adults, some are unique to being Yes Men.
Filmmaker: Political protest has changed much since the time of The Yes Men Fix the World, from increased use of Twitter and social media to Occupy New York. Is the sort of protest practiced by the Yes Men still as important, and where do you see the Yes Men fitting in to the current activist landscape?
Nix: I think the kind of protest the Yes Men do is more relevant than ever because they're good at inspiring other people, and they use humor to approach dire subjects. But also because the way their stunts are constructed, they're simultaneously commenting on a political issue, and the way the media is covering or not covering that issue. The actions are often inherently designed to point out what's not being covered in the press. In the beginning, the Yes Men relied more on mainstream media to release the news of the stunt, and its reveal. Now they rely much more on social media to get the word out. For instance, the Shell action in the film got some tv coverage, but it heavily relied on Twitter to make the video of the stunt go viral.
Filmmaker: As a filmmaker, what were you interested in doing differently with this film? What aesthetic goals did you have going in?
Nix: I wanted this film to be more emotional, and for people to connect with them as humans, not just activist heroes. Many people assume the Yes Men have secret funders, or have money themselves. The truth is they pay a steep price in each of their lives to keep this kind of work going, and I hope audiences find their commitment to change inspiring.
Filmmaker: You raised a substantial amount of money on Kickstarter for this film. Has that crowdfunding experience changed the way you and the Yes Men are thinking about sustainability going into the future?
Nix: We did have a successful campaign on Kickstarter, but as is true for many films, it was only part of our budget. The rest of the budget was funded by grants, some foreign pre-sales, and a few private contributions.
For the future, the Yes Men have created a new digital platform, the Action Switchboard, which is basically crowd-sourced activism. It launches this fall, creating a space for people to propose actions and connect with others to make them happen by donating skills, or materials, or money. It's global, and will be moderated by a team of facilitators who advise, and match collaborators and resources. They've been working on it a long time, and I think it's going to be really cool.