Back to selection
Fox Searchlight Acquires Noah Baumbach's Sundance-Bound Mistress America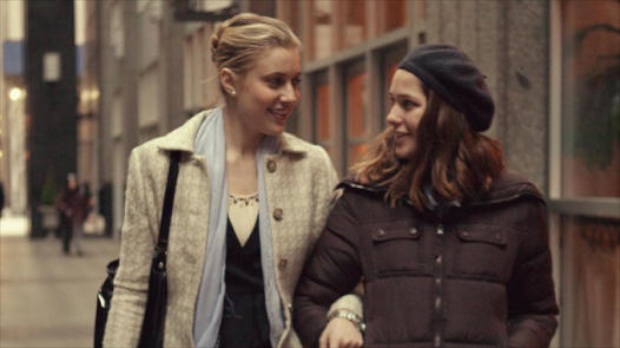 Mistress America
Fox Searchlight has struck early, acquiring Noah Baumbach's highly anticipated Mistress America two weeks before its premiere at the 2015 Sundance Film Festival. As described in the press release, "In Mistress America, Tracy (Lola Kirke) is a lonely college freshman in New York, having neither the exciting university experience nor the glamorous metropolitan lifestyle she envisioned. But when she is taken in by her soon-to-be stepsister, Brooke (Greta Gerwig) – a resident of Times Square and adventurous gal about town – she is rescued from her disappointment and seduced by Brooke's alluringly mad schemes."
The film is written by Baumbach and Gerwig, directed by Baumbach and produced by Baumbach, Scott Rudin, Lila Yacoub, Rodrigo Teixera, and Gerwig." With A24 releasing Baumbach's upcoming When We Were Young this Spring, Searchlight is also planning a '15 release for Mistress America.
From the press release:
"Noah's distinct cinematic voice and keen sense of humor are an ideal fit for what we do at Searchlight. We are thrilled to be working with Noah and Greta and couldn't be more excited to be taking their new collaboration to audiences," said Gilula and Utley.

"We're so excited about Noah's film, and Fox Searchlight as its distributor is just the perfect match," said RT Features' Rodrigo Teixera….

The deal was brokered by Fox Searchlight's Executive Vice President of Worldwide Acquisitions, Tony Safford, Senior Vice President of Business Affairs Megan O'Brien and Senior Vice President of Acquisitions & Co-Productions Ray Strache, and UTA Independent Film Group, which represented the filmmakers and arranged the film's financing.

Since 2008, RT Features has been focused on developing, producing and financing international projects such as FRANCES HA by Noah Baumbach, LOVE IS STRANGE by Ira Sachs and the next project from James Gray. In 2014, RT announced a venture with Sikelia Productions, launching a fund to finance and produce projects by emerging filmmakers.

Fox Searchlight Pictures is a specialty film company that both finances and acquires motion pictures. It has its own marketing and distribution operations, and its films are distributed internationally by Twentieth Century Fox. Fox Searchlight Pictures is a unit of 20th Century Fox Film.