Back to selection
Sundance Announces New "Art of Nonfiction" Initiative Supporting Innovative Documentary Filmmaking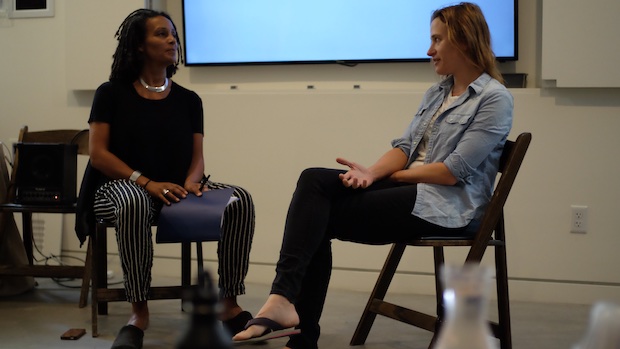 Tabitha Jackson (l) and Margaret Brown at the Art of Nonfiction Orientation (photo: Omar Mullick)
"There has been a very vibrant conversation over the last several years about content in documentary," says Tabitha Jackson, Director of the Sundance Institute Documentary Film Program. "And when I came to Sundance two years ago, I said, 'I want to help make a conversation about form and process as loud and vibrant as the one going on about content.'"
Announced today by the Sundance Institute is the first step in that process, a new "Art of Nonfiction" initiative that, over the course of a year, supports a curated group of filmmakers exploring creative formal, story and craft possibilities in documentary film.
Landing at a cultural moment when boundary-breaking documentaries and hybrid works — films like The Act of Killing, Leviathan and 20,000 Days on Earth — are seizing audience and critical attention, the Art of Nonfiction is something of a counterbalance within a documentary funding network less interested in formal innovation than subject matters and audiences. The program, says Jackson, "comes out of the founding mission of Sundance, which is to support freedom of artistic expression, and to create and preserve a space for experimentation and discovery. Documentaries today are under loads of pressures — what can it make back, what can it make happen? — and Sundance needs to protect the creative process of the filmmaker."
The initiative, launched with editorial and financial support from Cinereach, is midway through its first pilot year, and it is supporting four filmmakers: Margaret Brown (The Order of Myths); Robert Greene (Kate Plays Christine); and Omar Mullick and Bassam Tariq (These Birds Walk). Significantly, and differing from the current Sundance Labs, the fellowship is not project-focused. These filmmakers are all at different stages of creating new work, and Art of Nonfiction is intended to encourage their creative thinking and to support risk-taking practice. This support includes unrestricted, direct-to-artist cash grants of $25,000, guidance from various mentors and advisors, and workshops on financial sustainability.
And, in this first year, the initiative is an evolving one, very much a dialogue between the filmmakers and the organizations. Says Cinereach founder Philipp Engelhorn, "Usually in the support field, a filmmaker applies for a specific project. But what if it was more free-form? I liked the idea of letting filmmakers be in the drivers' seat of their experience and asking ourselves, what can we, as organizations, learn from that?"
While the Art of Nonfiction has a very different structure than the various Sundance Labs, Jackson said that when she began thinking about the new program she looked to the Labs first for inspiration. "Being at the Sundance Labs, up on the mountain, there's an intensity, rigor and examination of process," says Jackson, "and that was incredibly informative as to how we approached the fellowship." Accordingly, this year Art of Nonfiction also began with a kind of pilgrimage — "not an initial orientation on the mountain," says Jackson, "but in the desert. We went to Joshua Tree, where we could have a history-free, agenda-free aesthetic experience. It was a way of opening up, being in a very different place, and starting from the basics."
The Joshua Tree expedition, which took place in early May, found the fellows joining Jackson and Engelhorn, along with the Sundance Documentary Film Program's John Cardellino and Kristin Feeley, members of the Cinereach staff, and mentors like editor Joe Bini. It included a trip to the Integraton, which provided an experience that spoke to the exploratory nature of the program itself. "It's this weird structure, funded by Howard Hughes and built in the '50s to make contact with Venus," Jackson explains. "It has perfect acoustics, and you go in, lie on your back, and [listen to] a guy playing crystal bowls. It became an experience about cinema and process. To experience a sound together comes from a completely different point of view than one relying on words, writing and text. It played into this notion of, 'Why don't we just try this?'"
Bini — an editor known for his long relationship with Werner Herzog spanning such works as Grizzly Man and Little Dieter Learns to Fly — has been an advisor at the Sundance Labs, both Documentary as well as Directing and Screenwriting, for years, and he agrees with Jackson that there's a need for this new program. "I've worked on a lot of films, in America, but also in Europe and Asia. And I have found a general complaint, or observation, about American [documentary] films, which is that they are often very well produced, but that they are often less inventive on the actual filmmaking side. So that's my personal mission: how can we improve the filmmaking?"
In his presentation to the fellows, Bini described himself as an "'in-here' person.'" "The world happens in my head," he told them. "My perception of things is what makes me me, and that is the only truth I can know. With film, my goal is to create a world like the one in my head." Allowing the personal, the subjective, to inflect documentary storytelling is something he learned from working with Herzog, Bini explains. "Little Dieter was the first doc I every worked on, and it gave me an open, weird perspective about what a documentary can be. That film even had a dream sequence! So that's very much the perspective I'm bringing [the fellows] — to bring themselves and their perspectives to their films, and to be open about the filmmaking aspects of their work."
Another advisor to Art of Nonfiction is director, actress and screenwriter Joan Tewkesbury, whose storied career includes dancing with Jerome Robbins and collaborations with Robert Altman, including scriptwriting Nashville. She calls her "Designed Obstacles" class, which she's given to everyone from film directors to corporate executives, "a scavenger hunt for the imagination," and she says she welcomed the chance to teach it to documentary makers. "It shows a way to put yourself inside the story you are trying to tell instead of looking at it from the outside, through a glass window," she explains. "It starts by asking questions, and having [filmmakers] respond immediately, without any filter, about why they are drawn to their stories, and what is personal [to them]. Then they can go sideways into their stories and see other aspects."
Did Tewkesbury have to change her practice for artists working in documentary? No, she says. "I don't make that distinction — all non-fiction is fiction. History is fiction. I'm old enough to think that nothing is written in stone. When you are engaged with the process of trying to create a story, everything should be at your fingerprints. In the beginning, you shouldn't be told that you can't do anything. That's a better place to create from, and then through editing you get down to the real facts."
Tewkesbury, says Brown, "broke open my brain. I thought she was phenomenal." Brown is attending Art of Nonfiction during a year when she's "between projects." "I'm shooting non-stop, working on different things," she says. "Some are shorts, some are features, some are docs and some are narrative. After having made three documentaries, I want to try something different, and I'm thinking about expanding one of my previous films into something more narrative." The fellowship, she says, "has made me work more without fear, which has been great."
Tariq is similarly laudatory, but he admits that he was "a little skeptical" about the program at first. "The idea of it being artist-forward and less project-centric didn't make sense. Filmmakers should be making films! But I was excited to be a part of it, and it has helped me realize that a lot of other programs forget about the health of the [filmmaking] process."
He continues, "We have a problem right now in American documentary. There are great, social-cause-based films that are exciting in their own ways, but we are not getting risk-taking films funded. When Omar and I do stuff dealing with Muslims in America, that's easy to sell in a current-events type of way. But what about trying to explore what it means to deal with death, or memory, or how people recollect traumatic incidents, or make sense of senseless violence? That is the stuff we are working on now, and we are trying to use story and interview material, to mix fiction and doc and to choreograph it in a way that allows for the truth to be more cinematic and fascinating."
Tariq's overcoming of skepticism about the program was echoed by Greene, the only filmmaker in the group who completed a work during the fellowship year. (His Kate Plays Christine premieres at Sundance this year in the Documentary Competition.) "I'm skeptical of fellowship-type things, lifestyle-y things, too many cooks in the kitchen," he says. "But what's different about this is that it's answering a major issue, which is that we live in a world where boundary-pushing work is hard to support. The filmmaking game is not where encouraging risk and allowing failure is an option. But you can't push boundaries without feeling that you can fail. That's a strange, interesting and powerful concept, which the initiative can build off of."
Indeed, as it has evolved this year Art of Nonfiction has provided mentorship on practical issues as well as the creative. A Creative Capital workshop spoke to issues of career sustainability — or, as Tariq says, the question, "'How the hell do I continue to be a filmmaker?" The safety net provided by the fellowship's cash grant was specifically designed to help filmmakers be less reactive to the perceived desires of documentary funders. "A lot of development funds," says Tariq, "ask you to have your subject in mind and certain parts of your project figured out. But what about these larger ideas of cinema you want to explore?" "A lot of times we have to choose between getting paid and making art," says Greene. "The documentary field is not necessarily encouraging sometimes, and [the Art of Nonfiction] is trying to bridge that gap."
"I have a family," he continues, "and the Sundance support has been crucial in allowing me to make my movie." Adds Jackson, "The creative process and having a healthy sustainable career are completely indivisible because creative roadblocks can be caused by the financial."
Another aspect of support, remarks all the filmmakers, is the program's fostering a community among themselves. They each say that having been brought together by Art of Nonfiction that they're now all commenting upon and supporting each other's work.
Describing this Art of Nonfiction announcement, just a few days before the launch of the Sundance Film Festival's 2016 edition, as a "pulling back of the curtain to reveal a little bit of what's going on," Jackson makes clear through her comments that as much as the program is intended to have a direct impact on its artists, providing them guidance and space to push the creative boundaries of their work, it is also intended to function rhetorically within the documentary community. In our conversation, Jackson talks about motivating other funders to think differently about their processes, how Sundance will continue to shape Art of Nonfiction based on feedback from this year's filmmakers, and how it intends to foster a larger community more aware that creative risk taking and formal innovation is necessary if American documentary is going to distinguish itself.
"We hope this year's fellows will pass what they have learned back to the community," she says. "Community-building is a key part of the initiative. Without community, we can't do anything. We look at the incredible vibrancy and the new money that comes to films in the [social]-change community, and we would love to have that same kind of strength and strategic thinking here."
At the same time, as Art of Nonfiction does embrace a conception of documentary practice distanced from finely wrought grant applications, with their numerical metrics promising "impact" and "reach," perhaps it's appropriate that its goals can contain a bit of the intangible as well. Says Jackson, "So much of our lives are outcome oriented; often it is the journey that is the valuable thing."
(Full disclosure: I am a producer of a documentary that received a development grant from the Sundance Documentary Fund.)