Back to selection
SXSW: Five Questions for In a Valley of Violence Writer/Director Ti West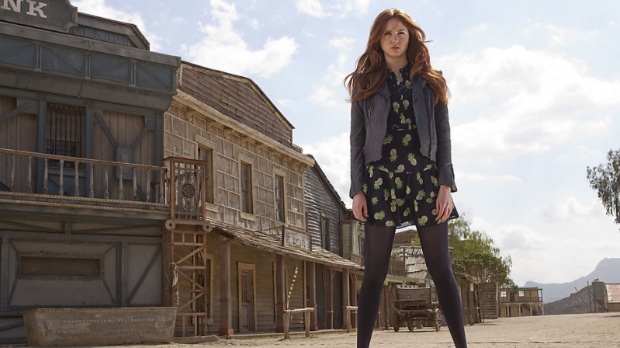 In a Valley of Violence
SXSW and Ti West have been to each other over the years. The Austin festival premiered his debut feature (The Roost) before going on to play Trigger Man and then breakthrough picture The Innkeepers, which landed West on our Winter, 2012 cover. Now he returns to Texas with, certainly, his starriest movie to date, and one that steps outside of the horror genre he's best known for. Produced by his usual team alongside Jason Blum and his Blumhouse Pictures, In a Valley of Violence is a revenge western starring John Travolta, Ethan Hawke, Taissa Farmiga and Karen Gillan and set in a budget-friendly abandoned mining town. Below, West talks about the western genre, working with big names and his upcoming LSD movie.
Filmmaker: You've said that this movie is a pure western. Aside from the locale and period setting, what makes a Western for you, and how does In a Valley of Violence trade on those traditions — or differ from them? Were there any Westerns that particularly influenced this film?
West: Well, first off…I love westerns. For me, the western is the most classic genre of American cinema. It feels completely ingrained in the cultural history of American filmmaking, and I really wanted to be part of that. After The Sacramentd, which was sort of an experimental, new-media style of filmmaking, I wanted to make something that felt more like traditional cinema, and wasn't as focused on such utter realism. I also really love the absurdist nature of many great spaghetti westerns, and while I think In a Valley of Violence has plenty of those fun elements, it also tells a story about how violence affects different people in different ways. It is a movie much more about characters than it is plot. It takes a group of archetypes and sorta flips them upside down and forces the characters to confront things not usually seen in westerns. Playing around with genre tropes is what I get a kick out of as a filmmaker. As far as calling it a "pure western" in previous interviews, that is mostly me just trying to let people know that it's not secretly a horror-western. I think my previous films and the Blumhouse brand might make people assume there is a horror element included somehow when there really isn't. I just want people's expectations to at least be accurate before going in.
Filmmaker: This is your first film with Hollywood stars on the level of John Travolta and Ethan Hawke. What was your experience working with actors this famous and who bring such associations to their roles? Did you write the roles for them?
West: I had met Ethan and wrote it with him in mind, but John was a complete surprise. Both actors totally made the roles their own in such unique and special ways, and what I really think people are going to take away from the film most are the performances. I always say, when you are a writer/director and you hear an actor say your lines in such a way that it makes you forget you ever wrote them — it is the most surreal and gratifying experience you will ever have. This entire production was like that. The whole cast is mesmerizing, and it was so awesome to come to set every morning and watch them work. We had a blast together in New Mexico.
Filmmaker:. As someone who has developed a production team skilled at low budget production, what was your collaboration with Blumhouse like? Was any element of their way of working that differed significantly from yours, and how did you navigate or adjust?
West: Blumhouse pretty much let us go do our thing during production. I worked with my usual producers Jacob Jaffke and Peter Phok, and most of the crew were people we have worked with countless times before, so physical production for us has become a well-oiled machine. Thankfully we really lucked out with the weather and the animals. We had such great wranglers, and our dog trainer Omar Von Muller is unbelievable. Jumpy's performance in the film is out of this world. People always say working with animals is tough, but I can honestly say, it was one of the easiest parts of the shoot.
Filmmaker: On a production level, what was the most challenging aspect of recreating the Western period?
West: Locations. They usually need to either be built (expensive) or are in ridiculously remote and dangerous places (hard on the crew). I wrote the script based on a pre-existing set I knew about in New Mexico. I figured if we could go in and change the way a pre-built town looked (rather than building our own) we could actually pull this thing off on a low budget. I think very production-minded when I write, so this movie was always designed to be made inexpensively, but without ever feeling that way. For instance, in our story, the town is almost abandoned, so we just went in and boarded up buildings. Boards over windows are pretty cheap, and a nearly abandoned town cuts the extras budget down pretty low. Really though, as I mentioned before, the hardest thing about making a western is being out in the elements for 12 hours at a time. It wears you out.
Filmmaker: What's next after this? In an earlier interview you talked about taking a break after this film? Is that still the case, and, either way, how would you like to see your career progress after this film?
West: I am planning on probably taking a break from horror feature films for a while. I have a horror TV series I'm working on, but the next feature I want to make is a 1960s hippie LSD movie called Far Out. Sorta like Easy Rider and Picnic at Hanging Rock… but weirder. If my TV series happens first I will do that, but if not, the script for Far Out is done and we are just starting to look for financing to shoot this summer or fall. It's a pretty outrageous movie that I'm really excited about.