Back to selection
IFP Guest Curates "One Million Square Feet of Culture" in Miami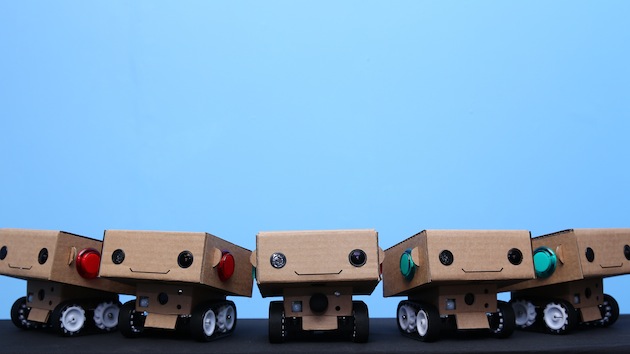 BlabDroids
Alongside Miami's Art Basel — the international art show that runs through Saturday — IFP has teamed with One Million Square Feet of Culture to guest curate a series of technology-centric events. Installed at the Wynwood Cigar Factory across (more precisely) 3,045 square feet are three programs: Emotional Arcade, The 78 Project, and BlabDroids.
Designed by Brent Hoff and Alex Reben, modified EEG headsets are the tricks of the trade in the Emotional Arcade, where unchecked emotions are a game-winning currency. Alex Steyermark and Lavinia Jones Wright view The 78 Project as an opportunity to record today's music with yesterday's technology. Using one microphone, an authentic 1930s PRESTO direct-to-disc recorder, and a blank lacquer disc, the duo will record a live performance from local folk trio Jubal's Kin at 8 pm on December 6. BlabDroids are unassuming robots that are making the world's first documentary from the perspective of a technological instrument. Brent Hoff and Alex Reben have imported a few for your interaction, in a test of the Eliza Effect, the theory that people open up more willingly to machines than humans. Like the Emotional Arcade, the BlabDroids will be available for use from December 4-7, 11 AM – 7 PM.
Admission is free, and you can RSVP, and read more about Pitchfork DJ sets and a Lucky Peach "All Ewe Can Eat" spectacle that will also be on site, here.