THREE FOR THE ROAD
James M. Moran on Gregg Araki's The Doom Generation.

Johnathan Schaech in Gregg Araki's The Doom Generation
Photos: J.C. Lother
A Heterosexual Film by Gregg Araki?" At first glance, the filmmaker's new feature might seem like a radical departure for an artist proclaimed a pioneer of the Queer New Wave. But don't be too fooled by appearances. Like its predecessors, Totally F***ed Up ("Another Homo Movie by Gregg Araki") and The Living End ("An Irresponsible Film by Gregg Araki"), The Doom Generation flaunts an irreverent, self-conscious subtitle that both anticipates and mocks any critical attempts to label Araki's sexual politics. And while it may be true that the film depicts only heterosexual sex, the homoeroticism prevalent in Araki's previous work here functions as subtext, denied full expression in a homophobic milieu.
In a sense, then, The Doom Generation is heterosexual by default. "The film is less about sexuality than it is about America," Araki asserts. "The characters themselves form a union of their own that's more omni-sexual than anything else. Despite the portrayal of sexual dalliance, the film is most concerned with the hostile context that won't allow this kind of union to survive. In America, only the heterosexual couple is condoned. A sexuality that's unconventional must be destroyed."
At once a twisted road movie, teen pic parody, cinematic acid trip and ferocious sociopolitical satire, The Doom Generation chronicles the misadventures of three young Americans on a journey during which they unwittingly discover the inevitably tragic limits to personal and sexual freedom in a repressive society. Amy Blue (Rose McGowan), a post-Heathers speed queen, and Jordan White (James Duval), her slap-happy boyfriend, inadvertently pick up Xavier Red (Johnathan Schaech), a supernaturally sexy drifter, after an evening of unsatisfying sex, drugs and nightclubbing. Stopping in for some junk food at the local Quickie Mart, the threesome become implicated in the bizarre decapitation of the store's clerk. Fleeing into the consumer-saturated and dislocated landscape of Los Angeles, the trio are pursued by high-strung neurotics in a dizzying series of darkly comic and graphically violent episodes linked by the logic of a nightmare.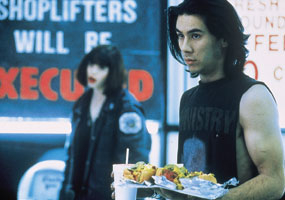 James Duval And Rose Mcgowan
The Doom Generation
is the second installment of an apocalyptic "teen trilogy" which Araki began with
Totally F***ed Up
. The final film of the triptych will be titled
Nowhere
and was in production this past summer in Los Angeles, where on the set Araki was candid about his intentions. "I like making movies about teenagers. There's something monumental and heightened about their hormone-mad lives – like they get a zit and the world ends. They live and die ten times a day. For now, at least, they're interesting subjects and express how I feel about the world."
While this point-of-view is consistently maintained as a thematic through-line in all of Araki's work, the newest films are something of a departure from Araki's notorious "guerrilla" shoot-and-run technique. Unlike his previous four features, Doom was shot in 35mm with a $1 million budget, a full crew, SAG actors and, yes, location permits. The experience had its pros and cons for the filmmaker. "It's a trade-off doing a big movie after four little movies. You lose the ability to move fast and be completely spontaneous…. But you gain the ability to do things on a completely new and different tier of ambition. It was exciting to work with a DP (Jim Fealy) and a production designer (Therese Deprez), because I was freer to create my vision of the world. Many of the film's sets and locations are strange and surreal, like the black-and-white checkered hotel room. I wanted the world of the film to be as far out as possible, like a bad drug trip, so it was great working with companies who gave me the freedom and money to create such a bizarre vision without saying, 'Look, this is too weird.'"
Doom was picked up by executive producer Pascal Caucheteux and financed by UGC, a French company that has backed only a select number of American productions such as Hal Hartley's Amateur. Araki's script for Doom was shot almost entirely at night in January of 1994 in Los Angeles, where the production had more than its share of hardships: the first day's photography was ruined in a lab accident and on the second day, the Northridge earthquake struck. Yet none of these obstacles ultimately detracted from the film's final cut, which boasts Araki's most striking images to date. While all of Araki's films have been rigorously composed from storyboards – whose frames frequently foreground his characters in the urban detritus of advertisements, strip malls and parking lots, and whose witty juxtapositions of printed word and image often speak louder than his dialogue – Doom's compositions seem more, well, beautiful. Never before has color been so important in conveying meaning in Araki's universe: bloody reds, fiery oranges and neon greens illuminate the overall darkness of the film's mise-en-scene in flashes of violence, passion and disgust. Never before has a chili dog with all the works looked so unappetizing and gorgeous at the same time.
To those who might criticize Doom's vision of the "beautiful wasteland" as aesthetically or politically muddled, Araki replies: "Some people look at the shots, say of billboards, and think that they're ugly. I think that they're beautiful. Beauty is in the eye of the beholder. I see the images in all of my films as very beautiful, including my early, grainy black-and-white films. Actually, many of their angles and images have been recycled in each subsequent film, including Doom. It's just that when you have so much more money, time and resources, you can realize more fully the same raw beauty evident in the films with very low budgets. It's not a difference of beauty, but of polish. Because my style is influenced by dreams and surrealism, I intentionally designed and constructed a world as solipsistic as a nightmare. We were careful to avoid shooting landmarks in L.A. which might orient the audience or ground them in a specific time and place. Only at the very last minute, when Amy and Xavier drive into a bleak terrain, are we dropped back into the real world."
Araki was as particular about choosing an offbeat cast (including Heidi Fleiss, Margaret Cho, Christopher Knight of The Brady Bunch, Lauren Tewes of The Love Boat and Amanda Bearse from Married …With Children), whose cameo appearances heighten the intended surrealist effect. So don't expect to recognize them at first glance; like much of everything in Doom, their appearances are often fleeting and disguised. Araki explains: "I wanted a different kind of cameo rather than the usual actors you see popping up over and over again. I wanted the experience to be like falling asleep in front of the TV late at night and having these weird people enter your nightmares.
Of the three main leads, only one part was written specifically with an actor in mind –James Duval, who as Jordan White, represents the soul of Doom. For Araki, Duval's lead performances in each film of the teen trilogy have been the emotional centers of their narratives. "Jordan more than Amy or Xavier embodies the purity and idealism which motivates them all. That's why he's the literal lamb of the slaughter at the end, because he personifies the kind of unselfish innocence that's doomed in a cynical world. He's just too defenseless."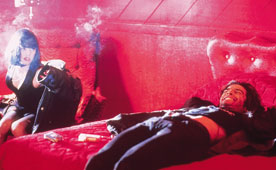 Rose Mcgowan And Johnathan Schaech
As played by Rose McGowan, Amy Blue, on the other hand, is a strong character whose defenses are crucial to the balance of the film. Vulgar to the extreme, deadly with a barbed insult, and on top in bed, Amy asserts her opinions, demands and desires with a vengeance. It is no accident that she drives the car, always behind the wheel. Araki conceived of the role "as a little girl who has to be tough in order to survive in a tough world. In fact, she comes across as unlikable only when she's interacting with the outside world, but when she's safe within her own car, or in Jordan's arms, she's altogether different. I cast the part more for the role's inner qualities than for its outer, technical requirements. Amy is strong, but I didn't want to cast someone who was hard or physically imposing. When Rose read for the part, I knew intuitively that she was right."
Finally, there's Xavier Red, better known to Jordan and Amy as "X": the unpredictable variable, the enigma, the Gen-Xer who enters the couple's lives and changes them forever. The film's most controversial character, somewhat reminiscent of Luke in The Living End, Xavier is the seductive hunk representing the irresistible dangers of unbridled sex. Amy describes him, in Doom's funniest line, as "a life support system for a cock," but as he is played by Johnathan Schaech, Xavier is more complex, perhaps the most truly "queer" figure in the film. Araki wrote the role "as both angel and demon. Xavier has an otherworldly quality that provides the character with a sense of mystery. And although he's older and comes across as a dangerous seducer, he's also vulnerable. The murders committed in his presence are less intentional than happenstance. Xavier isn't a bad influence. He just always seems to be at the wrong place at the wrong time."
The Doom Generation was eventually picked up for distribution at the Sundance Film Festival by the now financially-beleaguered Samuel Goldwyn Company. "When Goldwyn first bought the film," Araki muses, "I thought it was the oddest marriage I've ever heard of. In a way, though, it's actually been a good marriage, because Goldwyn brings a certain prestige to their releases – that art-film reputation that precedes them – so that their films are taken seriously. It's also beneficial to Goldwyn, in that Doom allows them to say to the world: 'Fuck you, we aren't stuck in the crypt of movies peopled by actors with British accents,' films that may not be terribly exciting. The only real problem that I can foresee is that Goldwyn may not be familiar with the audience the film should be marketed to."
That audience, of course, is the elusive "Generation X," which remains a puzzling, still untapped source of revenue for over-40 purveyors of popular culture. In order to increase the film's exposure to young people, Doom has been touring with Lollapalooza, will be promoted on MTV, and will be released along with a soundtrack CD, including music by Nine Inch Nails, Porno for Pyros, and Jesus and Mary Chain. While these promotions are significant efforts to reach Araki's intended demographic, the film's release in October without an MPAA rating may force many theaters to implement an NC-17 policy barring admittance to audiences under 18. About the possible rating, Araki responds: "I'm worried in the sense that the young people who've already seen Doom have related to it, because they feel it doesn't talk down to them. I've had kids as young as 13 tell me that it was one of the best movies they've seen. You might think that such young kids would find the film too horrifying, but my experience has been that kids are pretty hip, smart and too media-savvy for the violence to seem that significant to them – which of course is part of what Doom is about. On the other hand, despite the nihilism and darkness, Doom is also very much about love and its transcendent power. Even though the characters may not have satisfying relationships, that's what they yearn for; rather than [being] soulless, they are idealists in a soulless world."