PRODUCTION UPDATE
Compiled and edited by FILMMAKER Contributing Editor, Mary Glucksman.
---
Crossing Delancey and Hester Street director Joan Micklin Silver has just wrapped her latest. Called A Fish in the Bathtub, the film's a romantic comedy which stars real-life mates Jerry Stiller and Anne Meara as a Queens couple whose 40-year marriage is under siege. Sam's been tough to live with since his retirement, and when he comes home with a fish he insists on keeping in the bathtub, Molly's frustration boils over. She flees to their son's house and embarks on several dates with a new beau from her driver's-ed-for-seniors class. As Sam stalks the prospective suitor and Molly rearranges her daughter-in-law's kitchen, their children try to mediate, but their own romantic crises get in the way. "It falls into a special category of film I like very much -- human comedy," says Joan Silver. "It's real, wrenching and strikes a chord."
Silver's working with her own husband of 40 years, Fish producer Raphael (Ray) Silver, who collaborated with Toronto writing team Jonathan Silverstein and David Chudnovsky on the shooting script. The Silvers have partnered on Crossing Delancey, Between the Lines, and originally Hester Street, which Ray financed through investors drawn from contacts he'd made in his real estate career. When Hester Street scored high in Critics' Week at Cannes in 1975 but distributors tagged it as a "Jewish film," the Silvers took it out themselves with guidance from Jeff Lipsky. "I called up John Cassavetes, who I didn't know, and he said, 'Distribute it yourself,'" says Ray. "That was probably the most significant call I've made in the film business."
Fish was shot on location in Queens and Brooklyn on a 30-day schedule this past April and May. The film should be done by Christmas and will feature a new song from Dean Wareham, headliner of New York cult band Luna. Wareham's married to the Silvers' youngest daughter Claudia, also a director now set to make her feature debut with Lisa and Lisa (IFFM No Borders '96). All rights are available.
Cast: Jerry Stiller, Anne Meara, Marc Ruffalo, Jane Adams, Lauren Pratt, Missy Yager, Paul Benedict, Lou Zorich, Doris Roberts, Val Avery, Bob Dishy and Phyllis Newman. Crew: Producers, Raphael Silver, Charles Darby; Screenwriters, Jonathan Silverstein/David Chudnovsky, Raphael Silver; Director, Joan Micklin Silver; Director of Photography, Daniel Shulman; Production Design, Deana Sidney; Costume Designer, Kathryn Nixon; Editor, Meg Reticker. Contact: Raphael Silver, Silverfilm, 510 Park Avenue, New York, NY 10022. Tel: (212) 355-0282, Fax: (212) 421-8254.
Amos Poe recreates the gangster genre with Frogs for Snakes, a screwball neo-noir set in a New York City demimonde where every career criminal is also an actor convinced all he or she needs to make it is one lucky break. Barbara Hershey toplines a star-studded cast as Eva, a single mother who pays the rent by doing collections for her loan shark ex-husband Al (Robbie Coltrane); also on board are Ian Hart, John Leguizamo, Lisa Marie and Clarence Williams III. When word gets out that Al's getting ready to expand into theatrical production with "American Buffalo", some of his cronies are prepared to kill to get plum parts. Some of the film's biggest jokes occur when the thugs' launch into monologues from films like The Third Man, Night and the City and The Hustler. "You can't reinvent speeches like these, but by altering the context you change their meaning," says Poe. "I've been exploring the concept of originality -- what in music is called sampling and in art appropriation." Frogs is the first entry in a trilogy of films Poe's written about actors and process and takes its name from a Sonny Boy Williamson tune Patti Smith will record as the title track.
Best known for his 1976 documentary about New York's punk rock scene, Blank Generation, Poe pioneered a Godard-inspired Lower East Side Nouvelle Vague with Unmade Beds, The Foreigner and Subway Riders over the next five years. His highly stylized 1984 Alphabet City inspired a rash of mainstream copycats, and Poe soon found himself in demand as a Hollywood pen-for-hire. His sweet tale about a dying writer bonding with his youngest grandson, 1988's Rocket Gibraltar, starred Burt Lancaster and introduced Macaulay Culkin. Poe's most recent feature, Dead Weekend, played as a Showtime Original.
"Amos has been around too long and not been 'discovered'," says Larry Meistrich, whose Shooting Gallery is producing Frogs. Frogs shot in downtown Manhattan for five weeks beginning June 30 with d.p. Enrique Chediak, a recent NYU grad whose work on Hurricane Streets won this year's cinematography prize at Sundance. Meistrich is mulling a foray into distribution that could kick off next year with Frogs; all rights remained available at press time.
Cast: Barbara Hershey, Robbie Coltrane, Lisa Marie, Ian Hart, Ron Perlman, Clarence Williams III, Harry Hamlin, Debbie Mazar. Crew: Producers, Larry Meistrich, Phyllis Kaufman; Co-Producer, Jonathan Starch; Screenwriter/ Director, Amos Poe; Director of Photography, Enrique Chediak; Production Designer, Michael Shaw; Casting, Lina Todd. Contact: Larry Meistrich, The Shooting Gallery, 145 Avenue of the Americas, New York, NY 10019. Tel: (212) 243-3042, Fax: (212) 647-1392.
Lisa Cholodenko's High Art is a glimpse at romance and resurrection at the margins of the New York art world. The film stars Radha Mitchell (Love and Other Catastrophes) as an ambitious 24-year-old stalled in a junior staff position at Frame, a prestigious photography journal. Syd falls through the looking glass when she investigates a leaky set of pipes and meets her upstairs neighbor, photographer Lucy Berliner, whose disappearance from the art scene years earlier is a matter of some scandal. Lucy's hooked on heroin, but she's not too far gone to be charmed by Syd's earnest deconstruction of her work. An affair develops between them, a love that's threatened by Frame's plans to relaunch Lucy's career with a special issue. "This isn't meant to be a coming-out story," says Cholodenko. "Syd happens to fall in love with Lucy, and I think a lot of Lucy's allure comes from the power of her stature. And for Lucy, Syd's a catalyst for change."
Cholodenko spent the early '90s working on studio features as an editor before entering the MFA film program at Columbia University in 1992. Cholodenko first met High Art producer Dolly Hall (All Over Me) when she showed up to help grip Hall's solo producing debut, The Incredibly True Adventure of Two Girls in Love. Hall partnered with New York Avid-house Post 391 proprietor Jeff Levy-Hinte to assemble equity investors and says she pared the budget to keep the shoot under $1 million. Also on the producing team is Susan Stover, whose previous film, The Sticky Fingers of Time, recently premiered at Venice.
High Art shot in New York for five weeks beginning June 18. Cholodenko signed JoJo Whilden to make the photographs featured in the film. They also solicited unknowns to submit slides and chose twelve to showcase on poster-size mock-up covers of Frame in the magazine's offices. High Art should be done by January; all rights are available.
Cast: Radha Mitchell, Ally Sheedy, Gabriel Mann, Patricia Clarkson, Anh Duong, Bill Sage, David Thornton. Crew: Producers, Dolly Hall, Jeff Levy-Hinte, Susan Stover; Associate Producer, Lori E. Seid; Screenwriter/Director, Lisa Cholodenko; Director of Photography, Tami Reiker; Production Designer, Bernhard Blythe; Gaffer, Steven Ramsey; Editor, Amy Duddleston. Contact: Dolly Hall, dollface inc., 112 Charlton St,#4n, New York, NY 10014. Tel:(212) 645-8944, Fax: (212) 929-4107.
Darshan Bhagat stars in and directs Karma Local, an engaging comic thriller about a young Indian newsstand clerk who stumbles onto a more exciting life when he agrees to mind a stranger's package at his uncle's subway newsstand. Bali's blissfully convinced the $100 he's been promised for his trouble is an omen of good fortune, but when he opens the package and finds $7,000 of stolen money, he's not so sure. When Bali loses the money, its gangster-owner gives him 24 hours to replace it. "The film is a philosophical discourse on karma framed as an action story about an innocent gaining experience," says Bhagat.
Bhagat, 35, grew up in Bombay, graduated India's National Institute of Design and worked in graphic design and animation until he moved to New York and entered NYU's grad film program in 1991.
"No one believed I could do it (produce Karma for a lean five figures)," says Bhagat. They were wrong. Karma includes a sunset helicopter shot the filmmakers got for the $225 cost of a tourist trip, racehorses flying past the finish at Belmont Racetrack and Fulton Fish Market footage, which was difficult to obtain after a rumor that the FBI been posing as student filmmakers to document potentially criminal activity. "The advantage of having as small a crew as we did was that we could move in and out of locations without bothering people," says Bhagat. "We were virtually invisible." He ended up shooting Karma in several distinct chunks beginning in May '96 and says the subway scenes were toughest to come by, entailing a three-month negotiation for permits. Karma will premiere at the IFFM in rough cut; all rights are available.
Cast: Darshan Bhagat, Josh Pais, Balraj Uppal, Mariusz Szczech, Don Creech, Parvathy Menon, Jose Rabelo, Michael McMonagle. Crew: Producers, Emory Van Cleve, Darshan Bhagat; Screenwriter, Vijay Balakrishnan. Director, Bhagat; Director of Photography, Van Cleve; Production Designer, Petra Barchi; Gaffer, Pablo Berger; Editors, Ana Gill Costa, Bhagat. Contact: Emory Van Cleve, Karma L.L.C., 343 West 19th Street, New York, NY 10011. Tel: (212) 929-4729, Fax: (212) 387-0952.
Alison Swan makes her feature debut with Mixing Nia, a romantic comedy starring Fresh Prince of Bel Air's teen princess Karyn Parsons as a young writer of mixed race struggling to define her identity in a black-or-white world. Nia's been biding her time at an ad agency, but when she's asked to come up with a campaign to sell a new high-alcohol beer to inner-city youth, she quits. Jobless, she signs up for a writing workshop and falls instantly for its leader, a charismatic black activist, (Isiah Washington). Soon, however, she finds herself chafing at his insistence that she adopt an all-African-American identity.
"Being black in this country, you're so defined by that," says Swan, 30, who's from Bermuda where dark skin is the norm and black Bermudians have both political power and a relatively high living standard. "My experience being a black Bermudian is quite different from being a black American. Nia has to struggle to come to terms with who she is in a meaningful way that truly reflects her complexity and defies arbitrary labels."
Like many Bermudians, Swan was sent off-island as a teen, in her case to an East Coast boarding school. She got her MFA in film at NYU in '94, winning the school's Spike Lee Fellowship Award for her four narrative shorts. When financing for what was to have been her first feature fell through at the last minute, she went to work for producer Robert Stigwood (Evita) and returned to Bermuda to make a documentary short and manage media for a local political campaign. She and producer Gabriella Stollenwreck had been friends for several years when Swan completed Nia. Stollenwreck, who says Nia's script rang bells for her because she grew up in France with an Italian mother and American father, started her career in the marketing department at Orion Classics. Together she and Swan raised Nia's six-figure financing. All rights are available.
Cast: Karyn Parsons, Eric Thal, Isaiah Washington, Diego Serrano, Rosalyn Coleman, Heidi Schanz, Brenda Thomas Denmark. Crew: Producers, Gabriella Stollenwerck, Jedd Wider; Screenwriter/ Director, Alison Swan; Director of Photography, Christopher Norr; Production Designer, Andy Bernard; Location Manager, Nicole Klett; Editor, Cynthia Scheider. Contact: Gabriella Stollenwerck, Arrowhead Pictures, 95 Greene Street, #4D, New York, NY 10012. Tel/Fax: (212) 965-9660.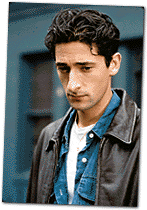 Eric Bross' Restaurant also tackles relationships clouded by racial conflict but this time the protagonist is a white playwright and the star is Adrien Brody, who's since landed the coveted lead role in Terrence Malick's The Thin Red Line. Brody also starred in Bross' first film, Sundance '96 sleeper Nothing to Lose. Dove was to have released Nothing to Lose last fall but the company has since cut back its film distribution activities. When this summer's Tim Robbins comedy of the same name came along, Bross sold the rights to his title to Disney and paid off his final deferrals. (Look for Bross' debut under its new title, Bloomfield Ave.)
Restaurant features a large ensemble cast including "Rent" star Jesse Martin as the elder statesmen among the crew of hopeful artists and entertainers making a living at a New Jersey eatery. Brody plays Chris Calloway, a bartender-playwright awaiting the premiere of his first play, a searing personal response to a love affair gone bad. He responds to the pressure by falling off the wagon, making late-night calls to his ex, and beginning a relationship with a young singer.
"I want to tell dramatic stories about ordinary people trundling along through their lives," says Bross. "I'm more interested in emotions than the ironic or the hip." Bross grew up in New Jersey and started making films at 12; by the time he got to NYU's film program he'd already won several prizes. He wrote Nothing to Lose with Restaurant writer Tom Cudworth and teamed with Columbia '93 M.F.A. grad H.M. Coakley to put it in the can. Coakley's back for Restaurant, and he and Bross joined forces with first-time producer Shana Stein, a former William Morris trainee who's since gone on to A.F.I.'s fellowship program, to raise private financing somewhere south of seven figures.
Restaurant shot 28 days in New Jersey and New York beginning May 5. The filmmakers scored a newly renovated upscale Hoboken restaurant that had just changed hands for the all-important title set; the new owners bet on Bross by keeping his name, J.T. McClure's, when he wrapped. Since we're in Hoboken, Restaurant has stunning skyline shots across the river to Manhattan. Village Voice photographer Sylvia Plachy took Restaurant's production stills (she's Brody's mother.) All rights remain available.
Cast: Adrien Brody, Elise Neal, Simon Baker-Denny, Lauryn Hill, David Moscow, Catherine Kellner, Jesse L. Martin, Malcolm Jamal Warner. Crew: Producers, Eric Bross, H.M. Coakley, Shana Stein; Screenwriter, Tom Cudworth; Director, Bross; Director of Photography, Horacio Marquinez; Editor, Keith Reamer; Casting, Joseph Middleton; Composer, David Mansfield. Contact: Shana Stein, Restaurant Productions, 1428 N. Fuller St, Los Angeles, CA 90046. Tel: (213) 876-1425, Fax: (213) 876-5505.
Jeff Dark is blasting out of Marietta, Georgia with Route 4, his first feature about five college students stranded in the Everglades when their '77 Volkswagen bus breaks down en route to spring break in the Florida Keys. Psyched for an overnight misadventure, they revel in an evening of drinking under the stars. But when morning brings no sign of rescue, the gravity of their situation turns tomfoolery to terror. Route 4 also explores subtle elements of racism with a subplot involving the group's outsider, a Japanese exchange student named Koji. "Koji creates a contrast and a foil for all kinds of situations," says Dark. "Ultimately, [his character allows] heedless college kids (and American audiences) to see themselves through the prism of another culture."
Dark, 25, grew up in Marietta and graduated from the film program at Florida State University in 1994, winning awards from that year's Fort Lauderdale and Philadelphia international film festivals for his 15-minute thesis film, Five Spot. He's been working on Route 4 since August 1994. He raised the $275,000 to cash flow his film through postproduction from 30 local investors in a limited partnership. Big ticket budget items on this film included hiring 40 members of the Atlanta Symphony Orchestra to perform 4's score after Dark decided he had to scrap initial sessions with a local orchestra. He also got the rights to Credence Clearwater Reviva's "Bad Moon Rising" for 4's opening sequence. The 35mm color Route 4 was shot at Florida State University and the Everglades' Big Cypress National Park over 30 days.
Cast: Matt Burris, Bryan Green, Taketoshi Kunisue, Mark Silvernail, Glenn Aldous, Erika Gabaldon. Crew: Producers, Jeff Dark, Morten Brante; Screenwriters, Brian Szot & Jeff Dark; Director, Dark; Director of Photography, Andres E. Sanchez; Editor, Jess Bowers; Casting, Janet McLean; Composer, Danny Mordujovich. Contact: Jeff Dark, Southern Pictures, 942 Denmeade Walk, Marietta, Georgia 30064-2975. Tel: (770) 425-8562, Fax: (770) 425-8563.
Dean Pollack puts a dizzying new spin on talk show culture in Show & Tell, a sobering portrait of the lengths a pair of aspiring L.A. actors go to get exposure.
Pollack, a 1988 graduate of the NYU undergraduate Film School, came to fiction features after ten years of cutting documentaries and reality t.v. shows in Hollywood. (Previously, he was second assistant cameraman on Spike Lee's She's Gotta Have It.) He says he wrote Show & Tell specifically for a six-figure budget after aborting an earlier effort to finance another script at $1.2 million. Pollack opted to shoot as a SAG signatory, a move that paid off in casting Joyce Van Patten as well as Susan Sullivan (Knot's Landing) as a t.v. show host.
The filmmakers got half of their 35mm stock for free when Show & Tell was accepted to Kodak's Champagne Celebration matching program. Show & Tell shot 24 days in L.A. late last fall, about half on a soundstage at Lacy Street Studios where sets for the pivotal live t.v. scenes were constructed. The biggest technical challenge, Pollack says, was orchestrating talk show set-ups that had to be shot simultaneously on film and three video cameras for playback five days later in control room scenes crucial to the film's denouement. Pollack expects to have a completed film this fall; all rights remained available at press time.
Cast: Ellen Goldwasser, Neill Barry, Susan Sullivan, Joyce Van Patten, Kristoffer Ryan Winters, Kevin Scannell, Harriet Harris, Victor Raider-Wexler, Martin Hinkle, Sybil Temchen, John Milford, Robert Michaels. Crew: Producer/Screenwriter/Director, Dean Pollack; Line Producer, Franny Baldwin; Director of Photography, Shawn Maurer; Casting, Karen Church; Editors, Jessica Landaw, Tom Lewis; Composer, Albert Lloyd Olson; Casting, Karen Church; Production Designer, Nya Patrinos; Wardrobe, Gini Krammer-Goldman. Contact: Dean Pollack, Show & Tell, 6182 Glen Oak Street, Los Angeles, CA 90068. Tel: (213) 856-7092, Fax: (213) 856-0221.
Alexander Hennech arrives on the feature scene with Smart Money, a stylish drama about a 21-year-old bookie trying to rechannel his gambling expertise into a new career on Wall Street. Jimmy tells himself he'll keep taking bets just long enough to make the $50,000 it takes to buy a starter seat on the New York Futures Exchange. But when a minor Mafia thug muscles in on his boss, the walls start closing in, and when the cops show up somebody's got to take the rap.
Hennech, 34, grew up in Manhattan's Chelsea and spent his early 20s playing professional backgammon; he says Smart Money's based on his experiences. A City College degree in finance got him to Wall Street as a floor trader, but he decided his future lay in film and headed west in '91. With one short -- '93's The Messenger -- under his belt, he took all the p.a. and a.c. work he could get and parlayed that into a 44-episode stint editing and sometimes directing a syndicated documentary series, Behind Bars. "I learned how to shoot 15 pages in a day and picked up a lot of low-budget tricks," he says. With the t.v. footage bolstering his reel, he took Smart Money's script to Wall Street and used his contacts there to put together the cash half of a budget he says probably tops out just under seven figures. Though the film's set in New York, Hennech says when he found out Martin Scorsese shot three quarters of Mean Streets in L.A., he decided it made sense to go that route because of all the favors he could call in. He saved more money when Kodak slapped a 50 percent discount on the due-to-be-discontinued 7287 stock he'd chosen for its low saturation. Smart Money shot 18 days last July, including a down-and-dirty final three days in New York to capture Wall Street, Soho, Little Italy, Battery Park and the meat-packing district exteriors plus a Lincoln Tunnel chase scene. Hennech chose a design team from the resume books at IFP/West and rented a local still photography studio for a week to shoot scenes in a police station, blackjack club and bookie office. At press time he was in Las Vegas paying off his lab fees by producing lifestyle pieces for a local cable channel, Player's Network. He'll premiere a finished film at the IFFM and recently engaged Reel Power author Mark Litwak as producer's rep. All rights are available.
Cast: Santio East, Bobby Kaman, Samuel Dobbins, Lira Angel, Thomas A. Humes, Alex Demir, James Kissane. Crew: Producers, Alex Hennech, Sherry Preston; Screenwriter/ Director, Hennech; Director of Photo-graphy, John Tarver; Production Designer, Macie Vener; Editor, David Bret Egen. Contact: Mark Litwak, 9595 Wilshire Boulevard, Suite 711, Beverly Hills, CA 90212. Tel: (310) 859-9595, Fax: (310) 859-0806.
Providence's Michael Corrente, who directed last year's film version of American Buffalo in his hometown after making waves with debut Federal Hill, was back this spring producing first timer Brad Kane's debut.
Called Strangers in Transit, the film's about romantic obsession and giving up lost causes. The offbeat drama stars Nicky Katt (suburbia) and Libby Langdon, Corrente's wife and sometime producing partner. Langdon plays Julia, the feminine ideal Katt's character, Ben, has been obsessed with through their ten-year friendship; it's the threat of her impending wedding that convinces him it's time to voice his feelings. Naturally the perfect girl is waiting in the wings, but Ben just can't seem to see her through the haze of lovesick misery.
"People have infinitely more complicated natures than most scripts reflect," says Kane. "These characters are real -- they're duplicitous because their agendas change." A New York stage actor best recognized as Aladdin's singing voice in the '93 Disney feature, Kane made several shorts in NYU's undergrad film program before abandoning the school for Broadway. He cites the "cruel indignities" of doing seven shows a week of "Grease" in '95 as motivating him to write again. Corrente was working on an adaptation of Peter Farrely's male rite-of-passage novel "Outside Providence" when he suggested to Langdon that they find a project they could make with someone else directing in the meantime. Langdon says she'd rejected "hundreds" of possibilities when Strangers fell into her lap through manager Davian Littlefield. As he did for Federal Hill, Corrente raised financing through private investors in Rhode Island -- this time to the tune of seven figures. Strangers wrapped four weeks of interiors in Providence in May before moving to New York for exteriors. Strangers should be completed late this fall and all rights are available.
Cast: Nicky Katt, Libby Langdon, Megan Ward, Justine Bateman, Gil Bellows, Rya Kihlstedt, Daniel Lapaine. Crew: Producers, Michael Corrente, Libby Langdon; Associate Producers, Randy Finch, Marisa Polvino; Director/Screenwriter, Brad Kane; Director of Photography, Richard Crudo; Production Designer, Chad Detwiller; Editor, Bill Marmor. Contact: Michael Corrente, Eagle Beach Productions, 50 West 72nd Street, New York, New York 10023. Tel: (212) 362-1050, Fax: (212) 362-5716.