FESTIVAL ROUNDUP
Florida Film Festival by Michael Jones & Nantucket Film Festival by Mark Rabinowitz
Florida Film Festival
In the small city of Orlando, Florida -- surrounded by the theme parks of Disney and Universal -- many of the city's people are surprisingly well versed in independent and contemporary foreign cinema, films like Jupiter's Wife, Bandit Queen, and Pink Flamingos (the John Waters classic is banned from video stores here). Thanks to the Enzian Theater, the nonprofit organization behind the Florida Film Festival, indie films show regularly and often times successfully. The Festival is the city's annual chance for a mega-dose of alterna-cineplex film, and under the proud guidance of Sigrid and Philip Tiedtke and a programming panel of volunteers and staff, this year's crop had many surprises.
The Enzian is a dinner theater where the wait staff serve pitchers of beer and full course meals during the screening and strangely ask for the check exactly two thirds of the way through the film. Never would this work in New York but at the Enzian, it's the bait at the end of the alternative film hook. Other fest films also screened at a unique converted playhouse, the Annie Russel Theatre, on the campus of Rollins College. All the film festival staples of shuttle buses, wide eyed volunteers, and cigar parties ran smoothly, and like the neighboring Fort Lauderdale fest, the Enzian dazzled the locals with celebs and special screenings. Peter Fonda, there for Ulee's Gold, Roger Corman, and William Macy brought out the flash bulbs and press. Films like Star Maps, In the Company of Men, and The Pillow Book played to eager houses, and opening night's The Full Monty -- about a unemployed group of British men who plan their own strip show to raise money -- by the end had a dazzled audience dancing in the aisles as if at a Chippendale's review.
The talk of the fest was the documentaries -- a strong, evenhanded set. Waco: The Rules of Engagement, a slanted examination of the Branch Davidian tragedy, drew the largest crowd including the small number of militia that seem to follow the film around the country. The previous night, at a screening in Atlanta, the film and Q&A afterwards stirred up an angry crowd and prompted one militia member to stand up and yell, "Now that you've seen it, what are you going to do about it!?" Security was heightened at the Annie Russell but no "call to arms" was offered. The doc jury -- Bruce Sinofsky (Brother's Keeper) and Stuart Strutin of Panorama -- gave Kristen Schultz's document of the last four years in the life of a teenage AIDS patient, Before I Sleep, the Grand Jury Prize for best feature doc while Helen Strickler's combustible study of phenomenology, Andre the Giant Has a Posse got the short doc award. Alan Berliner's Nobody's Business took the doc audience award. Berliner said that he'll give it to his father, Oscar, whom the film is lovingly based on: "I'll hand it to him and he'll probably say 'big deal'!"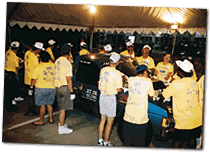 Hands on a Hardbody was the doc that had most people talking. Director S.R. Bindler and crew turned their Hi-8 video cameras on a small Texas town and a new car lot that holds an annual publicity stunt: 24 names are pulled from a drawing, a fully decked-out new pickup truck is put under a canopy in the middle of the lot, and the participants must stand around it with at least one gloved hand on the truck's body. The last one remaining, the one who hasn't tumbled over from exhaustion or been made crazy through lack of sleep, wins the truck. The competition lasted for close to 96 hours, and the filmmakers were able to compress their footage to an engaging 97 minutes that acts as a harsh comment on individual ego and the rabid fancies of consumerism.
Most Hardbody participants, interviewed in the days before the competition started, claim to have the strongest will and tolerance for that truck -- one lady explained that God had ordained the truck for her and that prayer groups across the state would insure this. Ironically, in the last hours of the competition, she is one of the two left. Wired onto her Walkman, listening and dancing and praying to her pre-recorded gospel songs, she outlasts the Marine next to her, but loses when she inadvertently raises both her hands in a fit of exhaustive rejoicing. By this point the doc has cleverly turned to a much more human note: the motivation and worth of the competition are harshly questioned by the participants; those ousted return to encourage those remaining in a strange kind of solidarity; and the winner, whose personal motives are unknown until the end, reveals what made him stand in place unselfishly for almost 100 hours. The film was honored with a special award for editing.
Notable features were more difficult to spot. The feature Competition was heavy with stories of the uninteresting love lives of young American twentysomethings (mostly of men, all directed by men). Colin Fitz and Blowfish got an extra jolt of press coverage due to their Florida settings but like most of the Competition, had a hard time distinguishing themselves from this indie film blur of tired subject and absent technique. The one significant standout and audience award winner -- Harish Saluja's The Journey, a calm and extremely modest labor of love about a poetic, retired school headmaster from India (Roshan Seth of Ghandi) out of his element in Pittsburgh as he visits his successful son and his new American family. Saluja's first film works best when the headmaster's traditional Indian mannerisms clash with his son's American wife as chauvinistic, while other aspects of his Old-World passion connect with her seven-year-old daughter. Although the film occasionally tripped on almost unavoidable first-film clich»s, it unfolded sweetly and closed with a slow, composed exhale.
Scott Saunders' Lower East Side story, The Headhunter's Sister, garnered the Grand Jury award. The jury -- Peter Broderick of Next Wave Films, Jason Kliot of Open City Films, and indie consultant Bob Hawk -- gave special awards to Mark Schwahn's 35 Miles From Normal and Brian Flemming's Hang Your Dog in the Wind.
The Nantucket Film Festival
The island of Nantucket is a beautiful setting for a film fest. And while the Nantucket Film Festival, which just wrapped its second year, still has some organizational kinks to work out (note to fest organizers: think about holding readings and panel discussions in a tent with a p.a.), the fest staff worked hard this year to present a festival for both fans and filmmakers that boasted a unique hook -- the fest focuses on the screenwriting, and therefore the films are chosen for the quality of their scripts, not for first-look, breakout potential.
The fest is a nice change from the hell of over-crowding and poor screening conditions, or chaotic disorganization of other bigger fests. The lineup was a solid list of this year's indie veterans (Hugo Pool, Colin Fitz, Star Maps, Sunday), some newer fare (Insomnia, The Tit and the Moon), a program of professionally cast screenplay readings and a series of documentary shorts from the recently defunct MSNBC series, Edgewise. Morning coffees featured intimate conversations in a local coffee house with discussions between fest board member Jace Alexander and folks like directors Greg Mottola (The Daytrippers), Peter Cohn (Drunks) and Robert Bella (Colin Fitz); producers Maggie Renzi (Lone Star, Matewan) and Sarah Green (American Buffalo, Passion Fish) and entertainment attorney Harris Tulchin.
The readings, however, underscored why this festival is first and foremost about the screenwriters. Most of the films had been touring the festivals this year and last, and while some still want and deserve distribution, many were reaching the end of their run at festivals. But Nantucket also featured five professionally cast readings of unproduced screenplays like Warren Leight's (The Night We Never Met) Love-40, and Pete Nelson's Peace, Love & War, performed with actors such as John Shea, Callie Thorne, Dana Wheeler-Nicholson, Chris Noth, and Mary McCormack.
One of the two overlooked festival vets that I saw during the week was Colin Fitz, written by Tom Morrissey and directed and produced by Robert Bella. An odd and cleverly written look at the cult of personality surrounding dead rock stars and a relationship between two very different, but equally inept security guards (Matt McGrath and Andy Fowle), the film brings strange but welcome turns by veteran actors William H. Macy, Martha Plimpton and John C. McGinley that help make it definitely deserving of a second look by distributors.
On the other hand, Dorne Pentes' The Closest Thing to Heaven really needs a first look. The film paints a picture of Charlotte, North Carolina that none but a native could imagine. Dubbed by Bob Hawk a "Charlotte Short Cuts," the film melds five stories of the denizens of this Southern city, and holds them together with both overlapping characters and a wonderful white-suited narrator who pedals from scene to scene on his bicycle giving a loving and often irreverent tour of the city. The film has won awards at various festivals, including Atlanta Film and Video, New Orleans, North Carolina and San Jose Cinequest. Not playing many "industry" fests after its screenings at the 1996 IFFM unfairly hurt its initial chances at domestic distribution.
A third program of note at the festival was the series of Edgewise documentary shorts exec produced by R.J. Cutler (A Perfect Candidate). An excellent opportunity for documentary filmmakers, Edgewise showed their work to a television audience wider than is often the case with theatrically distributed docs, and they had the chance to work with Cutler, a veteran of several successful films. The selections chosen for the fest were by and large well made and informative, with special notice given to: "Hellhouse," a piece focusing on a fundamentalist Christian "house of horrors," designed to scare people into leading so-called pious lifestyles by demonstrating the evils of homosexuality and abortions; "Smoking," a segment wherein nicotine addicted teenagers speak frankly about their love of cigarettes, and "Self Deliverance", a debate about doctor-assisted suicide in the Northern Territory of Australia.
The national press coverage of the fest wasn't as high as it should be, and there was a notable lack of premieres and therefore, acquisition execs, but I don't think that this festival is trying to be another Sundance. I wasn't at this fests kick off in 1996, but if '97 is any example, it'll be around for quite some time.