FESTIVAL ROUNDUP
---
Chicago Underground Film Festival
The streets of Chicago were wild-posted in the weeks before the fifth edition of the Chicago Underground Film Festival with placards offering up a sultry brunette in fishnet stockings, black leather skirt and gloves clutching a Super-8 camera with a prodigious lens. While the guidelines for submission read, "If you suspect your film is underground, it probably is," the organizers probably weren't expecting the flourishes of wisenheimer graffiti on their posters. "I do all my work in my panties" read one; others included "I'm a filmmaker, see? See my breasts?" and "You're not underground unless you have sex with me."
That tenor of participatory spirit reigned throughout the festival. Sellouts were frequent – the Fest boasted its largest attendance ever, despite limited, sometimes condescending, mainstream media coverage; the Chicago Tribune artlessly described the event as an "extravaganza of cinematic whoopee... a mix of the tasteless and the artful." As for packed houses, CUFF managed to go clean with Tamara Hernandez's opening night psychosexual drama-comedy Men Cry Bullets; prior NYUFF prize winner Surrender Dorothy, Iara Lee's Modulations, local stalwart Jim Sikora's Rock 'n' Roll Punk, two screenings of Penelope Spheeris' The Decline of Western Civilization, Part III, Stefan Avalos and Lance Weiler's micro-budgeted digital video marvel, The Last Broadcast, and a revival of the only extant print of the 1982 proto-grrrrl power exploitation item, 1982's Ladies and Gentlemen, the Fabulous Stains, starring a very young Diane Lane and Laura Dern as two girls who start a punk band and a media furor.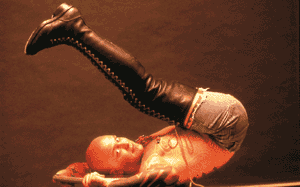 Ron Athey in Catherine Gund Saalfield's Hallelujah! Ron Athey: A Story Of Deliverance
CUFF schedules parties each evening. An overflow crowd attended the opening night soiree, which featured Cynthia Plaster Caster describing her collection of casts of rock-and-roll manhood, followed by Mo Tucker of the Velvet Underground. Perhaps most appropriately, the closing-night awards were held in the back room of a neighborhood saloon that reeked of vinegar and burnt cheese.
Of the films programmed, one of the few themes that emerged was the harsh reality that too many drugs and too much sex can lead to bad results. Programming Director Bryan Wendorf laughs at one critic's contention that this made the Festival's selections reactionary. "In the '90s, we're all smart enough to know there's good and bad to these things. To present a '60s it's-all-okay attitude would be naive."
Shorts were plentifully represented over several diverse programs that included the schematic, repetitive work of Chicago media collective Animal Charm; Philip Pelletier's New Testament – zippy commercial parodies in which Christ and the Apostles peddle New Testament Wine Cooler; Elise MacAdams' A Cure for Serpents, with Whatever's young star Liza Weil as a teenager whose life changes when she allows her boyfriend to leave a stain in her phobic mom's house; and 22-year-old Jimmy Mazzullo's Heavy Black Smoke Stack, a road movie that does up both urban and rural imagery in a stylish, if familiar, post Super-8 kind of way.
Fuck Coke was a comically nerdy anti-commercial branding tract by Gary Burns, director of Kitchen Party, and cable-access savant Jeff Krulik returned with a program of shorts, including Neil Diamond Parking Lot. The gold jury prize went to Rodney Ascher and Syd Garon's Somebody Goofed, a brilliant nightmare weave of images and sounds in a digitally-animated adaptation of Jack T. Chick's memorably deranged Christian tracts refracted through a welter of techniques and a narcotic trip-hop soundscape.
Straightforward documentaries about strange goings-on included David Vaisbord's Juicy Danger Meets Burning Man, with the "extreme cabaret" of "The Juicy Danger Show" taking it on the road to the Burning Man Festival in Nevada. Daniel Klaus' Jefftowne was a bitter little corrective to sentimentality about disability with its technically slobby movie portrait of Jeff Towne, a 40-year-old Iowa City man with Down's Syndrome and a daily routine that includes hanging out at the mall movie theater, watching wrestling, attending Star Trek conventions, wallowing in sleazy porn magazines, getting drunk, groping the women who give him hugs and telling whoppers. Catherine Saalfield's Hallelujah! Ron Athey: A Story of Deliverance took a Silver jury prize. It's a by-the-book documentary on the life and work of performance artist Ron Athey, capturing several of his "spectacles" that involve elements drawn from S/M, leather and fetish culture. Another form of freakishness was on display in Marina Zenovitch's Independent's Day, which capably collates interviews with filmmakers in Park City, Utah from two years of the Sundance, Slamdance and Slumdance film festivals, mingling well-known players with up-and-comers in a sturdy overview of how the idea of "independent" filmmaking is sold today. It's not a pretty picture, and Zenovitch packs a lot of information within an hour. From insiders to outsiders, there's Penelope Spheeris' The Decline of Western Civilization, Part III, a tender, strangely moving portrait of a particular pack of nomadic street kids, or "gutter punks" in L.A. Shockingly incisive and shockingly without a distributor, Decline shows a community of smart, sweet, attractive kids who are also battered, abused, abandoned and resigned to their degradation. They tell their stories with little affectation beyond playful gallows humor. These drunk, doped, often adorable teens weren't even born when Spheeris' first Decline, a portrait of L.A.'s then-thriving punk scene, was made. One of the festival's few contentious Q&As came after the film's first showing, when a cranky audience member questioned whether Spheeris was glamorizing or whitewashing the subject. Still, when accepting the Gold Jury Prize, she enthused, "I had the best time in my life coming here – your lives are so much better than those people who think they're having a good time in Hollywood!"
The Silver Jury Award for fiction went to Stefan Avalos and Lance Weiler's The Last Broadcast, which Wendorf says, "Every filmmaker was talking about." It made an impact because it was a captivating story, but the piece was also done using low-cost digital technology. The Last Broadcast straddles several lines, from documentary to fiction, from technological feat to artistic accomplishment, taking on the form of a crime documentary about the investigation of the of the hosts of a New Jersey cable-access show.
The range of DIY success stories at CUFF went from the Silver-Jury-Prize winner for short film, Gray Miller's Hellzapoppin', which told an outlaw-couple story in footage originating on 16mm, Super-8, Hi-8 and 3/4" video and edited on outdated equipment, all the way to The Last Broadcast, which was shown with a state-of-the-art digital-projection system. The latter film will also play for a week in October in five cities – Philadelphia, Portland, Providence, Austin, and Minneapolis –via satellite, a dream form of exhibition which big-money entrepreneurs like Francis Coppola have gabbed about for years. "We're trying to keep our digital integrity," Weiler jokes when asked why they don't just blow their film up to 35mm.
The Gold Jury Prize went to Kevin Dinovas' Surrender Dorothy a nicely shot, nicely mean-spirited psychosexual drama that's been on the festival circuit and left some audience members disappointed by a slack final third. The Audience Award went to Tamara Hernandez' Men Cry Bullets, which overcomes a busy and sometimes sloppy visual style to arrive at some strange sort of conviction in its clash of a mean-spirited and sexually voracious writer, Gloria (Honey Lauren), who becomes the object of obsession of Billy (Steven Nelson), a young man who wants to be a female impersonator. Every time I would dismiss the film as a clumsy mess, some deep and appalling chord of pain would be struck by Billy or Gloria, and the dialogue is often daringly strange. Accepting her award, Hernandez charmed the audience as she confessed, "This means a lot to me because I always think everyone hates [the film]."
The last word should go to Lifetime- Achievement-Award-winner Paul Morrisey, whose Flesh for Frankenstein was shown in 3-D, alongside his 1972 Women in Revolt. He joined CUFF's roster of underground filmmaking pioneers Kenneth Anger, George Kuchar and John Waters. Limping to the stage, casual in shorts and a bandaged leg, Morrisey grumbled in his gravel-voice, "We made Women in Revolt for $2,000. And you can still film what you want and wind up in this weird category called underground. Encourage more people to do it and have a sense of humor about it! Now I'm going to go make a belt buckle out of this thing."
---
ResFest 1998
In part, the term "digital" derives from the stroking of keys by fingers, or "digits" — of course, when used to explain a "digital computer," the term involves the use of a machine that decodes binary information represented as "digits," or numbers. Both are important distinctions to consider when trying to understand the concept and explosive evolution of digital filmmaking. Computer keyboards are an increasingly important tool in the contemporary creation of films. In post-production, an overwhelming number of movies use non-linear editing systems such as an AVID or a Media 100. And this year, distributors such as Strand, Artisan and Zeitgeist nabbed new 35mm features shot with digital video cameras. ResFest, the annual touring digital film festival, offers an important peek at the latest ways that technology is affecting film and video works.
"Never before has the opportunity existed for so many creative people to have the access and the means available to express themselves in the motion picture arts," explained ResFest Festival Director Jonathan Wells and Managing Director John Scalise in their event's program. Indeed as technology evolves, makers increasingly rely on and experiment with digital tools.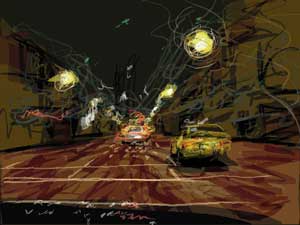 Bob Sabiston and Tommy Pallotta's Roadhead
Three hundred entries were submitted to ResFest organizers for the 1998 Tour which stopped in London and Los Angeles in August, headed to San Francisco in September and concludes in New York City in October. Submissions were three times higher than last year, a sign that the field is widening.
ResFest would appear to be expanding to handle the greater use of digital technology. Back again for the '98 tour is a program of short films, but a new section of longform shorts has also been added, Cinema Electronica (a showcase for the convergence of the sonic and visual arts) returns, as does a series of panels on the future of filmmaking, and notably three feature-length films (Bennett Miller's The Cruise, Stefan Avalos and Lance Weiler's The Last Broadcast, and Iara Lee's Modulations) are leading the tour.
"ResFest is committed to showcasing artists that are looking for new ways of making more personal, intimate and challenging works," stated Wells and Scalise, their comments resonate when surveying ResFest's feature work — three movies for which a ResFest spot is only part of a wider release. Miller's documentary portrait of a New York City tour guide, which was shot on miniDV, off-line edited digitally, and ultimately transferred to 35mm, was picked up by Artisan Entertainment this summer, screens at the Toronto Film Festival and is headed to theaters this fall. Iara Lee's doc Modulations, shot around the world on digital and analog video and film before being bumped to 35mm, debuted at Sundance, screened in Berlin, and was recently picked up for release by Strand. Meanwhile Stefan Avalos and Lance Weiler's $900 pseudo-documentary The Last Broadcast, which was shot on miniDV/Hi-8/8mm/VHS with post-production done entirely on desktop computers, is headed for a week run in a handful of theaters in October through a groundbreaking satellite broadcast to movie screens.
"While the digital age has brought about a proliferation of wonderful tools," offered Wells and Scalise in their festival program intro, "It is important to us that they remain an aspect of this festival, not the focus. For it is still true that great films come out of great ideas, and not from new tools and techniques." Bob Sabiston and Tommy Pallotta's Roadhead works on both levels. Shot on miniDV during a roadtrip from New York City to Austin, the digitally animated short documentary offers a unique view of the random people that the filmmakers encountered, and interviewed, along the way. The footage was animated and manipulated with a proprietary software developed by Sabiston. The crowd-pleasing end result is without a doubt one of the highlights of the tour. TV viewers may recall a recent Pallotta/Sabiston collaboration that used the same technology. Dubbed, Project Incognito, the series of shorts depicted an array of interview subjects and was used as animated interstitials on MTV. Other longform shorts screened at ResFest were Michael Almereyda's Pixelvision production, The Rocking Horse Winner and Naked Pavement, a short documentary about photographer Spencer Tunick.
Less accessible in a narrative sense were the projects included in the primary Shorts program and in the Cinema Electronica section. "Artists from widely varied backgrounds such as graphic design, illustration, and music are giving their vision motion through the use of computer technology," declared Wells and Scalise. Most intriguing were the short-subject music videos in the Electronica program. Among the standouts were the two Chris Cunningham works that served as bookend for the electronica section. Cunningham's opening video, Come On My Selector, set in a home for mentally disturbed children in Osaka, Japan, depicts a crafty young girl who captures a security guard and conducts a brainswap between the man and her dog, set to the music of Squarepusher. Meanwhile, Cunningham's closing video for Aphex Twin's Come to Daddy (an MTV video award nominee for its special effects) offers nightmarish images that begin with an elderly woman walking her dog, and concludes with a human-like creature that emerges from within a television set. Also arresting were the grids of images in Carlos Javier Gomez de Llarena's Visionary CCS, a montage of visuals shot in Caracas, Venezuela and set to the music of Plastikman. On the much more experimental side were some of the projects that screened in the Shorts program, giving viewers a sampling of digital desktop software and techniques, including Adobe After Effects, Softimage 3D, Adobe Photoshop, and post-production with Adobe Premiere, Media 100 or AVID technology. Greg Fadell, Peter Wardowski, and Matt Zacharias' Max, a cleverly shot seven-minute military battle among action figures, was a big hit with the L.A. opening-night crowd.
Saturday afternoon at the DGA in L.A. welcomed the latest installment in the tour's series of panel discussions on the "Future of Filmmaking." Jonathan Wells introduced director and visual effects supervisor Scott Billups, designer at Digital Domain Marc Leidy, director Robert Weaver, and filmmakers Bennett Miller and Iara Lee for a discussion about how technology is affecting the process of filmmaking as well as the inherent advantages and challenges. While those in the audience that came for an introduction to the field were left rather puzzled, others used the opportunity to inquire about the latest technological advancements. Billups advocated that makers consider creating a "self-contained" PAL environment to guarantee a more seamless "up-res" to 35mm, while Miller and Lee compared notes on their experiences with digital video production and post-production, discussing what can sometimes be a costly and frustrating process. "Baywatch" TV series director Weaver explained how digital desktop "pre-visualization" software has become a valuable tool when working with show set designers.
Of course, in some cases, the reasons for using digital technology are rather generic. "I looked for any way to remove people from the process," quipped Bennett Miller who was the one-man crew on The Cruise.
"I used to like to work with people," commented Robert Weaver, "And then I started doing 'Baywatch'."
---
Nantucket Film Festival
The Nantucket Film Festival, which wrapped its third edition on June 21, isn't an acquisitions-heavy festival like Sundance or Toronto, nor is it merely a regional event, the kind of festival that showcases local work while providing launches to specialty films before their local releases. Rather, Nantucket is part of the growing number of "specialty events" – festivals guided by a particular theme or mission. In Nantucket's case, it's the promotion of the screenwriter within the filmmaking process.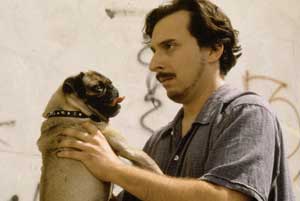 David Birdsell's Phil Touches Flo
Through staged screenplay readings, seminars, and a tribute to an attending writer – this year the Fest feted Ring Lardner, Jr. (Woman of the Year, MASH) – Nantucket focuses its efforts on bringing the work of the screenwriter to light. In fact, the writer's name is given first position in the film catalog, above that of the director. Much of Lardner's remarks at the tribute centered around the possessory credit claimed by so many directors, and how that can obscure the contributions made by the writer. "The most brilliant director in the world cannot make a good movie from a bad script," he said, "except by rewriting it, and thus sharing in the screenplay."
Among the feature film selections, Jez Butterworth's Mojo, Tony Gatlif's Gadjo Dilo, Nicholas Barker's Unmade Beds and Amos Poe's Frogs For Snakes received particularly strong word of mouth, as did the closing night film, Amy, directed by Nadia Tass and written by David Parker. Among the outstanding short films programmed were several festival circuit veterans, including award winners Second Skin by Amy Talkington; Cuba 15 by Elizabeth Schub; Michael Almereyda's The Rocking Horse Winner and Phil Touches Flo, by David Birdsell, along with Will Speck and Josh Gordon's hilarious Culture, and Nantucket's audience winner, Dance, Lexie, Dance, by Tim Loane.
Of course, holding a film festival in a location such as Nantucket does present its share of technical problems; this year, several screenings suffered from poor projection (including two of the Ring Lardner, Jr. tribute films). In addition, the opening night screening of Next Stop Wonderland was canceled due to a town-wide blackout, an unfortunate side-effect of the festival's rustic setting.
---
Newport International Film Festival
The recent ascent of Rhode Island-born filmmakers like Michael Corrente and the Farrelly brothers helped draw state and private support to this spring's premiere Newport International Film Festival, a five-day event sandwiched between Cannes and Nantucket on the festival calendar.
Newport's an old-money coastal resort and the home of America's Cup racing; it's also the annual host of a famous 40-year-old summer jazz festival which the Festival acknowledged with a jazz film sidebar. Three hours from New York on a scenic Amtrak route, Newport proved easily accessible to New York filmmakers who turned up in respectable numbers; if the industry presence was sketchy that's more than likely due to Newport organizers' one serious stumble, a late mailing to distributors and the like. But Harvey Weinstein showed up to introduce The 400 Blows, the centerpiece of a three-film "Under the Influence" section that screened classics named by filmmakers and industry types as influential to their own work.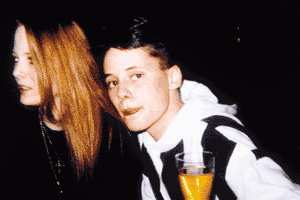 Susan Muska and Greta Oafsdottir's The Brandon Teena Story
Newport's Dramatic Competition snared several of the year's more intriguing U.S. indies largely passed over by more cutthroat events (Anima, Dead Broke, OK Garage) and mixed them with with proven foreign audience pleasers (Gadjo Dilo, Who the Hell is Juliette?, The Contract). Most pleasantly surprising was Iranian director Majid Majidi's Children of Heaven, a poignant divertissment about two children and a pair of sneakers in the vein of The White Balloon. (Though Miramax made a preemptive bid for Children on its North American premiere at Montreal last year, the film's gone unscreened since and is not yet scheduled for release.)
Newport really distinguished itself with its compelling ten-film documentary section. Audiences got an early shot at emerging '98 favorites like The Cruise, The Brandon Teena Story, SlamNation and Angel On My Shoulder and a chance to catch up with cult item Hands on A Hardbody and Off the Menu as well as Sundance fare Baby It's You and Out of the Past. Foreign documentaries were well represented by two fascinating films, The Hunt, a Dutch portrait of British foxhunting and the controversy currently embattling its practitioners, and Oberwasser: By U-Boat to America, an often-sobering tale about the first German sub to journey to America since World War II.
The festival opened with The Mighty and closed with I Went Down, respectable choices intended to charm capacity houses trundling on to gala celebrations. That Newport is now on the map and the subject of enthusiastic buzz from filmmakers, jurors and audience members is a credit to the collective drive of the three women who dreamed it up over coffee last spring: Nancy Donahoe, Christine Schomer and Maude Chilton. Chilton, who is Harvey Weinstein's sister-in-law, also had the trio's only fest experience – she produced Sundance docs Belly Talkers and The Who's Tommy: Amazing Journey – and subsequently took on the programming while Donahoe and Schomer created the infrastructure and went after sponsorship. Considering what an organic event Newport's organizers pulled off in their first outing, the '99 edition (June 1-6) is recommended to debut filmmakers looking for an East Coast premiere alternative.
---
Sydney Film Festival
The 45th Sydney Festival ran for two weeks in June and was notable for its international scope and humanist-themed filmmaking. Recent releases from the U.S. and Europe were interspersed with features and documentaries from 32 countries, including Mali, Tunisia, Madagascar, Vietnam, South Korea, Wales, and Ireland.
The program reflected director Paul Byrne's belief that "immersing ourselves in film can make us more human, more tolerant, somehow bigger." This was particularly evident in the Cinema Africa programs, presented by Cameron Bailey, founder of the Toronto Festival's Planet Africa section.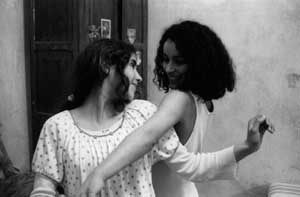 Nadia Fares' Honey and Ashes
An intriguing example was When the Stars Meet the Sea, (France/Madagascar), by Raymond Rajaonarivelo. It uses only indigenous Madagascans as actors, and, because there is no local film industry, involved flying in six tons of equipment. The story, based on a local myth, concerns a boy who, because he was born at the time of an eclipse, must endure a night alone among the cattle. He survives, and later searches for an explanation for his uncanny powers to control natural forces. The atmosphere and intense beauty of the images as we move between city and country are overawing.
Honey & Ashes (Switzerland/Tunisia) directed by Nadia Fares is strikingly feminist, particularly considering its Arab origin. It concerns three women in contemporary Tunisia whose lives intermingle as they attempt to resist traditional family restrictions and physical abuse. Like several of the African films, Honey & Ashes deals convincingly with the impact of Western culture on more conservative societies.
Equally challenging, from the point of view of working under almost impossible conditions, is The Perfect Circle, (Bosnia/France) shot in Sarajevo by Ademir Kenovic, just after the killing stopped. The story concerns a poet, Hamza, who, like many others in the besieged city, has lost his desire to live. Consequently, he refuses his chance to escape to Western Europe with his wife and daughter. However, his indifference is jolted alive when two orphaned boys take refuge in his apartment and he decides to help them find their aunt. The film, in fact, is largely about random acts of kindness taking place under conditions of near starvation, freezing cold and imminent death.
In Free Fall and The Maelstrom, filmmaker Peter Forgacs recreates the life of two middle class Jewish families, one in Hungary and the other in Holland, in the years before World War Two. In each we share intimate joyous moments, like birthdays and weddings, while superimposed are displayed the sinister texts of savage anti-Jewish laws. The effect is extraordinarily moving, for we know what is coming. Forgacs calls his work "an archaeological map of human fate streams".
No less stirring, though in extreme contrast stylistically, is The André Show by Beverly Peterson. This unsentimental study follows Andre, aged 10, and his mother, Vilma, both of whom are dying from AIDS. When Vilma becomes too ill to cope, Beverly adopts the boy and encourages him and his friends to use the camera. Although the result is like a rough cut with jump cuts, it successfully holds together through the logic of emotion.
In summary, Sydney is a festival for the everyday enthusiast who wants to keep up and catch up. In this it greatly benefits from its calm non-competitive atmosphere, and absence of distributors entitled to all the best seats. Moreover, since a ticket may be shared by any number of friends, no session need ever be wasted.
---
Hudson Valley Film Festival
With its eclectic programming and exhibition formats, this spring's Hudson Valley Film Festival in Rhinebeck, New York, gleefully pushed the boundaries of expectation, sometimes for better, sometimes for worse.
The festival traditionally champions screenwriters, and this year was no exception with several screenplay readings, a panel discussion with five screenwriters, and a special tribute to the prolific Richard LaGravenese (The Fisher King, The Bridges of Madison County). The discussion, which was moderated by John Pierson with his typical blend of easy charm and healthy badgering, offered an interesting survey of five personalities and positions vis-a-vis the industry. Amos Poe staked out the avant-garde corner, invoking Jean-Luc Godard at least twice and insisting on considering filmmaking not as the making of individual films but as a politicized activity. Tony Gilroy somewhat apologetically represented Hollywood, while Laurie Weltz – taking up the middle of the spectrum as the new writer/director (and the one female on the panel) — described the writing of her first feature, Wrestling With Alligators, as the culmination of several years working every other job on a film set.
Weltz's film screened on Saturday, which was dubbed "Independents Day" along with four other new independent features. The lovely debut boasts excellent performances by Joely Richardson and Aleska Palladino, a strong story tackling issues of sexuality, propriety, and coming of age as a woman in 1959, and an impressive visual design. Weltz's background in the various aspects of film production shows in the film's sense of grace, control, and confidence; although the film has not yet been picked up for distribution, it deserves an audience beyond the festival circuit.
Sunday was devoted to shorts, and while projection difficulties marred the screenings, curator Meira Blaustein put together several strong programs, each of which featured examples of some of the best short work around. One of these astounding shorts was Gort Na gChamn (Field of Bones) by Irish filmmaker Carol Moore. Borrowing a poem from Cathal O. Searcaigh, Moore tells a story of searing violence with an exquisite palette and a perfectly choreographed camera. Set in 1940, the film charts a father's brutality and a daughter's resistance in a way that is both sparse — the film has no dialogue — and yet overwhelming visually and emotionally.
Another short gem was Sylvie Bringas and Orly Yadin's animated true story, Silence, about Little Tana who survives the horror of the Holocaust and a concentration camp only to be silenced by a family afraid of what she may say when she finds herself free. Narrated by the survivor herself, the film is a wonderful mix of animation styles that perfectly capture the different vibes of each section of the girl's life.
The festival concluded with a tribute to Richard LaGravenese with friends and colleagues offering often amusing testimony to the screenwriter's gifts. A party followed the tribute, but the carefully planned event, which was supposed to have taken place in a tent on one of the large lawns surrounding a large Hudson Valley estate, was disrupted by a wild storm. Strong winds and rain drove everyone inside, the power went out, trees were knocked down, and there was plenty of meteorological Coming at the close of the weekend, the storm also highlighted some of the festival's strengths and weaknesses. For the most part, the party proceeded uninterrupted thanks to the efforts of numerous volunteers and festival supporters. Indeed, a strong sense of local support underlies the festival, as does an interest and respect for film in all its myriad forms. However, there were places where things slid just slightly out of control, perhaps for reasons, like the storm, that are really beyond anyone's control. However, things like problematic projection or a sense of confusion here and there can be eliminated. The festival seems ready to be bigger, but doesn't yet seem to have the necessary resources. Next year's festival will in some ways have to different — executive director Denise Kasell, who has been a powerful driving force at HVFF, recently left to take over the Hamptons festival. Hopefully, the festival, which already has so much going for it, will continue to do what it does best, exploring its characteristic mix of screening formats and programming choices, while ironing out minor difficulties.