PRODUCTION UPDATE
Compiled and edited by FILMMAKER Contributing Editor, Mary Glucksman.
---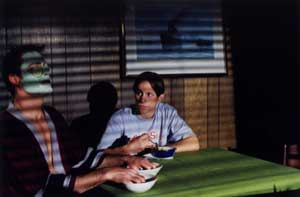 Robert Bogue and Kevin Lsola in Kieran Turner's 24 Nights Photo: Julia Van Vier
First-time filmmaker Kieran Turner won't complete his NYU MFA until next year, but he's already got his first feature in the can. 24 Nights is an edgy gay romantic comedy that starts with the premise that Santa Claus exists and is just as likely to deliver a boyfriend to a lonely young city guy as a new bicycle to a youngster.
Twenty years after an oddly memorable childhood encounter with a department store Santa, Jonathan Parker pens a letter to St. Nicholas asking for a lover. When the East Village bookstore he works at hires Toby, a shy midwesterner, as its new clerk, Jonathan believes that Santa has answered his wish. Unfortunately Toby already has a boyfriend, Keith, to whom Jonathan takes an instant dislike. Everyone's stars wind up crossed until a Salvation Army Santa arrives to sort things out.
"Jonathan's parents are dead and his belief in Santa Claus is an extension of his hope that his mother is still out there somewhere," says Turner. "24 Nights will probably be pigeonholed as a gay film, but nobody comes out, nobody explains anything, nobody questions their sexuality. It's really a Christmas romance."
Turner's made three shorts including two – Romeo's Flavor and Momentary Lapses – that toured the various gay fests. Originally a child actor, he spent ten years doing commercials and TV shows before switching to the other side of the camera as an NYU directing undergrad. The screenplay for 24 Nights took second place at NYU's first Wasserman Screenwriting Awards in 1996. "I wanted to get out of NYU with a feature and couldn't see putting the time into a thesis short," he says. Turner put together the financing to shoot 24 Nights in 16mm from private investors; cast and crew include a healthy complement of NYU grads, including up-and-coming actor Kevin Isola, who stars as Jonathan.
24 Nights was shot over 20 days in Greenwich Village in late '97; a few key scenes scheduled for a post-holiday shoot early this year ended up postponed until June so that Stephen Mailer, who plays Keith, could take a part in Ang Lee's new Ride with the Devil. Turner expects to screen a finished print in mid-September; all rights are available.
Cast: Kevin Isola, Aida Turturro, Stephen Mailer, David Burtka, Robert Bogue, Mary-Louise Wilson, Mark Bateman. Crew: Producer/Screenwriter/ Director, Kieran Turner; Associate Producer, Kimberly Hall; Cinematographer, Scott Barnard; Costumes, Julia Van Vliet; Editor, Rachel Chancey. Contact: Kieran Turner, Cynical Boy Productions, 61 East 8th Street, # 317, New York, NY 10003. Tel: (212) 769-7166, Fax: (212) 685-7902.
---
Holly Hardman's clever seaside romantic tragedy, April V, portrays a May- December romance between a thirtysomething Cape Cod lobsterwoman, Vicky, and Damien, the Harvard B-school dreamer she hires as her first mate.
Before Damien shows up, Vicky is content to eke out a modest living with her lobster enterprise, and Shep, a local admirer, is happy to pine for her from afar. But Damien's arrival awakens both Vicky and Shep to the limitations of their constrained existence.
"Sometimes those misbegotten loves that seem to overwhelm the sufferer's forward progress are actually the glue that binds a broken heart," says Hardman of her characters' dilemmas.
Susan Gibney (The Great White Hype) plays Vicky; theater actor Liam Waite, Ralph Waite's son, makes his film debut as Damien; and Jim Chiros (The Beans of Egypt, Maine) plays Shep. Also in the film is Amy Wright (William Hurt's eccentric sister in The Accidental Tourist), as the wise proprietor of a local new age store.
Originally an actress, Hardman's varied career has included five years as a writing assistant to Aaron Latham (The Program, Urban Cowboy), a stint in music promotion with bands like L7, and work as a performance artist in L.A. and New York. Her foray into film began with three shorts, including this year's New York Underground Film Festival hit Seaschell Beach. A one-time off-season resident of Cape Cod, she wrote April V while trying to drum up producer interest in another film, a drama about a molested child, and wound up forging ahead with the 35mm April V by financing production herself. Hardman has completed a rough cut she's showing completion financiers and investors. All rights are available.
Cast: Jim Chiros, Susan Gibney, Amy Wright, Liam Waite, Richard Cox, Holly Angell Hardman. Crew: Producer/Screenwriter/Director, Hardman; Co-Producer, Sabine Schenk, Isen Robbins; Line Producers, Sabine Schenk (NY), Daniel Solinger (Cape Cod); Cinematographer, Howard Krupa; Sound, Robert (Taz) Larrea (NY), Coll Anderson (Cape Cod); Production Designers, Tini Manfredi (NY), Charlotte Bourke (Cape Cod); Editor, Doug Rossini; Sound Editor, Darin Hallinan. Contact: Holly Angell Hardman, Surf 'n Turf Films, 225 Lafayette St., #611, New York, NY 10012. Tel: (212) 431-5788, Fax: (212) 431-9005.
---
Amidst a flurry of interest in Hollywood maestro-turned-pariah Orson Welles (three Welles-related films are due for release or re-release next year), George Hickenlooper's Big Brass Ring, adapted from an unproduced script by the legendary auteur, has entered production. Starring antihero William Hurt and Nigel Hawthorne in a role Welles meant to play himself, Big Brass Ring is the story of a gifted politician, Blake Pellarin (Hurt), whose ascent to power is threatened by the revelation of damaging childhood secrets. Nigel Hawthorne (The Madness of King George) plays Pellarin's id-driven and treacherous surrogate father, Irene Jacob is a meddling reporter, and Miranda Richardson costars as his suffering wife.
Best known for the Apocalypse Now documentary Hearts of Darkness, Hickenlooper has several indie features to his credit including the Mary Stuart Masterson-starrer Dog Town and The Low Life. He also directed Billy Bob Thornton in Some Folks Call It A Slingblade, the half-hour '94 short for which Thornton created the character he later made the subject of his own first feature. Hickenlooper spent eight years chasing the Brass Ring rights before securing them from Oja Kodar, Welles' companion and script collaborator; he and producer Donald Zuckerman, who previously teamed on Low Life, locked down the project's $5.5 million budget from Avi Lerner's Millenium Films. The film began shooting in L.A. on July 6 at the city's long-shuttered Ambassador Hotel – the one where Robert Kennedy was shot – and split a six-week shoot between L.A. and St. Louis. Rights are held by Lerner.
Cast: William Hurt, Nigel Hawthorne, Miranda Richardson, Irene Jacob, Ewan Stewart, Gregg Henry, Jefferson Mays, Ron Livingston. Crew: Executive Producers, Avi Lerner, John Thompson, Boaz Davidson; Producers, Andrew Pfeffer, Donald Zuckerman; Screenwriters, George Hickenlooper and F.X. Feeney (adaptation of an original screenplay by Orson Welles with Oja Kodar); Director, Hickenlooper; Director of Photography, Kramer Morgenthau; Producti on Designer, Jerry Fleming; Costumes, Alexandra Welker. Contact: Donald Zuckerman, Brass Ring Productions, Inc., 169 Pier Avenue, Santa Monica, CA 90405 Tel, (310) 452-4410, Fax (310) 452-9133.
---
Twenty-year-old Val Lik makes his longform directing debut with the South Bronx-set street drama Boricua's Bond, a no-holds-barred story of Hispanic kids (boricuas) balanced on a tightrope between the violence of the streets and the world of art. The Russian-born Lik also stars as one of Bond's two leads, a white teen recently arrived in the Bronx who finds himself the target of a local gang. Salsa star Frankie Negron plays his neighbor and saviour, a talented young artist waiting for the scholarship that will take him out of the hood. The supporting cast is comprised of rap stars in their acting debuts and includes Naughty By Nature's Treach, Big Punisher, Wu-Tang Clan's Killah Priest, and Stickyfingaz from Onyx, along with rising stars Mistah Cheeks (The Lost Boyz) and the Beatnutts' Psycho Les. Hot New York urban d.j. Tony Touch plays an art dealer, and Polo model Tyson Beckford makes his theatrical debut.
Lik grew up in Brooklyn's Sheepshead Bay and made his first short, There's No Hope, at 16. That helped win him a scholarship to Pace University, where he edited the school paper while continuing to bang out scripts. By 18 he'd met Bad Boy Entertainment founder Sean "Puff Daddy" Combs and rapper Notorious B.I.G ("Biggie Smalls") and wrote a screenplay, Final Conflict, for Smalls to star in. Smalls put up the cash for Conflict, and it was weeks away from principal photography when he was killed last March.
Lik set out to make Bond guerrilla-style with cinematographer Brendan Flynt, and he raised cash and attracted talent through sheer force of will. By late April he had the film – 75,000 feet worth – in the can but no editor and was unsure how to proceed. That's when he met Greg Scheinman, a commercial and music video producer and ex-Miramaxer, who produced his first feature, The Two Ninas, last year. Scheinman liked the footage and had the Wall Street connections to raise Bond's post financing. But first he needed to assess whether Lik's "shoot now, sign the release later" style would make for a releasable film.
"I couldn't in good conscience go to investors until I determined that we had the contracts to create a deliverable movie," he says. After signing off on (or reconstructing) the film's paperwork, his next step was to hire Six Ways to Sunday editor Doug Abel to cut Bond with Lik. At press time the filmmakers were opening negotiations for what could be a through-the-roof soundtrack; Scheinman says the rapper-actors will all provide unreleased or new songs. A rough cut should be done in late September; all rights are available.
Cast: Frankie Negron, Val Lik, Treach (Naughty by Nature), Stickyfingaz (Onyx), Big Punisher, Tyson Beckford, Mistah Cheeks (The Lost Boyz), Tony Touch, Killah Priest (Wu-Tang Clan), Psycho Les (The Beatnutts). Crew: Producer, Greg Scheinman; Co-Producer, Robyn Karp; UPM, Stephen Schmidt; Screenwriter/Director, Val Lik; Cinematographer, Brendan Flynt; Editor, Doug Abel. Contact: Greg Scheinman, Boricua's Bond LLC, 340 East 34th Street, New York, NY 10016. Tel: (212) 532-8755, Fax: (212) 532-7968.
---
Producer Eric Watson (Pi) bets on another first-time feature filmmaker with Saturn, Rob Schmidt's chilling father-son drama. Watson is exec producing the feature along with Jonah Smith, an NYU film grad who was also an exec producer of Pi and who recently opened Plantain Films, a full-service film production facility in downtown New York. Heading the Saturn team as producer is newcomer Palmer West.
Saturn's about the desolation that overwhelms 25-year-old Drew as he struggles to care for his father, a once-brilliant engineer incapacitated by Alzheimer's disease. Enrolled in abnormal psychology classes at community college, Drew is also attracted to the allure of the city at night. When he's picked up by a drugged-out trust-fund thrillseeker, Drew is so grateful for the attention that he sleeps with her twice before getting her name. But when a seizure lands Dad in the veteran's hospital, it's clear that Drew must figure out how to reconcile his new relationship with the demands of family.
"Loving something and watching it die is a universal in the human experience," says Schmidt. "It's a natural process, but anytime you see something you love destroyed it creates a lot of pain and drives you towards self-destructive impulses."
Schmidt got an undergrad degree in film from the SUNY Purchase program where he made a short version of Saturn in '91. He was a directing fellow at the American Film Institute, where his classmate-collaborators included Pi director Darren Aronofsky and cinematographer Matthew Libatique, now shooting Saturn (in 35mm color), as well as Watson. Saturn began a four-week shoot in and around Brooklyn on August 3. Schmidt's intention is to manipulate the stock during and after shooting to sculpt an intensely visual film reflecting Drew's inner turmoil and chemically-fueled visions. Jeremy Dawson, who created Pi's distinctive title sequence on a Mac, will be designing Saturn's as well. All rights are available; Schmidt's next film, due to shoot in '99, is Crime and Punishment in High School with Christine Vachon and Pam Koffler's Killer Films.
Cast: Scott Caan, Mia Kirshner, Leo Burmester, Anthony Ruivivar. Crew: Producer, Palmer West, Executive Producers, Eric Watson, Jonah Smith; Associate Producer, Lisa Libatique; Line Producer, Lora Zuckerman; Screenwriter/ Director, Rob Schmidt; Cinematographer, Matthew Libatique; Casting, Susan Shopmaker; Production Design, James Chinlund; Editors, Gabriel Rye, Michael Ross. Contact: Palmer West, Sibling Productions, 100 Jane St., #2G, New York, NY 10014, Tel: (212) 414-9563, Fax: (212) 414-0093.
---
Back in 1991, first features by Todd Haynes (Poison), Richard Linklater (Slacker), Matty Rich (Straight Out of Brooklyn), and Jennie Livingston (Paris is Burning) were the notable rags-to-riches success stories out of Sundance. That same year, however, saw a lower-profile but equally audacious debut, Greg Watkins' and Caveh Zahedi's A Little Stiff. The film enchanted many by telling the tale of Zahedi's anxious film-school romance with a cast of amateurs reprising the roles they'd played in Zahedi's real-life encounter.
Zahedi followed Stiff with an experimental documentary, I Don't Hate Las Vegas Anymore, that won the critics' prize at Rotterdam. Watkins, who shot Las Vegas, has now filmed his follow-up, the fiction feature Signs from God, in which Zahedi plays the male half of a San Francisco couple hard pressed to maintain equilibrium as car problems, a housing crisis, and news of a possible pregnancy all collide in a single day. While Signs' story is scripted, the film retains several devices the filmmakers initiated in A Little Stiff, like enlisting friends and family for roles duplicating their actual relationships. Zahedi's "character," in fact, is a struggling filmmaker named Caveh, who, like Zahedi, is in his thirties and trying to cast an autobiographical movie called I Am A Sex Addict.
Watkins graduated from Stanford University with a degree in social theory before heading off to UCLA film school and meeting up with Zahedi. His feature credits as cinematographer include Britta Sjogren's Jo-Jo at the Gate of Lions (Sundance '92) and Todd Verow's Frisk; he is currently back at Stanford pursuing his Ph.D.
Signs from God's four-week San Francisco shoot began July 8 and makes rich use of the city's varied landscape with stops at the Exploratorium, Union Square, and a mythic lookout point. The film was shot in 35mm color and fully financed through the auspices of first-time executive producer Richard Clark, a Stanford classmate of Watkins. The filmmakers have approached Jonathan Richman, recently seen in There's Something About Mary, to do Signs' score. All rights are available and the film should be complete next year.
Cast: Caveh Zahedi, Laura Sexton, Greg Watkins, Marine Macerot, Moe Ghassemi, Henry S. Rosenthal. Crew: Producers, Greg Watkins and Caveh Zahedi; Executive Producer, Richard Clark; Co-Producer, Audrey Ewell; Associate Producers, Moe Ghassemi, Henry S. Rosenthal. Screenwriter/Director, Watkins; Director of Photography, Jennifer Jew; Production Design, Amanda Field; Sound Recording, Kevin Glover; Editor, Zahedi. Contact: Greg Watkins, Just Above Ground Productions, 89B Escondido Village, Stanford, CA 94305. Tel/Fax: (650) 497-2219.
---
Think you've seen every variation on films about filmmaking? Think again. Steven Ho's Soundman puts a Travis Bickle behind the mixing board and takes wry pleasure in waiting for the inevitable mayhem to ensue.
Igby Walters has just about had it with hearing directors say, "We'll fix it in post." He decides that the next time he's humiliated on a set will be the last. In his off hours, the graceless Igby counters the inner torment he contains at work by posing as a Hollywood power player to a beautiful aspiring violinist who believes him when he says he can get her a coveted audition. When his effort to help her pits him against a tough studio exec, Igby loses his cool for good.
"Igby's only incidentally a soundman," says Ho, who calls his film an homage to character-driven films of the '70s like Taxi Driver. "He could be a postal worker or anyone who's dissatisfied with his life and takes action in ways that have catastrophic consequences."
Ho, 31, was born in Java of Chinese descent and moved to East L.A. as a child. As a teenage karate champ he competed in 250 martial arts events and won the 1989 national title from the North American Sport Karate Association. That led him into acting, originally for Hong Kong director Tsui Hark and later in American films like the Teenage Mutant Ninja Turtles sequels and New Line's Mortal Kombat; altogether Ho has credits as an actor or stuntman on more than 50 features and TV shows.
In his first attempt to make a film, Ho optioned a Robert Bolt screenplay called Buddha several years back; Ron Fricke (Baraka) was to direct. Though that project never got off the ground it introduced Ho to iconoclastic producer Alton Walpole (Passion in the Desert), who'd worked on Baraka and ultimately produced Soundman. Originally a cinematographer and editor on films like Koyaanisqatsi, Walpole now has a film and video production house in Santa Fe where Soundman was shot last November and December. L.A. character actor Wayne Pere gets his first starring turn as Igby and Sundance '96 Filmmakers' Workshop alum Eliane Chappuis plays Juliet, his love interest. Also in Soundman's cast are William Forsythe and Nick Stahl. Former Guns 'n Roses drummer Matt Sorum contributed to the film's score. Soundman is 35mm color and premieres in the "Cinema of Tomorrow" section of the Montreal World Film Festival; all rights are available.
Cast: Wayne Pere, Eliane Chappuis, William Forsythe, Nick Stahl, Wes Studi, Danny Trejo, Tamlyn Tomita, John Koyama, Liane Curtis. Crew: Producer, Alton Walpole; Executive Producers, Eliane Chappuis, Franz Wassmer; Screenwriter/ Director, Steven Widi Ho; Cinematographer/Editor, David E. Aubrey; Production Designer, Rosario Provenza; Composers, Matt Sorum, Dany Cordola, Michael Sterns. Contact: Alton Walpole, Mountainair Films, 1270 Calle de Comercio, Suite #4, Santa Fe, New Mexico 87505. Tel: (505) 471-9293, Fax: (505) 438-0294.
---
Christian Campbell, Scream-star Neve Campbell's brother, and newcomer John Paul Pitoc star as might-be lovers in the romantic comedy Trick, the feature debut of theater director Jim Fall, whose shorts He Touched Me and Love is Deaf, Dumb and Blind may be familiar to cable-watching readers.
Campbell plays Gabriel, a frustrated composer who has all but given up on love when fate throws Mark (Pitoc) in his path one summer night. Once their eyes meet, Gabriel decides Mark is fair game for a brief encounter and pursues him enthusiastically, but their luckless night-long search for a place to be alone gives both time to think there might be more here than just a one night stand.
Campbell's already won kudos from industryites who've seen his impressively lowkey starring turn in the indie Next Time; the thesp also shows up at this fall's Toronto Film Festival as producer of Hair Shirt. Pitoc is a newcomer discovered in an East Village play. Also in the cast is Tori Spelling as Gabriel's singing, tap dancing friend.
Fall found his first champion in Robert Hawk, the indie consultant and longtime Sundance advisor. Hawk got his first taste of producing on Chasing Amy and wanted more. He'd met Fall at the 1994 IFFM, where Fall was shopping a cabaret culture script, Eighty Eight's. When Fall brought him Jason Schafer's screenplay for Trick three years later, Hawk spotted gold. "It was straight from the heart and had the potential for what I call 'hauntability'' that something that tugs at you and wakes you up thinking about it the next morning," he says. Hawk, Fall, and his lawyer Mark Beigelman optioned Trick together and embarked on a series of staged readings.
Fall produced the film with Eric d'Arbeloff, whose company Roadside Attractions provided financing. Ross Katz also served as producer, with Beigelman and Good Machine's Mary Jane Skalski and Anthony Bregman as executive producers. Trick was shot all over Brooklyn Heights and Manhattan this summer. The filmmakers were deep into post at press time; Trick should be done by year's end and rights inquiries should be addressed to Good Machine.
Cast: Christian Campbell, John Paul Pitoc, Brad Beyer, Tori Spelling, Steve Hayes, Lorri Bagley, Will Keenan. Crew: Producers, Eric d'Arbeloff, Ross Katz; Co-Producer, Bob Hawk; Executive Producers, Anthony Bregman, Mary Jane Skalski, Mark Beigelman; Screenwriter, Jason Schafer; Director, Jim Fall; Cinematographer, Terry Stacey; Production Designer, Jody Asnes; Editor, Brian Kates. Contact: Ross Katz, Good Machine, 417 Canal Street, New York, NY 10013. Tel: (212) 343-9230, Fax: (212) 343-9645.
---
High drama comes to the bucolic countryside around Rhinebeck, New York, in Brian Skeet's film version of The Weekend, the steamy Peter Cameron novel about a sextet of wealthy intellectuals relaxing over a summer's weekend. The film takes place in "Virginia Woolf territory," says producer Ian Benson, and boasts an impressive cast: Jared Harris, Deborah Unger, James Duvall, Brooke Shields, and Gena Rowlands.
Brits Skeet and Benson came to the attention of U.S. audiences at this year's Sundance Film Festival with their first feature, The Misadventures of Margaret, a musical comedy starring Parker Posey that has since been rescored and recut. (MGM will release the film in the States this fall.) Longtime collaborators, they met working on documentaries at the BBC in London where Skeet, now 32, first won recognition for the Larry Kramer portrait Kramer Versus Kramer in 1993. "We worked our way into drama via short films and Margaret," says Benson. Skeet's entree into fiction was the 1994 short The Boy Who Fell in Love, which Benson credits with clinching Granada financing for Margaret as well as The Weekend.
The Weekend's tight five-week shoot in and around Rhinebeck, an historic 19th century hamlet on the Hudson River two hours north of Manhattan, began July 13 and also took the filmmakers to neighboring Tivoli, near Bard College, and the Ashokan Reservoir. The filmmakers plan to post in London; Spring International is handling foreign sales.
Cast: Deborah Unger, Jared Harris, David Conrad, James Duval, D.B. Sweeney, Gena Rowlands, Brooke Shields, Gary Dourdan. Crew: Producer, Ian Benson; Executive Producers, Pippa Cross, Janette Day; Line Producer, Richard Turner; Screenwriter/Director, Brian Skeet; Director of Photography, Ron Fortunato; Production Designer, Bob Shaw; Costumes, Edi Giguere. Contact: Ian Benson, Holmes Associates, 38-42 Whitfield Street, 2nd floor, London W1P 5RF, England. Tel: (44 171) 813-4333, Fax: (44 171) 637-9024.
---
Born in the summer of love, Cally's a cool 17 when Melissa Painter's Wildflowers finds her in 1985. During the Reagan years she's traded a classic hippie childhood on a Bolinas commune for adolescence on a Marin houseboat with her dreamer father, Wade. The location of Cally's counterculture mom, however, is a mystery. She's vanished into the underground for reasons Wade won't discuss.
Cally is a tough kid, but when she spots the ethereal Sabine, a mystery woman in her thirties, dancing at a Fillmore rock show her wary heart cracks instantly. Sabine, however, is obviously evading someone or something, so, instead of introducing herself, Cally decides to spy on her, sensing Sabine's past may provide clues to her missing mother.
"The '60s had a radical impact on family structures and the choices people made about how to raise their children," says Painter, who grew up in Mill Valley. "Every teenager makes an attempt to pick their own parents, and for girls that's often a defining experience."
Clea Duval, who starred in How to Make the Cruelest Month, plays Cally, and Daryl Hannah is Sabine; also in the cast are Peter Coyote and John Doe.
Painter got her MFA from NYU's film program in 1995 and premiered her thesis short, Jump, at the New York Film Festival later that year. By then she'd been the associate producer for two classmates' first features, Clean, Shaven and The Incredibly True Adventure of Two Girls in Love. She found Duval, then entirely unknown, through casting director Sheila Jaffee in '96 and brought her along to Sundance when the film was workshopped at the Filmmakers' Lab that June. Painter says she'd always imagined Hannah as Sabine, and when she realized that two of her Sundance lab mentors, Sally Field and Wesley Strick, had worked with the actress she enlisted them to help get her the script. She also got Christine Vachon to sign on as executive producer. With Vachon in back-to-back production on Happiness and Velvet Goldmine last year, Painter moved ahead with Tom Garvin, a key indie attorney and facilitator based in L.A., to raise financing through foreign presales.
Wildflowers' five-week shoot rolled August 3 in North Beach; the film's many locations include Bolinas, Muir Beach, fabled bookstore City Lights and key sequences on a houseboat and old commune. The film's cinematographer is Paul Ryan, whose credits include Box of Moonlight and second unit on A River Runs Through It. Rights are available through Garvin.
Cast: Clea Duval, Daryl Hannah, James Gandolfini, John Doe, Richard Hillman, Sheila Tousey, Peter Coyote, Robert Hass. Crew: Producers, Zachary Matz, Tim Bird, Tom Garvin; Executive Producers, Christine Vachon, Daryl Hannah; Screenwriter/ Director, Melissa Painter; Cinematographer, Paul Ryan; Production Designer, Andrea Soeiro; Costumes, Chris Aysta; Editor, Brent White. Contact: Tom Garvin, Garvin, Davis & Benjamin, 9200 Sunset Blvd., PH 25, Los Angeles, CA 90069.Tel: (310) 278-7300, Fax: (310) 278-7306.