MARTIAL ARTIST
Ang Lee's Crouching Tiger, Hidden Dragon is a thrilling martial arts period epic. Andy Klein talks with Lee and situates the film within China's oldest cinematic tradition.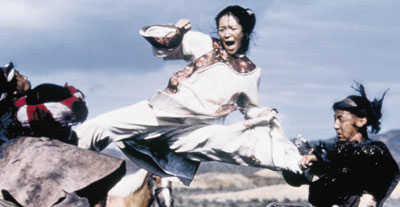 Zhang Ziyi in Crouching Tiger, Hidden Dragon. Photo by Chan Kam Cheun.
Ang Lee's Crouching Tiger, Hidden Dragon, opening at the end of 2000, has torn up the festival circuit, thrilling audiences and winning the People's Choice Award at the Toronto Film Festival. Some breathless early reviews have even gone so far as to suggest that the film's gorgeous martial arts set pieces are like nothing anyone's seen before – a contention that will elicit either laughter or sighs of resignation from fans of the populist Hong Kong (H.K.) cinema of the past two decades. But both reviewers and the hardcore H.K. fans need to relax because it does nothing to diminish Lee's achievement to simply say that his film fits firmly within a tradition that is as old as Chinese cinema itself. Crouching Tiger, Hidden Dragon is a great martial arts period epic. And, given the richness of the genre, that's no small feat.
On the surface, Crouching Tiger looks like an odd choice for Ang Lee, who began his career with three comedies of manners about contemporary Taiwanese culture – Pushing Hands (1992), The Wedding Banquet (1993), and Eat Drink Man Woman (1994) – and expanded his reputation with two English-language films – Sense and Sensibility (1995) and The Ice Storm (1997) – that dealt with equivalent concerns in (respectively) English and American settings. While his last release, the Civil War film Ride with the Devil (1999), involved action, it still does not prepare one for the sort of gorgeously choreographed movement that is Crouching Tiger, Hidden Dragon's most breathtaking asset.
"My childhood imagination was mainly fired by the martial arts movies I grew up with," Ang Lee says, "and there's a part of me that feels, unless you make a martial arts film, you are not a real filmmaker."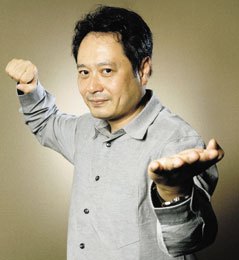 Ang Lee photographed by Richard Kern
The martial arts film (wu xia pian), historically, can be divided into two major subgenres, the kung fu film and the swordplay epic, though many movies of course have scenes of hand-to-hand combat alongside those featuring weaponry. Though the kung fu movie was dominant through much of the '50s, swordplay films made a comeback in the '60s, in part through the work of Chang Cheh (among whose protégés was the young John Woo) and King Hu (1931-1997). While Chang Cheh brought a bloodier, harder-edged look to martial arts movies, King Hu – in a parallel career – incorporated dance and the acrobatic moves of Chinese opera (as well as elements of Sergio Leone's "spaghetti western" style) into historical tales of Ming Dynasty intrigue. Chang and Hu have been described as "the Yin and Yang of Chinese cinema," which, while probably oversimplified, is far from unfair.
Hu – born in Beijing, raised in Hong Kong – became the first Chinese director to achieve critical recognition in the rest of the world. Most of Hu's films were made in Taiwan, and it's his influence – from his celebration of landscape to his casting of powerful actresses – that can be seen throughout Crouching Tiger.
Hu's work has at least two other elements that distinguish it from the competition. Where previous action films may have used dance-like movement, Hu recognized that the camera could dance as well. When most straight-out Chinese opera movies were flatly shot, Hu began combining traditionally stylized staging with sweeping camera movement and ingenious cutting. It is no wonder that his combat sequences have a sense of physical grace far beyond, say, the better known and more realistic fighting of Bruce Lee.
Hu's other great contribution was to give women equal or superior standing in the world of action. Two of his female leads, Cheng Pei Pei and Hsu Feng, became the first great action heroines. In 1965, Hu made Come Drink with Me (a.k.a. Drunken Hero) for the then-dominant Shaw Brothers studio. This story – about a female martial artist (Cheng Pei Pei, who plays the villain Jade Fox in Crouching Tiger, Hidden Dragon) working together with a drunken, retired swordsman (think Dean Martin in Rio Bravo) to free her brother from kidnappers – was an international hit. The movie is filled with that joyous, inescapable sense of a cinema artist discovering his true voice in one blinding flash of energy. As Lee says, "Martial arts movies are pure cinema energy – they're pure, they're cool and they're fun."
Though Hu's work declined in the late '70s, his influence became evident among several of the young directors of Hong Kong's so-called "New Wave" – Tsui Hark, Ching Siu-Tung and Ronny Yu – whose films, along with those of Woo and Jackie Chan, brought popular Chinese-language cinema to unprecedented numbers of Western fans. While some of those H.K. directors have come to Hollywood, their U.S. productions films have usually been compromised by foolish producers and egotistical stars. Ang Lee, having come in through a different door altogether – small art-house films – has allowed him to build the sort of reputation that has enabled him, ironically enough, to now make an American coproduction that cleaves closer to the tradition of Chinese popular cinema than the American productions of the others – who actually are a living part of that tradition.
It is Ang Lee's "cross-over" abilities that helped him gather the talent integral to Crouching Tiger, Hidden Dragon's impact – cinematographer Peter Pau (Bride with White Hair), martial arts choreographer Yuen Wo Ping (The Matrix, Drunken Master), composer Tan Dun, cellist Yo-Yo Ma, and, of course, actors Chow Yun-Fat and Michelle Yeoh, two of the four H.K. stars (along with Jet Li and Jackie Chan) who have become famous in the U.S. Chow and Yeoh are exquisite in their roles as duty-vexed lovers, and their younger counterparts, the lithe Zhang Ziyi (soon to be seen in Tsui Hark's Sword of Zu) and the scruffily handsome Chang Chen (Wong Kar-wai's Happy Together) double down on the film's concern over desire and destiny.
For those versed in recent H.K. action cinema, Crouching Tiger may still feel like an art film. No H.K. director would risk leading off with 15 minutes of quiet exposition and character scenes, as Lee does; a H.K. director would likely have contrived an opening action scene before settling in for the slower stuff. But while some H.K.-movie fans may question this decision, the payoff is worth the wait: the film's first action scene is a marvelous nocturnal fight between Yeoh and a masked thief that, in addition to combat, includes "vaulting" – a dreamlike form of jumping/flying, in which the actors appear to skim effortlessly up walls and across rooftops. This form of graceful action – which implies some sort of spiritual as well as physical development – is so alien to most Western eyes that some audiences may titter at first before accepting it as part of the film's world.
"The film is not crafted in the realistic style," the director admits, "but the emotions it conveys are real. The drama is itself choreographed as a kind of martial art, where the fighting is never just kicking and punching, but is also a way for the characters to express their unique situation and feelings."
One should credit Lee for trying to make, as producer and co-writer James Schamus puts it, a kind of "Sense and Sensibility with martial arts," but equal credit is due to action master Yuen Wo Ping for the execution (and presumably some of the vision as well). Yuen knows both how to choreograph and shoot an unreal action scene so that humans can believably bring off superhuman movements. Digital effects have begun to show up in Asian action films, but Yuen and his colleagues long ago figured out how to use wire harnesses, slow motion and off-camera springboards and trampolines to create such magical effects without the sort of postproduction trickery that Hollywood is accustomed to.
Crouching Tiger, Hidden Dragon is far from a simple clone of King Hu's best work. Lee and his screenwriters have constructed a stronger narrative context for their action, one that deals with many of the same issues as his earlier films – questions of marriage, love, and duty. (Hu seemed to care more about the visuals and the beauty of motion than about plot: even Touch of Zen, his best-known film, can feel like a catalog of favorite images rather than a forward-moving story.) Also – not surprisingly, given the thrust of Lee's other films – he brings a more complex delineation of character and a heightened sense of melodrama.
Lee's film is an exhilarating work, filled with invention, but Lee is also clearly paying homage to Hu with some of the film's elements. Some are obvious: the casting of Cheng Pei Pei in an action role, as well as the focus on the female characters. (The real conflict here is between Yeoh and Zhang Ziyi, playing her younger counterpart.) But there is also the sense of luxuriating in movement and scenery – an understanding that fast, hyperkinetic action isn't the only kind. And, a la Hu, Ang Lee and Yuen Wo Ping's staging of the film's memorable climax – with Chow and Zhang swaying atop tall, slender trees – suggests that nature itself is a kind of character and that magic movements shine brightest when set in the great outdoors.
Sidebar: Masterpieces of Martial Artistry