CONTENT PROVIDERS
By Scott Macaulay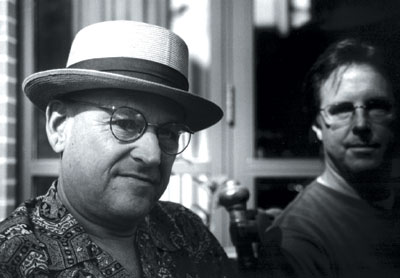 Edward R. Pressman and John Schmidt. Photo: Miguel Villalobos.
FOR THE PAST few years "content" has been a dirty word. As the investment community in the late '90s rushed to finance broadband solutions, interactive communities, B2B software and 3G phone systems, there was somehow this idea that content didn't matter anymore. Somehow, when all these new delivery systems fell into place, content would, well, just sort of be there.
Everyone knows the end of the story. Widespread broadband is maybe 10 years out, 3G has yet to hit America, and dot-coms cratered by the dozens. Suddenly, content – the kind you watch in linear fashion on a screen alone or in an audience – is back in. And ContentFilm – a new company formed by legendary producer Edward R. Pressman and October Films co-founder John Schmidt – is there to provide some of it.
Announced at the 2001 Toronto International Film Festival, ContentFilm is Pressman and Schmidt's long-planned foray into mostly digital production. (Pressman notes that the company will also work with frugal celluloid-centered directors like David Gordon Green.) The company seeks to marry a high-powered group of investor/partners (European venture fund Syntek Capital and Frank Biondi's WaterView Advisors) with the scaled-down economies of low-budget (i.e., $2-million and under) filmmaking. Says Schmidt, "We feel the time is right to form a company to take advantage of these new cost structures. The system as it is right now [for independent film production] is broke."
While The Celebration was, for Pressman and Schmidt, a key title in convincing them of the viability of DV, Pressman cites even earlier work. "There are filmmakers I've been involved with who have used video in their films, like Abel Ferrara. New Rose Hotel had a lot of video footage, and Bad Lieutenant could have been shot on DV."
Continuing, Pressman says, "We're not here to dictate the aesthetic. Our films will be driven by the filmmakers. And if you talk to filmmakers, they have very, very different points of view about working in DV. Errol Morris and Terrence Malick, they are very enthusiastic about the new 24P cameras and their increased depth-of-field. But if you talk to Mike Figgis, he's interested in the earlier DV cameras and finding a new language."
The company has recently opened on both coasts and has hired two heads of production, Sofia Sondervan, formerly of Miramax and Independent Pictures, in New York, and Alejandro Camero in L.A. While the company is open to young filmmakers, Sondervan notes that ContentFilm "is interested in finding established talent with pet projects which are too small for studios to finance but too big for them to self-finance."
The principals say that the company will soon begin outputting between 10 and 15 titles a year, producing some in-house and working with outside producers on the rest. Also, interestingly, ContentFilm plans to provide infrastructure and distribution for other filmmakers by folding their product into the company's planned output deals and strategic alliances. Says Schmidt, "We plan to reach our audiences through traditional platforms such as home video, pay-per-view and television, as well as theatrical release, so we are seeking partners in those areas. We are also exploring broadband and digital-cinema strategies."