CONFIRM OR DENY
With storytelling's classic "unreliable narrator" having migrated to mainstream journalism, Billy Ray debuts with a story that pre-dates the recent Jayson Blair scandal. Peter Bowen reports on Ray's tale of journalistic fraud at The New Republic, Shattered Glass.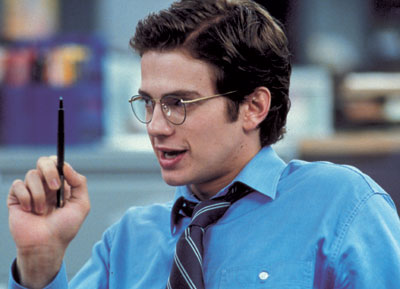 Hayden Christensen as disgraced journalist Stephen Glass in Billy Ray's Shattered Glass.
Shattered Glass dramatizes the fate of Stephen Glass, a writer for The New Republic who in 1998 began substituting fantasy for fact in his journalism. But the story of the movie, as well as the man, proves to be as much about fate as it is about fraud. The film's journey to completion reveals the uncontrollable forces that govern film production — at one point a new regime at HBO shelved the film, and later the Jayson Blair revelations suddenly brought the name Stephen Glass back into the public debate. The story that first-time director and screenwriter Billy Ray ultimately tells, however, is not an exposé of Glass. Rather, it's a consideration of the ethical choices that people make to deal with their fate — in this case, the struggle of The New Republic's editor, Charles (Chuck) Lane, to bring down his beloved star reporter. As Ray explains, "There has to be an emotional core to every movie, and the emotional core to me is the story of the least popular kid in high school having to take on the most popular kid in high school. That is the story of Chuck Lane."
On its face, the Stephen Glass story is a classic American tragedy of values run amok. A bright kid from the wealthy Chicago suburb of Highland Park, Glass was trained for success. In 1995, a year out of college, he joined The New Republic, rocketing from intern to editorial assistant to writer to associate editor in a matter of three years. In that time, he churned out 41 articles for the political magazine as well as freelance pieces for George, Rolling Stone and Harper's, all of which bore his signature style of dramatizing contemporary social and political issues with colorful, quirky, sometimes unbelievable characters in even more unbelievable predicaments. Ray's film focuses on the fall of Glass (played by Hayden Christensen) and the rise of newly appointed editor Lane (Peter Sarsgaard) after the dismissal of his popular successor, Michael Kelly (Hank Azaria).
Many of Glass's stories had been questioned, but his copious notes always seemed to satisfy The New Republic's rigorous fact-checking department. That is, until a writer from the Forbes Digital Tool Web site, Adam L. Penenberg (Steve Zahn), pushed at the facts until he broke Glass, forcing Lane to fire him. In the aftermath it was discovered that 27 of those 41 articles contained partial, if not complete, fabrications.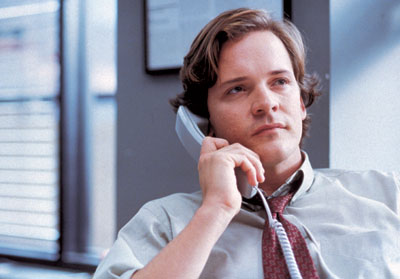 Peter Sarsgaard as TNR editor Chuck Lane Shattered Glass.
Although Forbes broke the story, it was popularized in H.G. "Buzz" Bissinger's September 1998 Vanity Fair article "Shattered Glass." Producer Craig Baumgarten, working with HBO executive Gaye Hirsch, optioned the article for an HBO original movie and then hired Ray, who had just written the TNT film Legalese, to adapt it into a screenplay. But a sudden change in the corporate climate sent Shattered Glass into turnaround. All the President's Men: Alan Pakula's 1976 film masterfully constructs heartpounding drama from the journalistic ritual of source-checking.
GO BACK AND WATCH...
All the President's Men: Alan Pakula's 1976 film masterfully constructs heartpounding drama from the journalistic ritual of source-checking.
The Usual Suspects: Bryan Singer's 1995 film turns the unreliable narrator into a real audience pleaser.
The Man Who Lies (L'homme qui ment): Alain Robbe-Grillet's 1968 filmic jigsaw puzzle inspired by Borges's novel Hero-Traitor, in which Jean-Louis Trintignant plays a pathological liar.
Click on a title to purchase it from Amazon.com.
Ray, however, stuck with the project because, he says, on a professional level it offered the chance to rewrite past wrongs. "I knew Buzz's work since I had adapted his piece 'Friday Night Lights' before, but that never got made," he explains. "Buzz had his hopes dashed from that experience. And so I felt a responsibility that the next time I worked with him to make sure that we got [the movie] made."
For Ray, a screenwriter, a story about writing may be close to his heart, but it could also be cinematic suicide. As he puts it, "Watching people write is deadly dull, but the flipside of that is when you go to make a movie, you are always looking for situations where your character is saying one thing and meaning something else. That leaves the actor room to act. And in a film like this, dialogue is what a character is willing to reveal about himself, and the camera is there to capture everything else. So in that sense the Stephen Glass story was very dramatic."
The dramatic breakthrough for Ray came with the realization that the real protagonist of the story was not Glass. "As fascinating as Stephen Glass is," he explains, "by the end of the movie people would want to kill themselves — you just can't follow him all the way. The sleight-of-hand with the script is to make the first half about Stephen Glass, but in the second half to make this into a movie about Chuck Lane." Indeed, the film is much more about people's interactions with Glass than it is the man himself. Even Glass's name highlights his transparency, his aptitude in reflecting and refracting everything around him without giving himself away. As such, Ray intentionally stayed away from drawing him as a psychologically understandable character. "The first reason," he says, "is that I didn't have access to Glass. Knowing that he would not speak to me left me with two choices: either make something up and presume that I am right, or don't go down that path. I couldn't do the former, and the latter was probably the better writing choice anyway. When people ask me why Stephen Glass did what he did, I have to say, 'I don't know.' But I don't think that Stephen Glass knows either."
In shooting his original script, Ray realized that to highlight Glass's lack of interiority required some amount of dramatic license. The final film, for example, is framed by Glass returning to his high school to narrate his wondrous career as a top-notch journalist. Not only is Glass an unreliable narrator of his life, though, so is the film — this show-and-tell bracket turns out to be a fantasy.
Left to Right: Rosario Dawson, Cas Anvar and Steve Zahn in Shattered Glass.
Ray's first shooting script, in fact, was a more straightforward recounting of events. "We came back from Montreal and edited that version," Ray recalls. "It took about three months. And we looked at that version of the finished film and came to the conclusion that it just wasn't good enough. It was okay, it was certainly inoffensive, but it just wasn't good enough. And I felt very badly about that, because here they were giving me $5.8 million to deliver them a movie, and the movie I was delivering just wasn't good enough. That was pretty sobering." So the director went back to Lions Gate and raised additional funds to shoot the high school scenes. "The movie got a lot better," Ray says. "And I think that one of the reasons that the movie got better is because putting Glass in that high school turned the entire movie into a Stephen Glass pitch."
The film is about the two men, but it is also about two different versions of the truth. Glass told people what they wanted to hear, and wrote it out in such mesmerizing detail that they never doubted it. In his Vanity Fair article, Bissinger comments that Glass "is the perfect expression of his time and place… a time when faces and fictions are blurred not only by writers eager to score, but also by presidents and attorneys, spinmeisters and special prosecutors. From one perspective, Stephen Glass was a master parodist of his city's shifting truths." On the other side was Lane, who clung to a traditional, albeit much less exciting, concept of truth.
"The biggest challenge in the writing," Ray says, "was to make sure that the transition from Glass's story to Lane's story was unseen." He worked with d.p. Mandy Walker to encode the two parts. "We actually started to tell the story differently in the second half of the story by design. In the first half, whenever you are in The New Republic offices the camera is handheld. But from the conference with the Forbes editors, where they start to seriously question Glass, we put the camera on sticks."
HOW THEY DID IT
Production Format
Panavision Super 35mm (anomorphic correction executed in interpositive stage).
Camera Manufacturer and Model
Panavision Platinum.
Film Stock
Kodak 5279.
Editing System
Avid 7.1.
Color Correction Process
Standard film answer printing, no digital intermediate.
The two halves were also told from different perspectives. A "chamber drama," the film rarely leaves the offices of
The New Republic.
In the first half, the forays out of the office were inevitably through Glass's imagination, illustrating his hilarious pitches with himself at the center. For his pitch of "Monica Sells," Glass stands at the center of a Monica Lewinsky merchandising carnival. For "Spring Breakdown," he watches hordes of drunken young Republicans acting badly; for "Hack Heaven," he sits at the negotiating table as a whiz-kid hacker makes absurd demands from an Internet company. "What we tried to do when you see Glass reporting," Ray says, "was heighten the color palette just a little bit, tell [these tales] from Glass's point of view as much as possible and also give them a certain smoothness and glide that was not present in the rest of the movie. Those moments are really Glass as he imagined himself to be."
Although the movie, like so many other films about journalism, champions truth by fictionalizing it, Ray needed to get his facts straight. He invited the main characters, Lane and Kelly (before he was killed in Iraq), to participate. He even attempted to contact Glass through his lawyers, to no avail. In the end, Ray was held to the same standard of veracity that Glass never lived up to. "There was a point," Ray remembers, "when the Lions Gate lawyers asked me to give them an annotated script, where I literally had to footnote every line of dialogue and every assertion in the movie and back them up with corresponding notes." The power of the film, however, lies not so much in its answers as in the questions it forces us to ask about the way we receive and accept truth.