THE GREAT RAILWAY ADVENTURE
Tom McCarthy's debut feature The Station Agent may be a subtle character drama about a dwarf and two offbeat friends but, as the writer-director explains, it's got all the drama and epic poetry of the great movie westerns. Nick Jarecki visits with McCarthy.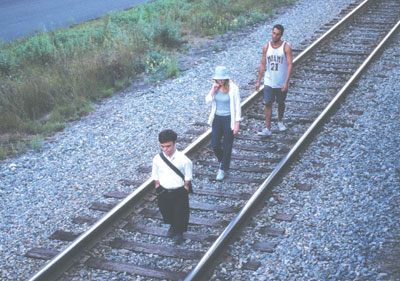 Peter Dinklage, Patricia Clarkson and Bobby Cannavale in The Station Agent.
Winner of the Audience and Waldo Salt Screenwriting awards at this year's Sundance Film Festival, The Station Agent marks the auspicious debut of 34-year-old actor-turned-filmmaker Tom McCarthy. The movie tells the slightly fantastic tale of Fin, a socially isolated 30-something — he also happens to be a dwarf — who inherits a rail station from his former boss and only friend, a fellow "rail fan" (train fanatic) and model-store owner. The abandoned station is in an isolated part of western New Jersey; the sole nearby inhabitant, Joe, operates a doughnut truck across from the station. While Joe tries to befriend the reluctant Fin, Olivia, an affluent divorcée recovering from the death of her son, almost runs Fin over, overlooking him as he walks down a nearby town road. The three disparate characters ultimately form an unlikely friendship as they share in one another's loss and loneliness.
McCarthy's direction of this story is, like his script, simple and relaxed. Forgoing both camera pyrotechnics and melodramatic plot twists, he charts the changes in his characters' relationships in subtle and perceptive ways. This is most likely a benefit of his acting background (he performed for a season on the television series Boston Public, and he appeared in several Hollywood films) as well as of the film's long gestation period; he wrote it over the course of two years and spent another one raising the money to make it.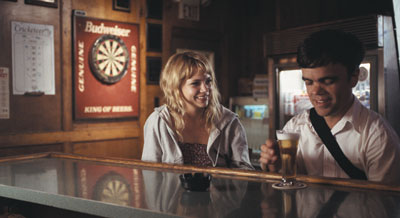 Michelle Williams and Peter Dinklage in The Station Agent.
Filmmaker: What inspired you to make The Station Agent?
Tom McCarthy: The thing that really triggered it was the depot. It's out in a part of Jersey where my brother has a lake house. When I saw it I immediately thought it was a great location for a film, and then it got me thinking about trains. I was going through a weird phase. I spent three months in the public library researching trains. I had volumes of accident reports, these completely mundane things that only I was fascinated with. I got sucked into that subculture of rail fans. Then I met the guy who owned the depot; he was a rail fan and he took me to meetings of rail fans. It was an amazing world. About that same time I was dating a woman who was quite ill physically and was cutting herself off from the world around her. Her response to her illness was to shut everybody out of her life. I was the one person she kept around, but one person can't bring everything to another person. [Her disease] wasn't fatal, but it went on for a while, and I started to notice her isolationist behavior. Then I saw it in others around me. Actors who said they weren't getting the work they wanted to and would stay home, not calling others; it is a human instinct to withdraw when we are injured. It's like we are going off to die, but ultimately that's the most unhealthy thing we can do. It's our pride that gets in the way of letting other people in. I became interested in these themes of isolation and connection and disconnection. The train is such an obvious metaphor — how it connected everything. I think some of us forget the history, the impact of the train. It is already a technological fossil, but what it did for this country was amazing!
Filmmaker: Did your philosophy background inform the themes of loneliness and alienation the film deals with?
GO BACK AND WATCH...
Stranger than Paradise: Jim Jarmusch's classic deadpan comedy of a Hungarian immigrant and two boho friends in downtown '80s NYC.
La Vie de Boheme: Aki Kaurismäki's droll take on Puccini's down-on-their-heels lovers.
McCabe and Mrs. Miller: Robert Atlman's lyrical anti-western inflects the "stranger comes to town" story with a poetic sense of alienation and loss.
Click on a title to purchase it from Amazon.com.
McCarthy:
I think so. I got into philosophy in college, before I went to Yale Drama School. I really liked Sartre. The thing I took away from him was his theory of people who lived in bad faith, people who lived outside themselves who weren't true to themselves. If you look at each character, [Bobby Cannavale's] character, Joe, is horrible at being alone — it's pretty much his worst nightmare. Patricia Clarkson's character, Olivia, wants to be good at [being alone], but she's not. She's been too conditioned all her life to be part of society, and to just remove herself from it is very unhealthy. But Peter Dinklage's character, Fin, is very good at being alone. It's not a sad thing for him. He's very carefully constructed an isolated lifestyle, and he's good at living it. And I think if there's one thing that attracts people to Fin, it's just how true he is to himself. He doesn't put on anything. He doesn't try to be anything he is not. He is like a John Wayne or a Gary Cooper. He's a classic archetypal Hollywood character who is better or worse, sometimes rude, sometimes enjoyable, but always true. They find a sense of community — which ultimately brings us back to the western. That's what those tales are about: forging a community. It is okay to be alone as long as someone out there knows you are out there being alone. It's that reach.
Filmmaker: And you? Are you comfortable being alone?
McCarthy: I swing. I go through periods where I really need to be alone. I like traveling by myself, going to movies. Then I will find myself suddenly desperately lonely on a night that I have purposely not made a plan. I've never been as isolated as Peter's character. I think that is why writing is very difficult for me. I have discovered I like the film process because I can spend some time alone for an intense period, maybe six months, and then I will work with many people during the production and editing phases. I don't think there is anything wrong with being alone. Certain people live isolated lives, but I think there is something about the human condition that is dependent upon connection.
Filmmaker: You've mentioned the western several times. Did those more "epic" films influence how you conceived of The Station Agent?
McCarthy: Well, now it has become a joke, but I really think I made a big western! Maybe not so "big," but as big as I could make it with 20 days and half-a-million dollars on 16mm. In the film, a stranger comes to a small frontier town in the West, western New Jersey, and life revolves around the depot. There is a woman in distress, there is the funny guy and the package store and the library and the church — all these elements of a western. It's dealing with archetypes. The film opens up, and we see Peter against the landscape, whether it's walking on the tracks or at the depot. The physicality of these characters — their sizes, their dimensions, the space between them, the space around them — that was all very important.
Filmmaker: Describe your writing process.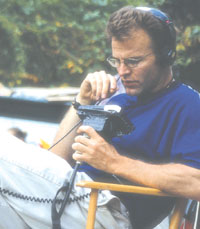 The Station Agent writer-director Tom McCarthy.
McCarthy:
Well, I was thinking about movies and trains, watching everything I could, every movie that had trains in it until I thought, This is something I want to explore. So in 1998 I began writing. The first draft came pretty quickly over a summer; it took about six weeks. I submitted it to the Sundance Writers Lab, and it was rejected. I wasn't ready. I had used that as a deadline, and I really pounded through it just to get it done. But once I had that rough draft finished I thought I had something pretty good, so I kept polishing it for about two years. I like to do a lot of research and keep a lot of notes before I actually sit down to write page one. By the time I do, though, I can move pretty quickly. I have a pretty good idea of an outline, but I also love writing days when I don't know where the story is going to go, where I let the next scene be dictated by what happened with the characters, when I can't really anticipate it myself — that I find exciting and interesting. Also, I have to have comedy to tell a story. Life is too funny even when it is tragic, so I have to create with that in mind.
Filmmaker: Once you finished the script, what did you do?
McCarthy: I don't know if it was ever really finished. I was rewriting on the set, literally. When I got it to a place that I really thought was good I gave it to my acting agent. We started sending it out. I had a lot of meetings with the usual suspects, and people really started to respond to the script. That said, I couldn't get anyone to make it for two years. I think a big part of it was Peter in the lead. People were nervous about him because he is a little person. I heard it again and again.
Filmmaker: Had you written the script with him in mind?
McCarthy: I was very close to developing the story, and I thought I just about had a lock on it. I hadn't envisioned the lead character as a dwarf but just a loner, someone who was disconnected. Peter I knew from a play I had written at Yale. I had to cast a little person in the role of Tom Thumb who was a midget, but Peter was the closest I could find for the part. He was terrific in it, and about a year and a half after we had worked together I ran into him on the street. We were catching up, and it hit me right there with the visual. Two kids stopped behind him, stood watching him, and Peter said, "Hey, how are you doing?" The kids said "Fine" and left. Their curiosity was satisfied, and I thought, Man, Peter handles that so well. It is obviously something he is very used to. He has a lot of poise and strength and a great sense of humor. I had the idea of him as the lead in my film literally moments after leaving him. I thought, Wow, what if someone wasn't as good as Peter is at dealing with the world? How would they retreat into themselves? I called him the next day, and we said, "Let's do this!" We were both very firm that this would not be a story about a dwarf or a little person or a "coming of height" story. It was going to be a story about one man who chose to disconnect for this particular reason and his involvement with other people who were in a similar situation. That is how we treated it, and I think that's what people respond to. It starts out as a story about one person and ends up a story about three people.
Filmmaker: How about the pacing of the film, which is relaxed and measured? Was this a quality you intended from the start?
McCarthy: Yes. Sometimes when you rush through life, you can do 100 things in one day but not really get to anything of substance. It takes a lot to slow down and really try to understand what you are going through, who you are, who the people around you are. I'm as guilty of that as anyone; sometimes I'm so busy with work I don't know where my own personal life is. I think it's the same in movies. I especially see it a lot in independent films with first- and second-time directors. We have such a need to be "independent," to make sure our plot is so "out there" and completely unpredictable in every way imaginable that it falls into the trap of being convoluted and contrived. I didn't want to do that. I slowed down the pace and let the characters tell the story.
Filmmaker: Did you allow your actors to improvise on the set?
HOW THEY DID IT
Production Format
Super 16 mm.
Camera Manufacturer and Model
Arri SR3 (Super 16mm).
Film Stock
Kodak 7274 and Fuji.
Editing System
Avid.
Digital Intermediate Process
HeavyLight Digital — 3K Digital Master of Super 16mm original negative to a 1-light 35 mm negative. Final record out to 35mm done on an Arri Laser at Technicolor.
McCarthy:
Yes. All the actors did a good job of sticking to the text, but I let them make the words their own as well. I think it is most important that an actor understands the text and gets the rhythms of the character. It's the writer's job to provide those rhythms in the character's language. Once that's established, then you can invent things. These guys had also been involved for a long time since the writing of the script, so I felt that they had some liberty with the words to create their own sense of being.
Filmmaker: What are the qualities of a good director?
McCarthy: I'm still learning, obviously, but for me a good director is someone who understands the overall arc of the story and has a very clear vision for it, both visually and emotionally. Ultimately it is the emotional life of the film that determines the visual quality. I don't think you can imbue a visual quality until you understand what the emotions are and what you are trying to achieve in each scene. As soon as you understand a scene, it almost shoots itself. As soon as actors understand a scene, they know where they should and shouldn't be. It is amazing to watch. There were so many times the cinematographer and I would come in with our shot list and give the actors a chance to work on the scene and then watch them go. They would be so in tune to the moment that they would do things a better, different way and we'd say, "Well, that is better. Let's do it that way," and then we'd shoot. Those are the takes in the finished film.