THE ANALOG REVOLUTION
By Bari Pearlman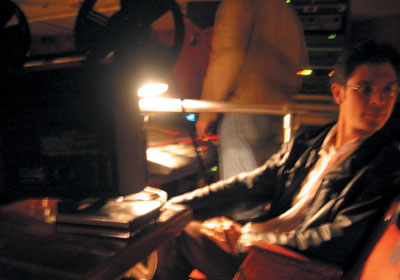 Flicker's David Teague.
"David Teague is the Suge Knight of Super 8 film," jokes production designer Dan Reimers. In the midst of this digital video revolution, Teague presides over the New York chapter of Flicker, a bimonthly Super 8mm film festival that packs the Knitting Factory in Tribeca. "Most audience members aren't filmmakers," Teague says, "and for a lot of the people whose films we screen, it's the only one they've ever made. At Flicker, if you shoot a roll of Super 8, you're a filmmaker." Twin brothers Jeff and James Israel bought a $90 camera on eBay after attending a Flicker show: "The audience was so responsive, we just wanted to try it!"
There have been 11 New York Flickers so far, including an all-Pixelvision evening and the annual Attack of the 50-Foot Reels, in which 25 filmmakers shoot a roll of Super 8mm and see it for the first time (sometimes still wet from the lab) along with the audience. "I work in documentary and reality TV," explains Kyle McCabe, whose experimental film Broadway premiered at Attack 2. "That there is an audience for experimental Super 8 films helps me to push boundaries and try things I could never consider doing professionally."
Flicker attendees are greeted by Naomi Schegloff, who gives out homemade chocolate chip cookies, sells T-shirts and collects names for the free raffle of film, lab services and Flicker Guides, a resource booklet compiled by all 10 Flicker chapters (including Prague and Bordeaux). There's also a $100 production grant awarded at every show. Anyone can submit to Flicker, although the organizers do favor local filmmakers who can be at the screenings to introduce their work and network with others using the format. As Caitlin Dixon, a professional editor and veteran Flicker contributor, reflects, "Flicker is full of people who love film for film, in all its beauty, humor, even oddness. I like nothing better than making a little Flickery trifle, just for the joy of it."
Next up for Teague? In addition to his own Super 8mm projects, which include a film for David Bowie and Love Suicides, a three-part serial based on a 17th-century Japanese play, he is hoping to put together a lending library of donated or cheaply bought Super 8mm equipment for free use by Flicker participants. To find screening dates and submission information for Flicker in New York, visit www. flickernyc.com or, to find a Flicker near you, www.flickerfilms.org.