KILLING ME SOFTLY
One of Japan's biggest television stars, Takeshi Kitano is also the country's hottest art-film export. This Spring, his two best films – Sonatine and Fireworks – arrive in U.S. theaters. Scott Macaulay talks with Kitano about his soul-searching crime dramas.
The Artful Violence of TAKESHI KITANO
Takeshi Kitano in Fireworks
Working is like riding a bicycle. If you fall off, you die." I'm sitting across from Takeshi Kitano, winner of last year's Golden Lion at the Venice Film Festival for his new drama, Fireworks (Hana-Bi), at New York's midtown Japanese oasis, the Hotel Katana. Below diners pay $180 for plates of potentially lethal blowfish in an antiseptic basement restaurant, but I'm with Kitano in an upstairs meeting room not unlike the bland corporate offices or dreary yakuza headquarters found in his films. Through an interpreter he tosses off ironically terse replies ("Collaborating with my composer is like exchanging punches"; "What do I do to relax? Watch the Discovery Channel.") to my questions about the evolving cinematic style which has lead him to this seventh film, an alternately tender and violent elegy about a remorseful cop's attempts to express guilt, self-determination, and love.
Or perhaps, I realize mid-conversation, I'm talking with "Beat" Takeshi, Japan's best known entertainer, host of eight weekly television shows, and, some in the country hope, future prime minister. Japanese critics have long noted Kitano's schizophrenic approach to interviews, and his aphoristic quips referencing work, leisure, and death are pure "Beat."
A stage name Kitano has retained since his days in the early '70s as one half of the slapstick comedy troupe The Two Beats, the moniker's dual English meetings – the pause before the punchline, the smack of a fist in the face – together capture the cinematic tension that drives his work.
As "Beat" Takeshi, Kitano is a ubiquitous media presence, appearing in everything from slapstick comedies to Japanese nature programs to movies like Robert Longo's Johnny Mnemonic and Nagisa Oshima's Merry Christmas, Mr. Lawrence.
As Takeshi Kitano, he's directed, written, and edited seven features; most of these films turn the classic gangster drama into personal crucibles distinguished by a precise visual vocabulary, laconic performances, imaginative editing, and an odd serenity that ultimately conquers the films' violent feuds and dark themes.
And finally, as Takeshi "Beat" Kitano, he's an international art-film star, a wildly charismatic figure whose distinctive screen presence – comprised of a shuffling, stoop-shouldered gait, an inflective facial tic, and a beatific gaze – charges his films with true movie-star authority.
"The advantage of being a big star is that it enables me to make commercially unsuccessful films," comments Kitano. "The disadvantage is that the Japanese public watches my TV shows every night of the week for free so they can't be bothered to pay money to see me on the screen."
Kitano may bemoan his stardom – he's more popular in Japan than his films – but it's undoubtedly responsible for the arrival of his two best works, Sonatine and Fireworks, in the U.S. this Spring. Reportedly, while Quentin Tarantino picked up Sonatine for his Miramax Rolling Thunder label two years ago, it sat on the shelf until now due to Kitano's packed TV schedule in Japan and Miramax's belief that the star's U.S. presence was vital in marketing the film. It wasn't until New York's small Milestone Films picked up Fireworks at the Toronto Film Festival and a publicity trip was planned that Miramax finally decided to release the earlier film.
Fumiko Takagi, Milestone's Vice President, says, "We honestly hope to make Kitano as big and recognizable in the States as Chow Yun Fat or John Woo. I'm Japanese, and I grew up watching him on TV. He's such an interesting personality – not just as a director or actor, but as a writer and painter."
Kitano began directing films with Violent Cop in 1989. Originally slated only to star in what was a Japanese variation on the Dirty Harry films (the film's original Japanese title was Warning! This Man is Wild!) Kitano took the creative reins when the planned director pulled out. He rewrote the script, injecting social critique, comic nihilism, and a shocking ending: Kitano's cop character kills his own sister when he finds her junked out in the mobster's den. Leaving the place, he's killed by a stray bullet.
Several films followed: the bizarre Boiling Point, a violent baseball drama; the Bressonian A Scene at the Sea, a surfing movie about a deaf-mute surfing couple; and, next, Sonatine.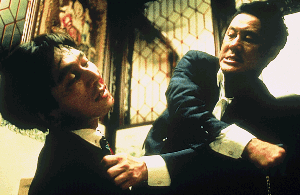 A Scene from Takeshi Kitano's Sonatine
In
Sonatine,
Kitano plays a world-weary yakuza member who, along with his gang, is forced to hole up in a seaside town while a mob war cools down. Beginning and ending with abrupt flashes of violence, the film's entire middle is devoted to yakuza at play. (Kitano is one of the only directors today to sustain a critique of
leisure
in his films.) This second act hasgoofy sight gags, romantic interludes involving a sweet girl the gangsters rescue from a date rape, and a hilarious stop-motion sequence featuring the gangsters' play version of jiu jitsu on the beach. It's only a series of violent ruptures in the narrative – shots of a grinning Kitano blowing his brains out – that cue us to the drama going on inside his typically unrevealing exterior. Writing about the philosophy embodied by the film, Kitano states, "These are times when we ought to think seriously about how to die instead of how to live. After I'm psychologically prepared to die at any time, that's when I want to consider how to live." If Kitano's films seem death-obsessed, it's only because the writer/director believes that Japanese culture has, since World War Two, turned death into a taboo topic and that the absence of a dialogue about mortality has cheapened life itself.
Kitano's own brush with death came in a near-fatal motorcycle accident in 1994. He spent two months in a Japanese hospital where he took up painting; the experience is recounted in one of Firework's storylines. He followed the accident with a small film, Kids Return – a dark coming-of-age story about two young teens thrust into the corrupt world of amateur boxing. One of his only films in which the protagonist does not die, Kids Return is by far the saddest. Kitano describes the film as being about the "point zero between life and death" and, indeed, there's a feeling of true moral crisis in the film's bleak portrait of confused youth.
After Getting Any?, an anomalous sketch comedy, Kitano made Fireworks, which is poised to be his biggest worldwide success.
In Fireworks, Kitano plays Detective Nishi, a cop who, chasing a mobster, sees his partner Tanaka killed and his best friend Horibe paralyzed in a shootout. In addition, his wife is dying of cancer. Resigning from the force, Nishi embarks on a series of personal missives. He convinces the suicidal Horibe to become a painter, robs a bank to support Tanaka's widow, settles a few old yakuza scores with casual brute efficiency and, most memorably, takes his wife on a second honeymoon to Mount Fuji. Assembled in a non-linear fashion, the film employs flashbacks (a lit cigarette triggers memories of the mobster's muzzle flash), strange narrative ellipses, and comically digressive character studies.
Most interestingly, Horibe's artwork (Kitano's own paintings, from during and after his hospital stay) appear throughout the film, as set decoration at the various locations as well as full-screen in separate music-driven montages. Used prominently in the film, Horibe's paintings seem to offer emotional and sometimes literal commentary on Nishi's journey. The works, with their playful colors and images – flowers with the head of a lion, portly yakuza with thick erections – add a charming touch to the film but Kitano, while perhaps acknowledging their structural force, decries an easy reading of their meaning. Painting these works may have helped Kitano's own personal recovery, but he's dismissive of their value for Nishi, calling Nishi's decision to resume life as an artist "an escape."
Since Kitano is himself an artist, we might wonder from what he is escaping. Considering his multiple, even contradictory professional lives, his strangely offbeat narratives, his eerie mix of violence and comedy – often in the all the wrong places – we might just as well as ask, "What he is getting at?"
To a large extent, Kitano is a Japanese traditionalist who exploits Western genres to revive Japanese culture. He's also a pop star who intentionally disrupts conventional structure in his narratives. Kitano recounts, for example, in scoring his films, "I told the composer to put the music where normally directors would not put music, where it's not supposed to be. The composer was quite appalled by my comments. Since then, his way of composing music has slightly changed."
Perhaps the way these contradictions finally come together is through his personal and cultural identification with work. As he says, "if you fall off you die," because life itself is a form of work – an idea that, considering America's affection for leisure and escapism, seems very foreign indeed. Even Kitano's much touted treatment of violence – cold, efficient, necessary – differs both from the sadism of American films and the choreographed spectacle of Hong Kong violence.
As Kitano acknowledges, his filmmaking process is more concerned with affect than representation. Each film, in fact, is constructed from a rather abstract machinery of symbols, an organizing principle he explains in typical Kitano fashion by a comparison to the most quotidian of art forms – the manga, or comic strip.
" Basically, at the very early stage of making my films," says Kitano, "I come up with four main visual images, like a cartoon strip. No matter what direction you take in between those four main visuals, it's O.K. I allow, not only myself, but also the actors, to improvise, to have the film guide itself. Only I have to go through these four visual images. "
If, in Kitano's teleological work, the manga's final panel is always death, then what kind of work is he producing? In Western drama, work in which the protagonist dies is normally deemed tragedy. Kitano's films certainly aren't that. Perhaps we should take our lead from the films' bouts of goofiness and unexpected sight gags and simply call them comedies. In the Western tradition, comedy is the form that attempts to find harmony in the world and articulate a code of ethics by which we live. While Kitano may say that, in Sonatine, the protagonist "chooses death as a form of escape," it's clear that in Fireworks, filmed after his own brush with mortality, death and life's other contradictions engender a sense of duty. "The protagonist in Fireworks," says Kitano, "is willing to confront death face to face in order to accept responsibility for his friends and family."
"Beat" Takeshi may always die in his films, but with his essentially comic use of death to impart meaning to life, director Kitano always has the last laugh.