PRODUCTION UPDATE
Compiled and edited by FILMMAKER Contributing Editor, Mary Glucksman.
---
Alanna Ubach (Clockwatchers, Denise Calls Up) gets her first starring role in All Of It, director Jody Podolsky's drama about coming to terms with family left behind. Ubach plays Amy, a 25-year-old junior editor in New York whose holiday return to her suburban Midwest home sets the stage for a dramatic confrontation with her mother (Lesley Ann Warren).
Podolsky says that for her first feature she wanted to confront the everyday pathology particular to the mother-daughter bond.
Podolsky got her undergraduate degree in screenwriting from USC in 1992 and spent a year at CAA before moving on to the production company Alphaville at Universal Studios, where she was first Director and subseqently V.P. of Development. She had a hand in producing '97 Sundance entry 35 Miles from Normal and enlisted the film's cinematographer and close personal friend Ted Cohen to shoot All Of It.
Podolsky and producer Darren Gold used an LLC to finance All Of It's six-figure 35mm shoot "nickle by nickle." The film's 24-day Detroit-area shoot was scheduled to capture the changing of the leaves and began October 12. After locking picture in New York in mid-February with editor Jacob Craycroft, the filmmakers headed home to L.A. to complete post and now expect a finished film in late April; all rights are available.
Cast: Lesley Ann Warren, Alanna Ubach, James Rebhorn, Michael Silver, Nancy Banks. Crew: Producers, Darren Gold, Jody Podolsky; Screenwriter/Director, Podolsky; Line Producer, Karen Olender; Cinematographer, Theodore Cohen; Production Designer, Henry Dunn; Costume Designer, Angela Dawn Alderson; Casting, Karen Church; Editor, Jacob Craycroft. Contact: Darren Gold, General Frolic Productions, 114 North Almont Drive, #1, Beverly Hills, CA 90211. Tel: (310) 271-0934, Fax: (310) 276-7903.
---
Tami Gold's latest documentary, Another Brother, tells the story of a young African-American Marine, Clarence Fitch, who left for Viet Nam in 1967 and returned with a heroin habit he would spend 15 years kicking. Son of a proud World War II vet, Fitch had joined the Marines to get an education; what he got was a habit and a lifetime in the U.S. Postal Service. He cleaned up in 1983 and spent the next seven years until his death from AIDS as an anti-war activist and rehab counselor.
Gold uses tape of an interview Fitch did with photographer Bill Short as the film's backbone. "People ask how a lesbian feminist came to tell a story like this," she says. "It's about class, which is the underpinning of everything, and the vulnerability of veterans damaged by war. Only understanding how traumatic the war had been for him gave Clarence the power to put drugs down for good."
Gold is best known for Out at Work, an hour-long doc about gay men and lesbians on the job that premiered at Sundance '97. In 1996 she directed her first narrative short, Emily and Gitta, at AFI's Directing Workshop for Women. Gold, 47, made her first film, the 30-minute My Country Occupied, at 21 in Guatamala with a 16mm Bolex and was an original member of the Newsreel Collective, the documentary co-op precursor to today's Third World Newsreel. Currently a professor at Hunter College, Gold's been working sporadically on Brother for five years. "With documentaries sometimes you need to let them sit and do something else," she says. She financed the film with grants from CUNY and four private foundations. Another Brother will be finished at an hour's length with an eye towards TV, though Gold has mapped out a 75-minute version suitable for theatrical play. To gauge the film's impact, Gold took rough cuts into high school classrooms. "It's a way of applying Hollywood test screening [principles] on a grass-roots level to see what works and what doesn't as you're editing," she says. The film should be done in March – coincidentally the 30th anniversary of the Tet offensive and peak of the student protest movement – and all rights are available.
Crew: Producer/Director, Tami Gold; Associate Producer/Researcher, Caryn Rogoff, Elena Schwolsky-Fitch; Camera, Gold, Robert Rosenberg, David Shulman; Addtional Camera, Ronald Gray; Editors, Kelly Anderson, Beverly Peterson, Gisela Rosario; Original Score, Don Dinicola; Original Song, Toshi Reagon. Contact: Tami Gold, AndersonGold Films, 151 First Avenue, Suite 210, New York, NY 10003. Tel/Fax: (212) 982-7222.
---
Elijah Wood (The Ice Storm) stars in The Bumblebee Flies Anyway, a dark psychodrama based on a Robert Cormier novel that's Irish director Martin Duffy's second feature and first in the States. Wood's character, Barney, is an 18-year-old amnesiac in an experimental hospital for terminally ill kids; he can't recall a previous life or the circumstances under which he was admitted, but he is convinced amnesia is his only problem. What Barney can't remember is that he volunteered for a new treatment protocol to keep his unnamed fatal disease in remission and the memory repression is just a side effect. Barney's covert investigation into his past with the help of some colorful characters among his fellow patients raises provocative questions about the genesis of illness as well as the relative merits of living with no past or dying with full self-awareness. The film's title refers to the conundrum of the bumblebee, whose body-weight-to-wing-span ratio should make flight impossible.
Dead Poets Society producer Steven Haft originated the project; he'd just done Emma when he brought the Bumblebee script to The Shooting Gallery (TSG) last year with Wood attached. TSG partner Larry Meistrich tapped Duffy from a pool of possible directors, citing his affinity for the material.
The film will be released through TSG's theatrical output deal with LIVE Entertainment. Meistrich says the company handles creative chores and raises P&A funds in-house while relying on LIVE's system to book and collect from theaters. "We're financed competitively to be able to do that," he says, "and we'll go through LIVE's video and Showtime deal." TSG also has some new releasing expertise on staff in Eammon Bowles, the ex-Miramaxer who spearheaded Kids' release. Bumblebee started shooting February 2 in Queens at the imposing Creedmore Psychiatric Center, a century-old landmark. Stephen Kazmierski is the film's cinematographer. Look for Bumblebee to be completed over the coming summer; further information regarding likely release scenarios and rights is available from Meistrich.
Cast: Elijah Wood, Joe Perrino, Rachael Leigh Cook, Roger Rees, George Gore II, Jeffrey Force, Oni Faida Lampley. Crew: Executive Producer, Larry Meistrich; Producer, Steven Haft; Line Producer, Jonathan Starch; Screenwriters, Jennifer Sarja and Martin Duffy; Director, Duffy; Cinematographer, Stephen Kazmierski; Production Manager, Blair Breard; Production Designer, Susan Block; Casting, Lynn Kressel; Editor, Suzanne Pillsbury. Contact: Larry Meistrich, The Shooting Gallery, 145 Sixth Avenue, 7th floor, New York, NY 10013. Tel: (212) 243-3042, Fax: (212) 647-1392.
---
Director Jack Perez and writer Jim McManus (The Big Empty) team up again on La Cucaracha, a Mexico-set black comedy about murder and revenge starring Eric Roberts. Walter (Roberts) has abandoned his quotidian New Jersey life for Mexico with romantic notions of finding inspiration for a novel. As soon as he arrives he's robbed of all his money and takes refuge in a shack outside tiny Santiago, where he spends his days drinking himself blind. When he meets another expatriate, Walter saves face by claiming that he's hiding out because he's killed a man. The newcomer, Louis (McManus), offers a version of salvation by hiring Walter to whack a guy he says murdered the teenage son of the town's local crimelord. Thus begins an existential nightmare, which sees Walter double-crossed, buried alive and ultimately bent on revenge.
"Walter keeps getting stepped on – hence the title," says Perez. "The film takes the classic atmosphere of films about Americans down on their luck in Mexico and transcends it with a modern sensibility." Perez and McManus met in the undergrad film program at NYU; both graduated with honors in '89. Perez' big break came when he directed an episode of "Hercules" and was brought back to do the pilot for the spin-off, "Xena: Warrior Princess." He and McManus had Cucaracha on the page and were taking it out themselves when they hooked up with producer Michael Shevlof to make their first feature, The Big Empty.
A British transplant with ten years of production experience in England, Shevloff produced TV programs here and ventured into features with Bandwagon, a Sundance '96 success. He knew Perez, McManus and Bandwagon director John Schultz from ZM Productions, where all worked on behind-the-scenes documentaries and specials. Shevloff helped set Cucaracha up to the tune of seven figures at 7.23, a new company he says has financing from a consortium of overseas investors to bankroll a five-film slate. "That's how you get Eric Roberts," says Perez. "7.23 said, 'We're in. Go now!' We had to tell Roberts, 'We're going two weeks from today; are you in or out?'" Cucaracha was shot in L.A. over a rugged 18 days in December with a dry reservoir standing in for the Mexican desert. The filmmakers built hospital and cantina interiors on a stage and designed exteriors for the film's timeless Mexican town on a studio backlot with trucked-in dirt, animals and vintage cars. The film should be done in March and all rights are available.
Cast: Eric Roberts, Joaquim De Almeida, Victor Rivers, Jim McManus, Tara Crespo, Michael Pena. Crew: Producers, Richard Mann, Michael Shevloff; Screenwriter, Jim McManus; Director, Jack Perez; Cinematographer, Shawn Maurer; Production Designer, Reiko Kobayashi; Costumes, Elaine Montalvo; Editor, John Pace. Contact: Richard Mann, 7.23 Productions, 7083 Hollywood Boulevard, L.A., CA 90028. Tel: (213) 860-7030, Fax: (213) 860-7043.
---
Hurricane Streets director Morgan J. Freeman got off the first shot of his edgy drama, Desert Blue, in the Nevada desert exactly one year after Hurricane won three prizes (directing, cinematography, and the audience award) at Sundance '97. Also starring Brendan Sexton III, the film's a way-post-John Hughes tale about a crew of desert kids whose lives get shaken up when the FBI quarantines their tiny town after a highway tanker spills toxic waste. Sexton finds a love interest in a bratty teen TV starlet passing through on a road trip with her travel-happy dad (John Heard) when the quarantine comes down. Christina Ricci plays a sheriff's daughter partial to homemade explosives. Casey Affleck, Ethan Suplee, Sara Gilbert and Hurricane's Isidra Vega round out Blue's crew. "It's about people shedding their superficial covers and stripping away their excess baggage and finding out what kind of person's left," says Freeman. "After Hurricane I kept hearing, 'Welcome to the industry, Morgan. Now we're going to let you let us tell you what to do.' It became a battle to make the film I wanted." Freeman, 27, says he found Blue's desert location while shooting student shorts as a U.C. Santa Barbara undergrad. He graduated NYU's MFA program in 1996. Blue producer Andrea Sperling says William Morris agent Cassian Elwes, who helped sell Hurricane, put financing for the new film together in one go through Hollywood Stock Exchange enterpreneur Michael Burns. A former investment banker, Burns ventured into indie production last year with Six String Samarai, a Slamdance '98 sensation, one of four films produced under his HSX Films banner. The filmmakers are scheduling a summer finish. All domestic rights remain and new L.A.-based foreign sales entry Franchise Films is handling international rights.
Cast: Brendan Sexton III, Casey Affleck, Christina Ricci, Sara Gilbert, Ethan Suplee, Isidra Vega, Kate Hudson, John Heard. Crew: Producers, Andrea Sperling, Nadia Leonelli, Michael Burns; Co-Producer, Gill Holland; Executive Producers, Mark Butan, Leanna Creel; Screenwriter/Director, Morgan J. Freeman; Cinematographer, Enrique Chediak; Production Designer, Dave Duernberg; Editor, Sabine Hoffman. Contact: Andrea Sperling, Desert Blue LLC, 1208 South Stanley Avenue, Los Angeles, CA 90019. Tel: (213) 938-2719.
---
Matt Mailer asks tough questions about complicity and responsibility in The Money Shot, a feature version of his prizewinning '96 half-hour NYU short. Stephen Lang plays Quinn, a fortyish one-hit filmmaker trying to resurrect his career with a documentary about street kids in Times Square. Quinn's lost his own 13-year-old to a tough divorce so his take on teens is less objective than he thinks. When he connects with Rayna, 16, a sometime prostitute and frequent runaway, and her mugger friend Toby, 18, his on-camera questions and off-screen intrusion have grave repercussions. Quinn screens his footage for a producer who thinks the project could be worth investing in if the violence were edged up a notch. So when one teen overdoses and Quinn tells Toby where she was that night, the stage is set for a stunning climax.
"There's a personal journey involved in making a documentary – in Quinn's case it fills a void," says Mailer. "Toby is pretending to be a cold-blooded killer. Quinn doubts that but encourages his stance because it makes for a better film."
Mailer, 26, grew up in New York and started working in the special-effects departments of low-budget films and Off-Broadway theatre while still in high school; he also interned at Naked Angels and the Actors' Studio. He wrote the short version of The Money Shot in '94 as his NYU undergrad film program thesis project and shot it the next summer. He says his original idea stems from a newspaper series in which a reporter chronicled the life of a teen mugger who later claimed to have fabricated the entire story. Money Shot's producers are Mailer's older brother Michael, a ten-year production vet with credits on films ranging from In the Soup to Die Hard with a Vengeance, and Wall Street refugee Daniel Bigel, who formed Bigel/Mailer Films in 1995. Bigel/Mailer's first effort was as executive producers of James Toback's Two Girls and A Guy. Principal photography on The Money Shot ran 25 days beginning January 6. The filmmakers expect to have a completed 35mm film in early May. All rights are available.
Cast: Stephen Lang, Tamara Tunie, Robert Alexander, Aesha Waks, Vincent Laresca, Merrill Holtzman, David Deblinger. Crew: Producers, Michael Mailer, Daniel Bigel; Coproducer, Taylor MacCrae; Screenwriter/Director, Matthew Mailer; Cinematographer, Elia Lyssey; Production Designer, Betty Martin; Locations, Joe Humeres; Editor, Jim Cozza. Contact: Michael Mailer, Bigel/Mailer Films, 443 Greenwich Street,, Suite 3A, New York, NY 10013. Tel: (212) 343-7916, Fax: (212) 343-9572.
---
Whitney Ransick's SHOCK TV uses a radical new style to spin its tale of two petty criminals from crime spree through arrest, trial and incarceration. Shot on both 16mm and Betacam, the film unfolds through police interrogation footage and store security camera tapes chronicling the boys' crimes, their own home videos, and their eventual star turns on fictional true-crime TV shows. SHOCK starts when Bobby and Eddie break into an electronics store and grab the surveillance camera, which keeps recording as they stage their getaway. Soon Bobby's using it to tape his lowlife friends. As detectives track down first Eddie and then Bobby on a "COPS"-like TV show, Ransick also blasts the notion of honor among thieves. "I'm bored with catering to a certain kind of narrative structure," he says. "I want to push the audience in a direction which it isn't used to going. Video is all around us; now we can use it to tell a story as another way of seeing." Ransick also says he deliberately cast SHOCK with unknowns "so some unsuspecting viewers can wonder if it's real."
Ransick graduated from the film program at SUNY Purchase and helped found New York's Shooting Gallery (TSG) with Larry Meistrich and Bob Gosse, who collaborated on an early draft of SHOCK and gets a writing credit. Ransick's first feature, Handgun, was TSG's second film – their followup to Laws of Gravity. He moved out to L.A. in '95 and was soon landing regular directing gigs on shows like "Homicide," "E.R." and "America's Most Wanted," ultimately enabling him to front a portion of SHOCK's budget (the rest comes from private investors). SHOCK shot in Santa Monica and the San Fernando Valley for 16 days last November. For one section of the film featuring store surveillance scenes you'll see from four different angles in each quarter of the screen, Ransick ran four cameras simultaneously. "It posed a lot of challenging cinematography issues, not to mention a substantial amount of testing to refine our camera approach beforehand," he says. Ransick plans to finish SHOCK by May and blow it up to 35mm before he screens it. All rights are available.
Cast: Freddy R. Capra, Branden Williams, Arthur Nascarella, Karina Arroyave, Frank Medrano, Danny Cistone, Toby Huss. Crew: Producer, Whitney Ransick; Screenwriters, Ransick, John Weiner, Bob Gosse; Director, Ransick; Cinematographer, Jeff Weaver; Sound, Fernando Mugo; Production Designer, George Moes; Casting, Felicia Fasano; Editor, Tom Sanders. Contact: Whitney Ransick, Shock Productions, Inc., 1640 Fifth Street, Suite 212, Santa Monica, CA 90401. Tel: (310) 656-6271, Fax: (310) 656-6277.
---
Florrie Laurence's feature debut, The Sky is Falling, is a dark comedy about a young Ivy League writer derailed by artistic, family and romantic crises. Emily thinks she's made it when publishers rave about the talent exhibited by her first novel. Unfortunately, none of them will buy it. Meanwhile, her boyfriend cuts out just as her mother (Teri Garr) breaks some stunning news: Emily's supposedly deceased father (Howard Hesseman) is really an errant hippie photographer who's back in town and looking for his daughter.
"It's about that crisis you go through in your late twenties when you get a ten-year high school reunion invite in the mail and realize your life isn't going quite how you planned," says Laurence.
Laurence got her undergrad degree in film from USC in 1990 and soon joined the editing union as an assistant. A post spot on director-editor Duwayne Dunham's Homeward Bound led to a gig as Dunham's assistant on Little Giants, his next film. Laurence and Sky producer David Parks, a USC grad program alum and union cameraman, joined up in '95 to make a film about environmentalist Rachel Carson. They had to scrap that project when its single financier got cold feet. Parks raised the cash to make Sky by going home to Washington, D.C. to show a prospectus to potential investors he'd known growing up there. "Half came through, putting us into the six-figure range," he says. Laurence and Parks then teamed up with producer Brad Hall to make the production a reality.
Sky shot 18 days in L.A. beginning November 4. The film will be completed in June and rights are available.
Cast: Dedee Pfeiffer, Teri Garr, Howard Hesseman, Laura Leighton, Eric Close, Bert Remsen, Sean Astin, Lorraine Toussaint. Crew: Producers, David Parks, Brad Hall; Executive Producer, Howard Kazanjian; Screenwriter/Director, Florrie Laurence; Cinematographer, Parks; Art Director, Jocelyn Fredman; Casting, Amy McIntyre Britt; Editor, Peggy Davis. Contact: David Parks, 10463 Ashton Avenue, Los Angeles, CA 90024. Tel: (310) 470-9932, Fax: (310) 470-2163.
---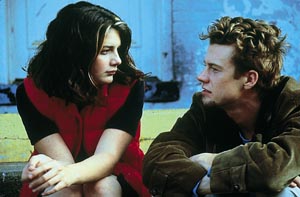 Gaby Hoffmann and David Wheir in Jesse Fiegelman's Snapped. Photo: Kevin McLeod.
Sixteen-year-old Gaby Hoffmann, Woody Allen's daughter in Everyone Says I Love You, turns up as co-star of Jesse Feigelman's Snapped, a quirky romance about slacker kids in off-season East Hampton. CK model Johnny Zander makes his screen debut as Billy, a drifter whose chance theft of a hitman's (Seymour Cassell) bag of cash from a New York greasy spoon leads him home to revisit his ex-girlfriend Tara (Hoffmann). Just out of high school, Tara's put off art school plans to nest in the barn behind her cozy middle-class home where she photographs roadkill as part of some homemade art project. Tara also proves a magnet for Billy's new friend Shane (David Wheir), a city boy who works at the local one-hour photo shop and spends his leisure time creating fictious family albums from stolen snapshots.
Feigelman's a 1992 graduate of the State University of New York Purchase film program. He spent summers at his parents' beach house in East Hampton but tasted outsider status there as the lone Jewish cabana boy over several seasons at the restricted Maidstone beach club. His 25-minute short Maintenance went to Locarno and other fests in '94 and introduced actress Maria Bello, currently Noah Wylie's love interest on "E.R." Feigelman has worked in feature sound recording for six years, most recently sharing location mixing credit on The Myth of Fingerprints and Love Walked In, Juan Campanella's new film. He wrote Snapped with his college roommate and raised the cash – under $1 million – to shoot 35mm. Snapped shot 27 days in East Hampton beginning September 28, with Feigelman's parents' house as production central. Billy's initial flight by train along the Montauk corridor was captured guerrilla-style with what Feigelman calls the "McGyver Method: ball bearings, a stick of gum and good old-fashioned ingenuity." All rights are available.
Cast: Gaby Hoffmann, Johnny Zander, Seymour Cassell, R.D. Robb, Simon Rex, David Wheir, Barbara Tirrel, Elizabeth Regen. Crew: Producers, Kevin McLeod, Jesse Feigelman; Executive Producer, Norrell Walker; Screenwriters, Ian Chorao, Jesse Feigelman; Director, Feigelman; Cinematographer, Jeff Eplett; Production Design, Evan Strome; Casting, Ellen Parks; Editor, Anne McCabe; Composer, Michael Rohatyn. Contact: Jesse Feigelman, Illville Pictures, 1133 Broadway, Suite 1429, New York, NY 10010. Tel: (212) 645-0722, Fax: (212) 645-0788.
---
Hellin Kay was seven when she hugged her father goodbye in a Moscow airport and stepped on a plane for what was to be a brief visit to her uncle in the States. That visit wound up spanning her entire childhood. Now, Kay's experience and the sense of betrayal it engendered is the subject of her extraordinary autobiographical first feature, was once a girl...
Beginning with a 20-minute subtitled Russian set piece shot at a suburban Moscow children's boarding school last spring, Kay traces a sunny child's evolution into a sullen adolescent furious at her displacement in the U.S. When Yelena finally returns to Russia after 15 years in Baltimore, neither her mythologized father nor her birthplace are recognizable. The memories that fed her diasporan dreams and the cultural divide may be too vast to ever bridge.
"So often we lose something early in life and there's no way to reclaim it," says Kay. "That's what this film is about." Kay herself arrived in Baltimore in 1980 with her mother and $200. In 1995 she graduated from elite art-oriented Bard College in upstate New York having made three short films (Borsht, Barry Paul and Every Woman...Dreams) that played festivals like Seattle, San Francisco and Ann Arbor. She worked for several years as an assistant to designers like Calvin Klein and John Bartlett in New York and now works as a stylist for the Russian-edition Marie Claire. "I scraped and borrowed to make [a Super-16mm] segment to finance the whole," she says. She settled on AFI grad Tsuyoshi Kimoto as d.p. after viewing dozens of reels. "I wanted someone versed in Tarkovsky, Godard, Antonioni and Truffaut rather than more modern directors," she says. Kay showed the initial 20 minutes of girl as a work-in-progress at the 1997 IFFM. At press time she was headed back to Moscow to raise additional funds with a Russian translation of girl's script. All rights are available.
Cast: Veronique Sarisova, Kristin Di Splatro, Irina Zhelayeva, Vladimir Vorobyov, Galina Yakova, Alexei Dyakov. Crew: Producer/Screenwriter/ Director, Hellin Khmelinsky Kay; Executive Producers, Dale Cannedy, Peter Alexander; Cinematographer, Tsuyoshi Kimoto; Sound, Jason O'Neill, Jake McHaffey; Gaffer, Peter Olshansky; Production Manager, Marina Lontova; Assistant Director, Script Translation, Sergei Chernyov. Contact: Hellin Kay or Dale Cannedy, Borsht Films, 332 East Fourth Street, #22, New York, NY 10009. Tel/Fax: (212) 995-0371.