FESTIVAL ROUNDUP
---
The Cannes Film Festival
The Festival International du Film at Cannes is easily the largest and most important film festival in the world. It maintains its position by serving two masters: on the artistic side, the Festival has positioned itself as the pinnacle of film culture, the party to which all filmmakers seek an invitation; and on the business side, it is recognized as the world's most important film market, playing host to a huge range of commercial concerns.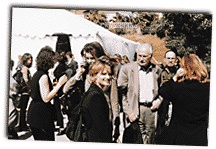 One of the legendary 19th century Riviera resort towns, Cannes transformed itself into the "city of festivals" after World War II. Activity centers on the grandiose seaside fortress know as the "Palais des Festivals." It contains one massive theater, the Lumiere, one very large theater, the Debussy, and maybe two dozen small screening/meeting rooms. Stretching out to the East is the Croisette, the seaside promenade that takes visitors past some of the world's most glamorous hotels, notorious from films and literature - the Majestic, the Carlton, the Martinez - and their insanely overpriced beach restaurants, the sites of Cannes' most exclusive and opulent parties. Megastars stay farther out at the Cap d'Antibes; mere civilians reside a few blocks inland, off the Rue d'Antibes, the town's main drag.
The commercial side of the Festival is administered by the "Marche International du Film," a registration service for buyers and sellers that rents out stands within the Palais and co-ordinates Market screenings in the small cinemas in the Palais and on the Rue d'Antibes. However, the business side of things has far outgrown the Marche bureaucracy: big companies take lavish offices in the beach hotels, wealthy national film agencies rent huge white tents around the Palais to promote their countries' films, production pitches issue from every terrace bar and cafe, and the ring of mobile phones is often deafening.
In years past, the screening portion of the Market has yielded some important discoveries. Some of these films are Cannes rejects, some are just finished, but most are genre-based and are screening for the legions of attending video buyers. 1996 saw far fewer Market "finds," a testament not only to the good job done by Festival programmers but also to the changing nature of international film promotion; with other festivals and well-endowed, aggressive U.S. boutique distributors combing the world, major new foreign-language talent rarely gets "discovered" in the Market any more. The hottest Market ticket this year, it turns out, was Italian horror master Dario Argento's The Stendahl Syndrome. A happy return to surreal form by one of Europe's great visual iconoclasts, it concerns a woman cop literally entering the paintings of the Uffizzi gallery while tracking down a brutal rapist.
World media tends to ignore this rapacious commercial activity - until journalists want party invitations, of course - concentrating instead on the Festival's official and unofficial sections, an unholy mess of competing agendas and egos that always, and this year in particular, manages to yield a sizeable crop of important new art films.
There are essentially four sections for new films. The first two, Competition and Un Certain Regard, are considered "Official Selections," and they come under the Palais-based Festival administration led by Gilles Jacob. The prestigious Quinzaine des Realisateurs (Directors' Fortnight), run by Pierre-Henri Deleau out of beautiful screening facilities in the Noga Hilton, sandwiched between the Grand and the Carlton Hotels on the Croisette, is extremely competitive with the "Official Section" and most emphatically not recognized by Jacob and his crew; no official Festival publication is permitted to utter its name. Finally, the small but plucky Semaine de la Critique (Critics' Week), run by Jean Roy, is half-recognized, appearing in Festival publications, but the participating films may not call themselves "Official Selections."
A Competition screening is the most glamorous premiere a film can receive. Throngs of tuxedos and ball gowns climb a steep, re-carpeted staircase to the dauntingly large premiere cinema. Exquisite projection on a massive screen, followed by the requisite massive party, seal the fate of the world's most promising candidates for art film beatification. Thumbs up normally ensures a global release and a place in the history books; thumbs down can often mean rank humiliation. Considering the pressures involved, very few first films are invited into the Competition; the section normally reads like a who's who of world art cinema and this year was no exception: Leconte, Leigh, von Trier, Frears, Altman, Bertolucci, Kaurismaki, Hou Hsiao-hsien, Chen Kaige. But such a list almost always means a certain amount of disappointment. And while this was certainly the case with a few titles - Altman's leaden jazz-age saga, Kansas City, and Chen Kaige's Temptress Moon, an unhappy marriage of hipster Hong Kong fluid camerawork and classical Chinese storytelling, were two - the level of the Competition was unusually high, exhibiting at least two, perhaps three, masterpieces.
Although he had to settle for the Grand Jury Prize, Lars von Trier's Breaking the Waves is the most astonishing art film to emerge from Europe in some time. Shot by legendary cinematographer Robby Mueller, the technically innovative film employs wide screen video technique to create an entirely new visual color palette. But this is no mere technical tour de force. Von Trier has used these extraordinary images and colors to frame a most affecting story of modern morality - an unorthodox young woman resists her Calvinist neighbors to care for her physically and mentally ill husband - which asks very big ethical questions about correct actions in unusual circumstances. It features breathtaking performances from its lead actors, especially Emily Watson as the young woman.
In a normal year, von Trier would have taken home the Palme and Watson the Best Actress prize. But, unfortunately for them, Mike Leigh also chose to make a career-defining film this year. Eschewing the political anger of his earlier Naked, Leigh's new film, Secrets and Lies, mines territory similar to von Trier's: the repercussions of very difficult moral choices. A beaten-down white working-class woman learns that a little girl she put up for adoption some years ago was, in fact, black; her brother, a successful commercial photographer, wants to put right his deeply troubled marriage. These and various subplots come together at a small, impossibly intense family gathering.
A plea for honesty and courage in everyday life, Secrets and Lies has the subtle flavor of a new post-Thatcher moral order. A thrillingly good storyteller, Leigh is ably assisted by his usually exquisite ensemble of actors: Brenda Blethy, as the sister, was awarded the jury's Best Actress nod.
The most controversial film of the Competition, greeted by an equal chorus of boos and bravos, was David Cronenberg's Crash, which follows a group of car-crash victims who are erotically charged by their body-disfiguring experiences. Featuring deadpan performances from an all-star cast and minimalist production design, the film is a bleak catalogue of wreckage and uninterrupted sex. The film was awarded an unheard-of prize for "audacity, daring and originality" by clearly uncomfortable jury chairman Francis Ford Coppola, who also referred to the film as "offensive" in his presentation speech.
Other Competition prizewinners included a joint Best Actor prize for Daniel Auteuil and Pascal Duquenne in The Eighth Day, the new film from Jaco Van Dormael (Toto le Heros), a sickly sweet bonding tale between a Downs Syndrome-afflicted young man and a maritally troubled French guy. Best Director went to Joel Coen for Fargo and Best Screenplay, perversely, to the narratively messy but fascinating tale of a self-invented Resistance hero (played by Mathieu Kassovitz of La Haine fame), Un Heros Tres Discrete. Playing out of Competition, the justified winner of the Technical prize was Microcosmos, a series of wordless stories featuring bugs shot with a new microcamera which gives tone and texture to even the smallest images; the restrained musical score and intuitive narrative sensibility made it one of the festival's most exciting discoveries.
Also Out of Competition was Danny Boyle's U.K. youth sensation, Trainspotting, a gleeful look at Edinburgh junkies living life to their fullest. For Boyle and producer Andrew MacDonald, this marks their second trip to Cannes. Cult hit Shallow Grave played in the Market two years ago. Says MacDonald, "It was a very different experience. Then, no one really wanted us to come; we took the bus." Why was this film, destined for a massive summer release through Miramax, not in Official Competition? "I think they were scared we would win," says MacDonald. "They don't like films like this - with lots of drugs and sex and kids - to win. But the placement of the film has done what we wanted in terms of massive worldwide publicity."
Un Certain Regard - for the films that Jacob selected but for some reason did not place in the Competition - is by definition a mixed bag. And, from Peter Greenaway's disappointing exercise in writing on flesh, The Pillow Book, to Lucile Hadzihalilovic's exquisite microbudget incest story, La Bouche de Jean-Pierre, 1996 was no exception. Notable films also included Sarunas Bartas' silent Siberian saga, Few of Us, destined as an oddity for most festivals, and Shirley Barrett's Love Seranade, winner of the Camera d'Or (best first film); the latter, a paper-thin (and familiar) tale of two kooky Aussie sisters falling for the same sleazy d.j., seemed an odd choice considering the strength of the first films in other Festival sections.
More careful choices were visible in the lineup of the Quinzaine. Hits included Brit gay teen love story Beautiful Thing, a big audience favorite; Judit Elek's emotionally rich documentary on Elie Wiesel; Michael Winterbot-tom's visually expansive and affecting Hardy adaptation, Jude; Takeshi Kitano's playful lost youth opus, Kids Return; and Peter Gothar's playful pastiche set in the new St. Petersburg, Vaska. Best of all, though, was Sergei Bod-rov's new film, The Prisoners of the Moun-tain. Set in the picturesque Georgian mountains, it features moving performances and very brisk pacing for Russian cinema. The story of two soldiers captured by Georgian rebels, their escape attempts and relationship with the people of the village will make American filmmakers question why no post-Vietnam war film has half the emotional resonance of Bodrov's beautiful film.
The Quinzaine has long been a happy home for American indies and this year included new films from John Sayles and Steve Buscemi. According to Olivier Jahan, one of the section's programmers, the section regularly takes three of four American films a year, mostly garnered from a New York screening trip one month after Sundance. But is there a "Quinzaine film?" "It's very personal, very subjective for us," says Jahan. "Sometimes I will love a film that Pierre-Henri [Deleau] will loathe, sometimes a filmmaker of style which we once supported will look tired to us, or a filmmaker whose work we don't like will suddenly make a terrific film. If pushed, I would say we seek films with emotion, work that is more interior, like Safe and Heavy which we showed, more character-driven [films], maybe more than visually [stylish films] but maybe not!"
The smallest and most intimate of the sections, the Semaine de la Critique (Critics Week) has yielded some big movies in recent years: both Ole Bornedal's Nightwatch (currently in remake production by Miramax) and Hal Salwen's Denise Calls Up were discovered there. Things were quieter this year, with Jean-Pierre Ameris' Les Aveux de L'Innocent, a tough tale of a country bumpkin confessing to a crime he never committed, the big standout. The U.S. was represented by Barry J. Hershey's The Empty Mirror and Greg Mottola's Daytrippers. Mottola was enthusiastic about the section: "They work hard for you but it's really laid back - much more causal than the other sections. They also screen the films many more times than the other sections so, especially making your first film, it's easier to lure people into the cinema."
In general, Cannes felt cinematically richer this year and, even amongst the flying deal memos, one had the sense that movies might serve a higher purpose. This inkling made Mike Leigh's Palme D'Or acceptance speech all the more genuine: "All of us went through hell making this film... This is incredibly encouraging for those of us making films about people, human relationships, those things that really matter in life."
---
Los Angeles Independent Film Festival
The sophomore run of the Los Angeles Independent Film Festival (April 18-22) was subject to what its founder/director Robert Faust characterized as "growing pains." Faust's concept for the festival is one of community, intimacy, and accessibility, hence what are now staples of the LAIFF: a brief five-day schedule in a centralized location and non-competitive screenings. But sifting through some 700 submissions (more than double the number received last year), was rather taxing for the seven-person programming team (which saw the addition of Thomas Ethan Harris, curator of the American Cinematheque's Alternative Screen series, to its ranks). The program itself was only a bit bigger this year, but nevertheless the organizers at times felt overwhelmed.
"It wasn't a negative thing at all," says the 29-year-old Faust. "I'm very grateful we were experiencing growing pains. We just didn't have the staff to make things run as icy smooth as I would've liked. That takes staff and it takes money. I structured this year's Festival very similar to last year's, but it really couldn't be that way because it was a much bigger animal."
In addition to the Sundance Channel coming aboard as a founding sponsor, the most significant change for the 1996 Festival was the addition of a second screening venue. Screenings for the 16 narrative features, three feature-length documentaries, and 22 shorts were divvied up between Raleigh Studio's 150-seat Chaplin Theater (the site of last year's festival) and the 290-seat Studio Theater on the Paramount Pictures lot. There were only two exceptions: the "Actors Direct" program of shorts, which was shown in the larger Paramount Theater due to a scheduling conflict, and the opening and closing galas - Dead Man, Jim Jarmusch's revisionist black- and-white western, which opened the Festival, and Things I Never Told You, the debut feature by Isabel Coixet, which closed the Festival. Both of these were screened at the Directors Guild to sold-out crowds.
Other additions included the expanded seminar schedule. One new arrival was Kodak's Close-Up series on preservation techniques and cinematography, and a welcome return was Mark Litwak's two-part seminar, "Legal Aspects of Producing." The Festival also featured a script library housing scripts for most of the films screened over the four days, and a soundstage on the Raleigh lot housed a slew of vendors in the New Media/New Technologies Forum.
The slightly expanded schedule allowed programmers to include a broader range of films. Entries included Alchemy, an esoteric pastoral piece by Suzanne Myers, which uses mystery and symbols in place of typical plot structure. Photographer and music video director Matt Mahurin's Mugshot was well received, al-though some audience members (including actress Rosie Perez) took issue with its racial politics. Much of this year's fare - in both narrative and documentary categories - focused on adolescent angst: Robert Patton-Spruill's hard-hitting Squeeze, about kids in Boston; Dog Run, a relentless film on the post-Kids tip; Ripe, Mo Ogrodnik's coming of age tale about two female adolescents dealing with their budding sexuality; Eve Annenberg's Dogs, a low-budget, female-slacker flick; Kids of Survival, a touching documentary on the lives of Latino kids in the South Bronx whose only hope lies in their dedicated art teacher; and Paradise Lost, a grim portrait by Joe Berlinger and Bruce Sinfosky of the events surrounding the brutal slaying of three young boys in Arkansas. All of these films deal with kids in rather extreme circumstances, and the best ones avoid either exploiting or patronizing their subjects.
With the greater presence of distributors at this year's festival, a few films followed in the footsteps of Eric Bross' Nothing to Lose and George Hickenlooper's The Low Life, two world premieres from last year's LAIFF that were picked up for distribution and are now set for summer release. Scoring the greatest coup was Squeeze, which was acquired by Miramax for worldwide release for an undisclosed seven-figure sum mere hours before its Saturday night screening. Miramax also gave Spruill a deal for his next project. Squeeze will be the debut feature to be released through Miramax's new black film division, Flavor. And a few weeks after the Festival, Alliance snagged the foreign rights for Ogrodnik's Ripe.
Adding to the LAIFF's independent spirit was the presence of John Pierson, on hand to receive the first Indie Supporter Award. The presentation was made by actor Matthew Modine, a former New York City apartment-mate who shot a short video piece featuring interviews with some of Pierson's friends and acquaintances.
Looking back at this year's successful yet strenuous event, Faust has come to the realization that intimacy might not always be a feasible and realistic goal. "I hope to have more people working with me throughout the year," he says. "I have a lot of good people during the festival itself, but most go back to their regular lives once it's over. You've got to keep the festival alive, you've got to have reps in different places, and you've got to keep a presence throughout the year."
---
The New York Underground Film Festival
The audience was whimpering. The film, Charles Gatewood's True Blood, was an introduction to "a steamy little minx who loves... slitting her wrists and spreading blood all over her nubile young body," and some viewers were feeling overwhelmed.
Help came from the back of the theater. Addressing the bloodied minx, a voice rang out - "Hey! What are you doing later?" Whimpers turned to laughter, jaws unclenched and held breaths were collectively released. The third annual New York Underground Film Festival was defined by such moments; the difficult nature of some of its works was juxtaposed with a sanguine spirit of comraderie and goodwill.
Those involved with the Festival have reason to be cheerful; attendance has grown year by year. This time around, all evening screenings were sold out, and many afternoon shows were filled to near capacity. The opening feature, Todd Verow's Frisk, scored a double sellout after a second screening was added to meet demand.
Although opened and closed this year by features, the Festival's roots are entwined with documentaries - and this season's crop of docs was notably strong. A few standouts: the flailing, ranting, aching Vietnam Vet turned punk rocker and his wary but loving public in Robert Banks' Can't Get a Piece of Mind!; Justin Schein's portrait of homeless San Francisco teenagers clinging to heroin and childlike hope in Down on Polk Street; Deno Seder's Andy Warhol, a decidedly unfawning look at the late artist's relatives; and Jordan Flaherty's Sweaty Naked Male Flesh, in which dildo-clutching dancers at New York's Pyramid Club and the Roxy chat warmly with the filmmaker between sets.
Compelling shorts strengthened the festival's union of sympathy and surrealism. The call girl in Katrina Pener's Barclay's is faced with a client who wants her to be Heidi - yeah, the one with the braids. Jason Farrell's North Route 1 poses an oft-neglected question: What if your "friends" despise you, and you're just too trusting and downright foolish to realize? (Hint: If they tie you to a car, start wondering.) And Koh Yamamoto's fresh, funny experimental pieces must be noted, in part for their creative use of all things scatological. ("How," one audience member wanted to know, "did he paint the inside of his asshole?")
Surely many worthy films shown here would not, for various reasons, have been welcomed at other festivals. "We're geared towards filmmakers, not film societies," explains Andrew Gurland, Festival co-director. "We just try to put the filmmakers into a situation together and let them take it from there."
And they did. They hungrily absorbed each other's films; during breaks, they could be heard praising the work and inquiring about current projects. That their interest was sincere is evidenced by its post-festival continuance. "It's been great to keep in touch with the filmmakers I met," says Jordan Flaherty. "The festival helped build a sense of community."
And that, explains Gurland, is what it's all about. Beyond celebrations of sex, blood, and/or chaos, beyond the self-mocking program descriptions ("Sacrament, like most films in the Festival, will leave you feeling dirty and violated"), that's what they're after. "It's a lot of work," Gurland sighs. "But it's all worth it if even one filmmaker gets laid."
---
Festival of New Latin American Cinema
Only in Cuba will billboards boast both a revolution and a film festival. Remarkably, Cuba's staunch devotion to film has survived an ongoing economic crisis which began with the 1989 collapse of the island's greatest ally, the Soviet Union, and was recently worsened with a tighter U.S. embargo. But at the base of Cuba's cinematic survival lies a strong history. For the past 17 years, Havana's Festival of New Latin American Cinema has ruled South American film, opening Cuba's doors and screens to the rest of the world in an attempt to buttress its own film tradition, and now, more than ever, in an attempt to save it.
The confusing feel of this year's Festival was best captured by its opening night at the Karl Marx Theater, with an entrance blazed with bright lights while inside attendees in blue jeans mingled with glamorous women in ball gowns - it was as though three or four parties had accidentally booked the same room. Inside the theater, a beautiful, yearning piano piece, played live, brought the lights up as dancers appeared followed by a wide-eyed man in a red coat. With a rose in his mouth, he bowed to the audience and left; more curtains opened to a screen which soon filled with the same man's face. The film, Think of Me, was the festival's debut feature.
"It wasn't my idea," said the film's 27-year-old director, Arturo Sotto, as we walked around Havana the next day. Sotto was anxious to hear the public's response, or what he called "the word of the village." Havana undeniably feels more like a village than a city, and among the forces which unify this village, film is paramount. One of Fidel Castro's first moves after the revolution in 1959 was to create an official filmmaking body in Cuba, Instituto Cubano de Arte y Industria Cinematographicos (ICAIC). Cuba's prestigious International School of Film and Television, where Sotto studied, was founded ten years ago and remains an important component in the country's tradition of filmmaking. "Cubans were raised on film and this creates a strong film culture," says Sotto. "But it's hard to tell how people will react to something."
Sotto's elaborate film follows the antics of a magician named Jesus who performs fake miracles for people. The film makes obvious references to Che Guevera and John Lennon in suggesting that cult leadership and myths are manipulative - a gutsy conclusion to draw in a country so powerfully led by one figure, and one which gave Sotto reason to worry. Word travels fast in Havana, and all day long as we walked, acquaintances stopped Sotto to tell what they'd heard about the film, which ranged from good to bad to great stuff, depending on who did the talking.
To witness the connection between Cubans and film is to know that this place, perhaps more than any other, thrives on cinema. On Havana's main street alone, five movie theaters stand within the same mile stretch. During a fortnight of festival screenings, these and other theaters drew great hordes of resident moviegoers - an estimated 70,000 - in lines which wrapped around blocks for the long wait to buy tickets.
In contrast, much of the activity for distributors and producers centered around Havana's palatial Hotel Nacional, where film vendors sat under high, white arches. The atmosphere here was tense and less celebratory than in years past. Castro did not make his usual appearance, cancelling a banquet scheduled for the last week of the Festival after a challenging trip to China and Vietnam. While in the 1980s the Festival drew the participation of Hollywood figures like Francis Ford Coppola and Robert De Niro, this year the parties lacked the celebrity constituency. Harvey Keitel and Richard Gere were rumored to attend but never arrived. Instead, social engagements gleaned the presence of smaller scale stars like Victoria Abril.
Business for many South American filmmakers translates to one word: coproduction. In the '80s, Cubans were making ten to 15 films a year, whereas now they're lucky to turn out three. Without the help of production studios in Europe, films like Tomás Gutiérrez Alea's Strawberries and Chocolate could not be made. The Wave, a Cuban film by Enrique Alvarez, funded entirely by ICAIC reserves last year was an exception. A lack of physical resources also makes production difficult, especially for the few Cuban producers who work outside of the state-run ICAIC. As independent producer Harold Sanchez Sanchez put it, "You try flying enough lights and equipment into Cuba to shoot a feature film."
Of the Cuban films which did manage to get made last year, Alea's Guantanamera and Daniel Diaz Torres' Love Me and You'll See garnered the most attention. Both films deal humorously with adventure through personal voyage. In Guantanamera, a coffin is transported from one Cuban province to another on its way across the country; nobody has enough gas to make the full drive. The sharing of the weight hints at the cultural solidarity which Cuba, in recent hard times, has come to test. The film, which was better received in Spain, placed second, after the festival's grand winner, Midaq Alley.
Based on Naguib Mahfouz's novel of the same title, this Mexican film by Jorge Fons cleverly recaps, with soap opera feeling, the same moment from the lives of various barrio members. The alley becomes a Machiavellian outpost where hookers and thieves survive, the virtuous meet their demise, and few are left in between. The acting is good, the humor dark, and the melodrama high as can be.
Argentine director Eliseo Subiela's latest film, Don't Die Without Telling Me Where You Go, is as klutzy and dramatic as its title but somehow works. An inventor is visited, first in his dreams and then in his daily life, by the phantom of a gorgeous woman who claims to be his soulmate from previous lives. As they reconcile their inability to connect materially, the film begins to look like a version of Ghost.
An excellent Bolivian film, A Matter of Faith, follows the journey of three men as they truck a life-size Virgin Mary through mountainside towns to make a religious offering. The low-budget aesthetic is offset by a raucous script and brilliant performances. Directed by Marcos Loayza, the film won two Festival awards.
The Festival featured a total of 475 films and videos from 38 countries and included a showcase of silent film, Japanese film and films by Wim Wenders. Special screenings of Quiz Show and Pulp Fiction gave Cubans the chance to see American indies which the Cuban government can no longer afford to buy. Ironically, while Americans can afford to see Cuban films, we have been denied access to them. The Festival of New Latin American Cinema is undoubtedly Cuba's most important vehicle for film; if it continues to lose support, we won't be the only ones missing the show.
---
Palm Beach International Film Festival
For press materials to refer to the Palm Beach International Film Festival as the "debut" in this, its fourth year, seems at first to be a bit of an oxymoron. But film festivals, like any venture, sometimes have to try a few times before getting it right. After three inconsistent years and much political squabbling, Palm Beach County finally brought in some new blood. Both Mark Diamond, already Executive Director at the Palm Springs Film Festival and the Boston Film Festival, and Paul Cohen, former President of Aries Releasing (Bad Lieutenant, Lovers), now Director of Marketing & Operations, have decided that this fourth year is their "debut." And to good result. As Richard Abramowitz, producer of Wigstock: The Movie, said, "For a first effort, it was the most organized, most impressive festival I've been to."
Running from April 11-17 and featuring over 40 American and international independent films and 20 shorts, the extraordinary weather and beach-front locale produced a relaxed and openly creative atmosphere. Events included an opening night tribute to Gene Kelly, three seminars and a sidebar called the Florida Film Forum. And the Festival ended with the closing night "Cast Party" held at the architecturally stunning Mar-a-Lago Club. It was there that David P. Moore, director of Hitting the Ground, surprised many a tux-clad, sequined gowned, nose-in-the-air onlooker by jumping into the pool while fully clothed. Moore was escorted off the premises just in time to field the Q&A session after the screening of his film.
Premiering at the Festival was first-time director Steven Feder's comedy, The Cottonwood, about four lottery winners who make a movie that's a blatant plagiarism. Feder commented, "It's an interesting city in that, in terms of audience, you have the young kids and then you have the people over 65; the middle wasn't there - 30s, 40s, 50s. But the kids were soaking it up like sponges." Festival organizers seemed to have anticipated this. Many of the seminars were already geared towards students working to build the infrastructure of an independent film community in Florida. And, a portion of the Festival's proceeds were donated to local film schools.
Other notable screenings included Julian Stone's Follow the Bitch, a quick-witted comedy about what happens when a woman joins a traditionally all-male Friday night poker game; Anne Rose Dremann's Cashing In, a drama in which four slacker roommates hatch a get-rich-quick scheme to tragic results; and Eric Bross' Nothing to Lose, a gripping portrait about the limits of friendship. Bross said, "The festival had a great spirit, and it helped to get the word out about my film to the area's population, but a problem that I saw was that the theaters where the films were showing were too spread out around Palm Beach County." Lisa Gottlieb, director of Cadillac Ranch, also remarked, "By spreading the theaters all over the place, there was less of a chance for a festival community to develop. The distances are too difficult."
"A function of having a county-wide festival is to provide the residents of the county the opportunity to see the films," answered Paul Cohen. "From a distribution standpoint, it seems like a great chance for the filmmakers to stimulate the audience and create word of mouth throughout an entire community, so I see it as a positive." Cohen concluded with three reasons why he considered the Festival a success: "One, I'm particularly proud of the fact that this inaugural festival emphasized American independent cinema. Two, the Florida Film Forum, with the support of The Florida Entertainment Commission, helped American independent cinema resonate throughout the Florida business community. And three, it was crucial having industry people see the high quality of our student films and recognize that Florida is rapidly emerging as an important educational center for the future of cinema."