LABORS PAINS
Holly Willis talks with Manny and Lo's Lisa Krueger
The journey taken by nine-year-old Manny (Scarlett Johansson) and her 16-year-old sister Lo (Aleska Palladino) from the everyday to the mythic might as well describe the creative process of director Lisa Krueger, who unabashedly attributes her debut feature's strongest elements to intuition and miracles. This tendency may seem especially odd in light of Krueger's background: she was a student of Bertrand Augst (at U.C. Berkeley) and Christian Metz (at the Ecole des Haute Etudes en Sciences Sociales in Paris) - staunch semioticians whose grande syntagmatiques would seem to hold little room for the spiritual. But the influence of theory is felt in other areas as Krueger willingly divests her role as author and sole creator, freely acknowledging her collaborators among cast and crew and insisting that the best parts of the film reflect far more than she'll ever know.
Krueger's production experience began while she was in Paris, where she began experimenting with video equipment at the American Center for Students and Artists. Citing Thierry Kuntzel as another influence, Krueger's early videos were theoretically inclined structuralist projects that used plenty of text and strove to deconstruct narrative. After Paris, Krueger moved to New York where she cobbled together an enviable film education, working as a production manager on music videos with Zbigniew Rybczynski, and as a script supervisor on a string of indie features including Jim Jarmusch's Mystery Train and Night on Earth and Abel Ferrara's King of New York. "Textual analysis - studying films frame by frame - was probably helpful somewhere, but I think definitely more important was just sitting there for set-up after set-up after set-up with some really great directors who were all doing their own thing," says Krueger. "They were all very consistent, so I learned how to work by thinking through their aesthetic process, their language and their concerns."
Krueger's first project was the award-winning short, Best Offer, which in 1993 introduced the director to Sundance, where the film screened. She returned the following year for the June Filmmakers and Writers Lab with Manny and Lo, her first feature script. The story, which chronicles the attempt by two orphaned sisters to haphazardly reconstitute a family via kidnapping and pregnancy, was inspired in part by her own family, which was splintered and lacked the centeredness that Krueger's characters crave. "I had a wonderfully independent, admirable, great mother who gave me unbelievable, endless gifts, but I was never allowed to indulge in the idea that she was there only for me. She wasn't." That absence is particularly felt in the film by Lo, who is pregnant but, more than the younger Manny, needs the comfort and security of a mother.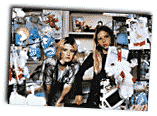 At the Lab, Krueger worked on her directing skills, gleaning tips from Arthur Penn and Sally Field about really being there for your actors, and she found Mary Kay Place to play Elaine. The Lab also offered a sense of legitimacy. "The lab was a chance to bond with people as a filmmaker," she says. "I never had that film- school thrill of coming together with fellow students and looking into each other's eyes and saying, "Wow, we're filmmakers." " When people ask Krueger about the competitiveness that must have resulted when eight directors convened, she emphasizes instead the sense of community. "We still advise each other," she says. "We've seen each other at these incredibly vulnerable points." She links this bond to what she calls the "impostor syndrome." "You go to festivals and you're walking around thinking that everybody else is a real filmmaker and you had to sneak in. But when you talk to someone else, even for two or three minutes, it's such a relief to find out they're going through the same bullshit and panic."
Krueger cites producer Dean Silvers as instrumental in getting the film into production. Within six months of reading the script, Silvers and producing partner Marlen Hecht raised private equity investments and had Krueger in Princeton, New Jersey with a cast and crew. They shot for five weeks in both Princeton and the Catskills in upstate New York though August and the first week of September, 1995.
Krueger called on her brother, Tom, to be her d.p, and enjoyed the ease that their strong relationship afforded on the set. "Working with my brother was great," she says. "We were able to communicate well. The most fun part was talking about blocking and angles." In describing the visual design of the film, Krueger explains that she was interested in restricting her coverage. "I knew intuitively that it was very much Manny's point of view, so I never wanted any of the shots to describe the situation," she says. She admits, though, that the fact that the camera remains still was one of those things that just happened. "If you had told me before we went to shoot that there would be a lot of static frames, I would have wondered if that was what I really wanted. But now I think it allows the material to do its own thing. You can get away with staging and composition, but once you start guiding people's eye with the camera, it feels wrong to me. It feels presumptuous. If you're telling a simple and subtle story, you have to keep it simple and subtle."
Krueger also let the scene and location dictate shots. "I just went into the scene and let it tell me what to do." Looking back, Krueger realizes that the static camera was crucial in allowing her to create rhythm through cutting. Because her child actors were newcomers, finding the rhythm in a long take might have been difficult. Despite this obstacle, Krueger says working with relative novices was beneficial. "You're let off the hook in a way," she says. "You're going to get things from them that will be so great - probably things you could never get from the greatest adult actor on the planet. But other things - like how to pace a scene - that's technical chops that a young actor may or may not have, so you have to resign yourself to doing a lot of editing to create a rhythm, and this in turn determines the shooting process. If you want to do the beautiful Jarmusch-wide-master shot and not cover it, you're going to shoot yourself later."
At the risk of sounding pretentious, Krueger explains that the structure and color scheme of the film have very particular goals: "We wanted the first act to have that mundane suburban feeling that wasn't defining in any way but had this coldness." To achieve this, the filmmakers used primary colors. One of the first shots finds Manny and Lo waking up in their yellow station wagon, parked inadvertently on the green grass of a large suburban yard. They're chased off by a brightly clad family, and the combination of morning light and brilliant colors suggests a world too flat and mundane to bear the mysteries and complex desires of Manny and Lo.
"Things get warmer and richer as they move into the country," continues Krueger. "We wanted this part to be like Hansel and Gretel with the fantastic house that is so ominous and beautiful at the same time. So the colors get richer; it looks like a children's book illustration." For the the third act, Krueger and her crew strove to create a sense of the mythic. "We tried to make it more ancient, moving back in time to the more primal until they're by a waterfall with a fire and the stars, lying on a bed of flowers and leaves. We liked the idea of this Celtic, ritualized childbirth and while none of them would have any idea what the fuck they were doing, they would tap into this bigger, more primal knowledge."
Krueger similarly seeks this bigger knowledge, insisting on a sense of integrity in the filmmaking process. "One of the reasons I love making movies is that I totally believe in the connection between life and the film," she says. "You know that if you were to sell out any of it in the process of making the film, it would destroy the magic of it. I learned a lot of this from filmmakers like Jim Jarmusch. The way he interacts with his crew is parallel to the heart that he's going for in the film." For Krueger, maintaining that parallel is crucial. "I make films that are basically - as corny as it sounds - about the essence of love or commitment or a bond, and that's what interests me both in a story and on the set."