PRODUCTION UPDATE
Production Update is compiled and edited by FILMMAKER Contributing Editor, Mary Glucksman.
---
The past is prologue in Michael Di Jiacomo's Animals, a lush romantic fable starring Tim Roth as a broken dreamer who finds new meaning in the pursuit of an elusive love (Mili Avital) after a trio of elderly French documentary filmmakers hijack his Checker cab to drive from New York to South Carolina.
The film starts with a 13-minute set piece, "The Tollkeeper", which finds the Frenchmen, led by Lothaire Bluteau, in the Utah desert in 1933 filming Mickey Rooney as a cranky tuba player manning a way station to nowhere. Back in present-day New York, Roth's driving a cab and contemplating suicide when the French doc crew appears again.
"When your dreams are shattered early on you either rebuild them in a different way or end up searching restlessly for that elusive sense of bliss," says Di Jiacomo. "The film is built to engage the audience and leave certain elements open to [individual] interpretation."
Di Jiacomo, 34, made an early splash when his NYU grad thesis film, The Lost Treasure of Captain Cornelius 'Deadeye' Tuckett, won an Academy Award for experimental work in the student division. Former Disney exec Gabrielle Tana produced Animals as a joint venture between Paris-based Pandora and the German investment group Hollywood Partners. Sundance provided a 35mm Panavision package.
Di Jiacomo shot the black-and-white "Tollkeeper" section in Utah last December before heading to South Carolina for principal photography on offshore Edisto Island where Roth finds redemption and the filmmakers faced a grueling shoot wrangling the pigs, sheep, birds, and dogs that fill the rural landscape. Di Jiacomo is editing in New York for a fall delivery and rights are available through Tana.
Cast: Tim Roth, Mili Avital, Rod Steiger, Mickey Rooney, John Turturro, Jacques Herlin, Lothaire Bluteau, Olan Jones. Crew: Producer, Gabrielle Tana; Line Producer, Richard Dooley; Screenwriter/ Director, Michael Di Jiacomo; Director of Photo-graphy, Alik Sakharov; Production Designer, Kalina Ivanov; Editor, David Leonard. Contact: Gabrielle Tana, Magnolia Mae, Inc., 244 West 11th Street, New York, NY 10014. Tel: (212) 366-5044, Fax: (212) 741-9679.
Kicking and Screaming director Noah Baumbach was in prep on his feature Mr. Jealousy when he decided to keep his cast and crew together after the shoot to make Highball, an ensemble comedy featuring actors Chris Reed and Jealousy co-star Carlos Jacott. Highball's screwball antics unfold during three parties: a birthday bash, a Halloween spookfest and a New Year's blowout. Accordingly, the film's oddball group--which includes Mr. Jealousy's Eric Stoltz, Annabella Sciorra, Chris Eigeman, John Lehr and Peter Bogdanovich, plus Ally Sheedy, Rae Dawn Chong and Justine Bateman--bicker and romance their way through the holiday season.
Cameras rolled on Highball just three weeks after Mr. Jealousy wrapped, with Baumbach and company using the hiatus to whip out a rewrite. "That's when I went looking for money," says Joel Castleberg, who produced all three Baumbach films. Castleberg ended up getting the full $250,000 to take Highball through post from the Lewis Horowitz Organization, frequent indie financiers who had bankrolled Mr. Jealousy on the strength of foreign sales estimates and Castleberg's reputation for delivering. The producer's toughest hurdle was securing the bond the bank required from Film Finances, whose standard deductible was more than Highball's budget. "If this film tanked they couldn't collect," Castleberg notes. Film Finances ultimately bonded Highball for the film's full budget for a 2.5% fee, waiving the deductible altogether.
The Super-16mm color Highball shot a lean six days in chronological order in a Park Slope apartment redressed for each party. All on board from the p.a.'s to the d.p.--Like Water for Chocolate's Steven Bernstein, clocking his third Baumbach feature--signed on for $75 a day. Baumbach is cutting Jealousy in New York and expects to hold off on Highball's post until August, leaving him plenty of time for a January delivery. All rights are available.
Cast: Justine Bateman, Noah Baumbach, Peter Bogdanovich, Dean Cameron, Rae Dawn Chong, Chris Eigeman, Carlos Jacott, Lauren Katz, Catherine Kellner, John Lehr, Chris Reed, Annabella Sciorra, Ally Sheedy, Eric Stoltz, L.B. Straten, Dean Warehan. Crew: Producer, Joel Castleberg; Coproducers, Paul Ulbrich, Peter Nunnery; Director, Noah Baumbach; Screenwriters, Noah Baumbach, Chris Reed, Carlos Jacott; Director of Photography, Steven Bernstein; Production Designer, Shayna Tsao; Costumes, Katherine Jane Bryant; Editor, J. Kathleen Gibson. Contact: Joel Castleberg, 1671 Happy Trail, Topanga, CA 90290. Fax: (310) 455-0346.
David Arquette stars in Evan Dunsky's Life During Wartime, a jet black comedy Dunsky adapted from the Keith Reddin play of the same name. Arquette plays Tommy, a naive go-getter who walks blindly into hard lessons about loyalty and betrayal when he signs on as junior salesman for a high-tech home security systems outfit. Stanley Tucci's the company's flaky boss, who likes to drum up new business by staging phony break-ins. Tommy parlays a system sale into an affair with Gale (Kate Capshaw), an older single mom, but soon foul play complicates matters, and he doesn't know who to trust.
Dunsky has ten years' experience in production and development and has completed screenplays for Paramount and Universal. His half-hour drama Muddy Hands premiered at the 1989 Sundance festival and was produced by Apparatus, Christine Vachon's first outfit. He wrote Life on spec after seeing Reddin's play in 1990 but didn't get the rights until he hooked up with producer Dan Stone four years later. Stone and Lisa Zimble, Dunsky's wife, got Tucci and Arquette attached and that was enough to bring Bandeira Entertainment to the table. Bandeira partner Beau Flynn credits recent hire Jonathan King, fresh from Miramax, with the support that got Life a green light. Flynn and partner Stefan Simchowitz structured Life as a co-production with L.A.-based Key Entertainment through a combination of equity investments and bank financing. Flynn expects a finished film by fall. Village Intermedia Pictures will handle international rights; all territories remained available at press time.
Cast: David Arquette, Stanley Tucci, Kate Capshaw, Mary McCormack, Ryan Reynolds, Michael Learned, Hoke Howell. Crew: Producers, Dan Stone, Lisa Zimble; Executive Producers, Beau Flynn, Stefan Simchowitz, Matthias Emcke, Thomas Augsberger; Screenwriter/Director, Evan Dunsky; Director of Photography, Alex Nepomniaschy; Production Designer, Amy Ancona; Editor, Norman Buckle; based on a play by Keith Reddin. Contact: Beau Flynn, Bandeira Entertainment, 1520 N. Ogden Drive, Los Angeles, CA 90046. Tel: (213) 876-8877, Fax: (213) 876-8879.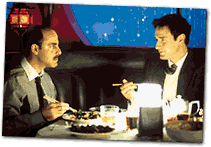 Experimental filmmaker and WGBH mainstay Jay Anania follows The Pagan Book of Arthur Rimbaud, his celebrated 1995 first feature, with an urban update of the Apollo and Diana myth starring Julian Sands and Paulina Porizkova. Called Long Time Since, the film focuses on a remote beauty, Diana (Porizkova), living chastely as a botanical illustrator in New York. When Diana hears a recording of an old song she'd been listening to on her car radio as she glimpsed a brutal crime 25 years earlier, her repressed memory of the event begins to surface, and she's compelled to investigate the mystery. What Diana can't guess is that her emerging memory is being orchestrated by the ethereal Michael (Sands), and the film unfolds through parallel timelines as he leads her inexorably towards his door.
Long Time Since picked up steam when Sands, who had been approached by Anania with the script, reportedly told him, "Whenever you're shooting this, let me know--I want to do it." Former IFP Director Karen Arikian, now based in Hamburg with the European Film Distribution Office, also fell for Rimbaud and signed on as a producer, as did industry stalwart Robert Colesberry (The Devil's Own). Partial financing for the $150,000 film came from producing partners Lemore Syvan and Ron Kastner (Angela, Federal Hill). Spearheading day-to-day operations is Callum Greene, a Brit theater-world transplant who recently completed a film producing MFA at Columbia and won the school's coveted Arthur Krim fellowship.
Principal photography on the Super-16mm film began April 7 in Manhattan. All rights are available. (Rimbaud is scheduled for release later this year from Noon Pictures.)
Cast: Paulina Porizkova, Julian Sands, Jeff Webster, Julianne Nicholson, Rainer Judd, Marian Quinn. Crew: Producers, Jay Anania, Ron Kastner, Lemore Syvan; Executive Producers, Robert Colesberry, Karen Arikian; Coproducers, Callum Greene, Kate Cunningham; Screenwriter/Director, Anania; Director of Photography, Oliver Bokelberg; Gaffer, Matthew Williams; Sound, Noah Timan. Contact: Jay Anania, Long Time Since, Tel: (212) 925-4942, Fax: (212) 925-5380.
Kyra Sedgwick hits the screen as a tough-talking but pure-hearted hit woman in Jennifer Leitzes' Montana, a darkly comic drama about honor among thieves. Sedgwick's Claire is the lynchpin of a dysfunctional crime organization, and when an internal power struggle breaks out, she finds herself in a deadly cat-and-mouse game.
Leitzes, 25, graduated Wesleyan University's film program and developed Montana's story with classmate Jon Hoeber and his brother Erich. The brothers had just finished the script when Leitzes met Sean Cooley, an NYU film grad then doing development work for director Robert Ellis Miller (Reuben, Reuben), and he signed on as producer. The foursome incorporated as No Bones Productions with the intention of making Montana guerrilla-style for $300,000 but soon found themselves set up at Republic with a cool $3 million budget and Zeta Entertainment execs Zane W. Levitt and Mark Yellen (The Big Squeeze) assigned as producers. Corporate changes at Republic left the ball (and all rights) back in No Bones' court and their next play found Initial Entertainment Group (IEG) providing full financing in exchange for world rights.
Montana's six-week union shoot rolled April 14 in Manhattan with Ken Kelsch as cinematographer. The filmmakers plan a four-month post schedule in L.A. and expect to unveil a finished film around November. Rights are available through IEG.
Cast: Kyra Sedgwick, Stanley Tucci, Robbie Coltrane, Robin Tunney, Ethan Embry, John Ritter, Mark Boone Jr. Crew: Producers, Sean Cooley, Zane W. Levitt, Mark Yellen; Executive Producer, Cindy Cowan; Director, Jennifer Leitzes; Screen-writers, Erich and Jon Hoeber; Director of Photo-graphy, Ken Kelsch; Line Producer, A. John Rath; Production Designer, Daniel Ross; Costumes, Michael Clancy. Contact: Sean Cooley, No Bones Productions, Tel: (213) 653-4077, Fax: (213) 653-0737.
Painter Chuck Close is the subject of Marion Cajori's Portrait-in-Progress, a feature documentary the filmmaker is targeting for release to coincide with next February's Close retrospective at New York's Museum of Modern Art. Close is best known for his signature brand of mosaic pointillism with which he recreates photos, most often of art world luminaries, as oversize paintings. Cajori employs a similar style with Portrait-in-Progress. The "progress" in the title refers both to the artist's altered working methods following a medical catastrophe ten years ago and to the film's depiction of the three-month process required to finish a new piece. Close was 48 when his spinal artery collapsed and left him near quadraplegic. Although he regained strength in his arms and shoulders, he cannot use his hands; he now paints with the aid of orthotic arm braces designed to hold brushes he can change with his teeth.
Cajori is best known for her '92 feature doc on abstract painter Joan Mitchell. Segments showing Close at work are being shot on Super-16mm film, and Cajori is deploying both an intervelometer (a time-lapse device) attached to one camera to record the transformation of a painting-in-process as well as a lipstick camera Close will wear on his forehead to provide a microscopic view of the painting's field. Interviews with over 30 artists and Close friends like Lucas Samaras, Kiki Smith, Alex Katz and Philip Glass--who will be composing the film's score--will be shot on Digital Beta. Cajori's $350,000 budget includes a blowup to 35mm. All rights are available and Cajori expects to have a finished film to screen by mid-September.
Crew: Producer/Director, Marion Cajori; Executive Producers, MUSE Film and Television, The Art Kaleidoscope Foundation, Inc.; Production Manager, Kip Jaz Savoie; Director of Photography, Mead Hunt, Ken Kobland, David Leitner; Sound, Bob Blauvelt, Judy Karp, Bill Wander, Merce Williams; Composer, Philip Glass. Contact: Marion Cajori, The Art Kaleidoscope Foundation, 139 Spring Street, #3S, New York, NY 10012. Tel: (212) 274-0162, Fax: (212) 274-0490.
Heidi Arnesen puts a twist on romantic comedy convention with Some Prefer Cake, her San Francisco-set first feature about a pair of best friends, one gay and one straight, united by their lack of judgment in matters of the heart.
Kira, an aspiring comedian by night who fills orders in a comic book warehouse by day, spends her free time hunting new sexual conquests. Her friend Sydney's stuck in a rut fixing other people's copy at the local paper, dreaming of writing restaurant reviews and sublimating her sexual insecurities with food. When the friends feud, their rift gives each a chance to lurch a half-step forward.
"I wanted to get away from the gay/straight separatism so many films take as their theme," says Arnesen. "It's possible to be friends and interact on a daily basis without the context being overtly derived from sexual preference."
Arnesen, 29, has a film degree from the California College of Arts and Crafts and has made eight shorts over the past five years. She and her girlfriend, Jeannie Kahaney, developed Cake's story, and Kahaney wrote the script. Cake has been in the works nearly three years because Arnesen has kept her day job as a video production consultant at the Palo Alto Research Center in order to fund production; a portion of the (undisclosed) budget remains on her credit cards. Arnesen was casting from an ad in the Hollywood Reporter in January '96 when Panavision called to inquire about the project. "We sent a two-scene trailer and all our storyboards and lighting diagrams and they called one day later and said, 'Tell us what you want'," says Arnesen. Panavision came through with a complete camera package under the aegis of its New Filmmakers' Program, and the filmmakers added Emmy-nominated sound woman Lauretta Moliter (The Celluloid Closet) to their team.
The 16mm color Cake shot all over San Francisco for 36 days beginning in May '96. Cake is scheduled for a late June debut at the San Francisco Gay and Lesbian Film Festival; all rights are available.
Cast: Kathleen Fontaine, Tara Howley, Desi del Valle, Leon Acord, Machiko Saito, Tammy Dubose, John Flaa, Mimi Gonzalez. Crew: Producers, Heidi Arneson, Jeannie Kahaney, Matthew J. Siegel; Screenwriter, Kahaney; Director/Editor, Arnesen; Director of Photography, Siegel; Sound, Lauretta Moliter; Music, Eskimo. Contact: Heidi Arneson, Up All Nite Productions, 146 Downey Street, San Francisco, CA 94117. Tel: (415) 665-7795, Fax: (415) 812-4890.
A coming-of-age comedy with fairy tale overtones, Darren Stein's Sparkler begins when recent college grads Brad, Trent and Joel (Freddie Prinze, Jr., Jamie Kennedy and Steve Petrarca) decide the best way to raise rent money is to win it in Vegas. They set out in Brad's BMW but don't get very far before a flat tire strands them in tiny Victorville and they meet up with trailer-park princess Melba (Park Overall). A psychic has told her she'll meet three kings, so she follows the guys to Vegas. That's when things get complicated and before the movie's over, someone comes out, and someone else realizes he doesn't have to live up to the myth he's created for himself. "These guys can't imagine that this woman from a trailer park has anything to give them, yet she ends up teaching them to avoid easy judgments and stand up for the choices they've made," says Stein.
Stein, 25, finished his first sync-sound short as a high school student at L.A.'s Harvard Prep. Shudder Speed, a 30-minute thriller he shot as an NYU undergrad, got him an agent at Triad. Sparkler's script had been circulating for several years when fledgling producer partners Jennifer Amerine and Kimberly Jacobs snapped it up for Conspiracy, the indie film venture they'd launched with a housekeeping deal at interactive giant Sunshine. The partners raised six-figure financing they say belies Sparkler's million-plus sensibility from a pair of private investors.
The 35mm Sparkler shot 24 days in and around L.A. and Las Vegas starting early last October with cinematographer Rodney Taylor (IMAX hit Alaska) making his feature debut. The Wild Colonials' Angela McClusky wrote and sings Sparkler's title theme and Sun 60's Dave Russo did the score; the soundtrack includes tunes from Joan Jett, Hayden, Blancmange and the Lords of Acid.
Cast: Park Overall, Grace Zabriskie, Freddie Prinze, Jr., Jamie Kennedy, Steve Petrarca, Don Harvey, Veronica Cartwright, Sandy Martin. Crew: Producers, Jennifer Amerine, Kimberly Jacobs; Associate Producer, Cary Brothers; Coproducer/Casting, Joseph Middleton; Director, Darren Stein; Screenwriters, Stein, Catherine Eads; Director of Photography, Rodney Taylor; Editor, Ryan Gold; Production Designer, Chris DiLeo; Costume Designer, Dalhia Schuette; Composer, David Russo; Sound Designer, Dave Weathers. Contact: Jennifer Amerine, Sunshine Filmworks, 8455 Beverly Boulevard, #401, Los Angeles, CA 90048. Tel: (213) 951- 7111, Fax: (213) 951-1086.
Jay Craven follows Where the Rivers Flow North with A Stranger in the Kingdom, a second Vermont-set adaptation of a Howard Frank Mosher novel, this time starring Ernie Hudson, Martin Sheen, Sean Nelson and Carrie Snodgress.
Stranger takes on race conflicts in a sleepy Vermont town during the summer of 1952 when a former U.S. Army chaplain (Hudson) becomes the town's first black pastor and arrives with his teenage son (Fresh star Sean Nelson). The new pastor's a widower, and when a young French-Canadian woman recently arrived in the town is found murdered and mutilated, he's charged with the crime and the edgy peace is shattered.
"It's a character-rich story steeped in time and place about a community of hardscrabble characters whose good guys are not all good and bad guys not all bad," says Craven. "What appealed to me was the opportunity to render them with the intimate specificity that grows from being there."
Craven has been based in small town Vermont for more than 20 years and is a leading figure on the regional arts front. He made a half-dozen docs and shorts before venturing into feature territory with Rivers in 1994. Rivers played 11 festivals including Sundance and Seattle and sold to 39 foreign countries. When no domestic distributor stepped up to the plate, Craven self-distributed the film to 212 U.S. cities over 51 weeks, grossing close to $4 million on the strength of generally sterling reviews and a $175,000 P&A fund fronted by video distributor Unapix, which ultimately shipped 45,000 tapes (about two thirds rental, one third sell-through). That hat trick won Craven the Producers Guild of America's 1995 NOVA Award for Most Promising Theatrical Motion Picture Producer of the Year. It also helped a lot in raising Stranger's seven-figure financing, which included a hefty six-figure bank loan and shares in a limited partnership. Craven says he attracted Martin Sheen through the efforts of executive producer Matt Salinger, a New Hampshire native then making a transition from acting to producing.
Stranger shot in central Vermont and the Northeast Kingdom's Essex County courthouse in Guild Hall for 32 days last October and November, with Craven importing much of his key crew from New York. Craven anticipates a finished film in June; and all rights are available.
Cast: Ernie Hudson, David Lansbury, Bill Raymond, Martin Sheen, Jean Louisa Kelly, Sean Nelson, Carrie Snodgress, Tantoo Cardinal, Henry Gibson. Crew: Producer/Director, Jay Craven; Screenwriters, Craven, Don Bredes; Executive Producer, Matt Salinger; Director of Photography, Philip Holahan; Production Designer, Stephanie Kerley Schwartz; Editor, Liz Schwartz; Music by The Horse Flies. Contact: Jay Craven, Whiskeyjack Pictures Ltd., Church Street, Barnet, Vermont 05821. Tel: (802) 633-2306, Fax (802) 633-3831.
It's hard to watch Amos Kollek's Sue without flinching--Anna Thomson is that good in the title portrayal of a Manhattan woman and her descent into a hell of loneliness and disconnection. Sue's desperate attempts to engage strangers in friendly conversation are either met with absolute rejection or sexual propositions. Even the new affair she cautiously begins gets cut short when her saviour calls from the airport to say he's leaving for a job in India. "I've seen a lot of beautiful, intelligent single women drift into a self-destructive, lonely life for reasons that were unclear, and I wanted to explore that," says Kollek, who's built a cinematic oeuvre of portraits of women on the edge.
Kollek was born and raised in Jerusalem and completed a stint in the Israeli army before embarking on a career as a novelist. He wrote and coproduced his first feature, Worlds Apart, in 1979 at 32. His directorial debut five years later, Goodbye, New York, featured Julie Hagerty and jumpstarted Kollek's reputation for creating strong female roles. Kollek's next three films, the first two shot in New York, starred Hanna Schygulla (Forever Lulu), Sally Kirkland (High Stakes) and Faye Dunaway (Double Edge, shot in Israel). Kollek says he wrote Sue with Thomson in mind and raised the necessary funds to shoot in 35mm color himself from private investors.
Sue shot in Manhattan's Chelsea and West Village throughout December. Kollek took the film to rough cut in New York before returning to Jerusalem for the birth of his second child. He's due back in New York in July and says Sue should be finished by September; all rights are available.
Cast: Anna Thomson, Matthew Powers, Tahnee Welch, Tracee Ross, Austin Pendleton, John Venti-miglia, Robert Kya-Hill, Matthew Faber, Edoardo Ballerini. Crew: Producers, Zack Habakuk, Osnat Shalev; Screenwriter/Director, Amos Kollek, Coproducers, Linda Moran, Rene Bastian; Associate Producer, Kerry Barden; Director of Photography, Ed Talavera; Production Designer, Charlotte Bourke; Casting, Lina Todd. Contact: Amos Kollek, 77 Ha'Eyal Street, Malcha, Apt. 9, Jerusalem 96955 Israel; Tel/Fax: (972 2) 679-5495; NYC Fax: (212) 727-7284.