QUEEN'S LOGIC
Peter Bowen on Jonathan Nossiter's Sunday
Long before the rigors of late capitalism created the need for the weekend to disarm the psychological tensions of the work week, there was Sunday. Religiously sanctioned and socially necessary, Sunday was at once a day of devotional reflection and a period of dramatic reinvention during which social and economic structures were, if not changed, then creatively re-figured. The inherent drama of the seventh day can be found in works as different as "Sunday in the Park", Georges Serault's pointillist tableau of social disarray, or Weekend, Godard's epic of social disintegration. More recently, Jonathan Nossiter's Sunday, the surprise Grand Jury Prize winner in the Dramatic Competition at Sundance this year, captures with the stark palette of social realism the poetic, even magical, powers of this day.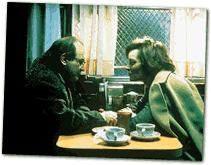 The film's tightly plotted narrative follows with irrational persistence the logic of mistaken identity. One wintry Sunday morning in Queens, Oliver (David Suchet) leaves the homeless shelter to which IBM downsizing has exiled him only to be approached by a strange woman uttering, "You're Matthew Delacorta, the film director." More an incantation than an introduction, this phrase unleashes an improvisational fantasy to which both Oliver and the woman, Madeline (Lisa Harrow), a self-exiled, middle-aged English actress, at first tentatively and then tenaciously cling. During the ensuing day and endless evening, Oliver is continually introduced (as the celebrated Delacorta) to the dysfunctional fragments that make up Madeline's world: her dangerously deranged husband, their adopted Korean daughter, their blissfully indifferent neighbors. And like a rag-tag Greek chorus, the other residents of Oliver's shelter follow and observe at a distance the actions of these accidental lovers.
Nossiter's inspiration for this story came from a short story by the English writer and poet James Lasdun. While Lasdun's original tale incorporated the same plot device of mistaken identity, its characters (a theater director and older woman) and setting (London) were different. According to Nossiter, "James was quite flattered and enthusiastic at the proposal [of turning his story into a film]. So I sent him my notes, and he visited me, but the first thing he said when he entered the room was, 'I think your ideas are very stupid'." The two then agreed to start from scratch, and the ensuing collaboration was, for Nossiter, "far and away the richest I have ever experienced. Our different sensibilities and experiences coalesced in a way to create something more powerful than we would have alone."
As for many in independent film, collaboration defines the pair's work ethic. In interviews, Nossiter is quick to credit not only Lasdun, but all members of his production team for their efforts and expertise. Not by accident then, the collaboration necessary to produce the film parallels the efforts of the film's characters themselves. What makes these otherwise mundane characters poignant and real is the imagination they exhibit to sustain and enlarge their joint fantasy of mistaken identity. One level plotless, since there is no event other than sunset that can conclude the story, the film's narrative depends on the pair's tacit agreement not to betray the theatricality of their relationship. "Like the effort in making a film," says Nossiter, "their effort is the struggle you go through to make some human contact, both in life and in fiction."
To a even larger extent the character's willful suspension of disbelief sets the tone for the film's psychological landscape as its time and locale are both real and symbolic. While ostensibly taking place during one Sunday, the film's changing weather, from sunny afternoons to snow covered freeway passes, suggests a Sunday that is as eternal as it is specific. (Ironically, this poetic gesture was born out of the low-budget necessity to shoot over extended periods of time.) Even the film's sense of duration, a twilight that refuses to give up its last light, echoes the characters' reluctance to let reality (and the ensuing work week) encroach on their self-created relationship. This sense of time, according to Nossiter, "is even more powerful for someone who is homeless, someone who has nothing to wake up to." Even as Oliver misses the shelter's deadline to return, the film makes brutally clear that being homeless is as much about the absence of schedule as it is shelter.
For Nossiter, the location of Queens is perhaps as culturally significant as his chosen day of the week. Nossiter posits in his dramatic cutaways the eerie complacency of the neighborhood, a place, "where people sit on stoops endlessly looking out at the world." For Nossiter, Queens embodies both America and the idea of America: "it is on the edge of America and New York, a land of immigrants, and yet a place in which all of America comes together. Everyone here is from some place else. Madeline is an English actress. Oliver is an emigre from the middle class. Yet everyone here is dreaming of someplace else."
In the end, this contradictory sense of hope and despair makes Sunday unique, especially among so many recent personal films. According to Nossiter, "I have no desire to make a film about myself. I have to live with my problems, and they bore the hell out of me." And yet there is something uncannily familiar about the film's premise of mistaken identity. Nossiter had wanted the opening montage of the film to suggest that "this story could have been about any of the characters, that the same mistake could have just as easily revealed their lives." And why not? Who among us has not gone out for a Sunday walk and heard a voice asking if we were, for lack of better name, "Matthew Delacorta?"