FESTIVAL ROUNDUP
---
The Cannes Film Festival
The esteemed Cannes Film Festival celebrated its 50th anniversary this year. While this would normally be the cinematic equivalent of Jupiter aligning with Mars, several factors made the party less than monumental. On the film front, the quite extraordinary feast of Cannes '96, led by Breaking the Waves and Secrets and Lies, turned to famine in '97 with daily doses of mediocrity the rule. The jury, likely baffled by the arid field, chose their prizes quixotically, at best. The rather depressing viewing situation was greatly exacerbated by vast crowds of gawking French tourists, stormtroopers protecting baby-kissing politicians (including President Chirac) and, of course, a week of rain.
Each year, the Competition section is devoted to the highest profile films of the Festival; they screen in the awesome Salle Lumiere for decked-out royalty, cinematic and otherwise. These films compete for prizes, including the treasured Palme D'Or. Due to the Golden anniversary, the selections this year were driven even more than usual by Cannes' hunger for stars, beginning with the opening night world premiere of Luc Besson's silly sci-fi comic book, The Fifth Element. The evening's highlight was Demi Moore on hubby/star Bruce Willis' arm sporting a Gaultier shower curtain which bested even her legendary L.A. sartorial statements.
In a year of celebrity--there were at least 100 household-name actors skulking around--the films that went on to triumph were shockingly small; both could well end up without U.S. distribution. The Palme D'Or was awarded ex aequo (split) between two films: Shohei Imamura's The Eel and Abbas Kiarostami's The Taste of Cherries. Both were happy surprises, if for different reasons.
While no one would doubt Imamura's place in the Competition--his career spans 40 years, from revolutionary sex/death pastiche films like The Insect Woman to international arthouse hits The Ballad of Narayama and Vengeance Is Mine--this new film feels more like a reflective sigh than a major career statement. A gentle dark comedy, it calmly follows the rehabilitation of a laconic murderer in a small town and his various friends: a pet eel, a Buddhist priest and a suicidal young woman in love with him. Except for its characteristic opening sequences--blood from the re-enacted killing spurts onto the lens--the film is shot in sunny, saturated colors, lending it the air of a filmmaker content with his achievements in the sunset of his career.
Kiarostami's situation is radically different. With his last completed film, Journey To Dawn, banned in Iran, the chances of his newest emerging for Cannes Competition were so slight that Festival Director Gilles Jacob declined to announce the film at his opening press conference. Finally added on the Festival's second to last day, the film is a deceptively simple but breathtakingly profound parable. A man picks up three hitchhikers--a soldier, a religious man and a teacher--and tries to make a deal. He will give them money if they will come the following morning to a certain mountain spot. If he is alive, they should help him out; if dead, they should throw ten shovelfulls of earth on him. Each man resists in his own way, with the teacher proving the most compelling--he tells a wonderful fable that forces the suicidal man to imagine what "taste" he would miss most after death. Then, radically, for the film's last 30 seconds we see video footage from the set, with everyone laughing and gossiping: Kiarostami emphatically declares that whatever barriers are raised, filmmaking will be his "taste of cherries."
The Grand Jury Prize went to the early front-runner for the Palme, Atom Egoyan's The Sweet Hereafter. The lauded Canadian director's exploration of revenge and pain in a small town in the wake of a school bus accident features Ian Holm as an ambulance chasing lawyer. Its rich emotional textures and exceptional performances make this small-ish film seem much bigger indeed.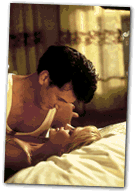 Sean Penn and Robin Wright in She's So Lovely, Photo: Joyce Rudolph
Acting prizes went to Cathy Burke, of
Naked
fame, as an abused wife in Gary Oldman's actor-ish but powerful
Nil By Mouth
and Sean Penn for Nick Cassavetes'
She's So Lovely
, the film based on his father's script. (So much for all that "I don't want to talk about dad" the director spouted during the release of
Unhook the Stars
). Best Director was Wong Kar-Wai for
Happy Together
, a puzzlingly failed but riveting film. Hong Kong heartthrobs Leslie Cheung and Tony Leung play gay lovers--the film starts with what could only be termed "a courageous sex scene"--who get sidetracked on a Buenos Aires vacation. The film is shot with Wong's characteristically controlled mania, and one assumes the award is as much for his recent contributions to film aesthetics than for this rather shrill new work. Best Script deservedly went to indie god James Shamus for
The Ice Storm
, Ang Lee's restrained, accomplished look at an American town in the '70s forced to acknowledge the complexities of contemporary life.
The rest of the Competition went from the merely mediocre--silly, dull films from Marco Bellocchio, Francesco Rosi, Wim Wenders and Idrissa Ouedraogo--to the spectacularly awful. While Johnny Depp's directorial debut, The Brave, was, as reported, incredibly bad--he plays a Native American who has agreed to star in a snuff movie; faced with imminent death, he becomes the saviour of his oppressed reservation community--it really doesn't compare with the two "grand statement" films from Mathieu Kassovitz (La Haine) and Michael Haneke (Benny's Video). Kassovitz's Assassin(s) portrays a petty thief unable to become a proper killer and a brainless boy unable to follow in an older killer's footsteps. What would only have been a clumsy, plotless and boring effort to shock is made sublime by the film's frequent cutaways to violent television programs which "recruit" French youth to crime. Haneke one-ups him, though, with a witless fantasy of two amoral young men terrorizing a young family in hyper-wealthy Austrian cottage country. Obviously oblivious to three decades of sophisticated American filmmaking on the subject of acculturated violence, Haneke includes dire moments of direct camera address and--wait for it--VCR-style rewinds to emphasize the televisually-inspired nature of our violent society.
So the worst Competition in recent memory should have made for an equally bad Un Certain Regard section, the Competition also-rans programmed by the same people. Happily this was not the case.The European premiere of Neil LaBute's strong, accomplished In the Company of Men was well-received as was Richard Kwietnowski's intense Love and Death on Long Island. An intelligent stalker film, it follows a British academic's obsession with a young American teen star; although nothing particularly bad happens to anyone in the film, Kwietnowski delivers a palpable sense of dread throughout. I also liked the deeply Gothic Hungarian mommy-killer movie The Witman Boys and a small French relationship film called Marius et Jeanette. Big disappointments in the section included Singapore's Eric Khoo's screechy 12 Storeys (his short Pain and feature Meepok Man heralded a new cinema wave a few years back), Rob Tregenza's dated meditation on insanity, Inside/Out, and Paul Chart's appalling farce, American Perfekt.
The prestigious Director's Fortnight--it is an unfriendly parallel section to the Competition run out of the Noga Hilton Hotel's beautiful screening facilities five minutes from the Palais Festival Headquarters--took a beating this year. Its fairly weak selection was largely ignored, even with the Camera D'Or (Best First Film) chosen from its ranks. (That was Naomi Kawase's Suzaku, a lifeless bit of exotic ethnic-ness which put the Rotterdam festival to sleep some five months earlier.)
Stars of the section were the opening film, Alain Berliner's Belgian pre-pubescent cross-dressing movie, Ma Vie en Rose, and The Friend of Failure, a well-regarded but stodgy Eastern-European thriller from the director of the far superior Adam's Rib. Disappointments included Matthew Harrison's star-laced Kicked in the Head, the only American selection and sadly filled with cliches from the last 20 years of New York indie filmmaking. Udayan Prasad's My Son, the Fanatic should have been called "My Friend, the Prostitute". It ignores the interesting dynamic between a British father of Indian descent and his increasingly fundamentalist son in favor of a taxi driver's relationship with a hooker, the latter a rather tired cinematic trope.
The Critic's Week, a section for discovering first and second-time filmmakers, yielded Junk Mail and Insomnia, two terrific Norwegian thrillers! Yes, Norway, that country we thought the cinema had left behind. The first is more straightforward and satisfying, slyly interweaving Kaurismaki-like absurdities into a blood-pumping ride; the second is stranger, with occasionally over-the-top moments marring an enigmatic, truly spooky film. I was also happy to see Bent on screen, even if its insistence on "proving" the existence of gay love feels a bit dog-eared; the play, though, has been well opened up by director Sean Mathias, and Mick Jagger looks great in drag.
The best film of the Festival, though, appeared in the smallest of the parallel sections. Cinemas En France, programmed by the Director's Fortnight, has been uncovering a most exciting cinema movement for the last few years: young and angry France. Films unreleased in the U.S., such as Will It Snow For Christmas? (recently picked up by Zeitgeist), Select Hotel, Trop de Bonheur and The Lovers paint a France divided by history, ethnicity and mean-spirited malaise in shockingly honest hues. The latest addition to this impressive catalogue is Bruno Dumont's La Vie de Jesus. A small town near Lille, in "darkest" France, contains a boy and his friends. They are average members of the community--playing in the school band, fixing up a car, joy-riding their motorcycles--until a chain of events inspired by an Arab boy's advances to the boy's girlfriend leads to isolated bursts of violence. No character is especially "bad" or "good" in this film; it just chronicles the bad choices people sometimes make. This is a lesson from which Mr. Kassovitz and Mr. Haneke could well have learned.
The Los Angeles Independent Film Festival.
An American Express Card billboard stands near the L.A. airport displaying the green card, an Arri film camera and the words "You use it to go to the movies. Heck, why not use it to make one?" From the record number of submissions to the third LAIFF, just under 1,000 this year, people seem to be doing just that.
In 1996, founder/director Robert Faust described some of the festival's problems as "growing pains"--the festival suffered from an overwhelmed small staff coping with over 700 entries. With a larger staff and the experience of the previous two years behind them, the '97 LAIFF reached the next level of problems young, successful film festivals find themselves in--they've now outgrown themselves, as many festival goers remarked as a constructive yet well earned compliment. Faust, along with a team comprised of programmer Thomas Ethan Harris and managing director Linda Rattner Kelly, designed an event that easily juggled the handbook ingredients that make a film festival--the delicate rhythm of balance between good films, "event" films and corporate sponsorship. The one thing they possibly didn't anticipate is the record attendance (some 12,000 people), as ticket and VIP badge holders jostled in line to some of the more heavily buzzed films and events.
The Sundance Channel and Kodak returned as sponsors to this year's event. Additionally, Raleigh Studios and the Directors Guild of America lent their support as a screening of Roberto Benabib's Little City opened the fest at the DGA's headquarter building. The romantic comedy starring Jon Bon Jovi and Annabella Sciorra unspooled as a rough edit, but the festival had been basking in the press garnered after Miramax picked up the unfinished film for a reported $2.8 million.
The body of the festival screenings alternated between Raleigh Studios and Paramount Studios. Particular standouts including Heather Johnston and Gordon Eriksen's Lena's Dreams, Chris Chan Lee's Yellow, and Will Geiger's Ocean Tribute. Geiger had previously optioned his script of Ocean Tribute to an independent company with a deal at Paramount. After the company showed him an "awful" film by the director signed to do the project, Geiger bit his nails for over a year waiting for the option to expire. When it did, he made the film as his directorial debut, returning ironically to the same Paramount screening room several years later at the '97 LAIFF to watch his work.
Kirby Dick's Sick: The Life and Death of Bob Flanagan, Super Masochist accomplished a minor triumph by walking away with the Audience Award for Best Feature. As one of three feature docs, it was the only one not used to frame a particular festival event. For example, Robert Pulcini and Shari Springer Berman's Off the Menu, an entertaining and at times dark document of the last days of the famous Hollywood eatery Chasen's, made for a well sponsored closing night screening and catered party. Additionally, Colors Straight Up, a doc about an inner city performing arts group in L.A., centered the LAIFF Community Spotlight. The only event to distinguish Sick, however, was that it was screening against.
George Hinkenlooper's Dogtown. Although Dogtown's ticket-holder line stretched down the sidewalk, its audience was comprised almost entirely of VIP badge holders anxious to see the film from the director of the original Billy Bob Thornton short, Some People Call it a Slingblade. "I used to get beat up a lot in high school", Hickenlooper said as he addressed the audience. "I guess this is payback". Dogtown was a strange and muddled film about a failed actor returning from L.A. to his small hometown to face the bullies and the lost love of his past.
Various panels included highlights such as "The Next Wave of Digital Filmmaking", "Creating Content for the Internet" and a lively meeting-of-the-minds in "Festivals, Markets, and the Indie Filmmaker", whose panelists included new IFFM director Sharan Sklar, VP of Acquisitions and Production at 20th Century Fox, Bob Aaronson, and Sundance programmer Geoffrey Gilmore who remarked that festivals fall under two categories: "discovery" fests that carefully handpick their titles to satisfy a specific mission or curatorial sensibility, and "launch" festivals, which program a seemingly indiscriminate number of "world premieres". The difference between the two seems to be a matter of quality rather than style--according to Gilmore, not all festivals are "discovery" festivals.
In defending his "discovery" festival status, Faust notes that in the previous two years of the fest a total of ten programmed films were picked up. He gets excited when he reiterates the story of Little City and the potential bidding war that ensued before Miramax came up with the seven figure sum--all for a work-in-progress based on its LAIFF programming. It's apparent that Faust covets the community independent films foster; he is quick to say that the LAIFF, like an indie film, came together not through independence but "interdependence". "Festival making is a collaborative effort", he writes in the program. "We need to work together to keep independent film alive". With that in mind he's also quite aware that an independent film festival based in L.A. must keep a connection to Hollywood now that the line between independent and studio filmmaking is as blurred as ever. It is fitting, therefore, that the closing night film was an homage to the passing of a posh Hollywood restaurant and the golden era it coveted. "Through a wonderful stroke of timing and luck", stated Menu's New York-based indie filmmakers, "we stumbled into the vanishing world of old Hollywood, a world alien to us".
The New York Underground Film Festival
No wonder they don't sell popcorn. If you're headed for the New York Underground Film Festival, you might want to make sure your stomach is empty. "One guy ran out of the theater during Impact Zone and started puking", says Ed Halter, festival programmer, of the short by Kadet Kuhne and Sophie Constantinou which went on to win "Best Experimental Film". His tone is unapologetic; in fact, he sounds proud. Smiling, he adds, "Yeah, well, it was some guy in a suit. Fuck 'em if they're not prepared to see lesbians masturbating with 'The Club'!"
This happily pugnacious approach was evident in all key areas of the festival, from the program cover photo (a shot of two leather-clad women, one gazing fondly at a bound and leashed male while the other one films the action) to the festival directors (the only statement that codirector Todd Phillips jokingly agreed to give me for this piece was about how and why a colleague of mine, whom he feels has been less than helpful, is banned from all future festival screenings) and its volunteers ("Showing these films is a necessary evil", insisted one). Fitting in with the less-than-reverent spirit were some inspired shorts, including Darren Hacker's Velvet Welk which combined footage of the Lawrence Welk Orchestra with music from the Velvet Underground to reveal a deep synchrony between the groups, Steve Reinke's Seventeen Descriptions, in which an unseen male narrator offered conjecture about the sex lives of random men on a city street as he watched them pass obliviously by ("This guy has masturbated within the last 20 minutes. This one can come from anal stimulation"), and Julie Gaw's Fuck-Shit, a deeply gratifying three minutes of impassioned cursing.
Filmmakers Jane Wagner and Tina DiFeliciantonio displayed some fierceness of their own simply by showing up to screen their film, the provocative and moving Girls Like Us, after the film had won the Grand Jury Documentary Prize at Sundance '97. "People asked us why we were bringing our film to this festival," Wagner said, "and we asked them why we shouldn't. If something is less famous than Sundance, so what? Does that mean it isn't a good festival or a good opportunity? We're glad to be here."
Documentary has traditionally been a strong category for this festival. Its selections this year were solid and, in a few instances, hilarious. Among these was Heavy Metal Parking Lot, by videomaker Jeff Krulik. Shot in a stadium parking lot just before a 1986 Dokken/Judas Priest concert, the film is so on-target in its rendering of the scene that one can almost smell a potpourri of beer, pot, and puke hanging heavy in the air; it'll take you right back to your teen years, whether you want to revisit them or not. (Krulik's "sequel" to Heavy Metal, Neil Diamond Parking Lot, was equally on target, if a bit more sedate.) Meanwhile, Sam Green's fascinating The Rainbow Man/John 3:16, this year's winner for "Best Documentary", captivated its viewers and was an often-discussed festival high point. And speaking of high points, Doug Wolens' engaging Weed, filmed in Amsterdam at the annual Cannabis Cup and Hemp Expo, attracted crowds of viewers who, in honor of the screening, showed up with telltale vague grins and bleary eyes.
At the risk of securing myself a place on Todd Phillip's shit list, I have to say that the overall character of this festival isn't really as in-your-face tough as its program or staff would have you believe. Not all of the films shown really feature mocking, fucking, cursing, bleeding or puking (on or off screen), and not all of the organizers' statements are disses. Yes, the gory short Meat was screened this year ("Someone in the audience passed out during that one!" Halter told me gleefully), and so was David Cronenberg's 1975 first feature, Shivers, which managed to be both gruesome and dull. But then there were films--Girls Like Us, for example, or NYC-Symphony, a haunting experimental short by Reynold Reynolds--which, rather than making people faint or puke, would be more likely to make them cry. And even some of the more shock-oriented pieces handled their subjects with grace and good humor. Among these was Olga Schubert's documentary Of Skin and Metal, which examines the growing phenomenon of body piercing in the U.S.
With capacity crowds and lots of favorable media coverage, is the festival worried about growing tamer and less balls-laden as time passes? "I don't feel like that's happening or going to happen", Halter states. Pointing out that edgier, less conventional films have been favorites recently at some world-renowned festivals, he adds, "It seems like the mainstream festival circuit is being influenced by festivals like ours, rather than the other way around."
While the Underground Festival remains a vital and popular event, it has lost many of its corporate sponsors over the years; nevertheless, it plans to pick up some of the slack with FilmCore, an organization launched at this year's Fest to present year-round screenings, concerts and related events. "People were coming to me and saying, 'I thought I was the only one making films like this,'" Halter says. "We wanted to do something that would bring filmmakers together and help to strengthen the underground film community." And FilmCore is putting money where its mouth is with a postproduction fund to help foster the kind of work the festival has become known for. As Halter puts it, "We're doing good things for bad people." (For more information about the fund or for applications for next year's festival, call (212) 925-3440 or e-mail: festival@nyuff.com.)
SXSW Film Festival
Although dominated by the bad boy troika of Quentin Tarantino, Richard Linklater, and Robert Rodriguez, who, with their respective entourages, seemed ubiquitous, this year's SXSW Film Festival and Conference showed signs of beginning to grow up. With many sold-out screenings and the ensuing confusion of too many viewers for way too few seats, the festival boasted heavy industry presence and the advantages, not yet fully explored, of merging film, new media, and music conferences into one long, permutating event.
The festival's opening night screening of Sarah Kelly's Full Tilt Boogie, a doc offering often hilarious behind-the-scenes tidbits from the set of From Dusk Till Dawn, established the tone for the reverence paid to certain filmmakers. Executive produced by Tarantino and "starring" Tarantino, the film is an interesting document of the American indie film scene rife with male filmmaking angst and sexual posturing. It features a rather unflattering portrait of producer Lawrence Bender, who tries to play down union trouble, as well as a wonderfully philosophical and wholly incongruent rant by Harvey Keitel. The film swings between awe and scathing critique; unfortunately, the critical aspects often seem unintended, but then again, the filmmaker was hired by Tarantino.
The festival also featured a solid list of strong films, many of which were enjoying a second screening right out of Sundance, including Neil LaBute's disturbing In the Company of Men, Kevin Smith's Chasing Amy, and Stephen Winter's Chocolate Babies. The strongest component of the festival, however, was a two-day film conference featuring more than 20 panel and roundtable discussions on subjects ranging from promoting your film on the world wide web and underground distribution, to casting, budgeting and scoring your film effectively. Indeed, SXSW is very much geared toward its local filmmaking audience and effectively provides a venue for Texans to meet indie/industry heavies from New York, Los Angeles and other parts of the country .
Perhaps the most amusing panel during the film conference was "Outside the System, Inside the System", which promised to address how hard it is for indie filmmakers to deal with success and to function "inside the system". Tarantino, arriving a fashionable 20 minutes late, nevertheless took charge of the panel, paying homage to Harvey Weinstein and Miramax and noting that Weinstein's charm lies is in his ability to say yes or no to a movie without answering to anyone else. Kevin Smith seconded Tarantino, and he and the other panelists (which included George Huang, Mike Judge, Steven Soderbergh, Richard Linklater, and Robert Rodriguez) went on to tell anecdotes about working with various studio executives. The first question from the audience queried the stunning lack of even one woman director on the panel; the question was glibly ignored after Steven Soderbergh jokingly explained that no women had been invited to the festival thus precluding their presence on any panel. Hilarious.
The multimedia conference followed the film conference, and while there wasn't a tremendous amount of cross-over, the connections between these two components will surely grow as filmmaking and new media converge. Indeed, it will be interesting to see how the festival manages to bridge the gap, which this year was perhaps best covered in the trade show which featured an array of new software and hardware useful for filmmakers and multimedia enthusiasts. Again, the prospects for filmmakers are still nascent; continued exploration among the SXSW programmers could result in making the festival extremely significant in the near future.
San Francisco International Film Festival
There were no media-hyped maniacs at this year's San Francisco International Film Festival--no people in gorilla suits handing out flyers or cute key chains or penlights as invitations to midnight screenings (although Spike and Mike did strategically position a few emissaries to hail their upcoming animation fest). Nonetheless, San Francisco presented a blow-out sequence of 191 films from 39 countries with 13 world premieres with all the rip-sizzle style of a barker's dream carnival.
Launched by Irving M. "Bud" Levin in 1957, the same year that Alfred Hitchcock shot Vertigo in town, the festival's original opening premiered Antonioni's El Grido, Kurosawa's Throne of Blood, and Wadja's Kanal. Now the Festival is run by arts patron and San Jose Sharks owner George Gund III (and an insomniac staff), and it has kept pace with both its first year and with European festivals, offering a strong mix of international and American mainstream filmmaking as well as alternative, eccentric, and often politicized filmmaking from all over the world.
Never short of San Francisco spit fire, this year's SFIFF was hot with film luminaries. Francisco Rosi, in attendance to receive the Akira Kurosawa Award for lifetime achievement, was toasted by "the last of the one-eyed directors" and king of cult melodrama, Andre de Toth, who was also the subject of a tribute. The festival, in collaboration with Cinecitta and the Pacific Film Archive, presented several of Rosi's films in newly restored prints.
Jim Jarmusch and Peter Greenaway were also on hand to present their latest projects. Jarmusch's biopic of Neil Young, titled Year of the Horse, turned into an unannounced concert at the Trocadero Transfer, while Greenaway intrigued viewers with The Pillow Book, a sensuous fable of a female erotica writer.
Impressive submissions from international filmmakers included Honey and Ashes, a female-oriented drama about male domination in South Africa by Swiss-Tunisian Nadia Fares; the film won the SKYY Prize, a $10,000 cash award established by SKYY Spirits to mark an international film currently without U.S. distribution. Informed by the disappearance of 30,000 people during the bloody national purge carried out by Argentina's military dictatorship in the 1970s, Moebius, directed by Gustavo Mosquera, is subversive as well as technically masterful. La Promesse, by documentary veterans and brothers from Belgium Luc and Jean-Pierre Dardenne, touched on the ethical dilemma faced by a 15-year-old as he rebels against his father. Influenced by Dostoyevski's The Brothers Karamazov, the film lends an atmosphere of documentary "truth" to a story acted by non-professionals.
Not surprisingly, the Asian offerings were also astonishing. Tsai Ming-liang's The River from Taiwan, which had already garnered the Special Jury Prize in Berlin, unfolds in a series of gorgeous long takes to depict the forbidden territory of homoeroticism and incest between father and son. Hou Hsiao-hsien's Goodbye South, Goodbye adeptly plays with color timing to completely saturate sequences in mono-color in a contemporary tour through urban ganglands.
Local pillars from the experimental filmmaking set such as George Kuchar and Lynn Hershman counter-balanced European heavies like Chantal Akerman and Chris Marker, both of whom presented new films this year--indeed, the festival was full of extraordinary films and gala events; balancing out the unavoidable harried festival madness were late-night driftings to North Beach's Tosca and hordes of festival-goers just having a lot of fun.
Aspen Shortsfest
Programming is an art. Unfortunately, when it comes to short films, especially at festivals geared more toward features, the programming of shorts can be slapdash at best. Thus, one of the great pleasures of this year's Aspen Shortsfest was the immediate realization that the films in the opening night program had not only been carefully selected, but arranged with attention to the details of making a program of seven or eight shorts work well together. This kind of attention continued through every single program in the five day festival as festival director Laura Thielen deftly drew her audiences through 48 films (culled from 700 entries) from all over the world.
Established seven years ago when Ellen Hunt, founder and director of the Aspen Filmfest, felt that shorts deserved their own venue, the Shortsfest has steadily grown; two years ago, Thielen, formerly of the San Francisco International Film Festival, took over programming for both the Filmfest and Shortsfest, and she has continued the international reputation of both festivals while adapting to both a new audience and changing expectations for shorts programming.
This year's festival included the North American premieres of several great shorts, including Vincent Bal's wacky noir comedy, The Bloody Olive, and Christophe Van Rompaey's grim portrait of identity loss in the near future, Grey. Both films are very accomplished, technically exact shorts which slide past their calling card status to become great films. Other treats included USC student David Birdsell's Blue City, a lovely black-and-white vignette that turns both stylistically and dramatically in circles; as the story comes around full circle, you realize that every significant element in the film has been circular and the film is actually a study in returns. Another student film, Australian Sandra Lepore's Acquiring a Taste for Raffaella, is similarly accomplished, neatly telling a poignant story of first love in a very quirky narrative that nevertheless stays grounded in believability.
While the festival is extremely significant in showcasing the work of younger filmmakers, it also includes the work of more established directors. Two highlights in this category were Jane C. Wagner and Tina DeFeliciantonio's Two or Three Things But Nothing for Sure, a very astute and moving portrait of writer Dorothy Allison, and Gus Van Sant's depiction of Allen Ginsberg reading his poem Ballad of the Skeletons. The screening of the second film was made especially significant when it was announced that Ginsberg had passed away earlier in the day.
The festival also featured some of the best animations I've seen in a long time. My favorite was Pedro Serrazina's Tale About the Cat and the Moon, a lovely black and white animation about impossible love achieved through absolute determination. The drawings of the cat as he follows the moon across oceans and rooftops are beautifully fluid; the voice-over nicely captures the absurdity--and familiarity--of the cat's desire. A more gothic vision of desire is captured in Craig Welch's How Wings Are Attached to the Backs of Angels, which uses cut-out animation to suggest how obsessive desire destroys its object. Another cut-out animation, Trey Parker and Matt Stone's The Spirit of Christmas, pits Jesus against Santa Clause in an irreverent satire of holiday dogma.
Nearly every film in the festival deserves mention, which is again a testament to the programming at this wonderful festival. The only thing that surpassed the programming was the festival staff's unfailing support of the filmmakers who enjoyed the attention often not offered at larger festivals. All screenings were followed with discussions with filmmakers in attendance, and almost every evening featured a dinner or party; perhaps the nicest dinners were two held at Ellen Hunt's home. The festival founder is an adamant supporter of shorts, a sophisticated viewer and a fabulous host who, along with Thielen and other festival staff members, helps make Aspen an amazingly congenial and supportive home for filmmakers. If you've made a short and want it to have an excellent screening, send it to the Aspen Shortsfest.
Gen Art Film Festival
As tempting as it might be to dismiss Gen Art as a week-long bacchanal of sponsored booze, hair gel and forward fashion, there was something genuinely interesting about the 1997 outing. Last year's inaugural festival was conspicuous primarily for the flawless grooming of its young crowd, a numbing series of parties, a nearly pathological trendiness but not necessarily inspired film programming. Founded in 1993 as a non-profit dedicated to promoting emerging visual artists, Gen Art added fashion a year later, and in 1996, the film festival. Despite relative bright spots like Squeeze there was the toxically unreflective Mr. Spreckman's Boat (aka Far Harbor): an uneven mix.
To their credit, the Gen Art organization responded quickly to the shortcomings and miscues of their first season. The festival's Director of Programming Graham Leggat, of the film and video department at the Museum of Modern Art and the New Directors/New Films series, brings an informed art film aesthetic to the selection committee, and joining as festival director was Deena Juras of the Seattle International Film Festival. The result was a stronger slate, and one that spanned a broad stylistic swath, from the kitchy horror of Love God (a midnight movie at Sundance with "cult classic" written all over it) to L.A. slacker saga Hang Your Dog in the Wind.
The festival is billed as "seven premieres/ seven parties," but "premiere" in this context is fairly elastic terminology. Of the seven films at the 1997 Gen Art, two (Eye of God and Love God) arrive via Sundance, while Shooting Lily and The Last Big Thing played first at the Hamptons. A Day at the Beach premiered at Palm Springs; The Riddle at Toronto. Brian Flemming's Hang Your Dog was the impetus for Park City's ultra-alt happening, Slum-dance, last January. But these films are all new for New York audiences - especially those viewers not wandering the festival circuit. And scanning the after-screening parties, from opening night at Chaos to the converted Lower East Side Synagogue that hosted the post-Love God drinkathon, one thing is soon apparent: the familiar faces of the New York independent film industry are nowhere to be seen.
If not entirely by design, this is not necessarily a problem. Gen Art, whose mission, according to founder Stefan Gerard, is to "cultivate new audiences for young American filmmakers," seems in fact to do just that. Some coming to Gen Art are sure to be indie film initiates for whom the festival experience, sweetened by the promise of a "scene," may well encourage an enduring interest in independent film. "We never create a show apart from the space or a festival apart from it's audience," says Gerard. "And we always consider who that audience is; we don't underestimate them. And because of that they have faith in us. We continually challenge them." As for rising to the challenge of forming a relevant festival on the already crowded New York calendar, Gen Art makes its task a manageable one by defining itself by its audience. "We are that audience," says Gerard. So someone is certain to go.