A BETTER TOMORROW
After the Russians nuke America in 1957, only Lost Vegas remains in Lance Mungia's post-apocalyptic western Six-String Samurai. But when Elvis dies, the rocker-warrior must fight to become the new king of rock 'n' roll. For the film's producers, as Adam Pincus discovers, getting this sentimental samurai flick made proved as difficult as inheriting Elvis' crown.

Jeffrey Falcon as Buddy and Justin McGuire as "The Kid" in Six-String Samurai Photo: Kenneth Heillfron
Lance Mungia's high-concept epic Six-String Samurai collapses so many disparate genres and filmic conventions into 91 minutes that it is certainly the first – if not the only – post-Apocalyptic, Samurai Western Kung Fu rock 'n' roll road movie, replete with Eastern Bloc rockabilly soundtrack. Informed by both the low- budget mythology and antic action of Robert Rodriguez' El Mariachi – and at least six or seven other stylistic models ranging from Sergio Leone to Star Wars – Six- String and its saga are of interest for both the bizarre compression of elements, and for what the film and its production reflect.
On the one hand, the pic is a tale of self-starter ingenuity, of scrappy do-it-yourself-ism, originality and style. On the other, it's the story of an aggressive new production company spawned from the ranks of the financial world, and the involvement of a popular Web site and its broad online audience in both film promotion and the creative process.
It's a story that begins without a script, with only a borrowed camera and some expired film stock and winds its way to a $2 million budget, a series of canceled distributor screenings and then a seven-figure sale.
The film is set in the post-Apocalyptic present: it's been 40 years since the Russians dropped the bomb back in '57, and America is a blasted landscape of rusted out wrecks and crumbling ruins. Elvis was King and Lost Vegas the last vestige of freedom and rock 'n' roll culture, but now the King is dead, and every ax man in the wasteland is looking to strum and strut his way to the throne. Our hero – and the film makes its epic underpinnings as plain as the Buddy Holly specs on the good guy's face – carries a 1957 semi-hollow guitar, a samurai sword and a distinct sense of entitlement that propels him with a kind of laconic, Eastwood-esque certitude towards his destiny. "I've got a gig in Vegas," he says, mantra-like, as he traverses hostile terrain, fending off blade-wielding wannabes.
Along the way, he is adopted by an orphaned tyke who tags along absorbing his manner and mystique. And as he approaches Vegas, his every step is dogged by Death. Forget Bergman; Six-String's heavy looks every bit like Slash from Guns N' Roses. Death stalks about in a black trench coat and top hat, scythe swapped for samurai sword and Stratocaster, as he and his (literal) band of henchmen hunt down every Vegas-bound guitar hero. The Reaper, it seems, has his own aspirations to the gig. And so the film creeps inevitably towards its cataclysmic Battle of the Bands.
Such is the mythic premise of the film, and director Lance Mungia and his co-writer and star Jeffrey Falcon clearly have a great time with it. Falcon, in the shreds of a black suit and a pompadour, and delivering his lines in a seething, weary hush (again, think Clint), brings something truly unexpected to the picture. A former star of the Hong-Kong Chop-Socky school – having been in some fifteen Asian "beat 'em up" pictures – Falcon's neatly choreographed martial arts action sequences are at once tongue in cheek and completely exhilarating. And despite extensive sword play, there's barely a drop of blood in Six-String Samurai; the duo seem to have conceived the fight scenes – like much else in the film – for emblematic effect (Hero Battles Death, etc.).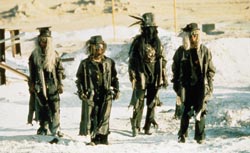 Mungia was a student at Loyola University, where he made a short film, A Garden For Rio, that went to Sundance in 1997, traveled the festival circuit and won some awards. He hooked up with Jeffrey Falcon through a like-minded love for certain movies. With a premise of their own film in their heads, the pair went to Panavision Hollywood, where they got a deal on a non-synch camera. They scored some expired film from Fuji. And then, with nothing so constricting as a script, they headed into the desert to make a movie. "We just went out there and started shooting. We figured, 'What the hell. Somehow we'll finish it.' But after three months of shooting every weekend – and summer was coming and the kid was getting older – we finally just decided, 'You know what, this is going to take forever. We've got to find some more financial support.' And that's when we cut a trailer."
The pair took a reel of their work-in-progress to the American Film Market, where Jeff tirelessly flogged it. But it was William Morris agent Cassian Elwes who got the tape to HSX Films, a new company that was putting money into independent productions and helping get them produced.
HSX Films is unique among film financing and production companies in that it was spun off something seemingly frivolous (as if there were anything, in the end, more frivolous than independent film financing): an Internet game called the Hollywood Stock Exchange (www.hsx.com). Begun two-and- half years ago by investment banker Michael Burns and stock broker Max Kaiser, the site offers players the opportunity to buy film "stocks" and actor "bonds" and trade them on the virtual market. No money actually changes hands; each player is allotted two million "Hollywood dollars" to play with. The trading is equally a simulation of a market economy in which films and stars are the commodity, and an interestingly literal transposition of the notion of value and perception in the world of entertainment. Usually it's strictly metaphorical when one talks of an actor or film project's stock; here, everything has a price, and it's either rising or falling, yielding well or tanking out. Nowhere on the Exchange is there an index for "vision" or "passion," two commodities of independent film rhetoric that are putatively valued above such mundane concerns as box office performance. If one can stop trading Ed TV and Skeet Ulrich long enough to ponder it, the whole notion is sobering. But so is losing $200,000 – virtual or not – on ill-considered shares of Lethal Weapon 4.
The Web site currently has some 100,000 registered players, and is looking toward a million by year's end. It has 22 employees, is in negotiations with a major search engine, and has deals in place with music shop site CD Now and online booksellers Amazon.com. In an era of revised expectations for the Internet, when long-standing and innovative content-driven sites like Word go out of business (only to be revived, Lazarus-like, by former oil companies who haven't yet lost a pile on the wild Web), Michael Burns is unusually sanguine about business and entertainment online. That may be because, with his background in the financial world, he understands what he's created in terms of its fungible value. "We're creating the largest focus group in the world," he said when we spoke. HSX regularly surveys its players about their interests and preferences for movies, and creates an incentive for participation by foregoing the sales commission on their stock trades for answers to online questionnaires.
The data they compile on their players' tastes is sold (if currently only for "soft dollars" — the barter and promises of virtual commerce) to studios looking to better understand the ephemera of pubic opinion. And despite Burns' efforts to differentiate his two operations (HSX Films will be changing its name to Ignite Entertainment to avoid confusion with his Web activities) the Hollywood Stock Exchange is moving into film financing – in a way. The site plans to offer, as early as the Fall of 1998, "subscriptions" to individual film productions, through which the online audience can buy into a project (this time for actual dollars), and receive regular updates, take part in chats, post to bulletin boards with the actors and crew, and buy premiums like baseball caps and tee shirts. A significant enough contribution might afford a subscriber a mention in the credits. According to Doug Scott, Director of Sales and Marketing, 70 to 80 percent of the money will be forwarded to the production. And in the process, the Web site will be creating "an installed base of consumers" producers can take to distributors, and use as a marketing tool. "We're looking to reverse the process to consumer-driven filmmaking," says Scott.
If this sounds like audience testing – something at variance with the notion of "independent" production – it's a friction that's apparently doesn't faze the people at Hollywood Stock Exchange any more than it does executives at Miramax. None of this is to suggest that online subscribers will have any direct say in a film's outcome, but what do you do as a director, really, when four out of five surveyed prefer a different ending?
By contrast with its Web-based namesake, HSX Films has four employees. It is, according to Burns, "a virtual company" — except the money is for real. So, it seems, are the projects. In a little over a year, HSX Films has financed and produced six films, including Dancer, TX pop. 81, which was the company's first sale (to Sony) and the first of their projects to arrive in theaters. HSX is currently producing Desert Blue, Morgan J. Freeman's follow-up to Hurricane Streets, with producer Andrea Sperling, and will follow that with Donal Ward's The Suburbans, and Jamie Babbit's feature film debut, But I'm a Cheerleader. The pace is rapid, especially given the relative lack of film experience among the company's principles. "I like the idea of creating an asset that has an ongoing revenue stream, theoretically in perpetuity," says Burns. Theoretically indeed. Many independent film producers would happily settle for a revenue stream, period. Then again, a great many investors have suffered at the hands of the Web, lived to rue the empty promises of the virtual goldmine – disappointments that Burns has apparently avoided.
For the makers of Six-String Samurai, the relationship with HSX and the Hollywood stock exchange yielded unusual dividends. The project was originally called The Blade, but a cease-and-desist from New Line Cinema (Wesley Snipes has his own Blade) prompted a search for a new name. Hollywood Stock Exchange posted an open call, and 4,000 submissions later, opted for the current title, coined by a player.
The other benefit was the $2 million HSX put into the production. Nonetheless, the project remained a rugged affair. The production lost four a.c.'s to heat stroke in the 116 degree Death Valley days. "It was really, really gnarly," says producer Leanna Creel. And despite an infusion of cash, the approach remained one born of no-budget origins. Falcon not only starred and choreographed the fight sequences, but handled production design and costumes as well. "We'd sleep two or three hours a night," he said. "Lance would be working on shot lists and planning out things for the next day's shoot, and I'd be working on some choreography ideas and shot lists and doing costumes and props at three o'clock in the morning. And then we'd wake up at five or six in the morning and shoot. It was very hectic."
"Jeff and I are both of the school that says you make use of what you have," says Mungia. "And we kind of wrote the script with that idea in mind. You know, you go to Death Valley and you point the camera in any direction, it looks amazing. And you know that if you make your villains really shadowy, you can have them wearing trench coats and silhouette their faces and you won't really be able to tell it's a cheesy rubber trench coat. We just figured we'll find a lot of ways to cheat stuff and make it work without anyone knowing that it's, you know, cheap."
Six-String Samurai had its premiere at Slamdance in January, where the film won prizes for Best Editing and Best Cinematography. Word of mouth was good among the junior acquisitions execs who saw it, but there was no Main Street cell phone sale. Instead, HSX set up a slew of screenings back in L.A. But before the film had a chance to play for distributors, Chris Blackwell, who founded Island Records and Island Pictures in the 1970s, and had recently formed a new venture called Palm Pictures, saw the film at Fotokem. Blackwell liked what he saw, and made an immediate bid to take the film off the market. "He really dug the film," said Mungia, "and he gets the whole idea of the cross-over potential of the soundtrack and the video game and the comic book and all this other stuff."
And so a no-budget feature became a $2 million movie with a reported seven-figure purchase by an upstart distributor. Palm Pictures plans to release the film in September; it will be their first film. In the meantime, Overseas Film Group is repping Six-String for foreign sales, and Mungia and Falcon were palpably giddy talking about the bidding war their movie inspired in Japan this Spring. And, of course, Six-String Samurai is promoted on the Hollywood Stock Exchange, where players can take time out from pulse-racing trades of Sandra Bullock bonds and Armageddon options to order Six-String merchandise. The project's stock rises and falls as the potential audience wrestles with their expectations. How, in the end, will this grand, sweeping, goof-ball movie play? Lance Mungia professes a love of David Lean, of Stanley Kubrick, of City of Lost Children. "If you can create an elaborate world, that's what I like," he says. "I don't think films should be these boring typical things, where it's the same things you see everyday. Make it bigger than life. Mythic. That's my whole thing." No realist, he. But then he wouldn't have set out into the desert with a movie camera if he were.