PRODUCTION UPDATE
Compiled and edited by FILMMAKER Contributing Editor, Mary Glucksman.
---
Christopher Munch launched his third feature, Backward Looks, Far Corners, this past fall by shooting a week's worth of scenes with Martha Plimpton, who stars in the film with Jacqueline Bisset. Plimpton plays a Wall Street lawyer who was given up for adoption at birth by Bisset, a fifty-ish San Francisco divorcée troubled by a cancer diagnosis. The film's a lyrical and complex tale that weaves parallel developments in both women's lives as each responds to a sudden, unaccountable longing to seek out the other; Munch calls it a "story of reflection and reckoning."
Munch and producers Andrea Sperling and Ruth Charny are using the cut scenes from last fall's shoot to attract equity investors before the remainder of principal photography in L.A., San Francisco, New York and Daytona Beach begins later this summer.
Heralded as a rare original for his 60-minute '92 debut, the "John Lennon-in-Barcelona" fantasia The Hours and Times, Munch delivered an equally iconoclastic feature, Color Of A Brisk and Leaping Day, in '96. While his first film, positing a relationship between Lennon and Beatles' manager Brian Epstein, fit obliquely into an emerging queer cinema, his second evoked comparisons to Francis Ford Coppola and Terrence Malick. He developed Backward Looks, Far Corners, with the help of an IFP/West $20,000 SWATCH Someone to Watch Award.
In addition to Sperling, who produced Color Of a Brisk and Leaping Day, and Charny, who was an exec producer, Munch's new film also reunites him with Michael Stipe, the REM frontman who made his acting debut in the earlier pic. This time Stipe's involved through C-100 Film Corp, the indie banner in which he's partnered with Girls Town director Jim McKay.
Though Color Of A Brisk and Leaping Day and The Hours and Times were acclaimed for their sumptuous black-and-white cinematography, d.p. Rob Sweeny is shooting this time in 35mm color. So far the project has been funded entirely through private equity investment, and all rights are available.
Principal Cast: Jacqueline Bisset, Martha Plimpton, Nick Stahl, Marcia Gay Harden. Crew: Producers, Andrea Sperling, Christopher Munch; Executive Producer, Ruth Charny; Screenwriter/Director, Christopher Munch; Director of Photography, Rob Sweeny; N.Y. Line Producer, Per Melita; Casting, Kerry Barden. A presentation of Antarctic Pictures and C-Hundred Film Corp. Contact: Christopher Munch, Fort Washington LLC, 7110 Woodrow Wilson Drive, Los Angeles, CA 90068. Tel/Fax: (213) 874-2407.
---
Mia Farrow plays a hippie mom whose permissive ideology evaporates when her 17-year-old daughter discovers sex at an elite Upper East Side private school in Colette Burson's Coming Soon. Ostensibly a coming-of-age comedy about a cliquish trio of sexually-precocious girls, the film also paints a sobering portrait of wealthy kids encumbered by everything except adult guidance. In addition to stars Farrow and Gaby Hoffman, the film also features Spalding Gray as a professor and Peter Bogdanovich as a South American potter.
Burson, who segued from an NYU film MFA to write and direct for regional theater, is known in Hollywood for several studio-assignment scripts and a short film, Tricky. Producer Keven Duffy discovered the script for Coming Soon three years ago when she worked as an exec for the now-defunct Savoy. After stints with October Films and Lobell/Bergman, Duffy decided to produce and brought Burson's script to indie upstart Bandeira Entertainment. Coming Soon is the first New York production for Bandeira partners Beau Flynn and Stefan Simchowitz, who have completed six features in just three years. Flynn says they made Coming Soon with coin from co-financing pioneers Key Entertainment, who previously provided cash for two other Bandeira productions, Life During Wartime and Judas Kiss.
The 35mm Soon rolled in Manhattan April 27; locations include Central Park, au courant art galleries and bars like Pravda and Spy, and a hundred-year-old upper crust private school. The film will have an indie-rock soundtrack and should be done by Labor Day; rights are available through Bandeira.
Cast: Bonnie Root, Gaby Hoffmann, Tricia Vessey, James Roday, Mia Farrow, Ryan Reynolds, Spalding Gray, Kevin Corrigan, Peter Bogdanovich; Crew: Producers, Keven Duffy, Beau Flynn, Stefan Simchowitz; Executive Producers, Matthias Emcke, Thomas Augsberger; Screenplay, Colette Burson and Kate Robin; Director, Burson; Cinematographer, Joaquin Baca-Asay; Production Designer, Anne Stuhler; Costumes, Melissa Toth; Editor, Norman Buckley. Contact: Beau Flynn, Bandeira Entertainment, 1520 N. Ogden Drive, Los Angeles, CA 90046. Tel: (213) 866-3535, Fax: (213) 876-8879.
---
Kundun meets Pull My Daisy in Bari Pearlman and Jesse Thompson's The Dharma Brats: Growing Up Buddhist in America, a feature documentary about Gen-X'ers raised in America's first Tibetan Buddhist community in Boulder, Colorado.
Subjects in the film reminisce about their unconventional upbringing and reflect on what caused their harmonious community to implode as it did. The community, or Sangha, was largely dissolved in the mid-'80s after a move to Halifax; founder Trungpa Rinpoche's subsequent death from liver disease at 47; and allegations that Rinpoche's chosen "Dharma heir" had willfully introduced HIV into the community.
"The film is about a group of kids who are born into, rather than choose, spirituality," says Pearlman. "They're struggling with the same questions of faith as [other religious adepts], but theirs is such a different mindset – bridging East and West – it makes assimilation into the secular culture that much more challenging."
Thompson, 26, began Dharma Brats as a book project in 1994. Pearlman, who has worked for the Hamptons and New York Women's film festivals, later came on board and is helping to raise the $200,000 production budget. (Pearlman's own 30-minute doc, Mah Jongg: The Tiles that Bind, co-directed with Phyllis Heller, premieres at the San Francisco Jewish Film Festival in July.)
The Dharma Brats is being shot on Super- 16mm by Anthony Hardwick (Frathouse) and Joaquin Baca-Asay (Ratchet). The filmmakers have already completed a 14-minute section culled from a dinner party reunion in an East Village loft on the 11th anniversary of Rinpoche's death. The remainder will be shot over six weeks in August and September including two weeks in Colorado, a stop in L.A., and a journey up the East Coast to a buddhist monastery in Vermont, and to Halifax. Dharma Brats should be done by year's end. All rights are still available.
Crew: Producers/Directors, Bari Pearlman, Jesse Govinda Thompson; Cinematographers, Joaquin Baca-Asay, Anthony Hardwick; Sound, Caleb A. Mose; Editor, Lana Lin; Composers, Tim Morton and Mark Revell. Contact: Bari Pearlman, Crazy Wisdom Pictures, Inc., 26 Grove Street, Suite 2E, New York, NY 10014. Tel/Fax: (212) 989-8978.
---
Amos Kollek continues his singular collection of features about women on the brink of emotional crisis with Fiona, the portrait of a 31-year-old crack-smoking prostitute. Like his previous Berlin prize winner Sue, the film brandishes an edgy realism that feels as much like documentary as fiction. Sue-star Anna Thomson returns to play Fiona while her aging prostitute mother is played by a real working girl.
Kollek says he and Thomson were planning to shoot a different version of Fiona when he stumbled into a crack den while doing research for a documentary project. Realizing that he had to shoot there, Kollek melded the two projects so that Fiona now contains some of the most explicit footage of prostitutes at work ever dared in a dramatic feature.
Kollek, 50, splits his time between New York and Jerusalem, where he's known as both a novelist and filmmaker. He's written five books, including 1971's award-winning Don't Ask Me If I Love, as well as a doc about his dad, former Jerusalem mayor Teddy Kollek. North Americans know Kollek best as the director of five fiction features starring actresses like Julie Hagerty (Goodbye, New York), Hanna Schygulla (Forever Lulu), Sally Kirkland (High Stakes) and Faye Dunaway (Double Edge). Sue, Kollek's seventh feature, won both the FIPRESCI and Ecumenical Jury prizes at this February's Berlin festival and has been sold by sales agent Christa Saredi to France, Germany, the Netherlands, Greece, Poland and Mexico; U.S. rights remain available.
Cinematographer Ed Talavera, also Sue's d.p., shot Fiona hand-held on 16mm while Kollek ran sound and lights. "I was very interested in seeing what I could do with only the two people you absolutely need to make a film, and we ended up getting to shoot in a lot of places where [the proprietors] didn't necessarily know what we were doing," says Kollek. Fiona should be done this summer and all rights are available.
Cast: Anna Thomson, Felicia Maguire, Alyssa Mulhern, Anna Grace, William Dawes, Mike Hodge, Matthew Powers. Crew: Producers, Amos Kollek, Osnat Shalev; Co-Producers, Linda Moran, Rene Bastian; Screenwriter/Director, Kollek; Cinematographer, Ed Talavera; Add'l Cinematography, Peter Agliata; Editor, Jeff Harkavy; Music, Alison Gordy. Contact: Amos Kollek, 77 Ha'Eyal Street, Malcha, Apt. #9, Jerusalem 96955, Israel. Tel/Fax: (972-2) 679-5495; NYC Fax: (212) 727-7284.
---
Katherine Dieckmann makes her feature debut with A Good Baby, an atmospheric southern fable about good, evil and redemption shot in the Smokey mountains outside of Asheville, North Carolina. Based on Leon Rooke's novel of the same name, Baby centers around the efforts of a solitary young mountain man, Toker (Henry Thomas), to find someone to take care of an infant he's found abandoned in the woods. Elsewhere the radiant baby might be irresistible, but no one in this poor-as-dirt town can afford to adopt the child. The abandoned baby also seems to harbor magical qualities. Meanwhile, a bedraggled 12-year-old is making her way towards town on foot in search of her missing teen-aged sister. Who gets taken in by whom is the film's big surprise.
Dieckmann started out as a writer and photographer and has been published in a range of magazines from Spin and Rolling Stone to Vogue and Art Forum. She got her first directing break in 1986 when REM's Michael Stipe asked her to do a music video for "Stand." The resulting track launched Dieckmann as a music video director, and she went on to clips for artists like Everything But The Girl, Throwing Muses, Wilco and Aimee Mann. In 1992 she directed the pilot for "The Adventures of Pete and Pete" for Nickelodeon and, when it proved to be a hit, stayed on through three seasons.
Baby was workshopped at the 1996 Sundance screenwriting and directing labs and is being produced by Lianne Halfon and Kardana Films' Tom Carouso. Halfon was a production V.P. for J&M Films in L.A. for six years before leaving to executive produce Crumb. Carouso formed indie-finance specialist Kardana Films in 1993 and has since executive produced five features – Safe, Drunks, Office Killer, Arresting Gena and Kiss Me Guido – and produced The Blood Oranges.
Baby set up shop in Asheville in mid-March for an April 6 shoot with a full complement of New York crew including much-in-demand d.p. Jim Denault. North American rights are available; Pandora is selling international rights.
Cast: Henry Thomas, David Strathairn, Caroline Seymour, Hindmarch Credit, Jayne Morgan, Danny Vinson, Allison Glenn, Danny Nelson, Jerry Foster, Emily Jacobs. Crew: Producers, Lianne Halfon, Tom Carouso; Co-Producer, Derrick Tseng; Screenwriter/Director, Katherine Dieckmann; Cinematographer, Jim Denault; Production Designer, Debbie De Villa; Casting, Avy Kaufman; Editor, Kris Boden. Contact: Tom Carouso, Kardana Films, Inc., 285 Hudson Street, 2nd floor, New York, New York 10013. Tel: (212) 255-9680, Fax: (212) 255-9648.
---
Brad Battersby's The Joyriders is a hard-boiled Christmas tale about three homeless teens who kidnap a suicidal 67-year-old retiree (Martin Landau) and hold him hostage in his Cadillac during a week-long joyride.
The film begins as 16-year-old Cam (In and Out's Shawn Hatosy) and 15-year-old Jodi (A Thousand Acres' Elisabeth Moss), watch the abandoned car they live in get firebombed. They then meet 17-year-old Crystal (New York Stories' Heather McComb), on the run after slicing her foster dad with a straight razor. Spotting Gordon (Landau) in a shopping mall parking lot, the teens hijack his car and take him hostage. By the end, the troubled teens wind up restoring his will to live.
Battersby majored in film and theater at Stanford and began his working career as a commercial director in New York. After his first short, The Morning During, sold to HBO, he became a Directing Fellow at the American Film Institute. Battersby's first feature, Blue Desert, won a Best New Director award at the 1991 Palm Springs festival and launched him as a studio screenwriter. He's also written and directed episodes of the Fox Network drama "Sweet Valley High." He made Joyriders by hooking up with producers Midge Sanford and Sarah Pillsbury, known for such films as Desperately Seeking Susan, River's Edge, Eight Men Out, How To Make An American Quilt, Love Field and and HBO's "And the Band Played On." The duo financed Joyriders through Norann Entertainment, a new indie entry capitalized by Texas businessman Norm Miller and his wife Anne, and run by Cindy Bond, who is producing with Sanford/Pillsbury.
Joyriders shot for six weeks in L.A. this past spring and wrapped with several days of establishing exteriors in Portland. The film should be done by Labor Day; all rights are available.
Cast: Martin Landau, Shawn Hatosy, Elisabeth Moss, Heather McComb, Kris Kristofferson, Diane Venora. Crew: Executive Producers, Anne Miller, Norm Miller; Producers, Sarah Pillsbury, Midge Sanford, Cindy Bond; Co-Producers, Ted Voltmer, June Petrie; Director, Bradley Battersby; Screenwriters, Jeff Spiegel, Bradley Battersby; Cinematographer, Steve Fierberg; Production Designer, Amy Ancona; Casting, Mali Finn; Editor, Terilyn Shropshire; Costume Designer, Sara Jane Slotnick; Music Supervisor, Anne Kline for Tri-Tone; Composer, J.A.C. Redford. Contact: Midge Sanford/Sarah Pillsbury, 1459 Sixth Street, Santa Monica, CA 90401. Tel: (310) 393-5225, Fax: (310) 393-8665.
---
Hill Harper (He Got Game) stars in Sterling Macer, Jr.'s Park Day, an updated African-American variation on American Graffiti set in a sleepy Missouri town. The Park Day of the title is a weekend-long annual event commemorating a 1906 public lynching that caused Springfield, Missouri, then a vibrant, thriving black community, to disintegrate overnight. Brock Peters (To Kill A Mockingbird) plays an ancient voodoo man locals believe cursed the town after the lynching.
Macer, a 30-year-old actor directing his first feature, unfolds his story over a 24-hour-period during which three young people come to terms with their future. Says the director, who grew up in Springfield, the film's about "kids trying to figure out how they want to live their lives and who they want to be on a lazy summer day. What's different is their need to overcome the general disinclination to reach for more that permeates their community."
Macer's directed for the stage and made one short film, The Mack Daddy Chronicles, but is best known for his acting stints on series like "Homefront" and "Harts of the West." "I'd stand behind the camera watching the d.p. and director even on my days off," he says. "That was my film school." Macer intended to make Park in 16mm on a shoestring until Ted Melfi, an L.A. a.d. who knew Springfield from his college years at local Southwest Missouri State, joined with the film's other producers to raise financing to shoot in 35mm color.
Park Day shot over 32 days last July and August. Marcus Shelby of the jazz group Black Note is composing Park's score and the filmmakers are working with a small San Francisco record label to design a soundtrack. Expect a finished film this summer; all rights are available.
Cast: Hill Harper, Brock Peters, Monica Calhoun, Lande Scott, Ron Canada, Sydney Tamiia Poitier, Darius McCrary, Autumn Jackson. Crew: Producers, Ted Melfi, Sterling Macer, Jr., Cathleen Alexander, Alan Arrivee, Jefferson Donald; Screenwriter/Director, Macer; Cinematographer, Stephen A. Blake; Production Designer, Alan Arrivee; Editor, Bob Claridge; Composer, Mark Shelby. Contact: Ted Melfi, Clandestine Entertainment, 6922 Hollywood Blvd., Suite 700, Hollywood, CA 90028. Tel: (213) 461-6700, Fax: (213) 461-6767, website: www.moviepartners.com.
---
Indie favorite Kevin Corrigan (Kicked in the Head, Walking and Talking) stars in Eric Mandelbaum's Roberta, the story of a Manhattan computer specialist who goes out on a limb to help a childhood friend.
The emotionally constrained Jonathan (Corrigan) is shocked when a trip to the mean streets of Long Island City reunites him with Roberta, an old friend who's now working as a prostitute. Honest charity prompts Jonathan to help Roberta. He invites her to move in with him and attempts to find her a job, but he's ill-equipped to deflect the incredulity of his girlfriend. Soon, Jonathan's compassion mutates into obsession and disaster ensues. Mandelbaum says several established indie actresses were hot to nail the title role, but he opted to cast unknown Daisy Rojas. Also in the cast are Hal Hartley star Bill Sage and Amy Ryan (The Naked Truth).
A 1982 SUNY Purchase film grad, Mandelbaum is best known for his 1993 short, Bum Deal, starring Corrigan and Isiah Washington. Along with writing credits on two made-for-cable features and some 40 documentaries for the likes of National Geographic and The Discovery Channel, he's collected credits as production manager or coordinator on some 50 commercial shoots. David Kashkooli, Roberta's producer, launched his career as a journalist out of Berkeley and honed his film skills producing shorts before heading east for a stint in development at Barwood Films. Kashkooli and Mandelbaum shot Roberta in Super-16mm and used an LLC to raise Roberta's south-of-a-million financing through private investors.
Roberta shot in Manhattan and Long Island City for 26 days beginning late last October. At press time the filmmakers were inching towards a final cut with editor Sam Adelman. Roberta will be blown up to 35mm this summer; all rights remain available.
Cast: Kevin Corrigan, Daisy Rojas, Amy Ryan, Bill Sage, Johnny Tran, Brian Tarantina, Edward Vassallo. Crew: Producers, David Kashkooli, Eric Mandelbaum; Screenwriter/Director, Mandelbaum; Cinematographer, Kevin Murphy; Production Designer, Katherine Szilagyi; Casting, Stephanie Klapper; Editor, Sam Adelman; Costumes, Lisa Padovani. Contact: David Kashkooli, Moving Parts LLC, 169 West 74th St, #2B, New York, NY 10023. Tel/Fax: (212) 799-5823.
---
First-time feature director David Goldsmith deftly finds the comedy amidst the pathos that might otherwise mire Sally, his coming-of-age tale about a teen who escapes a mental institution and then searches for his dream girl.
Bugs has Tourette's syndrome. Escaping the Marlboro House – a spot for disturbed teens – he hitches a ride with an equally disturbed young couple, Jack and Beth. When Beth becomes attracted to Bugs, the situation becomes explosive.
"It's a love story about believing in your own dreams," says Goldsmith. "Bugs is stuck in a place he doesn't belong but through faith in his own dream and convincing someone else – Beth – to believe in him he gets out." Michael Rubenstein makes his feature debut as Bugs, Goldsmith himself is Jack, and Rachael Leigh Cook (The House of Yes) plays Beth.
A two-year veteran of New York's Actors' Studio, Goldsmith has played in three indie features including Full Court Press and had a featured role on the Fox Network series "Models, Inc." He also starred in his first foray as director, The Death of the Monkey (IFFM '96). Sally producers Ted Collins and Kathleen Thomas are teaming for the first time; Collins previously produced Arthur Egeli's Hamptons '94 Golden Starfish winner Unconditional Love. Thomas has a '94 M.A. from NYU's Cinema Studies program and was New York-based Longfellow Pictures' Director of Development for three years; she'll turn up next associate producing River's Edge director Tim Hunter's latest feature, The Undertow.
The Super-16mm Sally spent 22 days in April shooting in Pennsylvania's Harrisburg State Hospital, a several-hundred acre complex that provided entire buildings for office space as well as sets, beginning March 30. Thomas says Sally was the first film to take advantage of a new Pennsylvania law making all state-owned property available to filmmakers for free. Sally should be done sometime this summer; all rights are available.
Cast: Michael Rubenstein, Rachael Leigh Cook, David Goldsmith, Xander Skye, Jared Reed, Gerrit Vooren, Kevin Pinassi, Matt Price. Crew: Producers, Kathleen Thomas, Ted Collins; Screenwriter/ Director, David Goldsmith; Cinematographer, Richard Cronn; Production Designer, Whitney Browne; Editor, Jacob. Contact: Kathleen Thomas, Blackbird Post, 8th floor, 138 West 25th Street, New York, New York 10001. Tel: (212) 254-8555; Fax:
---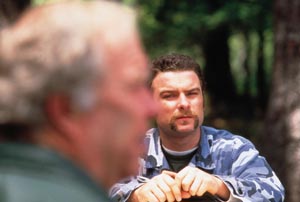 Ned Beatty and Liev Shreiber in Tom Gilroy's Spring Forward
Tom Gilroy gets a top-flight cast for his first feature, a diary-like study of a young ex-con (Daytrippers' Liev Schreiber) rethinking his future under the gentle guidance of his new work partner (Ned Beatty). Spring Forward begins the day the recently paroled Paul – jailed for holding up a Dunkin' Donuts in a rash moment of financial desperation – gets a fresh start with a Parks and Recreation gig. Paul's partner, Murph, is 64 and winding down towards an uncertain retirement 12 months hence. The film unfolds through four distinct episodes, each set in a different season during the course of a year. Along the way Paul's life lessons include encounters with a Lexus-driving yuppie (Campbell Scott), an alcohol-plagued childhood friend, and an hysterical young woman running from her abusive husband (Lili Taylor). He also wins a date with a free spirit who cares more about whether he eats dairy than the fact he's been in jail. "It's Ken Loach territory but a U.S. variant," says Gilroy. "It's about class, community and displacement and [the story] works in an elliptical fashion."
Gilroy says he got the idea for Spring Forward several years back when he shared a Boston hotel room with his father during a family crisis. Best known for starring opposite Ian Hart in Ken Loach's Land and Freedom, Gilroy's spent ten years as an actor and turns up next in Paul Auster's '98 Un Certain Regard opener Lulu on the Bridge. He also directed a 17-minute short starring Lili Taylor, Touch Base, that was a hit at Sundance '95. Spring teams Gilroy with a trio of producers including Hurricane Streets' Gill Holland, Girls Town director Jim McKay – Gilroy's college roommate – and REM lead singer Michael Stipe, also an old friend. McKay and Stipe are on board through indie venture C-100 Film Corporation and have been Gilroy's co-conspirators many times over on assorted projects.
The 35mm Spring is being shot to accommodate the seasonal variations that Hollywood art departments can't buy and low budget indies can't afford – in distinct sections scheduled for early May (in the can at press time), July, October and January. Holland says solid-seven-figure equity financing came together quickly and the biggest headache so far has been May rains. Gilroy says REM guitarist Peter Buck will score the film; rights are available.
Cast: Ned Beatty, Liev Schreiber, Campbell Scott, Lili Taylor. Crew: Producers, Gill Holland, Jim McKay, Michael Stipe; Screenwriter/Director, Tom Gilroy; Cinematographer, Terry Stacey, Production Designer, Susan Block; Editor, Jim Lyons; Line Producer, Paul Mezey. Contact: Gill Holland, cineBLAST, 32 Thompson St., New York, NY 10013. Tel: (212) 941-0788, Fax: (212) 334-9794.