FESTIVAL ROUNDUP
---
Cannes Film Festival
Cannes suffered from the pre-millennial blues this year. Films by major directors felt minor, and no new schools of cinema emerged; neither was there any embarrassing or insulting work. The mood was somber, and the legendary parties lacked imagination. As such the Festival paralleled the cinema world as a whole. There is little energy now for cinematic experimentation, but filmmakers everywhere also acknowledge that the old cinematic avenues are feeling tired. (The exception to all of this is the continuing sense of sophisticated daring coming out of East Asia, where the upcoming calendar event doesn't seem quite as important.) There was also a sense of bottomless wealth for making films, and yet even the richest producers were looking over their shoulders at DV and the changes it may ring for cinema. These are uncertain times, apparently.
This spiritual exhaustion was accentuated by the Competition Jury's ludicrous awards. The jury not only betrayed their lack of knowledge of recent film history but also profoundly misunderstood Cannes' role in world cinema, all at a terrible cost. The two big prize-winners, Luc and Pierre Dardenne's Rosetta and Bruno Dumont's L'humanité are minor variations on better first films, La Promesse and La Vie De Jesus. (To be fair, Dumont was trying, in a corpulent two-and-a-half hours, to give a greater scope to his work but what he actually delivered was told better and far more succinctly in his earlier film.) Both films express a kind of regional working class disenchantment with our age. The Dardenne film depicts a young woman's frustration with her unemployment. L'humanité follows a simple-minded policeman and his friends through the intrigues around a brutal killing in their quiet town; the jury was particularly impressed with Emmanuel Schotté's portrayal of a simple-minded, vacuous police officer, a performance that seemed less interesting after the actor's simple-minded, vacuous acceptance speech.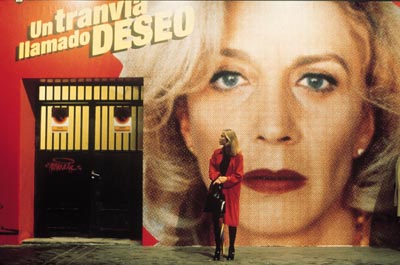 Pedro Almodovar's All About My Mother, Foreground: Cecilia Roth, Background: Marisa Paredes; Photo: Teresa Isasi.
The jury, headed by David Cronenberg, congratulated themselves on highlighting films that world cinema would otherwise ignore. While it is true that Rosetta will get a few dollars more from its Arte sale and L'humanité might now get bought by a small U.S. distributor, the jury's "victory" was ultimately Pyrrhic.
Solid films from excellent directors were excluded from the awards. Three leap to mind: Pedro Almodovar's All About My Mother, Chen Kaige's The Emperor and the Assassin and Takeshi Kitano's Kikujiro. Almodovar's wonderful film is a tour-de-force tribute to the women of classic Hollywood from the innermost soul of a gay man who loves them. Kaige has made an extraordinarily beautiful epic of warring Chinese states featuring the luminescent Gong Li. Kitano's film, a radical departure for him, is a heart-on-its-sleeve road comedy that feel like a perverse cross between John Hughes' Dutch and Gianni Amelio's Stolen Children.
I am a big fan of the first two and less excited by the latter, but for the sake of this article, they are in the same boat. All three are pretty commercial: glamorous women for gays; swashbuckling swordsmen for Ben Hur-aholics and a comedy for the Kolya crowd. (Unfair: Kikujiro is much better than Kolya). All three will be distributed by Sony Classics, a major company, and, as such, will be widely seen. Did the jury decide that these films had made it already? That a Cannes prize wasn't necessary? I fear that was indeed their reasoning.
What they failed to understand was that while, with their content and with Sony behind them, these films have a better shot than many, all three still enter the United States hobbled. The penetration of foreign-language art films into the American market, even ones by international superstar directors, is a tiny percentage of what equivalent international American art stars like Tarantino or Mamet are able to do. Despite the amazing success of Life is Beautiful, it is still very difficult for a foreign- language film to get seen by even one tenth of one percent of the United States population. Whatever your feeling about Il Benigni, his success could well have paved the way for an increasing number of foreign-language art films to reclaim a piece of America's screen time, both small and large. These three would have been excellent candidates to do so. It's not impossible now for this to still happen, but the prizes haven't helped anyone.
The jury also failed to understand the nature of the American films in this year's Competition. The three main selections were John Sayles's Limbo, David Lynch's AStraight Story and Jim Jarmusch's Ghost Dog: The Way of the Samurai. The Sayles works an intriguingly open-ended narrative in a contemporary Robinson Crusoe story; and the Lynch is a small, "shaggy dog" road movie for the whole family. Minor work from perennially interesting filmmakers. The Jarmusch is something else: a dramatic rethinking of the contemporary hit-man film through the eyes of an ancient samurai text. The result is absolutely American, urban and full of Ozu-like restraint.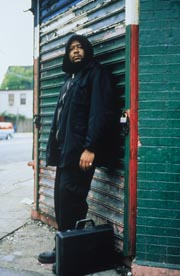 Forest Whitaker in Jim Jarmusch's Ghost Dog: The Way of the Samurai, which screened in competition at Cannes. Photo: Abbot Genser
One could hardly imagine a better sampling of iconoclastic filmmakers who represent a tense resistance between studio financing and independent production. While not necessarily important work by these directors, the films should certainly should have been in the running for awards. One senses that they were excluded because they emerged from the dominant world cultural power.
Atom Egoyan's tough, perfectly acted (especially by Bob Hoskins) new film, Felicia's Journey, was also studiously ignored by the jury. Perhaps he too was being punished for having his film produced by Mel Gibson's Icon.
Other highlights included a controversial new film from Peter Greenaway. Loathed by most, I found it a welcome return to form after his dabblings in the literary (The Pillow Book) and historical (Baby of Macon) worlds. As tough and exciting as The Cook, The Thief, His Wife and Her Lover, 81/2 Women is a jaded inspection of overdetermined and overly successful collectors – the plague of millennial culture – played out with lots of humor and amusingly untantalizing sex. When Greenaway gets it right — The Cook, the Thief, A Zed and Two Noughts, and this new film – cinema has no better interrogator of contemporary culture.
Amos Gitai's first good narrative feature film, Kadosh, delves deep into Orthodox culture in Israel to find an unsettling story of a woman abandoned. Gitai is a documentarian switching to fiction, yet the film's only whiff of documentary is its eerily accurate sense of entering a forbidden world.
Many critics were taken (in?) by Aleksandr Sokhurov's silly mannerist Hitler bio-pic and another lugubrious Manoel de Oliveira yarn. Nobody much cared for Nikita Mikhalkov's multi-houred Barber of Siberia nor Leos Carax's bourgeois-loathing (read: self) tortured-artist-amongst-the-Bosnian-refugees tome, Pola X.
The Director's Fortnight had a new director this year in Marie-Pierre Macia, formerly of the San Francisco Film Festival, and her selection was good. She particularly excelled with the American independents, an area of baffling inconsistency in past years. The group included Alex Winter's dark, obsessive and intricately Corman-esque Fever and Sofia Coppola's sophisticated and charming The Virgin Suicides. Anjelica Huston's newest film, Agnes Browne — the plucky tale of an Irish widow getting back at her debtors — made up in charm and wit what it lacked in narrative complexity.
Macia also showed a strong feel for the new cinematic movements of Asia. Nobuhiro Suwa's M/other is a follow-up to his largely improvised "screechy fighting couples" film, 2 Duo. M/other is a far more sophisticated film using the same improvisational approach; the story concerns a woman whose older boyfriend brings home a confused young son from a previous marriage. Her inability to feel like a mother to the child questions her role in Japanese society in a controlled and fascinating way. Charisma is the newest and strangest film from new Japanese master Kiyoshi Kurosawa. His elegant blending of genre and experiment is winning him fans everywhere; this environmental cult thriller in which the villain is a tree should add legions of new acolytes. Chang Tso-Chi's Darkness and Light shows an interesting turn in Taiwanese cinema: unusually upfront sentimental material — the daughter of a blind family of masseurs falls in love with a soon-martyred young gangster — is handled in the quintessentially dispassionate manner we have come to expect from the island's filmmakers. It makes the film's emotional resolutions far more genuine than one might expect.
Other strong work included Jeremy Podeswa's sumptuous, lush and breathtakingly photographed The Five Senses, an interlocked set of stories relating to the eponymous subject; and Benoit Mariage's kooky, steely black-and-white Belgian family story, Les Convoyeurs Attendent.
Not strong was Macia's French selection. Mediocre work, much of it by old school '68ers who have nothing left to do but whine about the old days, was the rule, save the small, charming provincial film, Le Bleu des Villes, in which a policewoman dreams of becoming a singing star.
Un Certain Regard, the B-list of the Competition selectors, outshone the main event for the second year running. Their selection mirrored the Fortnight in most respects with less-than-riveting films from France and a rich and deep Asian selection. The best of the lot though was Ratcatcher, the first feature by immensely talented Scottish filmmaker Lynne Ramsay. Atmospheric and moody, surreal and tough-minded, this is the kind of observational narrative we would expect from a great master in mid-career. Every note of the film is perfectly conceived and elegantly presented, with the exception of a second, Fellini-esque ending out of keeping with the rest of the work. The film tells the story of a dirt-poor Glasgow family during a mid-'70s garbage collection strike in a community dealing with a child's murder.
Many were surprised that Ratcatcher did not win the Camera d'Or for best first feature, but the film that did was a charming surprise. Despite its title, Murali Nair's Throne of Death is a gently ironic fable about the first man to be sentenced to the electric chair in India. Instead of fear and dread, the uneducated peasant is full of pride; he becomes a local hero to the provincial village in which he gets executed because he has allowed the village to receive electricity and attract senior Cabinet Ministers to the unveiling.
Other section highlights included Wang Xiaoshuai's gritty take on a Vietnamese prostitute in Shanghai, So Close to Paradise, and Chen Kuo-fu's heavily stylized drama about the nature of loneliness, The Personals.
Un Certain Regard also saw the premiere of Chris Doyle's wild experimental roller-coaster ride, Away With Words. A kind of poem to inarticulateness, Doyle's two main characters are a sexy Japanese guy who transposes words and their meanings — so the word "house" means the color red to him — and a gay bar owner whose drunkenness renders him amusingly incoherent to all but a chosen few. The cinematography is unspeakably beautiful, with every frame a strikingly original take on color and form. No surprise. Doyle has shot all of Wong Kar-wai's films.
Perhaps the old masters, so weary of predicting the concerns of the coming years, can learn a thing or two from the exuberant cinema of an East Asia reveling in all the confusion.
---
New York Lesbian and Gay Film Festival
With the summer season swinging into full gear, many Big Apple gays were puffing up their pillows in their Fire Island abodes. Meanwhile their more culturally bent — and financially poorer — brethren were stuck gleefully attending the 11th Annual N.Y. Lesbian and Gay Film Festival (June 3-13).
With over 200 independent films and shorts on view in four locales (including Brooklyn for the second year) plus representation from Japan, Germany, Canada and Norway, this was the Fest's biggest year both in the selection of films and attendance, according to Basil Tsiokos, the new program coordinator.
As for content, Tsiokos says, "This year, we had pretty strong showings dealing with gays and their families. Also an overwhelming showing of documentaries and narratives about transgender people. Themes develop basically from what's out there. Usually there's a lot of the same kind of material, but it does change from year to year. Last year we had an opportunity to do a larger focus on African cinema. There was even a film from the Ivory Coast. Not this year."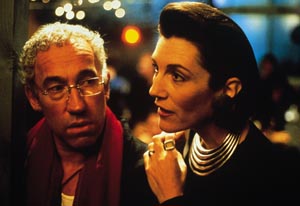 Rose Troche's Bedrooms and Hallways
What's really fascinating though about this festival is how every film attracted its own specific audience. Sidra Smith's
A Luv Tale
was a look at two beautiful black lesbians, one a "straight" magazine editor, the other a "gay" photographer. This effort had the audience, which was heavily populated with black gals, cheering and laughing much more strenuously then anything on the screen artistically merited, except possibly the fine performance by rapper MC Lyte. Yet where else could you go and see two intelligent black women chat, let alone kiss?
Attracting a large group of gay Indian attendees was Kaizad Gustad's enjoyably loony romp, Bombay Boys, a tale of three young men of Indian descent returning to their country respectively to find a lost brother, to become a star in Bollywood, and to become queer. They all succeeded to various degrees.
As for Marco and Maurio La Villa's Hang the DJ, a beautifully accomplished documentary on a not exactly absorbing subject — whether playing and scratching records in discos is an art form — its audience was brimming with stunning, shallow twits. I mean dance enthusiasts.
The drag queens, though, saved themselves for the saucy spectacular Charlie!, an adaptation of the off-off-off Broadway show. This spoof on "Charlie's Angels," which features Mistress Formika, Sherry Vine, and Candis Cayne as lovely detectives who are out to discover whether a certain manufacturer has created a lipstick that can make you retarded, was a hoot when you could hear the dialogue, which wasn't that often. The main venue, The New School's auditorium which has seating for 475, may be fine for its normal use — lectures by the likes of Susan Sontag and discussions on the future of mass transportation. But as a movie theater, its sound and projection is often irritatingly uneven, no doubt causing many of this year's directors to throw in the towel and apply for sales jobs at Bloomingdale's.
Another film of note was Gil M. Portes' comic Miguel/Michelle, a touching look at how a small Filipino town reacts when one of its boys returns from the United States as a woman.
Festival favorite Rosa von Praunheim contributed a hilarious 28-minute short, Can I Be Your Bratwurst, Please? Porn star Jeff Stryker displays his infamous appendage here after he checks into a Los Angeles hotel, not realizing that all its inhabitants are cannibals who see him as their next meal. This is to be released internationally as part of a trilogy with two more erotic tales helmed by different directors.
Jim Fall's sexy Trick, the closing night feature, dealt with the problem of finding a place to copulate in with a go-go boy you've just picked up on the subway, and Rose (Go Fish) Troche's frantic farce, Bedrooms and Hallways, opened the fest with a bit of controversy. Its hero actually winds up in bed with a woman!
"That was kind of my mistake," Troche admits, "because a lot of people do see him as turning straight which I'm not an advocate of." Laughing, she added, "I've never been an advocate of anyone turning straight. But I am an advocate of gay and lesbian film festivals. It's really funny. As we go on, everyone thinks that these festivals are no longer necessary because there's so much love and acceptance of gays and lesbians. It's just so untrue. It's necessary to have these festivals to see each other's work and to support each other as much as we can. They give us a place to meet, a platform to say what we feel, and to me, they're totally crucial. Without this festival, I'd be nothing."
Jay Blotcher, producer of Sylvester: Mighty Real, agreed. He was there with director Tim Smyth, hoping to raise a few hundred thousand dollars so he could expand his seven-minute trailer on the disco legend into a full-length feature. "You know what being part of this festival is like?" Blotcher asked. "Do you know that feeling of completion that comes when you reach the center of the Tootsie Roll pop? It's very similar."
What do you think the showing of Sylvester at the festival will garner you?
"Money. Acclaim. I don't know," he admitted. "They're all necessary evils. I guess what we're looking for — and I should use the professional vernacular — is a sugar daddy."
---
Seattle International Film Festival
The gods were looking out for the Seattle International Film Festival this year, as it rained only twice during the 25th edition of the country's longest festival. Two-hundred-and-six features and 76 shorts and documentaries from 45 countries were crammed into four of the city's numerous theatres, drawing in over 142,000 people during its three-week run, a record high for the festival, and an 8% increase over last year's audience totals.
To celebrate their silver anniversary, programmers added special sections, restored classic prints and even organized an accompaniment to The Battleship Potemkin by the Bellevue Philharmonic (Bellevue being the suburb next door to Microsoftland.)
The festival opened with La Cage aux Folles director Francis Veber's latest farce, The Dinner Game, about a group of friends' callous efforts to ridicule the biggest fool they can find at a weekly dinner party, to enthusiastic audience reaction.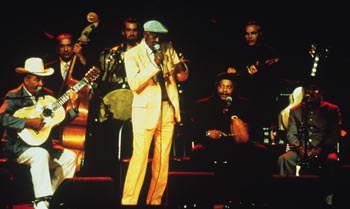 Wim Wender's Doc Buena Vista Social Club
Like many of this year's festivals, SIFF focused on Eastern European and ex-Soviet bloc cinema, showcasing internationally acclaimed films that have yet to get released in the states: Aklan Abdikalikov's quietly moving Beshkempir from Kyrgyzstan, Czech director Petr Zelenka's Buttoners, and Radu Mihaileanu's masterful French-Romanian holocaust fable, Train of Life.
Apart from Train, other standouts included Chinese filmmaker Shi Runjiu's A Beautiful New World, about a small town man who moves to Beijing after having won an apartment in a lottery. The film weaves its simple characters and plotline unassumingly, with lead actor Jiang Wu almost inconspicuously belying a blend of comedic and dramatic timing so precise he ultimately steals the entire film.
Only Clouds Move the Stars was a strong and emotionally resonant debut from Norwegian writer/director Torun Lian. Another in a growing line of Scandinavian films which captures all the pain and glory of adolescence, Only Clouds resounds with intelligence and humanity, and actress Thea Sofie Rusten shines as an eleven-year-old trying to live with the weight of her younger brother's death.
Making his eighth appearance at SIFF, John Sayles was on hand for the premiere of Limbo, as well as for a special tribute to his entire body of work. And a focus on Emerging Masters this year showcased four young directors who, according to festival director and co-founder Darryl Macdonald, "represent the next wave of European filmmaking": Dorota Kedzierzawska (Devils, Devils, Nothing), Francois Ozon (Sitcom), Tom Tykwer (Run Lola Run), and Michael Winterbottom (Welcome to Sarajevo, Jude) whose latest film, I Want You, was making its U.S. premiere here.
Another special anniversary feature was Flashback Films, a series of ten films which had received either their world or U.S. premieres at SIFF during the past 25 years before going on to win greater critical acclaim. Films included Werner Herzog's Aguirre: Wrath of God, Hector Babenco's Kiss of the Spiderwoman, and Paul Verhoeven's The Fourth Man.
The rest of the offerings focused generously on American independents, and there was even a mini festival-within-a-festival titled Oh, Canada! Sadly though, too many of the North American independents were disappointing, most of them falling prey to the ingratiating angst that seems to be the flip side of the talk- show craze permeating this country. With a lot of expletives meant to represent dramatic writing, melodramatic, tabloidesque themes are favored in lieu of emotional complexity. There was family angst (Tod Williams' The Adventures of Sebastian Cole, Holly Goldberg Sloan's The Secret Life of Girls, Shimon Dolan's You Can Thank Me Later), sexual angst (Colette Burson's Coming Soon, Mike Figgis' The Loss of Sexual Innocence), racial angst (The Last Best Sunday, by "Happy Days" actor-turned-director Don Most), and even mall angst (the overly-hyped talkfest Freak Talks About Sex by Paul Todisco).
The Festival's main prizes, the Golden Space Needle awards, are audience selected, voted on by over 55,000 viewers this year. Picking up a Golden Space Needle for Best Film was festival staple Run Lola Run. John Sayles received the Best Director award, Best Actor went to Rupert Everett for An Ideal Husband, and Piper Laurie picked up the Best Actress award for her admittedly touching performance in Jonathan Miller's The Mao Game, what has to be one of the most excruciatingly self-indulgent films ever made. Wim Wenders' Buena Vista Social Club, on the legends of Cuba's music world, was the hands-down favorite for Best Documentary, and Best Short went to Jay Lowi's 12 Stops on the Road to Nowhere. The New Directors Showcase Award went to Czech filmmaker Oskar Reif for The Bed, an homage to that intimate refuge where many of life's most important moments (including birth and death) take place. The American Independent Award was given to Clay Eide for his feature debut, Dead Dogs, a tightly shot black-and-white study of two brothers' troubled and violent relationship. Atom Films, a distribution company dedicated entirely to cultivating shorts, awarded U.S. filmmaker Henry Griffin their top prize for Mutiny.
---
Los Angeles Independent Film Festival
Five being traditionally the wooden anniversary, this year's edition of the Los Angeles Independent Film Festival felt a bit stiff, if only for the lack of truly standout movies and the plethora of name actors in films with high production value but stories that missed the mark. Coming out of another disappointing screening, one audience member quipped to another, "Here's a rule of thumb for this year: movies with stars are bad, and movies with no stars are really good" — a pretty accurate assessment. The Festival opened with Phil Joanou's pleasant but narcissistic Entropy, starring Hollywood types like Stephen Dorff and Lauren Holly and featuring U2, while it closed with George Hickenlooper's The Big Brass Ring, a bloated political thriller based on an unproduced Orson Welles script and starring William Hurt, Miranda Richardson and Nigel Hawthorne.
Even in the body of the Festival there were too many familiar actors attached to movies with only occasional, and slight, merit: John C. Reilly and Kelly McGillis in the formulaic neo-noir The Settlement; Burt Reynolds in the boy-with-gun dramatic one-note fizzler Pups; Christina Ricci and Lolita Davidovich in the disappointing interlaced omnibus No Vacancy; and Chris Penn, Michael Madsen, Mary Stuart Masterson, Tom Sizemore, and Hal Holbrook in the overacted, indulgent and masturbatory Deer Hunter-meets-Diner dreck The Florentine. All the names were marquee-strong, but the quality was suspiciously absent.
Why the dichotomy? Too much pressure to showcase actors who attract press? "We have to deliver to a wide group of people," explained Robert Faust, LAIFF founder and Festival director. "We have to find the glitziest of films that follow our mandate. We don't program for stars necessarily — we show films that won't otherwise get seen. I'm proud of the way we program." L.A.-based producer's rep and faithful LAIFF attendee Patrick Lynn agreed. "For the most part, the films were good. I wish they'd taken a bigger step forward, but they do a really good job in a fickle town."
And the truth is, a handful of standout films did deserve the attention they received, including Saturn, writer/director Rob Schmidt's devastating tale of a twentysomething son having to care for his dying father while fighting off the temptations of his drug-ridden neighborhood; and Ed Radtke's The Dream Catcher, a heart-wrenching account of two loners on a road trip to Reno, which won the audience award for Best Director. The other prizes also recognized quality: Best Screenplay went to Christopher Livingston's Hit and Runway, a sly, charming New York comedy about an Italian wannabe screenwriter who wins the chance to write a big Hollywood movie and enlists a gay playwright to collaborate; and Best Short went to Chris Landreth for his mind-numbing computer-animated circus-on-acid trip, Bingo.
A first for the Festival, Best Film also happened to be a documentary: Chris Roe's touchy-feelly travelogue Pop and Me. Produced by, co-written by and starring Roe and his dad Richard, Pop and Me chronicles the pair's six-month trip around the world during which they stop to interview dozens of other father-and-son relationships while, ironically, letting their own start to fray. The emotional quotient is high, but it's knee-jerk sentimentality — the globe-trotting protagonists never dig deep into their subjects' lives and are seemingly satisfied with shots of teary-eyed men hugging. But the standing ovation after its premiere screening proved it was a crowd-pleaser, no matter how dramatically slight its concerns.
Documentaries in general were the strongest tickets at this year's LAIFF. By far the most provocative was David Schisgall's The Lifestyle, a no-holds-barred peek at America's swingers scene, a subculture boasting over three million members, most of whom in their fifties and sixties, who gather into hundreds of local groups which organize giant orgies at places like The Panther Palace, the Costa Mesa home of a 73-year-old who lifts weights with his penis. (Schisgall even invited audience members to take the drive down to Costa Mesa for a swinger's party after the screening.) Candid, bold, delightfully explicit and brutally honest, The Lifestyle was hands-down the most electrifying film at the festival.
Another dazzling documentary was Jon Reiss' rave-scene scorcher Better Living Through Circuitry, which rocked the house Saturday night with a capacity crowd nearly dancing in their seats to its pulse-pounding beats and eye-popping digital visuals. Shot entirely on Sony DX-1000 DV cameras mostly smuggled into all-night warehouse raves, Circuitry takes full advantage of the latest video-graphic technology to deliver an anthropological kaleidoscope of youth culture's neo-hippie fringe. If his interviewing weakness was an emphasis on style over substance, Reiss' narrative propulsion and kinetic energy still kept the film's enjoyment level high. Andrew Dosunmu's hairstyling documentary Hot Irons was equally flashy in its own Middle American big-haired way, revealing the social strata of Detroit's hairdressing subcultures and all its crazily-coiffed customers, but lacked the same inspiration in delivering some disappointingly superficial profiles.
Quietly holding its own among the non-fiction sturm und drang was The Accident, Joseph F. Lovett's softly-paced, methodical documentary about his own family and the teenage trauma of witnessing his mother die in a bizarrely improbable car crash just outside their home. Intercutting years of collected interviews with family members as well as hundreds of family photos and home movies, Lovett patiently and objectively dissects his upbringing, searching, as he says, for "reality and perception and where memory fits," and discovering not only the universal truths about how people try to live and love but also the ways in which a person can finally forgive.
Other sections in the 33-film revue included solid work like Nisha Ganatra's surrogate lesbian mother comedy Chutney Popcorn; Gordon Eriksen's The Love Machine, a prescient faux-documentary about sex on the internet; and Jesse Feigelman's well-directed but dramatically weak debut Snapped. But nothing impressed more than the Festival's four-film retrospective of important independent films from the past 20 years, singling out classics like Neal Jimenez and Michael Steinberg's The Waterdance, Tim Hunter's River's Edge and John Cassavetes' Opening Night, and in particular Milton Moses Ginsberg's stunning Coming Apart, a 30-year-old formalist masterpiece with Rip Torn that is revelatory in its filmic handling of sexual politics. "The problem in the indie world is that production has never been cheaper, but no one knows their history!" exclaimed LAIFF programming director Thomas Ethan Harris, who also hand-picked the retrospective selections. "The indie scene is becoming genre-ized, even though that's what indie film has always been against." One can only hope that the LAIFF attendees will take that history lesson to heart.
---
Florida Film Festival
For most filmmakers and film-goers, Florida and Florida-based film festivals have a particular appeal — tropical climate; proximity to beaches; resort-style hotels; Hispanic-inflected culture; and the promise of fun in the sun. The land-locked, Orlando-based Florida Film Festival — situated in the shadow of Universal Studios Escape, Disney World, and Disney's infamous Celebration, USA — would therefore seem to be at a particular disadvantage. Or so one would think. Yet the Festival proved to be a welcome oasis, a thriving fountain of culture, amidst the region's ubiquitous strip malls, "family-style" entertainment conglomerates, and gated "communities."
The Fest's principal venue, the not-for-profit Enzian Theater, is the region's — and perhaps the state's — premiere arthouse, featuring American indies and foreign film fare year-round. Located on a residential street in the affluent Winter Park section of Orlando, the Enzian resembles a two-story clapboard house with a large wraparound porch surrounded by beautiful landscaping. The interior is fashioned after a dinner-theater — comfortably seating 250 around tables with amply cushioned chairs spread over four or five levels — offering a light menu of salads, sandwiches, pastas, burgers, soft drinks and wine served unobtrusively during screenings by a waitstaff dressed in black. The true measure of a film festival, however, is the attention paid to "small" details — like the films and filmmakers. Too many regional festivals try unsuccessfully to compete with the pomp and circumstance of Cannes, Toronto or Sundance and lose their focus entirely; others are merely overwhelmed by the demands of corporate sponsors required to compete on that level. Refreshingly, the Florida Film Festival — whose primary sponsor is Universal Studios, Florida — focused on the films: screenings started on time; filmmakers were introduced before and following each screening for substantive Q&A's; the Fest was taken seriously by the local press; armies of volunteers were present to chauffeur filmmakers and guests between venues; and daily receptions were organized to facilitate networking. With approximately 50 features and 70 shorts shown over nine days at three venues — besides the Enzian, two screens at a General Cinemas multiplex were also used — the Fest was comfortably programmed. It was, after all, possible to check out most of the films in the Fest and still have time to lounge by the hotel pool — a feat no doubt reserved for guests of the Festival, vacationing families and retirees. This year's Florida Film Festival (June 11-20) kicked off with The Blair Witch Project, a low-budget horror film by local filmmakers Daniel Myrick and Eduardo Sanchez that created a sensation at the recent Sundance Film Festival, where it was acquired for distribution by Artisan Entertainment. The filmmakers credit the Florida Film Fest as an important cog in the film's development: it was here that they met John Pierson, whose TV program "Split Screen" subsequently provided production monies to jump-start the project. As a local cause célèbre, Blair Witch received extensive coverage in the press, no doubt contributing to the Fest's overall success; Fest Director Peg O'Keefe reported that the 1999 edition broke attendance records for the eight-year-old event. Blair Witch has been trimmed slightly since it's Sundance premiere, and some new shots were inserted to clarify situations found confusing by earlier audiences, but the changes are relatively minor — and if anything, this bone-chilling psychological thriller felt even scarier.
The Fest also featured a smart selection of films in Dramatic, Documentary and Short film competitions devoted to American indies, and more eclectic lineups of features in sections entitled "Spotlight Films," "International Showcase Films," and "Midnight Movies." Among the standout films presented were international Fest faves After Life by Hirokazu Kore-eda, Autumn Tale by Eric Rohmer, Following by Christopher Nolan, Lovers on the Bridge by Leos Carax, Lola and Billy the Kid by Kutlug Ataman, Jim Fall's trick; and special archival screening's of Kubrick's Dr. Strangelove and Richard Lester's A Hard Day's Night. Among the most popular films in the Fest, Francis Veber's, The Dinner Game, due out from Lions Gate this summer, depicts a game in which wealthy French businessmen invite hapless "idiots" to a dinner party in order to secretly mock them. But the table is turned when one of the "idiots" inadvertently destroys the life of the businessman who invited him before they've even made it to the dinner. Also notable was Eddy Terstall's Based on the Novel, in which a misogynistic Dutch director has narrowed the casting of his first feature to three women, each of whom he sets out to seduce. Although the egotistical director portrayed was alternately funny and grating, the film — which won Best Dutch film at this year's Rotterdam Film Fest and was making it's U.S. premiere in Orlando – is primarily a terrific showcase for the three actresses vying for the leading role. Canadian helmer Chris Grismer's Clutch, a Hartley-esque rip-off featuring a surly mechanic, philosophic thief, and a mystical book that changes the fate of anyone who opens it, nevertheless had moments of originality, including several standout performances, that mark Grismer as a director of some promise.
The Fest concluded with a black-tie awards ceremony at a Universal Studios soundstage. Billed as a "Swingin Swamp Soiree," the big-ticket event — despite the agitated bobcat presiding over the entrance (and, I'm told, an alligator lolling near the restrooms) – was neither (sadly) "swingin" nor (thankfully) swamp-like. Instead, the soiree was dominated by a three-hour-long, Oscar-style awards presentation, replete with video-projected clips from each of the films vying for awards, and tributes to Ileana Douglas, Christopher Walken, and Gena Rowlands, for Excellence in Acting, and to actor Paul Winfield, who received the Fest's Lifetime Achievement Award.
The Fest's Dramatic Competition jurors, Sarah Lash (Manager of Publicity and Acquisitions, Lions Gate), Jonathan Sehring (President of IFC Films), and entertainment attorney Harris Tulchin, awarded both the Jury prize and the Fest's Audience award to Catfish in Blackbean Sauce, a sometimes funny, but mostly clumsily constructed and cloying cross-cultural melodrama featuring writer/director Chi Muoi Lo as the adopted Chinese-Vietnamese son of an African-American couple (Paul Winfield and Mary Alice). I hadn't seen all the films in Competition — which admittedly had its share of turkeys — but surely Julian Goldberger's Trans, Eric Tretbar's Snow, Greg Lombardo's Macbeth in Manhattan or Jonathan Kahn's terrific feature debut, Girl, were each more deserving. The jury did present their runner-up award for Best Narrative Filmmaker, to Kahn, whose Girl, featuring Dominique Swain and Sean Patrick Flannery, is easily the best "teen" film I've seen this year and has yet to secure domestic distribution.
The Documentary Jury was a bit more on track. Jury members Julie Goldman (V.P. of Original Production at WinStar TV & Video), indieWIRE Editor-in-Chief Eugene Hernandez, and filmmaker Robert Mugge, presented both Jury and Audience awards to Genghis Blues, about a blind San Francisco-based musician who teaches himself Tuvan throat singing. Hardly elegant filmmaking, but immensely moving, Genghis topped other Fest faves American Hollow, Regret to Inform, Return with Honor and Hitchcock, Selznick & the End of Hollywood, among others. Also worth noting is first-time director Katya Bankowsky's Shadow Boxers, which received a special jury award. The film portrays the world of women boxers, gradually focusing on the meteoric rise of Lucia Rijker, the Dutch boxing sensation. While lacking the emotional one-two punch of Nanette Burstein and Brett Morgen's On the Ropes, another boxing doc opening theatrically this summer, Shadow Boxers is a solid first feature and is beautifully shot by d.p. Anthony Harwick (Frathouse). Cass Paley's Wadd: The Life and Times of John C. Holmes also had tongues wagging in Winter Park. Stylistically unremarkable — talking heads and cropped porno footage — and overlong (at 2 hours and 14 inches) the film nevertheless is a fascinating portrait of the first superstar of the straight porn world and merits further public exposure.
Following dessert, short film awards were presented to Michael Burke for the dramatic film Fishbelly White and to Rolf Gibbs for his humorous doc, The Last Man To Let You Down, about a New York undertaker. After the soiree, Festival staff, volunteers, filmmakers, jurors and guests were invited to the sprawling lakeside home of Fest founders Philip and Sigrid Tiedke for an all-night party that was more than swingin and intermittedly swamp-like.
Enzian Executive Director Peg O'Keefe is leaving the organization following this year's Fest, to return to the stage, her first love. But she has built a solid regional festival that is well worth the trip to Orlando, and presumably she's left the Enzian in good hands.