LOAD + PLAY
Seven Gates of Jerusalem | Jazz on a Summer's Day | De Serge Gainsbourg à Gainsbarre 1958 — 1991 | Mylene Farmer | Movin' With Nancy
By Scooter McCrae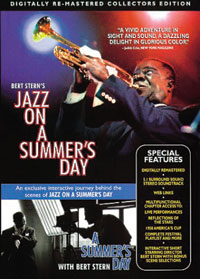 O kay, so I've never met anybody who's fessed up to buying a DVD player just to watch music videos. It's like admitting that you got a VCR to watch porno movies instead of Citizen Kane (not me; I got multisystem savvy to watch Brigitte Lahaie Europorn, but that's another story...). At some point, though, after a week or two has gone by with no new releases catching your eye, you're going to wander over to the music video section of your favorite digital emporium and start getting curious. But although a lot of music-oriented discs have been released, most are just repackaged concerts or music videos with no additional features to sweeten the upgrade in format. So it's good to finally see companies taking advantage of the added benefits that DVDs offer consumers by stuffing these discs with as much interesting material as they can hold.
Here's a disc that just kind of popped up out of nowhere: Krzysztof Penderecki's Seven Gates of Jerusalem. Penderecki is a deeply religious composer of fiercely modern music who is probably best known to filmgoers for works appearing on the soundtracks of The Shining and The Exorcist. Taken out of context, these brutish musical passages might confound your expectations of his work if you are not also familiar with the sublime passages that balance out their tonal interplay. The full-length concert production of Seven Gates captured on this DVD is a wonderful introduction to this Polish composer. The audio recording is rich with dimensionality, and the subtleties of many of the difficult individual performances are profoundly rendered with crystal clarity. And this disc is packed! The concert is just under an hour, after which follows a one-hour documentary on Penderecki, as well as an interview recorded onstage in the concert hall in which he enthusiastically describes this piece as being written for "three choirs and a very loud orchestra." There is a composer commentary (the first time I've seen such a thing), which is a graphic display courtesy of subtitle track #4; it's a wonderful idea that, though sparse, is well executed and informative of the artist's intentions. Finally, activating subtitle track #3 brings up a graphic display of each page of the actual score as the symphony progresses, superimposing itself onscreen over the performance for music students to evaluate.
Jazz on a Summer's Day is a wonderful document of the 1958 Newport Jazz Festival, a four-day marathon of music greats, directed by famous photographer Bert Stern. When the film isn't showcasing the performances of Jimmy Giuffre, Anita O'Day, Dinah Washington, Chico Hamilton and a wealth of other jazz luminaries, we hear radio broadcasts and interviews while seeing various scenes of local color. It's hard to believe that a vérité experience like this was once considered so cinematically radical, but it's a testament to all the talent involved on both sides of the camera that it feels so timelessly modern as an entertainment. It is also a beautifully photographed film, almost expressionistically rendered in its vibrancy of color and framing of images: to experience the presence of Louis Armstrong with such immediacy as the steam pours off of him during a scorching night performance is truly thrilling.
Extras include the 5.1 stereo remix of the crisply recorded audio, supervised by then head of Columbia Records George Avakian utilizing state-of-the-art technology. There is also an interesting short called A Summer's Day with Bert Stern, in which an interview with Stern is the audio backdrop for a series of behind-the-scenes photos. Obviously comfortable talking about himself and his work, Stern reveals that while he did control the event's photography, the more than 80,000 feet of raw footage was subsequently dumped into the lap of editor Aram Avakian, who skillfully shaped it into a film. But, according to Stern, the film is well-edited simply because he allowed it to be so. His arrogant remarks on the audio commentary exacerbate the already unpleasant question of authorship. Not to belittle the man his enormous talents, but with an attitude like that, it's no wonder he never made another feature film.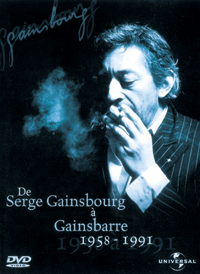 From France comes the definitive De Serge Gainsbourg à Gainsbarre 1958—1991 collection, a two-disc, almost six-hour collection of music videos and interview segments. Dizzying in its completeness, disc one covers 1958 to 1973 with many well-preserved kinescopes of television appearances and jukebox Scopitones (early music-video films) peppered in between with way-too-cool Serge tangling with interviewers and crawling through the streets and cafés of Paris. Highlights include a duet with him and a very young France Gall singing "Les Succettes" ("The Little Sweets"), a thinly veiled song about blowjobs made especially frisson-inducing here as a pickup scenario in a dance club setting. Highlights on disc two, covering the second and less-golden years of his career, include a double-piano duet with Screamin' Jay Hawkins called "Constipation Blues" that needs to be seen and heard to be believed. Also, there's the incredible moment on live TV when Serge turns to lovingly stroke Whitney Houston and coos, "I want to fuck you"; see Whitney keep her cool as the host has a meltdown and the camera shakes with nervous anticipation of something awful about to happen. There are some videos with him and his daughter Charlotte, the most strikingly uncomfortable viewing being provided by a duet called "Lemon Incest," filled with all the overripe imagery that the title implies.
Image quality is variable on this release, which is to be expected when dealing with archival footage, but never less than acceptable. All the musical performances have been formatted into stereo, but the nature of these performances makes that application quite subtle. So set aside an entire day, open a bottle of wine and settle back with someone you love; this set of discs is a beautiful journey that you'll want to share.
Also hailing from France, singer Mylene Farmer lacks the distinguished pedigree of Monsieur Gainsbourg and might easily be written off as just another Madonna wannabe if it weren't for the fact that she's actually a talented singer. Yes, Farmer's music is typical synth-pop bounce, but she has a melodious voice and the music is well-done Eurotrash. And then there are the videos. Wow! All the videos on the first disc are directed by Laurent Boutonnat (who is also listed as a co-writer on most of these songs), and they are like epic mini movies. Historical costume dramas spanning from the American Revolution to a bizarre retelling of "Snow White and the Seven Dwarves" involving Karl Marx and Bolshevism are just two of the elaborate scenarios here. Aggressive widescreen framing and detailed production design is the norm for these extravagant pieces, and they are sumptuously transferred to the DVD format.
From one clip to the next, Farmer reinvents herself, actorlike, as a character within the videos. In one she's a possessed, mortally wounded bull with blades as horns, charging the gypsy matador and goring him. In another, after liberating a gulag as a child mows down the guards with a machine gun, Mylene leads her fellow captives into the wintry wasteland in a shockingly grim finale.
In the star-studded directorial lineup that marks the second Farmer disc, Abel Ferrara, Luc Besson and Ching Siu-Tung (A Chinese Ghost Story) are not blazing any new trails, but neither are they slumming, as each energetically directs a video bearing his own distinct signature. Besson's glossy, sacrilegious comedy of errors sends love-curious angel Mylene to earth while a buffoonish Christ accidentally knocks over his heavenly cross onto a dancing Michael Jackson! In a clip called "California," Ferrara and longtime cameraman Ken Kelsch create another grungy tone poem from the sleazy side of life. Siu-Tung transplants Mylene to Hong Kong and injects her into a Ghost Story—esque scenario complete with airborne acrobatics and magic tentacle-tongues. Talented video director Marcus Nispel also contributes a couple of very memorable clips, including one where Mylene wanders through a burning house in a diaphanous gown that quite literally smolders with erotic intensity. By the time you see her crawling naked across the stone floor of an ancient church as blood begins flooding in you'll be as hooked as I was.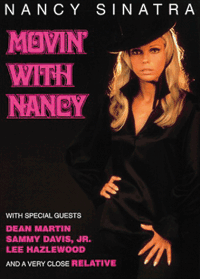 Finally, Movin' with Nancy is a perky little one-hour special that aired on NBC in 1967. Digitally restored from its original 16mm elements and spruced up with 5.1 and two-channel stereo, this is a good-looking presentation, complete with specially made commercials for sponsor RC Cola (also starring Nancy and some other guests) that are as entertaining as anything contained within the program. Special guests include Lee Hazlewood, Dean Martin, Sammy Davis, Jr., and daddy Frank who shows up to be lauded and to perform a number. Everyone is in top form. Among the 14 songs performed by Nancy, either solo or in duets with various guests, are "Some Velvet Morning," "Jackson," "Sugartown" and "Friday's Child." Unfortunately, the one song missing is "These Boots Are Made for Walking," even though our first glimpse of Nancy in this program is a close-up of her boots. Hell, even the disc's menu design makes use of boot icons as cursors! Its absence from the special is a choice that Nancy herself regrets, even though it was her decision at the time, as she reveals on the audio commentary.
Audio commentary? Yep, that's right, she and director Jack Haley, Jr., hash out all the little details of putting together an unusual project like this. They're having a fine time watching this again 33 years later and pointing out Teri Garr as a dancer, remembering the flack they got for Nancy and Sammy's interracial kiss, and otherwise relating all sorts of tidbits about the production, including far too much information about Hazlewood's moustache. Hey, according to Jack there's even a tribute to Antonioni's Blowup in here (yeah, Nancy was pretty shocked, too). By the end of it all, it's hard not to get caught up in their friendly enthusiasm. The whole thing is about as lightweight an hour of entertainment as you can get, and if that description doesn't bother you, then this is an essential piece of fluff.