SPLIT SCREEN
By Steve Gallagher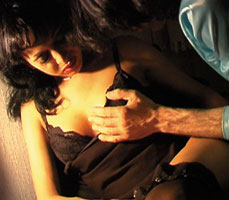 Never My Soul Courtesy of Lehman Maupin Gallery.
GIVEN THE DIFFICULTY of getting a film released in today's marketplace, it's not surprising that an increasing number of independent filmmakers are turning to the art world for support. A bullish art market coupled with an explosion of interest in multiscreen video installations has done much to hasten the influx of filmmakers into galleries and museums. So too has the spectacular success of Matthew Barney.
Represented by the Barbara Gladstone Gallery in New York City, Barney has directed a series of increasingly ambitious feature films over the past decade, with budgets in excess of $1 million dollars. Although each film in Barney's acclaimed Cremaster series has had a limited theatrical release, he does not rely on ticket sales to recoup their cost; his work is financed instead through the sale of limited-edition 35mm prints, videocassettes and other production artifacts.
Barney's example may present a new film-production paradigm, although few will be able to replicate his success in navigating between the art world and the art house. For others, the opportunity to explore media as an art form is incentive enough to court the gallery system. The art world, after all, has always been far more supportive of nonlinear, idiosyncratic storytelling. Most artist/filmmakers today, however, still make clear distinctions between their respective "careers."
"The last thing I wish in the film world," says filmmaker Kutlug Ataman, "would be that they discover I am an artist also. In the present 'let's get rich as fast as we can, fuck the art-house' environment, I think I would lose all chance of getting my projects produced. So I separate them. One is my day job and the other is my night job."
Ataman, a Turkish filmmaker living in London, is best known in the U.S. for the 1998 feature Lola and Billy the Kid, a Good Machine production that chronicles the lives of gay and transsexual Turks living in Berlin. Since the mid-'90s, Ataman has been balancing his career as a filmmaker with growing notoriety in the art world. He has found the art world to be more receptive to the complex documentary projects that have increasingly preoccupied him.
In 1997 he produced a seven-hour installation, semiha b. unplugged, that is essentially a real-time interview with the then 80-something legendary Turkish diva Semiha Berksoy. As Berkstoy elaborates on her life since childhood, she occasionally lapses into fantasy. Similarly, in Women Who Wear Wigs, Ataman's 1999 installation about four Turkish women who must wear wigs in order to hide, suppress or to confirm their identity, their tales are presented in seemingly straightforward documentary fashion. Yet even here, truth and self-delusion often commingle.
"[Both installations] deal with issues of representation and presentation," Ataman says. "What is 'real' and how the perception of it affects our lives. semiha was a documentary about a woman who [tells the story of] her life on mythological levels, so embellished that reality is no longer present. Despite all that, she is real, with all her exaggerations and lies."
Ataman's latest film, Never My Soul – which exists both as a single-screen work and a six-screen installation – is centered on a pre-op transsexual Turkish prostitute who is on dialysis. Although the sexually explicit film is a documentary, it resembles the fictional melodrama of many typical Turkish films. The film's title, Ataman explains, is taken from the cliché sentence a good girl would say to her rapist in many old Turkish films: "You can have my body but never my soul!" As in Ataman's previous installations, the transsexual recounts tales from her life – an often harrowing story of abuse, imprisonment and betrayal – in a fairly straightforward manner. But she also play-acts with her horny French boyfriend, assuming the role of an actress rehearsing her part in a film directed by Ataman. The installation, which premiered at the Berlin Biennale in April, has already been invited to screen in São Paolo, Copenhagen and Stockholm and will eventually be presented at the Lehmann Maupin Gallery in New York.
Although Ataman plans to continue to produce features that will have a life in the film market, the boundaries between the two worlds he currently inhabits – much like the subjects of his fascinating installations – is certain to become increasingly blurred.