WARES
Scott Saunders burns his own movies.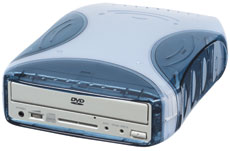 Que! DVD burner
D
igital video cameras and video editing applications such as Final Cut Pro make it possible to perform such minor technological miracles as creating entire feature-length "films" without ever leaving one's home. But with all this new equipment at their disposal, filmmakers are generally forced to send their finished work out into the world on VHS cassettes, an unsatisfactory format that is close to 25 years old.
Watching a film on VHS is about as satisfying as looking at a photocopy of an oil painting, so for the past few months I've been keeping my eye on the new generation of DVD-authoring software and disk recorders with the hope that I might soon be able to put my old VHS deck to rest in a New York landfill.
Until very recently, burning your own DVDs at home was prohibitively expensive. A DVD burner could cost thousands of dollars, and recordable DVD disks sold for about $30 apiece. Fortunately all this is changing. DVD burners that can create home-player-compatible video DVDs are selling today for well under $1,000. Recordable disks now sell for about $6 each, and these prices will continue to drop. Authoring software is getting cheaper and more plentiful as well.
This past month I tested two excellent new tools that enable filmmakers to author and burn their own movies onto DVD disks: The Que! DVD burner (approx $750) and Apple's DVD Studio Pro DVD authoring software ($999 SRP).
The limitation of most currently available DVD drives for personal computers is that they can't create disks compatible with home DVD players. These drives play video DVDs, but they can only write to DVD-RAM disks. DVD-RAM is a good storage format, but you can't play the disks on home DVD players. (Apple's DVD Superdrive was an exception, but you could only get it by buying one of their higher-end G4 computers.) The point is, don't run out and buy a DVD burner assuming you'll be recording video DVDs. You have to know the format it's capable of recording before you buy it.
The Que! is one of the first recorders available in the U.S. that will write to DVD-R format disks, a disk format compatible with almost any home DVD player. The Que! is actually a Pioneer DVD drive packaged in an external housing, and it connects to your Mac or Windows computer via a FireWire cable.
Here's the good news: video files burned on DVD-R disks and played back on my home DVD player were markedly superior to VHS copies of the same material. If you see your work on DVD you'll never want to send out another VHS tape again. Visit the QPS Web site — www.qps-inc.com — for a full list of compatible formats.
Another strength of the Que! is that it's compatible with a myriad of DVD and CD formats. In addition to DVD-R disks, I was able to write to DVD-RW disks, which manufacturers claim can be rerecorded up to 1,000 times. DVD-RW disks will generally only play on home-DVD players manufactured in the last year, however, so they are not yet an ideal way of distributing your movies. The disks are reusable, though, and can store almost 5 gigs of data, so they make good backup media. I was able to burn CD-R and CD-RW disks as well. This is useful because it means you can burn both DVDs and CDs without needing to keep two different drives around.
The Que! ships with a case that holds the drive, power supply, FireWire cable and disks. This is a reasonably portable, well-designed unit that would make an excellent addition to a DV editing system. Basic DVD authoring software for Windows computers is included. For Mac users, Que! includes a program for burning CDs, but not for authoring DVDs.
For DVD authoring on a Mac you'll need to get a third-party software application, and Apple's DVD Studio Pro DVD authoring package would be an excellent choice. Though the $999 price tag seems high, it's quite reasonable considering that hardware-based authoring systems can cost thousands of dollars more.
This test of DVD Studio Pro was my first experience with DVD authoring. Though the application is quite complex, it is well designed and within a few hours I was able to master it sufficiently to create a professional looking DVD that would play back three of my DV shorts. A useful preview function allowed me to constantly check my progress and watch for mistakes while I was working. My finished DVD included custom menus that I created in Photoshop that allowed viewers to select which short to play, and to view slideshows of production stills from each short. I was able to label each movie with chapter markers and encode the audio to the Dolby Digital standard.
The application is quite powerful, and in my trial I only had enough time to scratch the surface of its capabilities. Each DVD track can have up to nine video streams (or angles, as they're known in DVD jargon), eight audio streams, 32 subtitle streams, and 99 chapter breaks. Language settings allow the construction of multi-language DVDs — each disk can hold up to 16 languages. DVDs can be regionalized to play back only in designated geographical areas, and they can be copy protected with industry standard CSS (Contents Scrambling System) and Macrovision. When you've finished designing a DVD, you can either burn it directly to a DVD-R disk for immediate playback, or you can save the data to an external storage device so your video DVDs can be burned by a DVD replication service. An extremely comprehensive application, DVD Studio Pro is likely to do just about anything indie filmmakers will need to build a high quality DVD showcase for their work.
But don't throw away your VHS recorder just yet — the cost of burning disks at home is still a bit too high to replace tape entirely. But the enormous quality advantage of DVD and dropping prices spell the inevitable demise of VHS. Good riddance.