HELLO, BOLLY
American independent film and India's Bollywood would appear to be worlds apart, but India-born New Yorker Mira Nair comedically joins the two in her buoyant new Monsoon Wedding.
Peter Bowen reports.

PHOTOGRAPHS BY NAN GOLDIN
While Mira Nair returned to New Dehli to shoot her most recent feature, Monsoon Wedding, the spirit of the film wound up defying the conventions of any specific national cinema. Written in three languages (Punjabi, Hindi and English), shot by a predominantly American crew on Super 16mm, cast with actors from Indian television, film and theater, and scored by a Canadian with music selections that jump from hip-hop to traditional folk songs, the film ultimately embodies a pan-cultural eclecticism that roots the film within a new emerging international cinema style.
For Nair, the film's diverse references, resources and influences simply reflect her Indian roots. "For many years," she explains, "India has received influences from others — first the British, and now American globalization. But if there is one place that can stand up to cultural imperialism, it is probably India. We can beg, borrow, assimilate, steal all of these influences and still make something distinctly Indian out of it."
For Monsoon Wedding, the assimilation of cultures arrives via a strange cyclic route, as Nair uses American independent filmmaking strategies to re-animate the Bollywood wedding film into something more personal. "While Monsoon Wedding is a portrait of modern contemporary India," Nair says, "it is also a very personal story about my kind of people, Punjabi people. It is a community that works hard, parties hard and has a huge appetite for life."
It was, however, the failure of traditional Bollywood films to represent this world that initially inspired the film. (Bollywood, the name given to India's thriving commercial film industry, is known for pageant-like musicals and comedies.) "A few years ago," Nair recounts, "there was a huge Indian blockbuster, a family-wedding film with 21 songs that was four-hours long. I remember going with my whole family. Sabrina [Dhawan] and I were discussing this movie, sort of tongue-in-cheek, and said, 'Let's make a realistic family movie, one that actually shows you what it is really like.'"
Dhawan, a student of Nair's at Columbia University, took on the project and wrote the script. But even before the script was finished, Nair had secured the finances for the film by selling the idea of an American-independent-style film made in India to international partners. According to Nair, "It wasn't, 'Let's make a movie that will sell all over the world,' but rather, 'Let's make a movie in 30 days, and keep a lean budget, so the film would be purely about the act of making it.' This was a radical approach for Bollywood."
Attending the Cannes Film Festival, she recounts how she pitched the idea: "We presented two pages that basically said, 'This is an upper-class version of Salaam Bombay.' I want to make a film in 20 days, handheld, and I want to make a meditation on love. And here are the five different types of love. I had 18 meetings over one-and-half days and everybody said yes." Adds Baron, "We sold this film as sort of 'East meets West' in the New India, because most Westerners don't have a clear picture of contemporary India."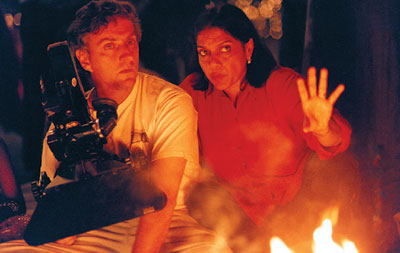 Declan Quinn, d.p., and director Mira Nair
Referring to the specifics of the deal, Nair explains, "We pre-sold distribution rights to three markets — the French, Italians and Germans. At the end, Jonathan Sehring of the Independent Film Channel came along, but I told him that I didn't really need him. He said, "Keep the others as your pre-sales, but I'll give you over and above what you might need [to make the movie]. And, inevitably, as with all my movies, one or two partners fell out at the very last minute!"
For Nair, the journey to France to raise European funding to allow her to journey from New York to India made perfect sense. "I lived and worked in India till I was 19 and then came to America to study," she says. "And I have actively divided my time between India and America, and now Africa for the last 10 years. Originally it could have been a 'social confusion' [to live this way], but for a long time now I have sought to use this confusion and make it the foundation of my work, the way I see my sensibility and the way that I see the world."
This sensibility, through which Nair finds elements of commonality in the stories of people from very different and specific communities, has distinguished all of her film work. A case in point is her next film, Hysterical Blindness, which premieres as the Centerpiece of this year's Sundance Film Festival before going on to air on HBO, featuring Gena Rowlands and Uma Thurman as heroines of a white-trash community in the '80s. As Nair says, "It is not like this is an anthropological specimen. These are people, these are stories, these are dramas that I know."
For the production, Nair used a familiar team that included producer Caroline Baron, production designer Stephanie Carroll, and Sundance-prize-winning d.p. Declan Quinn — all of whom had previously journeyed with Nair to make Karma Sutra<. Baron recounts, "We had a really lean pre-production period, shooting on a shoestring and depending on friends and family. Many of Mira's friends found us locations and provided costumes. The whole thing unfolded in a very organic way."
Indeed the team even instituted intimate rituals. As Baron explains, "Yoga was usually done in the morning before call, and we did it every day with both cast and crew. It put everyone literally on an equal footing, with the yoga instructor going around pointing out that the d.p. was bow-legged and I was flat footed. And Mira's mom, Praveen, cooked all the lunches for pre-production and may of the meals for different cast and crew during the shoot."
The intimacy of the group also provided Nair with the flexibility to play with multiple cinematic influences — everything from American documentary, Bolly-wood, classic Indian cinema, the films of Emir Kusturica, photography and even Fellini. "My influences in making films are eclectic. I am great fan of Indian cinema, like the films of Raj Kapoor. But equally I was a student of Pennebaker. He was my mentor and taught me the extraordinariness of ordinary life — how to see it and how to surrender to it and how to be humble to it. My influences go from the cinema verité to Bollywood to photography.
"Cassavettes is the foundation of the belief in the meandering camera," she continues. "While I was shooting, there was one movie I looked at all the time — Fellini's La Dolce Vita, mostly to show my crew how to choreograph madness."
The more complex choreography for the film involved the weaving of the multiple storylines and styles. While the center of the narrative is a Punjabi wedding, it's the relationships, affairs, accusations and loves orbiting about it that take up the film's real energy. The proud parents, Lalit Verma (Naseeruddin Shah) and his wife Pimmi (Lillete Dubey), have invited family from around the world to celebrate the arranged marriage of their daughter Aditi (Vasundhara Das) to Hemant (Parvin Dabas), an engineer from Houston, Texas. Yet the classical wedding drama pretty much falls apart after that. Nair does, of course, mimic the resplendent blur of music, dancing and pageant that is characteristic of the Bollywood marriage film. But these generic motifs are filtered through a contemporary sensibility, one that realistically represents India's changing sexual mores. The bride Aditi, for example, has been having an affair with her old boss, and her slacker cousin from Sydney starts up a steamy affair with another Dehli relative. Such indiscretions are for Nair part of "the new sexual revolution that is happening now with young people having affairs and sleeping with people before they get married to an arranged suitor." (Even Aditi's fey younger brother's love of musical theater seems to suggest the future "coming out" of other sexual revolutions.)
Nair, who pushed cultural buttons with her earlier retelling of the Kama Sutra, finds it imperative to continually push the bounds of cultural representation: "I always like to push the envelope, and I am not that good at making films which are pleasant Sunday afternoon movies, even though Monsoon Wedding comes as close as I can to clean family entertainment." But even in the film's comedic pageantry, there's a subplot concerning sexual abuse and the brutal aftereffect it has on the family. For Nair, "The whole darker quality of this love, this twisted dysfunctional love, needs to be uncovered. India, fortunately or unfortunately, doesn't have an 'Oprah culture.' We don't sit around talking about how we were first molested or not. But when I was pitching and talking about this movie, almost every second person had a story to tell me —both men and women. We protect our families so much, and we regard our families so highly that they are the anchor of our existence in Indian life, and so it seems that much more blasphemous to challenge the family in any way."
In creating the film's soundtrack, Nair used her free-wheeling sensibility to articulate the sensation of Indian life. "Some filmmakers look at every movie as the opportunity to create a whole new soundtrack," Nair explains, "but I don't look at it that way. For me, the soundtrack is about reality or, really, hyper-reality. When you walk down a street in India, you hear four transistor radios with four different Indian pop songs."
Even the intrusion of Bollywood dance and spectacle into the film was more a reflection of lived Indian life than those cinematic forms. "That is what India is like," observes Baron. "Because Bollywood is such a part of Indian culture, it is reflected in everyday life. Just as we could start singing some TV theme song, and other people would join in, Indians would refer to Bollywood. The scene in the swimming pool where the cousin starts to dance in a parody of Bollywood is not that unusual."
But Nair, despite her Indian heritage and her current experience making a music-filled wedding film in the shadow of Bollywood, says she doesn't really like the tunes in the typical Indian musical.
"I don't really like the use of music in Bollywood cinema," she says. "It's so heavily orchestrated and synthesized. It's very reductive while trying to be slick and hip!"