NY SCENE: RUSH JOBS
Anthony Kaufman on the headache of Sundance fever.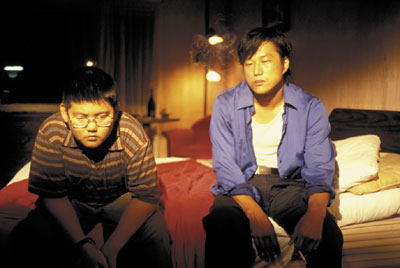 Micheal Kang'sThe Motel.
In 2002 New York filmmaker Michael Kang went to the Sundance Filmmaker Lab with his Korean-American coming-of-age script The Motel. The following year he won the Sundance/NHK International Filmmakers Award for the screenplay and, last summer, started production with director Miguel Arteta (who mentored him at the Lab), Matthew Greenfield and Gina Kwon (all three of The Good Girl) as producers. So it was only natural that Kang would premiere his film at this year's Sundance Film Festival.
"Because there has been so much support from Sundance, we'd like to ride that momentum," Kang told me last October, "and it would be great to go back there. On the other hand, five or 10 years from now, what are people going to remember — which festival the movie premiered at or if the movie was any good?"
A month later, in the middle of rushing to make an extended Sundance deadline, Kang gave up his dreams of a Sundance bidding war. "It was pretty unrealistic to think that four weeks into post, we would be ready to hit the festival circuit," he said. "We collectively decided that it would be a shame to shortchange the film of a normal postproduction schedule just to try to make the festival."
Kang's dilemma was one that many filmmakers face every fall. And although there are filmmakers like Rafael Zelinsky, who made the 1994 festival with his psychological thriller Fun after beginning production on the film just days before the festival deadline, there are others who rush through post only to get rejected or, worse, to screen flabby, distributor-averse cuts in the high-profile spotlight of the Sundance competition.
"Art should not be rushed," advises Holly Becker, head of production at IFC Films, which had two InDigEnt features (Pizza and November) up for a Sundance slot last fall. "And that's especially true for the filmmakers that Sundance loves to support. If you're a first-time filmmaker, you're best served by taking your time and thinking about [whether your film is ready or not]."
54 director Mark Christopher finished shooting Pizza in September and then spent six weeks editing a tape for an extended late-October Sundance deadline. Despite her own advice, Becker told me that she isn't worried about her post schedule if the film is accepted. (It wasn't.) She acknowledged the importance of getting into Sundance but was also realistic about the tough odds facing filmmakers who apply. And if a filmmaker does get in, she pointed out, "It's not a guarantee that you're going to be a rock star or Steven Soderbergh."
New York filmmaker Jem Cohen has never timed his movie's postproductions to the Sundance calendar. He, too, was working hard last fall to finish his long-in-the-works "grant-dependent" ZDF co-production Chain — a study of a businessman and a homeless person set against the backdrop of indeterminate corporate spaces — but it wasn't to make the Sundance deadline. "I have other projects I want to move on to," he says simply.
Cohen prides himself on his ability to make films alone or with a small support network (The Station Agent's Mary Jane Skalski is a producer on Chain) and without the pressures of festival deadlines — although he has screened numerous times at Rotterdam, Berlin, Edinburgh, Locarno and others. (His producers submitted two of his films to Sundance, Benjamin Smoke and Instrument, but both were rejected, he says.)
Cohen has never envisioned a Sundance-style bidding war for his films. Instead he has created his own band of interested (and often nonprofit) distributors and screening venues. Chicago's Video Data Bank distributes his movies to libraries, museums, galleries and universities. "Once upon a time, it seemed like small potatoes, but it's been steady support and gets the work into all corners of the world," he says. He has also shown his movies to senior citizens in the Southern U.S., to squatters in Italy at two in the morning, on European cable television and, ironically, on the Sundance Channel. And Instrument, his documentary about the band Fugazi, he believes, had a bigger life being released through Dischord, Fugazi's record label, than it would have had with a conventional film distributor. "One of the best film experiences I've ever had is showing films with the band Godspeed You! Black Emperor," he recalls. "We project film on 16mm [at their concerts]. There are no credits, it's very anonymous, but it's incredibly wild, and a lot of people will see them. It's just a completely different track than the film business, but in terms of personal reward it's provided some of the biggest kicks I've ever had.
"The one thing that's consistently a problem in this system is that too much is riding on hype," Cohen advises filmmakers bummed by their Sundance rejection letters. "Hype is the crowded parking lot, and the real filmmakers are the long-haul truckers, the lifers. Whether the celebrity spotlight shines on them or not, it just isn't important compared to the work itself."