CALIFORNIA DREAMING
Moving from movie backdrop to filmic subject, Los Angeles is skewered, scrutinized and celebrated in four new independent films. Andy Bailey discovers the Sundance-bound Los Angeles Plays Itself as well as The Decay of Fiction, The Mayor of Sunset Strip and Sunset Park.
Pat O'Neill's The Decay of Fiction.
Los Angeles gets short shrift as a city with a palpable heart and soul. Famously hard to peg for its impenetrable urban sprawl, insatiable showbiz fixation and indifference to permanence, the much-scrutinized movie colony is often reviled in books and film as a way station of schemers and dreamers, steeped in sunshine and noir and oblivious to the teeming melting pot that spills out from beyond the shadow of the Hollywood sign.
Four recent films examining Los Angeles–related subjects — two documentaries, one experimental film, and a personal cinematic essay — attempt to rebuke the myth that L.A. is a city forever in search of itself. Created by people working inside and outside "the industry" (in most cases, both at once) these works help to position the city and its dream-factory veneer in a sturdier, more cogent context. Real life may be indistinguishable from reel life in much of L.A., but its erratic terrain has never been short of road maps.
Leading the pack is a glorified underground movie made by CalArts emeritus professor Thom Andersen, whose past works include the 1995 McCarthyism documentary Red Hollywood. The lifelong Angeleno's latest work is a meticulously assembled personal essay on the city's inferiority complex composed from hundreds of excerpts of motion pictures referencing the city over the years. Los Angeles Plays Itself, named after a gay pornographic movie of the 1970s, germinated out of Andersen's contempt for both the novel and the film adaptation of L.A. Confidential and for Hollywood films dealing with Los Angeles politics in general, which Andersen perceives as cynical, reactionary and exclusionary in their collective depiction of public life.
In 169 minutes and three separate segments, Andersen — in the guise of a narrator adopting the hard-boiled inflection of Dragnet's Sergeant Joe Friday — examines the city as backdrop (in disaster movies, for instance, in which it is frequently destroyed), as character (in film noir, where it's the world capital of adultery and murder) and as subject, in which he debunks Robert Towne's mythic Chinatown as "docudrama that became legion."
An act of collage reminiscent of the renegade musical mash-ups that recombine existing pop songs into brash new entities, Los Angeles Plays Itself is every distributor's worst nightmare, packed with unlicensed snippets of studio-copyrighted motion pictures. These clearance issues have sadly relegated this engrossing, encyclopedic work to the free-screening circuit at universities and museums.
The film debuted last fall at the Toronto Film Festival, where it found its admirers but got lost in the flurry of glitz that has come to define Toronto. Several local screenings, including its U.S. premiere in November at U.C.L.A.'s Film and Television Archive, have resulted in rapturous word of mouth from Angelenos eager to rediscover such forgotten gems catalogued within as Billy Woodberry's Bless Their Little Hearts (1984), about a struggling working-class family in Watts, written by Charles Burnett, and Kent Mackenzie's The Exiles (1961), the last film to be shot in the Bunker Hill neighborhood before it was decimated in the 1960s to make room for downtown's gleaming spires of capitalism.
Amusingly, a city councilman was on hand at the intermission of the U.C.L.A. screening to award Andersen a key to the city, proclaiming, "Those who dig up what once was and then put it all back together are to be celebrated."
Pat O'Neill's The Decay of Fiction.
An excavation of a different sort is the subject of The Decay of Fiction, the first work in almost a decade from Pasadena-based visual effects artist and cutting-edge experimental film veteran Pat O'Neill, whose Water and Power shared a documentary jury prize at Sundance in 1990. O'Neill traveled the international festival circuit last year with his latest 35mm opus, a haunting rumination on an L.A. architectural landmark slated for the wrecking ball: the shuttered Ambassador Hotel on Wilshire Boulevard, where Marilyn Monroe and Joan Crawford were discovered and, in 1968, Robert Kennedy was assassinated. The Decay of Fiction layers motion-controlled, step-frame color photography of hotel locations with semitransparent black-and-white images of actors engaged in archetypal noir scenarios. The result is a Hollywood gothic of faded film-land figures or tropes and distant glamour, sort of an avant-garde Haunted Mansion, which uses similar special effects in which translucent ghosts wander the decrepit corridors of the present-day Ambassador, muttering snippets of dialogue from 1940s films until their figures dissolve into jittery abstractions.
O'Neill has compared his latest work — an evocation of a stylized past at odds with the ephemeral nature of contemporary L.A. — with a book left outside on the ground to decompose back into the earth. He began filming the hotel sequences in 1994, eager to document the Ambassador before its demise (it still stands today, its fate mired in bureaucratic red tape) so that the film's closing image would be a vacant lot. Live actors were filmed in 2000 and rendered translucent in the same fashion as Obi-Wan Kenobi's character in Return of the Jedi — O'Neill's effects house, Lookout Mountain Films, has contributed visual effects to studio productions since 1977.
Having played the festival and museum circuit since its premiere two years ago in the New York Film Festival's Avant-Garde Visions sidebar, Decay has been reimagined as an extended DVD-ROM entitled Tracing the Decay of Fiction: Encounters with a Film by Pat O'Neill, in which 20 minutes of the filmmaker's crumbling movie world, interspersed with documentary footage, early film clips and commentary from historians such as Kevin Starr, becomes an interactive environment for computer owners to navigate at will. A complete DVD of The Decay of Fiction will be available in September to coincide with O'Neill's career retrospective at the Santa Monica Museum of Art.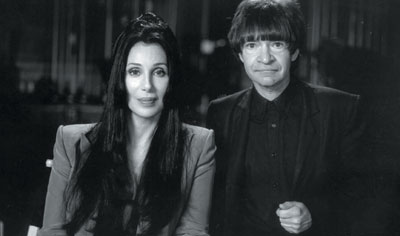 Cher with Rodney Bingenheimer in George Hickenlooper's Mayor of the Sunset Strip.
George Hickenlooper's documentary character study Mayor of the Sunset Strip delves into the darker side of celebrity, examining the life of local radio luminary Rodney Bingenheimer, a real-life Zelig who has been an L.A. scenemaker since the 1960s, when his mother abandoned him on Connie Francis's doorstep, begging him to procure the star's autograph for her before she split town. The teenage castoff subsequently threw himself into the burgeoning Sunset Strip rock scene, frolicking with groupies like Miss Pamela (Des Barres) of the GTOs and inveigling his way into photographs and video footage of Elvis, the Beatles and the Mamas and the Papas, all documented here.
The gnome-like Bingenheimer supported himself as a stand-in for The Monkees's Davy Jones and a publicity hound for Linda Ronstadt before finding success with his English Disco, the legendary 1970s glam rock nightspot where David Bowie, Marc Bolan and Led Zeppelin congregated.
Bingenheimer brokered Bowie's L.A. debut as Ziggy Stardust and, when the glitter scene faded, started spinning punk rock records on KROQ, which became a blueprint for alternative rock throughout the 1980s thanks to Bingenheimer's almost clairvoyant ear for the catchy radio nuggets that are now a staple of VH1's packaged '80s nostalgia. KROQ is now a Clear Channel–owned corporate rock behemoth that has relegated the soft-spoken Bingenheimer to a graveyard shift of Sunday nights from midnight to 3 a.m. — while his musical finds No Doubt, Oasis and Coldplay have reaped millions.
Bingenheimer lives in a cramped Hollywood bungalow surrounded by memorabilia and hangers-on, including his groupie/lover Camille, whose callous on-camera dismissal of Rodney's unwavering devotion for her is but one of many tragedies that befall the film's indefatigable sad-sack antihero, perhaps the definitive Tinseltown striver.
GO BACK AND WATCH...
The Day of the Locust: John Schlesinger's corrosive 1975 adaptation of Nathaniel West's classic Tinseltown tragedy.
To Live and Die in L.A.: Newly reissued with a no-holds-barred commentary track by director William Friedkin, this icy 1985 policier inflects its tale of undercover cops and counterfeiting with a particular brand of Angelo nihilism.
L.A. Plays Itself: Fred Halsted's seminal 1972 gay porno portrays the town's sandy beaches as a non-stop summer of love.
Produced by one-hit wonder and best friend Chris Carter of Dramarama fame (Bingenheimer broke "Anything, Anything" on KROQ, thus forging the New Jersey bar band's career before he helped Carter to land his own rival radio show in L.A.),
Mayor of the Sunset Strip
consists mostly of a surreal parade of celebrity walk-ons and canned testimonials — from, among others, Bowie, Cher and Gwen Stefani — who coddle Bingenheimer out of robotic obligation, seemingly oblivious that their good fortune has eluded the very soul who anointed them with stardom.
Los Angeles eats itself, in other words, or, as Nancy Sinatra puts it, "We use each other in the kindest sense of the word." So where's Rodney Bingenheimer's star on the Hollywood Walk of Fame? Where are his shares in Coldplay? Fame in his world is an effortless acquisition. Fortune is the tough part.
Finally, there's Sunset Junction, shot on a Sony DSR-500W PAL digital video camera by Emmy Award–winning filmmaker Peter Jones and Mark Catalena, producers of the A&E series Biography whose past subjects include Judy Garland, Charlie Chaplin and Samuel Goldwyn. Subtitled "Los Angeles at a Crossroads," the documentary explores the gentrifying neighborhoods of Silverlake and Echo Park, where Hispanic bootstrappers co-exist with white yuppie hipsters, and where 250,000 diverse souls — ranging from gang members to gay leather daddies — congregate every August at a street fair called Sunset Junction. The fair's colorful impresario is former Beverly Hills hairdresser, Michael McKinley, who was warned of a bloodbath by police in 1981 if he enlisted homosexuals and members of rival gangs to provide security at his nascent block party in one of the most crime-ridden enclaves of the city.
But Sunset Junction, which premiered in November at the annual AFI Fest in L.A., focuses less on the tumultuous history of the gathering than on the staging of its 2001 incarnation by McKinley and his band of so-called troubled youth, predominantly Mexican-American high schoolers, not the "gang members and other kids society wants to throw away" described in publicity materials.
What's engrossing about this otherwise disjointed documentary is its social-activist subject, a true-life Big Gay Al whose frenzied obsession with the Supremes and other '60s girl groups makes one wonder about his motives for staging the fair. Does McKinley really want to bring communities together, or is it merely a pretext for getting closer to his celebrity idols (and Sunset Junction performers) Mary Wilson and Freda Payne? Who can really say? "It's impossible to know Los Angeles," the noir novelist Walter Mosley once observed. "To be able to know a place, it has to at least in some ways want to be known — L.A. just doesn't want to be be known."
Los Angeles Plays Itself is currently screening around the L.A. area. Tracing the Decay of Fiction: Encounters with a Film by Pat O'Neill is available on Amazon.com or through the University of Southern California's Annenberg Center for Communication (www.annenberg.edu/labyrinth). The Mayor of the Sunset Strip opens in January through First Look Pictures. Sunset Junction, currently without a distributor, is making the rounds of film festivals.