Back to selection
Blackmagic and More: NAB in the "Post-Breakthrough Era"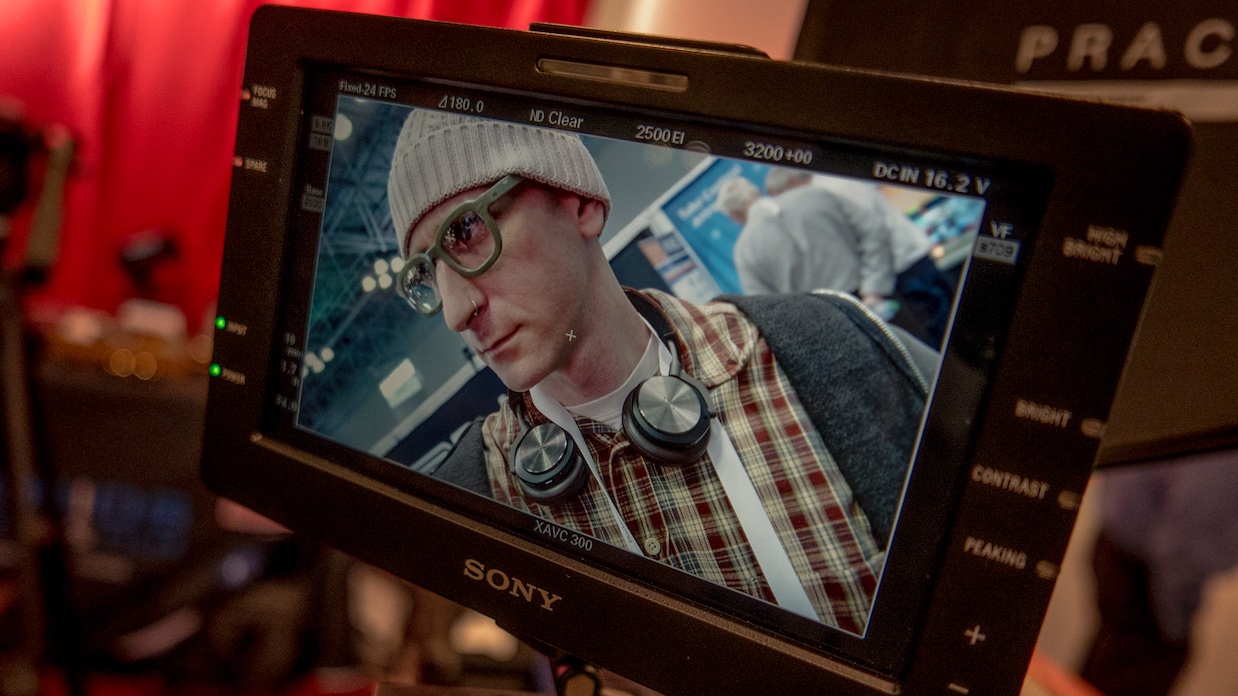 Jamie Stuart at NAB
The NAB Show at the Javits Center is a great place to get lost. Row after row, booth after booth, you're surrounded by catchy company names and logos: ALT Systems, Inc., Primestream, Calrec, Voxnest, Snapstream, multiCAM Systems, Digital Nirvana, Wowza Media, Adder, BB&S Lighting, Live X…
There are tons of video monitors, storage units, software displays, brightly colored control panels and studio cameras overflowing to the point where it all starts to blur together.
You can casually stop to figure out where you are, realize you're standing in front of the CueScript setup, and the next thing you know, their incredibly enthusiastic rep, Kyle Sabre, is giving you a full breakdown of their system, which he describes as the "Bentley of teleprompters." And in case you take his pitch with a bit of skepticism, as you continue walking around, you then notice at least three other booths promoting his equipment.
If you're not already familiar with the companies on the floor, it's a lot of fun to randomly ask what they offer. Most of the time, they're overjoyed to demo their services — many of which fill niches that we likely take for granted. Take Vislink, for example. Vislink makes transmitters that send video feeds of live events from cameras to the broadcast units. The model I saw had a range of one mile, but I was told there are higher end units that easily go as far as five miles.
CameoGear? What's that? Well, it's a new service from AbelCine that offers customized camera gear that they felt the industry had overlooked. They're just starting up, selling and renting exclusively through AbelCine, but eventually they plan to expand to resellers.
There are plenty of big, recognizable names at the NAB: Panasonic, Avid, Western Digital, JVC, as well as rental and sales companies showing off the latest RED or ARRI ALEXA LF cameras.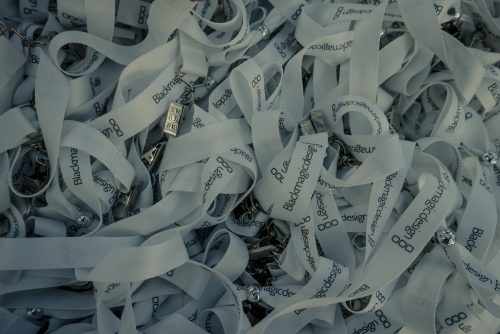 One company that's impossible to miss is Blackmagic Design — not only is their logo printed on the badge band, but their setup is literally the first thing you see after your badge is scanned. Blackmagic is killing it — between DaVinci Resolve, now available in its 15th iteration, its range of control panels, and its lineup of cinema and studio cameras, no other company has bridged the gap from prosumer to professional across both software and hardware as successfully as they have.
Their Pocket Cinema Camera 4K is the shiny new kid on the block. As an owner of the original 1080p Pocket Camera, I will likely be grabbing one of these in the near future. It's the size of a small DSLR, with a sharp, bright display, easy to use touch screen controls, a wide range of ISOs, a top frame rate of 60 fps, and a price of only $1,295 (including the studio version of Resolve), it's pretty much the ultimate DIY camera on the market right now.
Although Blackmagic released its Micro and Mini control panels around the time that I was prepping to color my feature A Motion Selfie, and I was negotiating for a demo model, the timing didn't quite work out, so I graded the entire movie using my mouse. With that in mind, I finally got to mess around with those panels, and the experience of using Resolve was like a night and day difference. I got to play with footage shot using the new Blackmagic RAW format, which was just released, and it blew my mind. I traditionally shoot DNG RAW, then post convert to ProRes HQ, losing a lot of control over the image in the process. But with Blackmagic RAW, which drastically shrinks the normally unmanageable file sizes, it's a breeze. I can now grade video the same way I grade still photos, with complete reign over the highlights and shadows.
I asked if there was anybody who could give me a quote, and I was pointed to "Bob," whom they told me was their go-to guy. Currently, Blackmagic RAW is only available for the URSA Mini, so I became probably the thousandth person to ask when it will be ready for the new Pocket Camera. His reply:
"It's coming soon. We're not sure of the timeline. They're working hard to get it in there — but it will get in there. Most of the color science is already in there, in terms of the expanded dynamic range — it's just the codec needs to be implemented, and they're working on that."
Toward the end of my visit to the NAB Show, I wandered by the Maxon Cinema 4D booth and chatted with their guy, whom I subsequently learned, after looking at the business card he gave me, was Paul Babb, President and CEO.
Although I do quite a lot as a filmmaker, through shooting and post, my skills wind up stopping at the door to 3D animation. As Paul said it: "3D is complex."
"I always think of the progression as: using Illustrator gets you into digital art. Illustrator to Photoshop gets you into layers and transitions, and you start thinking in those terms. After Effects gets you to put all those layers into motion. Then 3D is the next step."
His explanation got me assessing my own progress with digital dating back to 2001, when I first began using Photoshop and Final Cut Pro — and the manner in which thinking in terms of layers completely altered my creativity.
There was no overall theme to the NAB Show. There were no big announcements. The digital workflow has been standardized. We're now in an era of incremental change as existing systems release scheduled updates.
The past 20 years or so were really exhilarating to experience right on the front line of immense change. Now, things have cooled off and technologies that were once huge breakthroughs like standard HD are shrugged at.
And this is fine.