Back to selection
Electrick Children — A Hammer To Nail Review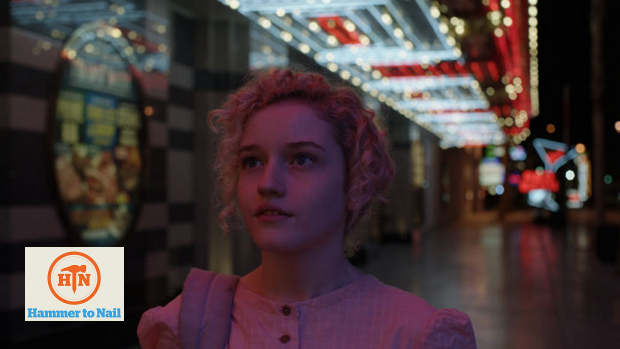 (Electrick Children world premiered at the 2012 Berlin Film Festival and was picked up for distribution by Phase 4 Films. It opens theatrically on Friday, March 8, 2013. Visit the film's official website to learn more.)
Oh, to read the description of a movie and go into it with one's thickest guard up, anticipating some exercise in "indie quirk," only to realize within seconds that, shame on you, that assumption couldn't have been further from the truth. Rebecca Thomas's debut feature, Electrick Children, shut me up right quick, for it becomes immediately evident that this is one of those lovely surprises that couldn't have been made by anyone else. While that might not sound like a hearty compliment, it is. I watch hundreds of movies a year hoping to be sweetly humbled by an unexpected gem such as this.
Rachel is a completely innocent 15-year-old living with her fundamentalist Mormon family on a Utah ranch. Her father, Paul (a smartly cast Billy Zane), lords over the family with a creepy intensity. Rachel might be 15, but when it comes to experience, she's as savvy as a newborn. After her father records a profession of faith by Rachel on a cassette recorder, her fascination with the object leads her on a secretive nighttime trip into the basement to track it down. When she presses play, she hears rock music for the first time, and it rocks her world. Her brother Mr. Will (a very sturdy Liam Aiken) catches her in the act, and the two begin to struggle, until their mother (Cynthia Watros) breaks it up. Months later, the virgin Rachel discovers that she has become… pregnant? While Rachel is convinced that somehow the cassette tape is the father, nobody else believes her — especially her devout father. In order to restore her dignity (or is that his dignity?), he orders an arranged marriage, but having none of that, Rachel steals a truck and heads for Las Vegas (Mr. Will surprises her by tagging along). Once there, she becomes immediately infatuated with a singer named Johnny (John Patrick Amedori), though a deeper relationship eventually begins to bloom with the goofy Clyde (a great Rory Culkin).
Between Martha Marcy May Marlene and now Electrick Children, Julia Garner needs to watch herself before she gets snarkily branded as "that cult/angel/religious girl." But with her blonde curls and porcelain skin and wide blue eyes, she could have been justifiably cast in this role on her appearance alone. Fortunately, Garner is more than a mesmerizing presence; she's a real actress. This is not an easy role to play convincingly, yet at no point does the viewer doubt Rachel's innocence. Instead, we continue to experience her worldly awakening as if we are sitting right there beside her.
Thomas and her team of collaborators — namely cinematographer Mattias Troelstrup, editor Jennifer Lilly, production designer Elizabeth Van Dam, and costume designer Stacey Berman, and composer Eric Colvin — all work together to make a world that is rooted in reality, but which retains a sense of wonder, as if we too are seeing the world through Rachel's naïve eyes. The most pleasant aspect of all this is that when Thomas makes a more stylistically calculated decision — for example, a long pan one-take in a skate park — it doesn't feel pretentious; it just feels right.
In a larger sense, how is it that Thomas actually managed to take such a seemingly preposterous premise yet produce such a tender, heartfelt tale? For starters, consider this: she was raised Mormon herself, and in Las Vegas at that. That alone says so very much, for it confirms that this was an idea birthed from within and was drawn subsequently outward, as opposed to the other way around. As a lesson for young filmmakers in how to inject a personal heartbeat into your creatively fictional story, Electrick Children is a must-see. And for folks who just like to watch good movies, you all should see it too.
Filmmaker has partnered with our friends at Hammer to Nail for a weekly "Pick of the Week" post that will be exclusive to our newsletter and blog for a long weekend, at which point it will go live over at Hammer to Nail as well. In the meantime, be sure to visit www.hammertonail.com for more reviews and lots of other great editorial.