Back to selection
JAKE MAHAFFY ON WELLNESS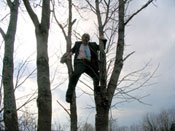 Jake Mahaffy is one of my favorite filmmakers in this week's "Best Film Not Playing at a Theater Near You" series this week at MOMA. We selected him as one of our "25 New Faces" in 2005, and I've watched his shorts and his Sundance Lab project with interest since. His second feature, Wellness, won the Grand Prize at SXSW this year, and its emotional, political and spiritual themes only become more relevant by the day.
Mike Ryan beautifully wrote about the film at Hammer to Nail. An excerpt:
One of our greatest American philosophers, William James, writes about the pragmatic aspect of faith in an essay called The Will to Believe. In the essay, James puts his finger on the aspect of Faith that requires Will. One doesn't always just get bitch-slapped one day by Jesus. Sometimes you have to just look into the dark void, inhale, and take the leap. The facts may not add up, there may not be any scientific proof, but sometimes it just feels right to jump. But just because you jump doesn't mean you have decided to deny the doubts. That anxiety is still present and it never really goes away. Wellness, the powerful new film by Jake Mahaffy, dramatizes the courage that it takes to make the leap and then fully deal with the doubts and anxiety when you look at yourself in the mirror. Wellness is an ode to that particular American will to believe.
Here's Mahaffy's statement to the blog about his film.
This film is artless. My intention was to make some compelling cinema without the codes or qualities of classic film art. This felt counter-intuitive at first, like breaking my own back. But it was something the subject required. Much of the camera work (zooming and panning) was done to provide edit points for the unrepeatable, spontaneous, single-camera scenes with performers who could not memorize their lines. Filming in a documentary fashion, we massively overshot- developing the characters and story on camera, as if writing in real-time video instead of on paper, and then editing and revising the footage down to the present dramatic narrative.

The film was shot in a 'realistic' manner, because at its heart the film is about questioning the assumed reality we make in day-to-day living. The power and charm of realism lies in mistaking conviction for honesty. Realism is to art what a newscaster is to truth. It is not the de facto representation of any universal objective experience. It pretends to represent and, even more insidiously, impose normalcy. But, as I think this film reveals, what is normal is not benign.

Thomas puts everything he has into Wellness although he can't sell it to other people. He is unable to pass on either his promise or his loss to others. So, I think that by failing as a salesman Thomas succeeds at being human. By failing in this material enterprise, no matter how tragic that is, he succeeds in keeping some of his own soul despite himself, and that is grace.
Wellness plays tonight at 8pm and Saturday at 2pm.