Back to selection
THE LIGHT WARS HEAT UP WITH THE CANON 1D MARK IV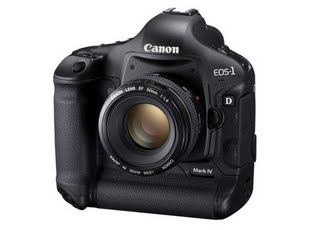 Gizmodo today reports on Canon's new 1D Mark IV DSLR camera and links to an incredible nighttime ambient light video shot on it. First, the specs.
From the video part of the Canon press release quoted at Gizmodo:
The EOS-1D Mark IV, EOS HD Video Powerhouse
Over the past year, Canon's EOS HD Video technology has changed the way users capture 1080p HD video and opened new doors for multimedia journalists and Hollywood cinematographers alike with full manual exposure control, selectable frame rates, and interchangeable lenses on some of the largest and most sensitive image sensors on the market. Canon continues this innovation trend with the new EOS-1D Mark IV Digital SLR with Full HD capture and full manual exposure control, plus selectable frame rates on an all-new APS-H-sized image sensor that's similar in size to a Super 35mm motion picture film frame. The large sensor allows filmmakers to achieve shallow depth-of-field just as cinematographers have traditionally done using much higher-cost motion picture equipment.

The more than 50 Canon EF lenses compatible with the EOS-1D Mark IV give videographers incredible creative options, including an impressive selection of large-aperture professional L-series primes as well as zoom lenses, macro, Tilt-Shift and Fisheye optics. The Canon EOS-1D Mark IV allows for three video recording resolutions – 1080p Full HD and 720p HD in a 16:9 aspect ratio and Standard Definition (SD) in a 4:3 aspect ratio. The camera will record Full HD at 1920 x 1080 in selectable frame rates of 24p (23.976), 25p, or 30p (29.97); and 720p HD or SD video recording at either 50p or 60p (59.94). SD video can be recorded in either NTSC or PAL standards. Sound is recorded either through the internal monaural microphone or via optional external microphones connected to the stereo microphone input. The camera also provides an in-camera video editing function allowing users to remove the start or ending of a video clip directly in the camera to eliminate unwanted footage and speed up post-production.

Image Quality and Performance
The heart of the EOS-1D Mark IV camera's outstanding image quality is a newly developed 16.1-Megapixel CMOS sensor featuring Canon's latest and most advanced proprietary technologies. These technologies include improved photodiode construction to enhance dynamic range and gapless microlenses that are positioned closer to the photodiodes for improved light gathering efficiency. The transmissive quality of the color filter array has been enhanced to improve sensitivity. Canon has also upgraded the sensor circuitry to improve noise reduction before the image data is exported from the CMOS sensor to the rest of the image processing chain.

With 60 percent more pixels than the EOS-1D Mark III, the EOS-1D Mark IV Digital SLR employs Dual DIGIC 4 Image Processors with approximately six times the processing power of DIGIC III for full 14-bit A/D conversion at 10 fps. High-speed continuous shooting up to 121 Large JPEGs is possible using a UDMA CF card. This camera also features three RAW shooting modes for versatility with Full RAW (approx. 16 million pixels), M-RAW (approx. nine million pixels), and S-RAW (approx. four million pixels). Three additional JPEG recording formats (M1, M2 and Small) are also available.

The 14-bit per channel conversion facilitated by the dual DIGIC 4 Processors provides smoother tonalities in final images capturing all 16,384 distinct tones in each channel (red, green and blue) at the full 10 fps frame rate. RAW images shot on the new Canon EOS-1D Mark IV use the entire 14-bit space when converted to 16-bit TIFF files in Canon Digital Photo Professional (DPP) software, which is supplied with the camera at no extra charge. The 14-bit A/D conversion is also the foundation for Canon's Highlight Tone Priority feature that takes maximum advantage of the camera's extensive dynamic range to preserve detail in highlight areas of the image. Canon's new EOS-1D Mark IV Digital SLR also features an improved white balance algorithm making colors more accurate when shooting under low color temperature light sources such as household tungsten lamps.

The EOS-1D Mark IV Digital SLR features Canon's Peripheral Illumination Correction function which corrects darkening that can occur in the corners of images with most lenses when used at their largest apertures. When activated, it is automatically applied to JPEG images and video clips as they are shot. For RAW images, it can be applied in DPP software.

Other new features include a large three-inch solid structure Clear View II LCD screen with 920,000 dot/VGA resolution and a wide 160-degree viewing angle for enhanced clarity and more precise color when reviewing images and shooting video. The new in-camera copyright information feature helps professionals secure control over images by setting copyright data directly into the camera and appending that information to each image file in the Exif metadata. Additional features include a fluorine coating on the Low Pass Filter to further repel dust and enhance the EOS Integrated Cleaning System.
Okay, and now check out the video, which was shot at ISO 6400 in a high quality stream here or in the smaller format below:
From d.p. Vincent LaForet's blog, here is more info on this film:
Here is the main point that I hope you take into account: the short film you are about to watch was shot in pretty much the very worst light that I could possibly find in an evening urban landscape. I did not chose "pretty lighting" in a mall or under neon signs. That would have been cheating in my book.

The short was shot near East 6th and Mateo St. in Los Angeles – in an industrial part of the city. If you live in the area – go check out the area – you won't believe the video you see below came from the poor lighting in that area. Sodium and mercury vapor lights. That's it. Really awful lighting.

Not a single external light source was used / added. In other words I did not use a single flashlight, LightPanel, flood light – nothing. For one shot only I pulled out a silver reflector… just to say we did it really. And yes it worked (see the shot of the young girl.)

The ISO stayed locked in the 6400 ASA range – with a very few shots hovering 1 stop above and one or two set to 3200 ASA because we had TOO MUCH depth of field…(on the bridge.) At one point I found myself shooting at 12,800 ASA by mistake – and I didn't even notice any noise on the rear LCD in the skies… 6400 ASA is the new 1600 ASA – maybe even the new 800 ASA. Stop to ponder that for a second – and what it can mean to the way you approach your craft.
He also notes:
On a technical note: because I know everyone will ask: the footage was graded with Stu's Magic Bullet Colorista software that he helped design and treated for noise (not a significant amount at all to be honest – at some point I may put up raw clips.) The point here is to show what this footage CAN look like when processed on an average laptop (i.e. nothing fancy!)

The 1080p footage on SmugMug is pretty incredible – but remember that a 365 MB compressed file was initially uploaded and then re-compressed a second time – from a 2.32 GB original uncompressed file. You can expect that the blacks will be a bit clamped, and that there will be a loss in sharpness relative to the original.
As Matt Buchanan at Gizmodo writes, "the light wars have begun."
The Canon 1D Mark IV retails for $5,000.