Back to selection
WRAPPING SILVERDOCS 2012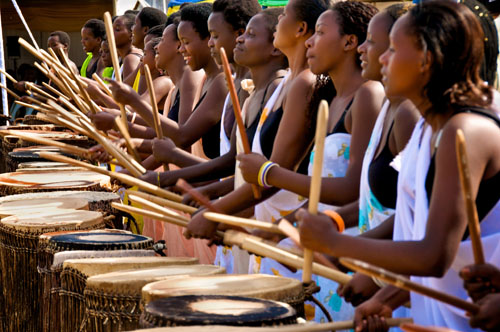 Brutus McCracker, a Chihuahua with a camera mounted on his collar, wandered through the Silver Spring Civic Building capturing low-angle moments of the AFI-Discovery Channel Silverdocs Film Festival. The camera is featured in Seth Keal's short CatCam, one of 114 films from 44 countries programmed in the 10th edition of Silverdocs that concluded yesterday.
The canine mascot provided a cheery reminder of the relaxed nature and intimate setting of the festival in Silver Spring, Maryland, a multicultural suburb abutting Washington, D.C. With its proximity to our nation's capital, the festival specializes in social issue docs and attracts activists and political movers and shakers.
In 2003, to bolster urban renewal, Discovery moved its offices from tony Bethesda to nearby Silver Spring. In conjunction, the American Film Institute renovated the local art deco Silver Theatre as a state-of-the-art facility. The two organizations partnered to launch the annual Silverdocs, a showcase for nonfiction filmmaking that brought culture and revenue to a community of pawnshops and discount stores. In the following years, development continued with the Civic Building, the Regal Majestic multiplex, the Fillmore concert hall, and many other indoor and outdoor spaces.
"Leveraging D.C. is part of our mission and our character," said festival director Sky Sitney, "But we select from the best work that presents itself and look for a diversity of stories and filmmakers." This year, a trend in documentaries about artists and the creative process emerged from the pool of choices, but there were plenty of films on topics such as the economy, health, religion, and poverty.
Panels and discussions at the parallel conference event covered subjects such as "Reaching Underserved Communities in Untraditional Ways" and "Filmmakers' Guide to Political Engagement," as well as "I Loved That Doc!  Why Can't I Find It on TV?" Conference highlights included in-depth discussions on social justice and urban plight with Eugene Jarecki (The House I Live In) and Rachel Grady and Heidi Ewing (Detropia).
With a Supreme Court healthcare ruling expected in the next few days, there was urgency to the screenings of two films that tackle our health system. Escape Fire: The Fight to Rescue American Healthcare, by Matthew Heineman and Susan Froemke, is a wide-reaching polemic that argues for prevention programs over the quick profits of disease care. The Waiting Room by Peter Nicks observes an emergency room in Oakland's Highland Hospital where uninsured patients come in contact with overworked staff, in a microcosm of failure in our medical industry.
One of the festivals seven world premieres, Sweet Dreams by Lisa and Rob Fruchtman, begins in the vein of a music documentary. A group of women in Rwanda have formed a professional drumming group to channel anger and heal wounds from the country's 1994 genocide. Remarkably, the story takes an unusual turn as the women decide to open an ice cream parlor inspired by Blue Marble in Brooklyn, New York. Blue Marble's proprietors travel to Rwanda to help the women—again, remarkably—successfully sell a product previously unknown in their country. There are many unanswered questions in this seemingly frictionless journey, but watching the development of a woman-owned business by absolute novices is inspiring.
A Blue Marble ice cream cart with free samples greeted audiences outside the theater before the screening. (It was delicious.)
Continuing the theme of films about food, two selections relayed stories of struggling businesses in Maine. World premiere Betting the Farm, by Cecily Pingree and Jason Mann follows a group of dairy farmers who band together to form Maine's Own Organic Milk (MOO Milk), a collective of local dairies. As their initiative falters, the farmers incur mounting debt and their suffering is palpable.  Months later, success is in sight as supermarkets begin to stock their product and even Blue Marble uses MOO Milk.
Downeast, by David Redmon and Ashley Sabin, follows an Italian immigrant as he reconfigures a shuttered sardine cannery in Maine as a lobster processing plant, rehiring many of the laid-off locals who've had decades of experience in the seafood industry. The film is poetic in its depiction of the men and women who handle the crustaceans, and wistful in its portrayal of U.S. manufacturing in sharp decline.
Finnish Canned Dreams by Katja Gauriloff rounded out the food-related films, in a series of portraits of the workers who tend components that make up canned ravioli. From an abuse victim in Brazil who picks metal from the trash for can production to a former inmate who butchers pork in Poland, most of the stories are heart-wrenching and the slaughterhouse work is ghastly. In the finale, a spirit of pain seems to imbue the containers of pasta that sit on grocery shelves.
The two world premiere biographies of recently departed luminaries were hagiographic, but still fascinating and entertaining. They each create a portrait using an impressive amount of archival footage. As enthusiastic as a campaign ad, Ann Richards' Texas by Keith Patterson and Jack Lofton is a hilarious feminist affirmation and a behind-the-scenes look at political chicanery.
Plimpton! Starring George Plimpton as Himself, by Tom Bean and Luke Poling, reminisces about the founding editor of The Paris Review and creator of "participatory journalism." Plimpton's 1970s parties are packed with a literary crowd including William Styron, Ralph Ellison, Kurt Vonnegut, and Allen Ginsberg, and reflect a man whose friends and achievements were both extraordinary.
Other portraits of creative people included Ai Weiwei: Never Sorry by Alison Klayman that follows the Chinese artist-activist as he inspires followers to stand up for human rights, freedom of expression, and government transparency. Marina Abramovic: The Artist is Present recounts the planning and execution of the artist's recent retrospective at New York's Museum of Modern Art. Finnish The Punk Syndrome by J-P Passi and Jukka Karkkainen pushes boundaries with a look at the lives of mentally challenged punk rockers that find an identity with their extreme music.
The festival's signature Guggenheim Symposium honored frequent collaborators Joe Berlinger and Bruce Sinofsky, who discussed their body of work with Eugene Hernandez of the Film Society of Lincoln Center. From Brother's Keeper in 1992 to their recently concluded final installment of the Paradise Lost series, the pair, according to Berlinger, have been exploring the boundaries of the documentary form in reverse of the style of John Cassavetes, who pushed fiction films into cinéma vérité territory. Berlinger's new film, Under African Skies  — about Paul Simon's collaboration with South African musicians during apartheid — was screened as a free community event in a colorful local plaza.