Back to selection
AFI Fest 2012: Electrick Children and Simon Killer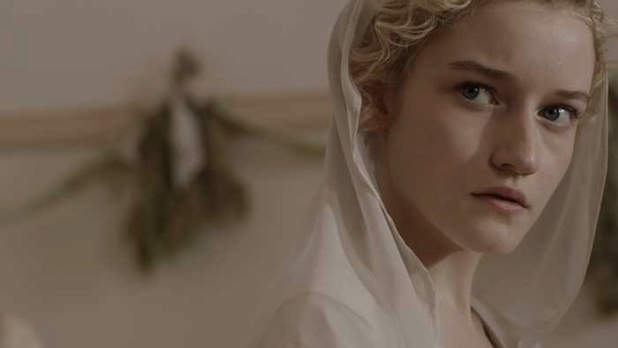 In Dogtooth, an authoritarian father's carefully constructed sham world falls apart after one of his sheltered daughters watches Rocky IV and Jaws. In Electrick Children (above), a 15-year-old Mormon girl (played by "25 New Face" Julia Garner) gets pregnant after listening to a rock 'n' roll song on an unmarked blue cassette tape. The narrative similarities essentially end there but, given their equally unorthodox takes on coming of age in cloistered environments, the two are oddly complementary. Split between rural Utah and fabulous Las Vegas, Electrick Children's visual world is entirely at odds with what its doe-eyed protagonist is used to on her big-sky homestead: neon lights, dingy nightclubs, vulgar young men. She navigates this new terrain with equal parts innocence and naivete, but never forced quirk—we feel for Rachel on her own terms, and though her journey is often quite funny it's never cheaply so.
More than a few of writer-director Rebecca Thomas's plot points are well-worn or silly-sounding on paper – not least the whole immaculate conception thing – but in practice her film is almost always tender and sensitive enough for its familiarity not to matter. Time and again it feels poised to descend into preciousness and/or sentimentality, but the first-time filmmaker never lets it get away from her. (Nor does newcomer Garner, from whose quiet magnetism the movie draws much of its power.) In delicately tracing the paths of two wandering souls from seemingly opposite ends of the spectrum as they come to meet somewhere in the middle, the film offers something few others of its kind do: a distinct take on the agony and ecstasy of growing up.
We learn early on in Simon Killer that the film's titular protagonist studied the relationship between the brain and the eye while in college, ending his studies with a thesis related to peripheral vision. The implications of this biographical detail are initially opaque, but gradually they come into focus: Antonio Campos (who both wrote and directed this, his second feature) employs frequent close-ups while closely trailing Simon and others from behind so as to lessen our field of vision. There's always something just out of frame, just beyond our understanding. This, coupled with the dense, bass-laden electronic soundtrack – not to mention a frequent fade effect resembling the closing of an eye – makes for an intoxicatingly dark experience throughout. What Campos is doing, in effect, is putting us in the headspace of a man that neither he nor Simon himself seems fully to understand. At heart he's a scared child pretending to be a man, and quite possibly willfully oblivious to his own sociopathic tendencies as he wanders through Paris and attempts to manipulate three different women into comforting him with either sex or a place to stay.
Watching this go down is as unnerving as it is exhilarating. Campos creates an atmosphere of moody dread from the very first frame, often setting the tensest scenes to the most danceable music—and vice versa. The disparity is as pronounced as the one between Simon's outer calm and inner turbulence, a fundamental disturbance that makes itself known in sporadic bursts we're (thankfully) spared from witnessing at length. Low-key but stylized, austere but beautiful, Simon Killer at times brings to mind what Roger Avary's Glitterati is said to be like: an almost guerilla production about a dangerously detached young man spreading his misery to anyone kind enough to give him the time of day while passing through a European metropolis. It's often so tense you want to look away but so gorgeous you can't.
Follow Michael on Twitter: @slowbeard