Back to selection
15 Tips for Producers from the Cannes Film Festival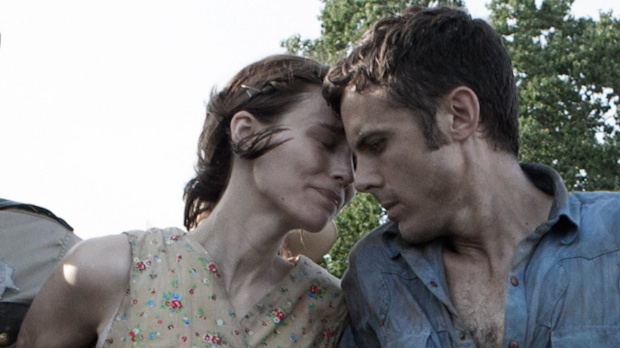 Ain't Them Bodies Saints
Learning from your producer colleagues — that's one of the benefits of attending the Cannes Film Festival and Market. Whether you are premiering a film, hustling a film, or just watching movies, the experience of encountering at multiple parties fellow filmmakers makes Cannes a great place to glean tips on your practice by observing how others are getting it done.
In addition to watching movies, this year at Cannes I moderated morning meetings at the Producers Network, of which IFP is a sponsoring partner. I also moderated the "American Producers in Cannes" panel at the American Pavilion and spoke with financiers, distributors and sales agents at parties or just on the lawn of the Grand. And, of course, I'd page through the trades each morning, like everyone else. Here, then, are 15 tips, cautions and commentaries on producing films circa 2013 I picked up from my time at Cannes.
Learn how to collaborate. When I asked the five panelists at my American Pavilion panel what advice they'd impart to those starting out, Parts and Labor's Jay Van Hoy, a producer on the Critic's Week selection Ain't Them Bodies Saints, said, "Learn how to collaborate." Pointing out that most of the company's films have multiple partners — and that on Saints he and P&L's Lars Knudsen teamed with several others, including director David Lowery's team of James Johnston and Toby Halbrooks — Van Hoy evoked a less hierarchical producing model by asserting effective collaboration as skill today's producers must learn. Elaborating, he said that he considered a large part of his job managing the flow of information between producers, financiers and the film's other key figures.
Form an international collective. Expanding on the above point, it's interesting to note that two of the five producers on my panel have created structures to facilitate international collaboration. Van Joy and Knudsen have formed Creative Alliance, a collective with six Scandinavian directors (Lone Scherfig, Per Fly, Ole Christian Madsen, Dagur Kari, Thomas Vinterberg and Janus Metz) and Danish producers Nikolaj Vibe Michelsen and Jacob Jørgensen. With its development financing in place, the Creative Alliance is designed to access the filmmakers' local funding organizations to make films in the U.S. for international audiences. And producer Andrew Corkin (We Are Who We Are) announced at Cannes Start to Finnish, a collaboration between his Uncorked Productions and the Helsinki-based Bronson Club. Similar to Creative Alliance, Start to Finnish looks to develop English-language projects by six international directors — Finns AJ Annila, Zaida Bergroth, Antti J. Jokinen, Dome Karukoski, Aku Louhimies and Samuli Valkama.
Work the subsidies. American indies are used to hunting for the latest rich dentist, energy magnate or hedge-fund millionaire. Go to Cannes and speak to production and financing companies, those developing and producing multiple pictures a year, and you'll find them hunting down soft money. The festival's opening night film, The Great Gatsby, nabbed, according to The Australian, $80 million from the Australian government. I spoke to producers who extolled the benefits of Louisiana, even for films that don't shoot there — they are still able to take advantage of the state's post-production tax credit. Tax credits in Hungary, Russia, France and Colombia were all noted. Of course, Canadian co-productions remain popular, and, for American projects, particularly those with both Canada and Germany. (German co-productions allow for American scripts; Canada's other co-productions do not.) Covering as much of the budget as possible through soft money increases the amount of equity producers can retain in their film and decreases the amount of financing needed from other sources.
Don't chase subsidies. That was the blunt advice of Bold Film's David Lancaster on my panel. While acknowledging the role of subsidies in film financing, Lancaster, Executive Producer of Nicolas Winding Refn's Only God Forgives, said, "Don't get caught up chasing subsidies." Globe-trotting your production can "make no sense because money is being lost" in that process, he said.
Think 20%. More than one production and financing company told me that they like to bring between 15 and 20% equity to their projects — generally films with high seven and low-eight figure budgets with name actors attached. The rest of the budget they like to cover through pre-sales (not the whole world) and soft money. If the above formula doesn't add up to the project's budget, something is off about the project.
Ignore China. "China is tough," one Western producer/financier sighed. Business practices differ greatly from those in the West. Even with projects with Chinese content, it can be hard for outside independent companies to vet co-production partners, and hard to get the SARFT certificate allowing a film to qualify as a local production and thus escape exhibition quotas. And then there's the question of China's local industry. With 2012's Lost in Thailand, China experienced its first home-grown low-budget blockbuster. The $3 million film grossed more than $200 million at the Chinese box office. Other local productions, albeit at higher budget levels, have followed suit. The success of these local films may obviate the need for China to reach out to the Western independent producers for multiplex success. After telling me the Lost in Thailand story, one foreign sales agent concluded by asking, "What do they need us for?"
Focus on China. While some Westerners were pessimistic about their ability as producers to work with the world's most rapidly growing film audience, others saw only opportunity. Co-production partners can be found and vetted, and projects can be designed to work internationally and qualify for official co-production status, argued one Western financier to me. Plus, he said, China's regulatory environment makes stunt work and large-scale effects much easier to pull off than in the West. Just make sure you get the SARFT certificate, allowing your film to qualify as an official Chinese coproduction.
Be cognizant of the budget. Nicholas Shumaker attended Cannes wearing two hats. He produced Jim Mickel's Director's Fortnight selection We Are What We Are, and he's the U.S. representative for Paris-based sales company Memento Films. This split role gives him special insight into the international sales environment for American independents, knowledge he employed to get Mickel's film made. We Are What We Are, budgeted in the low seven figures, was financed through Memento pre-sales, and Shoemaker said the budget was calibrated with the international appeal of this art-genre film by an up-and-coming auteur in mind.
Don't focus on the budget. "Don't pitch your budget, pitch your story," said one representative of an established production and financing company. He told me too many producers made the mistake of leading with their budgets, explaining how cheap their films could be done for, or where they could be shot for less. But he said he wanted to be sold on the story. "I've been doing this for years, so I'll tell you how much it costs," is what he tells filmmakers.
Figure out your bridge financing. When asked about the toughest challenge on Ain't Them Bodies Saints, Van Hoy said it was the need for bridge financing, the monies that carry the production until bank loans and other traditional financing kick in. The film was financed by three companies — Evolution Independent, Lagniappe and Paradox Entertainment — and a bond was required. But the needed paperwork — signed cast agreements, interparty agreements, etc. — dragged on into the start of production. "The toughest moments [involved] crew payroll," admitted Van Hoy. During pre-production is was a scramble at week's end to cover the crew's checks. Jeremy Saulnier, director of Blue Ruin, his Director's Fortnight revenge thriller, experienced a similar challenge on his film, which shot for low six figures on a budget covered by friends, family and credit card debt. "My UPM said he wouldn't do the film if we couldn't make payroll for the whole shoot," said Saulnier. So, before shooting, Saulnier mounted a successful Kickstarter campaign whose funds bridged the gap between what was raised and what was needed in cash to pay the crew for the entire production.
If you can't do it right, do it wrong. As a cinematographer, Blue Ruin's Saulnier has worked on dozens of projects — commercials, industrials, music videos and feature films. He's a believer in the well-organized, well-tooled production. But Saulnier admits that by the time of Blue Ruin whatever heat he had from his debut feature, 2007's Murder Party, had dissipated, and with no one ready to finance the new picture, he embraced a plan that involved free locations and a young, bare-bones, $100/day crew. When people questioned the approach, Saulnier told me he'd say, "I know how to do it right, and I want to do it right, but this one time we have to do it wrong."
Learn how to adapt. The business is changing constantly. There are new forms, new audiences and new markets. It's easy to get wedded to your old models, the way things used to be, whether that's range of budget, mode of production or even the final form of the work itself. But I spoke to three producers who have web series, apps and other new media projects in their portfolios as well as feature films. About the need to be flexible, Corkin said on my panel, "The past models are in the past." In other words, move on.
Generate good news. Something he and Knudsen try to do at Parts and Labor, said Van Hoy, is "generate good news going into the weekend." When looking over that whiteboard of projects, think of what you can engineer to give you and your team a boost on Friday afternoon. What good news can you reel in — word from potential cast, positive word from a financier, or some positive creative development — to keep spirits high even as the overall process remains tough?
Think franchise and remake. The hottest party at Cannes was Lionsgate's lavish one for Hunger Games: Catching Fire — a promotional spend that's testimonial to the series' international profitability. And looming over the Croisette was a giant poster of Johnny Depp in The Lone Ranger — just one of many remakes, reboots and reworking of old source material being delivered by Hollywood to moviegoers this summer. But independents can play the franchise and remake game too. On my panel, Corkin remembers attending the 2010 Cannes Director's Fortnight screening of Jorge Grau's Mexican cannibal thriller, We Are What We Are. Walking out of the theater, he said, he got on the phone with his lawyer asking him to see about remake rights. Two years later, that Jim Mickel-directed remake was in Fortnight too — the first time a film and its remake both played the Cannes Film Festival. And now, Corkin and Shumaker announced, Mickel's film will form the centerpiece for a franchise. A prequel will be directed by A.J. Annila while Grau himself will helm a sequel to Mickel's version of the story.
A good script trumps everything. Subsidies, rebates, cross-media, foreign sales potential, Chinese SARFT certificates — all of these are worthy of discussion, but, the "same as it ever was" refrain at Cannes this year was, as a sales agent said to me, "a good script trumps everything." Indeed, Van Hoy's parting words to aspiring producers were simply, "Learn how to develop. Understand story."