Back to selection
The Crowded Stages of the Sundance Film Festival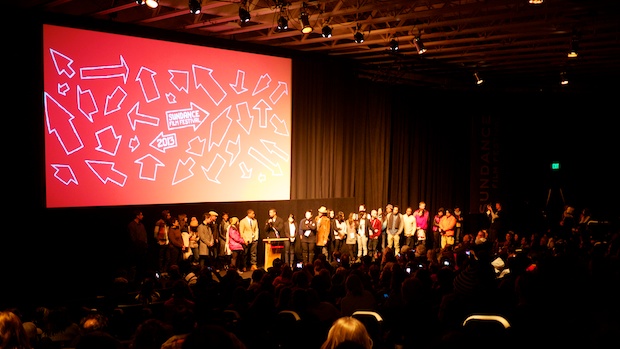 When I published my piece, "How To Do a Festival Q&A," there was one word of advice from Trevor Groth that I wondered about: "#5: Don't bring too many people onstage":
"It slows everything down and tends not to work with the vibe of a good Q&A," says Groth about long lines of cast and crew marching to the stage after a film's premiere. "Just bring the key actors and someone who played a crucial role — maybe a production designer or editor."
Apparently many of the Sundance filmmakers didn't read my article — or heed Groth's advice — because the stages here have been packed. "Everyone involved with the film, c'mon up," shouted James Ponsoldt at the Library following The Spectacular Now, at which point a long line of people filed to the stage. (Ponsoldt was momentarily surprised mid-Q&A when a question was asked about the original book and he realized that the author had remained in the audience.) Above, at the MARC, is the stage after the successful and emotional premiere of Ryan Coogler's Fruitvale. I saw Groth here at the festival and mentioned the crowded stages to him, and he laughed. We both admitted, premiering at Sundance is a thrill, and you can't begrudge filmmakers for wanting to share that with their collaborators. And in the case of Fruitvale, that dense lineup spoke to the community that not only made the film but will support it when it is released this year by the Weinstein Company. Among the folks here are the family of murdered Oakland resident Oscar Grant, whose tale the film dramatizes with heart and conviction.