Back to selection
DISCUSSING "HORSES" WITH FILMMAKER LIZ MERMIN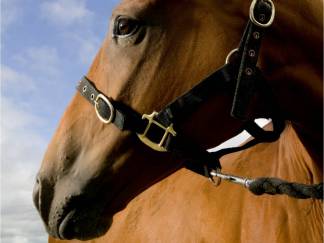 I'm happy to welcome Mary Anderson Casavant to the blog. I'll let her introduce herself below, and you can look forward to a series of posts from her on the documentary scene, focusing on the films featured at the Stranger than Fiction series unspooling at the IFC Center. First up is a conversation with filmmaker Liz Mermin. — SM
I'd like to start by acknowledging that I am not a disinterested observer when it comes to Stranger Than Fiction. From 2005 – 2006, I worked as a freelance researcher for its founder and curator, Thom Powers, the current documentary programmer for the Toronto International Film Festival. I also worked for the Showtime series, This American Life, which was screened as part of the series in 2007.
While navigating the ethics of reporting on a former employer is a tricky task, it's probably easier than the challenges faced by most of the filmmakers featured in the series. Documentary is a hard art form — its practitioners are constantly trying to balance the needs of the story against the cold, hard facts of the material. It's a challenge not every filmmaker can solve gracefully, which is what makes Stranger Than Fiction a valuable service. It slogs through documentary chafe to find that rare wheat –documentaries that are great acts of storytelling or at the very least, conversation starters.
Last night, Stranger Than Fiction featured a screening and Q and A session with Liz Mermin, perhaps the most underrated wheat of her generation. For those of you unfamiliar with Mermin's work, Mermin has been astoundingly active over the past ten years, directing six documentaries since 2001.
Whether it's an American manager trying to inspire his Indian workers (Office Tigers, screened at STF) or an American volunteer trying to empower Afghani women to run salons (The Beauty Academy of Kabul,) Mermin has a gift for finding the humor in the situation without relying on cheap editing tricks to poke fun at her subjects.
Her newest film, the rather painterly Horses, focuses its attention on the lives of three different racehorses, living in the stables of Ireland. It's a startlingly intimate experience — at the STF screening, a woman audibly gasped when a horse took a bite out of its stall, shocked by the horse's casual brutality. As a trainer falls in love with a winning horse, it becomes increasingly hard to tell the difference between the horse's personality and the trainer's desire for the horse to have a personality. By the last race, we are left with more questions than answers about man's relationship to beast.
I spoke to Mermin before the screening.
Filmmaker: How did the idea for "Horses" start?
Mermin: I was approached while being based in Ireland by a producer who thought we could get the project funded…I spent a month driving around thinking how am I going to make an interesting film about horses. I didn't want to make it about horse people, because I know horse people. I always want that sense of discovery in my films, that I'm learning something new… In my head, I wanted it to be a bit of a feel like Grizzly Man but about domestic animals, a meditation on how close they are to us.
Filmmaker: I remember you once sighting Frederick Wiseman (a legendary observational filmmaker) as a major influence. What did you learn from watching Wiseman's approach?
Mermin: The revelation that you could cut documentary footage to make it look narrative – I got that from Wiseman. What's amazing is how much he expected in terms of watching, how long the shots were. You can't expect that from audiences now. I do stylistic things to keep things moving along, but it always comes from the spirit of my subject.
Filmmaker: Did you connect differently with horse subjects than human subjects?
Mermin: I picked six or seven horses and then saw how they worked in the editing room. One of the horses I didn't connect with, and dropped half way through. One of my favorite horses didn't end up racing…That was sad because he was a great character, but without the punctuation of the races, it wouldn't work.
Filmmaker: Did you approach the actual shooting day any differently?
Mermin: I really tried to shoot it the same way I did my other films… It took a while to get the sense on the way we were going to film then, and to get the horse to forget about them (the camera crew). You spend so much time trying to get people to relax around the cameras, same with horses. The camera crew thought I was nuts, but I insisted, we are going to stand here, and we are going to film. Horses' lives are pretty boring….We filmed a little bit less because horses don't talk.
Filmmaker: How did the trainers respond?
Mermin: When the film came out on Irish television, there were tons of interviews, and in all of the interviews, the main trainer said he thought it was a waste of time. I think they were sort of humoring us. They told us just to stay out of their way. When they screened it, they were all sort of impressed I managed to make something good out of it.
A graduate of Amherst College, Mary Anderson Casavant was selected as the 2004 Academy of Television Arts and Sciences Documentary Intern. Since then, she's held almost every freelance job that exists in documentary television, including being the coordinating producer of the Emmy Award winning second season of This American Life. Her feature screenplay, Judgey, was one of ten screenplays selected from more than 3500 entries for the final round of the Final Draft Big Break contest. She lives and works in New York City.