Back to selection
The Rocket, The Kill Team Nab Top Awards at the 2013 Tribeca Film Festival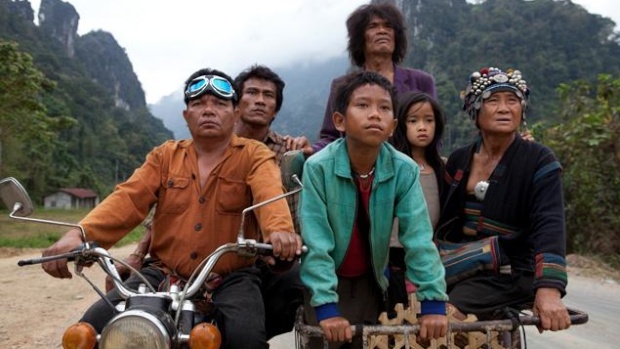 The Rocket
Kim Mourdant's The Rocket and Dan Krauss's The Kill Team picked up the top World Narrative and World Documentary prizes at the 2013 Tribeca Film Festival's closing ceremonies tonight at downtown's Conrad Hotel. Both awards come with a $25,000 cash prize. Among the other awards, Whitewash director Emanuel Hoss-Desmarais won Best New Narrative Director while Oxyana's Sean Dunne picked up the Best New Documentary Director award. Sam Fleischner's New York-shot, Sandy-set Stand Clear of the Closing Doors was given a Special Jury Mention, as was Dunne's Oxyana. Another Sandy-themed project, Sandy Stories, won a new Bombay Sapphire-sponsored award for transmedia projects.
Of Mourdant's Laos-set film, a jury consisting of Bryce Dallas-Howard, Blythe Danner, Paul Haggis, Kenneth Lonergan, and Jessica Winter, said, "The Rocket is a spectacular achievement that is powerful and delightful in equal measures. Artfully structured and gorgeously shot, it chronicles the struggles of a displaced family while steering well clear of either sentimentality or despair. Complex in its tone and characterizations, the film takes an unflinching – and edifying – look at the suffering caused both by a legacy of war and the new status quo of economic globalization. And yet, while never losing sight of those grim realities, it also offers us a transcendent tale of hope and perseverance in a world that few Westerners ever have the chance to see."
About Krauss's Afghanistan war expose, The Kill Shot, the jury, who included Joe Berlinger, Sandi DuBowski, Whoopi Goldberg, Mira Sorvino, and Evan Rachel Wood, said, "The Kill Team examines the fundamental flaw in the preparation of young soldiers for war that allows them to see people as targets without humanity, a culture of killing that looks to express itself even in times of peace. It masterfully combines verite' footage, talking head interviews and a private look into one family's desperate fight in a seamless cinematic undertaking.  As the drama unfolds we are faced with issues of both institutionalized responsibility and culpabilty within the military itself, the extreme importance of individual acts of courage, cowardice or allegiance to authority, and an expiation of guilt of one tormented soldier's decision to blow the whistle, too late.  We feel it raises questions that demand to be answered by our military and society at large, so that these ever enumerating acts of senseless violence cease."
In a statement, Tribeca Film Festival Artistic Director Frederic Boyer, commented on the special mentions and diversity of awards: "With such a wonderful and diverse selection of films in our competition sections, the jury has had quite the challenge in awarding just one per category. Their selection recognizes films depicting worlds that are seldom seen on screen and to which we are given the rare opportunity to experience through unforgettable characters and remarkable subjects.
The Tribeca Film Festival continues through Sunday. A complete list of awards follows.
World Narrative Competition
The Founders Award for Best Narrative Feature: The Rocket, directed by Kim Mourdant.
Special Jury Mention: Stand Clear of the Closing Doors, directed by Sam Fleischner
Best Actor in a Narrative Feature Film: Sitthiphon Disamoe as Ahlo in The Rocket.
Best Actress in a Narrative Feature Film: Veerle Baetens as Elise Vandevelde in The Broken Circle Breakdown.
Best Cinematography in a Narrative Feature Film: Matzow Gulbrandsen, for Before Snowfall.
Best Screenplay for a Narrative Feature Film: The Broken Circle Breakdown, written by Carl Joos and Felix van Groeningen.
Best New Narrative Director
Best New Narrative Director: Emanuel Hoss-Desmarais (Whitewash)
Special Jury Mention: Special Jury Mention: Emir Baigazin (Harmony Lessons)
World Documentary Competition Categories
Best Documentary Feature: The Kill Team, directed by Dan Krauss.
Special Jury Mention: Oxyana, directed by Sean Dunne.
Best Editing in a Documentary Feature: Let the Fire Burn, edited by Nels Bangerter
Best New Documentary Director Competition
Best New Documentary Director: Sean Dunne (Oxyana)
Special Jury Mention: Jason Osder (Let the Fire Burn)
Short Film Competition Categories
Best Documentary Short: Coach, directed by Bess Kargman.
Special Jury Mention: Royal American, directed by Michael Scalisi.
Student Visionary Award: Life Doesn't Frighten Me, directed by Stephen Dunn.
Special Jury Mention: Reporting on the Times: The New York Times and the Holocaust, directed by Emily Harrold.
Bombay Sapphire Award for Transmedia: Sandy Storyline, created by Rachel Falcone, Laura Gottesdiener, and Michael Premo.
Tribeca Online Festival Categories
Tribeca Online Festival Best Feature Film: Lil Bub & Friendz, directed by Andy Capper and Juliette Eisner.
Tribeca Online Festival Best Short Film: A Short Film About Guns, directed by Minos Papas.