Back to selection
Lesbian Lovemaking, Graphic Novels and a Changing China: Parsing the Cannes Awards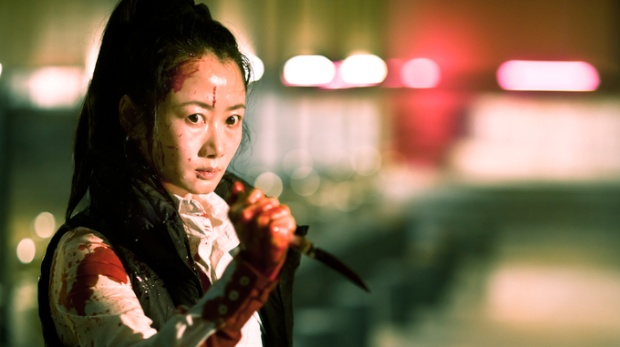 A Touch of Sin
Sex sells, but it's not the kind of thing that wins highbrow prizes—right? The fact that Abdellatif Kechiche's explicit and entrancing Blue is the Warmest Color (La Vie d'Adèle, chapitre 1 et 2) won the Palme d'Or at this year's Cannes Film Festival is a watershed moment, not least of which because its frank depiction of lesbian lovemaking wasn't an obstacle towards being taken seriously. People may have tweeted their puerile snickering about the randy onscreen romps, but any sober viewer would acknowledge that those relatively brief moments (especially in a 179-minute film) were hardly exploitative — in fact, they truly enriched and deepened Kechiche's revelatory depiction of a young French girl's journey from confused teen to poised adult through the ecstatic crucible of first love, lost love, and true love. (Ironically, hours before the Cannes awards ceremony, 150,000 Parisians marched in protest against the recent legalization of gay marriage in France, instantly making this Palme d'Or winner one of the festival's most politically relevant choices in decades).
It's also strange to say that this movie was Kechiche's depiction of anything at all without noting the superlative contributions from his two leads, Adèle Exarchopoulos and Léa Seydoux. Spielberg and his jury were completely justified in their unusual, unprecedented, and even radical decision to award the Palme d'Or not only to Kechiche but also to Exarchopoulos and Seydoux. Never has Cannes' top prize — the apex of auteurist achievement — been shared with an actor, let alone two. (And, technically, Jane Campion's 1993 win for The Piano is now not the only Palme given to a woman.)
Adding even more to its list of achievements, Blue is now the first Palme d'Or winner ever based on a graphic novel: Julie Maroh's Le Blue est une couleur chaude, published in 2010. Blue joins Marjane Satrapi's animated Persepolis (which won Cannes' Jury Prize winner in 2007) as being one of the very few critically acclaimed films to have won major distinction. Will it have the juice to go all the way to the Oscars? The past two Palme d'Or winners, 2011's The Tree of Life and 2012's Amour, both earned nominations for Best Picture. That kind of recognition is a long shot, to be sure — especially for a three-hour lesbian comic book adaptation — but stranger things have happened. And if anything, the fact that Spielberg, Hollywood's most successful filmmaker, is singing its praises proves that the movie has broad appeal. "We were absolutely spellbound," said the mega-grossing movie mogul when explaining why his jury made its decision. "It's a great love story that made all of us feel privileged to be a fly on the wall, to see this story of deep love and deep heartbreak evolve from the beginning."
Blue capped the end of an otherwise muted edition of Cannes, where the mostly rainy weather dampened enthusiasm across the board and where the distribution deals were respectable but hardly robust. (IFC nabbed Blue as well as François Ozon's Young & Beautiful and Hirokazu Kore-Eda's Like Father, Like Son; Sony Classics got Asghar Farhadi's The Past and Jim Jarmusch's Only Lovers Left Alive; Strand picked up Alain Guiraudie's Stranger by the Lake; Kino Lorber landed Jia Zhangke's A Touch of Sin; and Radius bought Jeremy Saulnier's Blue Ruin.)
The other prize winners were generally respectable choices given to worthy films. The Coens' wonderfully crafted Inside Llewyn Davis, a strong favorite among critics, won the second-prize Grand Prix; while the third-place Jury Prize went to the sentimental, finely-tuned Like Father, Like Son (its themes of broken homes and disconnected kids seemed tailor-made for Spielberg). Acting prizes were somewhat muted: Bérénice Bejo was recognized for her solid, minor-key work in The Past, but was so surprised herself for being singled out that she insisted on the director sharing the stage with her; and Bruce Dern won best actor for his quiet but earthy role as a doddering Midwesterner in Alexander Payne's Nebraska (Dern had already left town, even though his film had played only three days before).
The only big awards jaw-dropper was that Best Director went to Amat Escalante, whose ultraviolent police-corruption drama Heli was the very first competition entry that screened at this year's fest, and which, despite almost universal and vocal derision, clearly left an impression on the jury (not surprisingly, since the movie included underage rape and genital immolation). No boos greeted the announcement, but neither was the reception particularly effusive.
Aside from the Palme d'Or winner, the prize that felt most satisfying (and most politically apt) was Jia Zhangke's A Touch of Sin, his dramatized take on four tragic events in China's recent history, from a train disaster to the suicides at Foxconn. "Cinema makes me live, and China is changing so fast," said Jia in broken but excited English. "I think film for me is the best way to look for freedom."