Back to selection
10 Picks for the DOC NYC Film Festival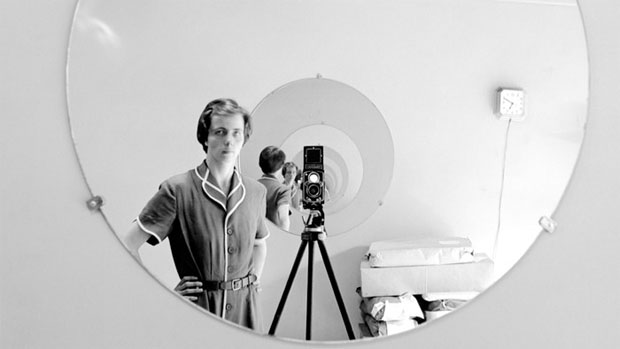 Finding Vivian Maier
In only its fourth year, DOC NYC feels like an institution. Nestled in the calendar alongside the concluding CPH:DOX (where I'm writing this from Copenhagen) and Amsterdam's mammoth IDFA, this edition of DOC NYC, under the usual steady hand of artistic director Thom Powers, boasts an even more impressive blend of world and New York-premieres, Gotham-centric special events and panels for both audience and industry.
Here are 10 picks, some films I'm excited about seeing along with one I have seen and can highly recommend.
Is the Man Who is Tall Happy? In the former category is the world-premiering collaboration between director Michel Gondry and linguist, theorist and author Noam Chomsky. And it's animated. Advance word is that this world premiere is very strong.
Emptying the Skies. Doug Kass made this documentary about a volunteer squad attempting to stop the poaching of migratory birds in Europe, and it is based on a New Yorker essay by Jonathan Franzen. If you've read any of Franzen's work, including his neo-classic Freedom, you'll have picked up on his love of birds and birdwatching. His presence at a panel to discuss the film (to say nothing of his Executive Producer credit) should indicate that the film has thoughtfully brought Franzen's passion to the screen.
Exposed. After several years in the world of TV documentary, Beth B makes a welcome return to the big screen with this picture about new era burlesque — performers like Rose Wood, Dirty Martini and Seal Boy. B is no stranger to tales of both sexual expression and underground culture, and at its DOC NYC premiere her picture will be accompanied by a number of its performers.
The Sarnos: A Life in Dirty Movies. Born in 1921, sexploitation auteur Joe Sarno has 121 IMDb "directed by" credits to his name, a wet-tissued catalog of the psychosexual development of repressed post-War teenagers and repressed suburbanites across the globe. But this isn't some clip job, as entertaining as that might have been. Instead, Viktor Ericsson's film follows Sarno and his wife Peggy on their final return to filmmaking.
I Learn America. I worked with one of this film's directors, Jean-Michel Dissard, on Pete Sollett's Raising Victor Vargas, where the heavily accented Frenchman fit right into the world of Lower East Side American teenagers. Here, along with directing partner Gitte Peng, he enters the New York City public school system to follow a number of new immigrant teens as they strive to learn not only their course work but the language and social patterns of their new home. Dissard and Peng have planned an impressive number of outreach events and have entered into a number of educational partnerships to promote the message of the film.
Misfire: The Rise and Fall of the Shooting Gallery. From its early slanted floors to its late-stage equipment warehouses and dotcom digs, the Shooting Gallery was both a pivotal player in the '90s independent film scene as well as a cautionary tale. Whitney Ransick, who was there, tells the tales of the company that produced Slingblade and flew a little too close to the financial sun.
Touba. I missed at SXSW 25 New Face Elizabeth Chai Vasarhelyi's portrait of the annual pilgrimage of one million Sufi Muslims to a town in Senegal, where they spend a weekend praying and listening to speeches by members of Cheikh Amadou Bamba's Mouride Brotherhood. The film won the cinematography prize and is said to be subtle and immersive experience.
Revenge of the Mekons. Joe Angio's doc captures this most durable of post-punk bands, who always mixed a woozy bonhomie with smart progressive politics and rousing rhythms.
Sole Survivor. It's usually said that films have to offer their audiences some measure of hope, but I'm not sure the subject of Ky Dickens' film is what those folks have in mind. Dickens' film looks at the four people who were the sole survivors of airline crashes. Luck, divine providence, or aerodynamic aberration? And what happened to these folks the day after?
Finding Vivian Maier. John Maloof and Charlie Siskel's investigative portrait of a reclusive Chicago nanny who just happens to be one of the 20th centuries great, unheralded street photographers was my discovery of the Toronto Film Festival. The directors tell a compelling story touching on art history, mental illness, and the thorny complications of authorship in the contemporary art market.